Summer Italian Spaghetti Salad Recipe
Light and fresh, enjoy this cold spaghetti salad. Summer Italian Spaghetti Salad Recipe is a spaghetti salad with fresh veggies and Italian dressing. Watch the video!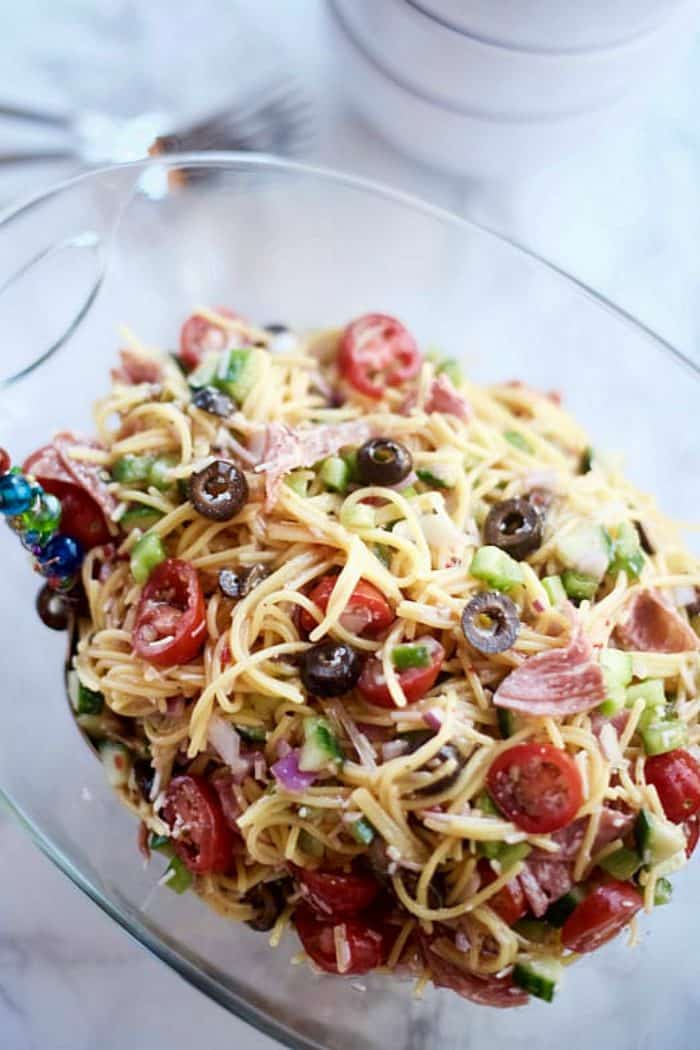 Using your favorite pasta and Parmesan cheese, add either salami or pepperoni for this cold, Summer Italian Spaghetti Salad Recipe, great for any potluck!
Friends, we've been trying to get together with some good friends from out of town.
It's hard to get a date on the calendar sometimes, and it takes work and intention to make it happen.
Cold Spaghetti Salad
Just in time, we got a date on the calendar for friends to join us for dinner. Of course, because it's spring and summer entertaining season, this cold spaghetti salad is perfect to serve with this pepperoncini steak.
This a a spaghetti salad recipe with Italian dressing, and other fresh garden ingredients. Everyone loves it.
Our son asked, are you going to go to your favorite restaurant, mom?
I said, no way. It's way more authentic in our home, easy, less-expensive, and … I love this plaque.
Stay awhile.
People feel more inclined to sit back, relax, and …stay awhile when we make a home-cooked meal.
Here's what I love about summer cooking: COOK EXTRA.
Eating at home on a regular basis doesn't mean you need to cook every night.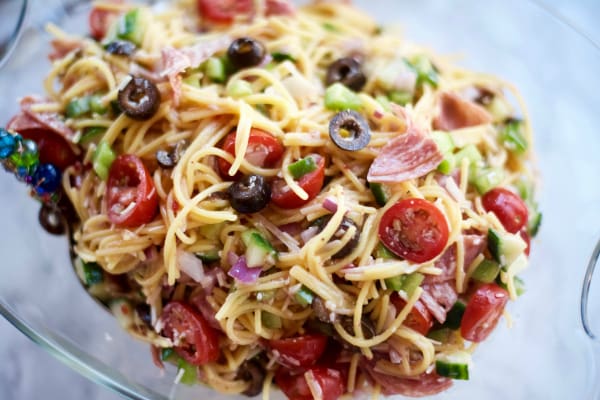 Summer Italian Spaghetti Salad Recipe
For the best flavor, it's best to make salads the night before, and an easy one that is delicious as a leftover is this Summer Italian Spaghetti Salad Recipe!
So light, fresh, and made with fresh garden veggies.
I buy DeLallo's Italian dressing–the flavor is so amazing. But you can buy your favorite dressing (or make it).
You can even add the dressing right before serving.
This time we used gluten-free pasta for our friend Ashley, who has celiac disease. It was super good! Normally we use a whole grain pasta though.
The secret to pasta is you do not rinse it. My mom always rinsed pasta; did yours?
Cook in salted water (no oil), and rinse.
Super yummy served as leftovers!
Set the table (I'm a daisy lover, are you?), heat up the grill, serve a few side salads, and you'll have the BEST summer barbecue! (Gray plates from Target, napkins from IKEA, chargers from Simon Pearce, tablecloth from IKEA).
And don't forget to tell your guests … Stay Awhile!
ENJOY!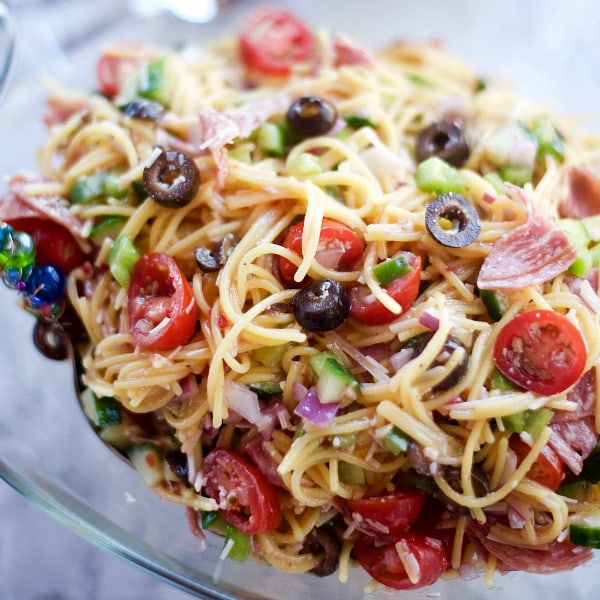 Print Recipe
Summer Italian Spaghetti Salad Recipe
Ingredients
1

package

16 ounces thin spaghetti, halved (we buy DeLallo)

1

cup

cherry tomatoes

halved

1

cup

cucumber

diced

1

cup

5 oz thin salami slices, cut into small pieces (or pepperoni)

1

medium green pepper

diced

1/2

small red onion

diced

1/2

cup

black olives

thinly sliced

1

bottle

8 ounces Italian salad dressing (we buy DeLallo brand)

1

cup

grated Parmesan cheese

1/2

teaspoon

paprika

Salt & pepper to taste
Instructions
Cook spaghetti according to package directions, usually 1 minute less in time (el dente); drain. Add a drizzle of olive oil so pasta does not stick together. Refrigerate until cool.

Place in a large bowl; add tomatoes, cucumber, salami, pepper, red onion, and olives.

Combine remaining ingredients; pour over salad and toss to coat. Add the Parmesan cheese; gently stir together. Cover and refrigerate for at least 2 hours; serve!
We love these clear glass serving / mixing bowls!
More summer salads: Easy Pad Thai Salad, BEST Potato Salad, Carrot Prune Fresh Parsley Salad, Avocado Pasta Salad, and Cowboy Pasta Salad.
This post has affiliate links. Every purchase from these links supports RE at no extra cost to you. Thank you!