Big Boards for Families
Healthy, wholesome charcuterie boards and food spread recipes that bring everyone around the table.
Now available in stores!
Buy the "bundle" … a signed copy + a board.
Order Now:
Barnes & Noble
Books-a-Million
About Big Boards for Families
Create lovely and delicious food boards that bring everyone around the table, sparking meaningful family-time meals.
With stunning recipes and hosting tips from Sandy Coughlin, founder of the Reluctant Entertainer recipe and hospitality blog, Big Boards for Families shows you how to artfully craft and serve food boards to all your friends and family. Piece together these bountiful spreads, with a variety of ingredients and options that allow you and your guests to customize every dish. Order your copy today!
What's Inside
Whether it's for a morning brunch or a movie-night get-together, you and your family will find over 50 splendid food boards to create and enjoy together, including:
Mediterranean Shakshuka Board
After-School Granola Bites Board
Sloppy Joes Slider Board
Bring-a-Wedge Game Day Board
Make Your Own Lasagna Ramekins
Saturday Night Top Ramen Board
And, Funfetti Cookie Dough Board
Big Boards for Families shows you how to casually host in style, with minimum effort and maximum impact, allowing you to focus on spending time together, rather than being stuck alone in the kitchen. Everyone will feel comfortable digging in and helping themselves to their own personalized portions.
These plentiful charcuterie boards will impress your guests and delight your family, even those pickiest eaters! Choose the right spread for your family from a selection of food boards for breakfast, brunch, lunch, after-school snacks, or dinner. They're also perfect for special occasions and game days.
Invite friends, neighbors, and family over to your home, and discover a new way of bringing those dearest to you around the table, with Big Boards for Families.
Order Now:
Barnes & Noble
Books-a-Million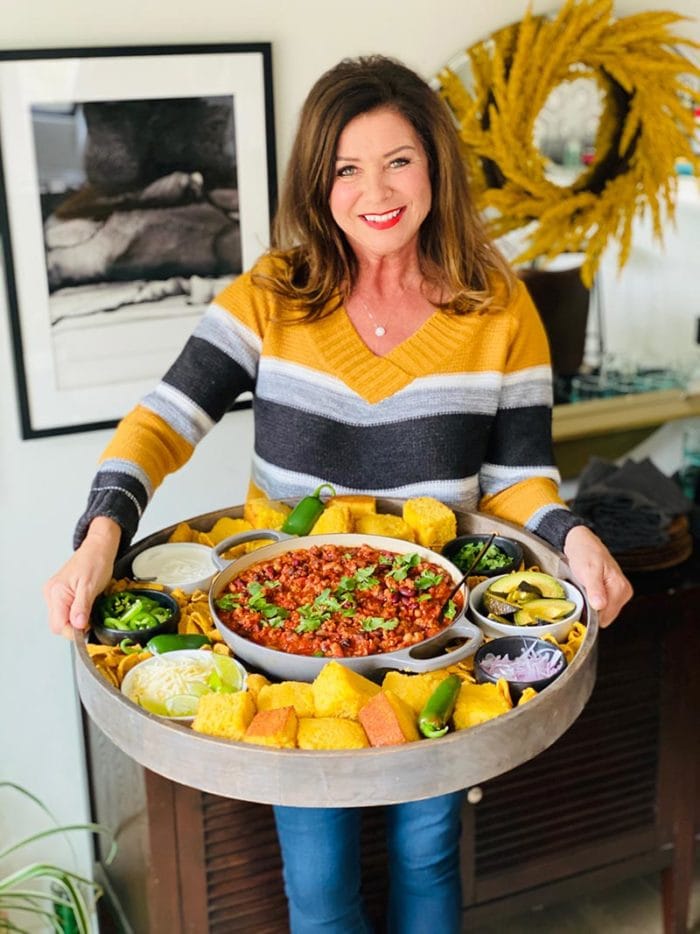 About Sandy
Sandy Coughlin is the author of The Reluctant Entertainer and Big Boards for Families. She has been featured in Woman's Day, Rachael Ray, Better Homes and Gardens, NY Post, Eating Well, Taste of Home, Modern Texas Living, and more. She enjoys hosting parties that create lifelong connections and memories. She is a mother to three grown children and lives in Bend, Oregon, with her husband, Paul. You can find her on social media @ReluctantEntertainer.
What people are saying…
"Sandy's board creations are nothing short of incredible, and as you turn the pages of this cookbook, you will be amazed at the various themes and combinations she presents. Whether you're entertaining a crowd or just feeding your family, Sandy will inspire you to up your board game!"

―Ree Drummond, #1 New York Times Best Selling Author of The Pioneer Woman Cooks
"Everything looks prettier on a board, and since we eat with our eyes, I'm so excited for this book. If you need inspiration for beautiful charcuterie boards, this book is for you."

―Gina Homolka, New York Times best-selling author of The Skinnytaste Cookbook
"Is there anything better than a big, beautiful board full of food? I think not! Sandy's book is the perfect guide to not only entertaining with ease but making everything truly gorgeous! I'd like every party to come complete with a board from here on out!"

―Gaby Dalkin, author of What's Gaby Cooking
"Big Boards for Families is literally the book of my dreams! Sandy's delicious recipes are a staple in this house. Whether it's a brunch board, taco night, or a spread of fondue you can't go wrong!"

―Jessica Merchant, founder of How Sweet Eats and author of Everyday Dinners
"Sandy's love for food and entertaining is contagious and this book is full of fun and creative ideas. I can't wait to recreate these special spreads for future holidays, parties, and special occasions."

―Maria Lichty, author of Two Peas & Their Pod Cookbook
"In Big Boards for Families, Sandy Coughlin masters how to create stunning charcuterie boards that are approachable and absolutely delicious. I guarantee everyone will run to the table for these."

―Jocelyn Delk Adams, award-winning cookbook author of Grandbaby Cakes
"Sandy has mastered the art of effortless entertaining by seamlessly marrying creative, wholesome foods with the joy of dining and gathering together. Her boards are inspiring, easy to customize, and the perfect way to mix up mealtime for kids and adults alike."

―Kelly Senyei, author of The Secret Ingredient Cookbook and founder of Just A Taste
"Simplifies every meal while making you look like a cooking genius! You'll refer back to this book forever."e

―Myquillyn Smith, New York Times best-selling author of Welcome Hom
"Sandy's creative boards are not only gorgeous, they inspire you to gather precious hearts and souls around the table to celebrate life together in a simple yet memorable way!"

―Melissa Michaels, New York Times best-selling author of Simple Gatherings, Dwelling and The Inspired
"Sandy's magical gift is bringing people and especially families together surrounded by big boards of gorgeous food."

―Catherine McCord, author and founder of One Potato
"If you've ever wondered how to put together a big, beautiful, welcoming spread of food for family or friends, read this book!"

―Elise Bauer, founder of Simply Recipes
"The creativity contained within Big Boards for Families is truly inspirational! This is an instant classic that will bring people to the table to create memorable meals."

―Lori Lange, founder of RecipeGirl.com