Best Potato Salad Recipe for Picnics
Best Potato Salad recipe (with fresh corn, bacon, peas, and chives!) is the ultimate spring and summer potluck, picnic, or side dish to bring to any party!
This Best Potato Salad recipe was originally shared with you in June 2014. I've updated it with a video and photos. It's one I love making for spring and summer entertaining – leftovers are always relish, too. Enjoy!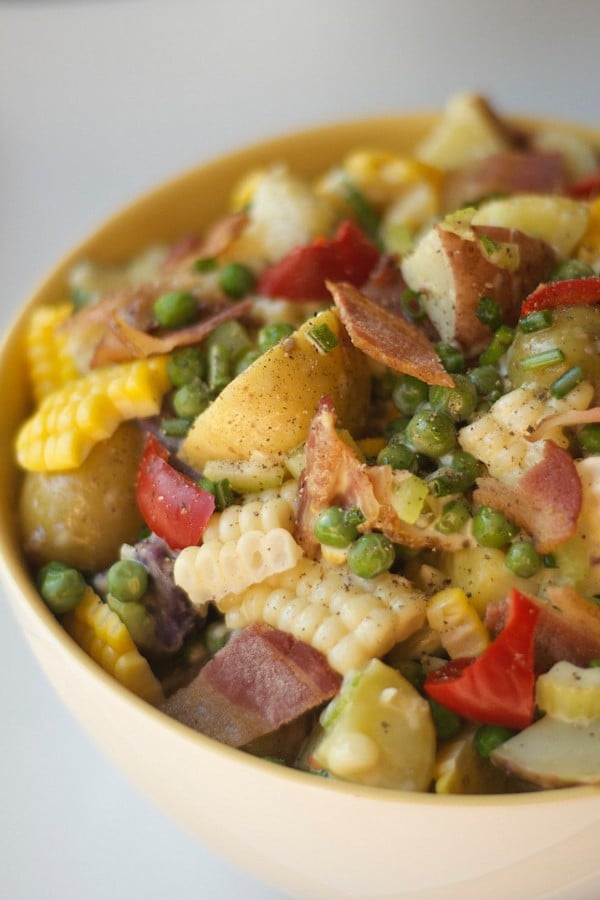 Don't you love a good potato salad? One that is full of color, veggies, a mixture of potatoes, with a little spunk to it, like  maybe sweet red pepper, or a sweet, tangy sauce, or savory bacon, or a sweet bread and butter pickle, and fresh corn!?
In the summer, farm stands and backyard gardens burst with produce, perfect for making this Best Potato Salad.
I'm not too keen on a gooey, too-mayonnaisey dressing though. For me, that can ruin a good potato salad.
My fondest potato salad memories go back to my mom's recipe, which we always said was "the best," because she cooked the dressing. It was scrumptious, but was also full of eggs and mayonnaise – drenched in dressing.
Best Potato Salad
This recipe is sweet, and even sweeter with the bread and butter pickles (I used Farmer's Garden by Vlasic, Bread and Butter Chips). The  yummy dressing (you add pickle juice and sugar), and then the garden veggies with fresh summer corn–oh, my!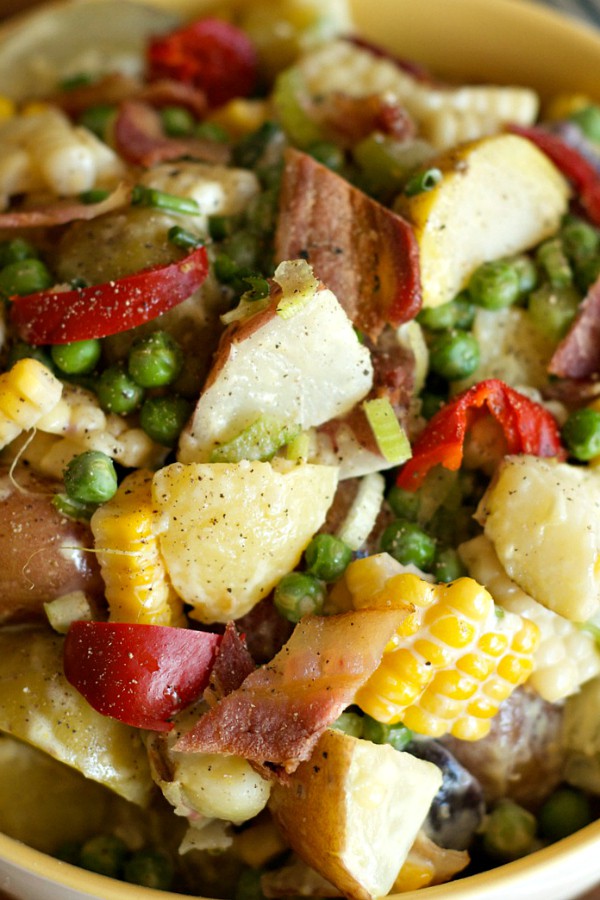 Since we're talking "sweet" here, I found this lovely picnic photo of a holiday 20 years ago in my parents' backyard (1994). I love how carefree we all are, no phones (yay!), looks like a VCR, and a few of us getting ready to partake in a lovely holiday meal together. (Back in the day when we all drank too much soda:) I can guarantee that mom's potatoe salad is in that yellow bowl! :)
Potato salad reminds me of camping, church picnics, family get togethers, and holiday dinners. (That's me in the early 90's floral shirt, very pregnant with our first son, 25 years ago!)
Rarely did my mom make it for a casual, weeknight meal. It always seemed to be for a special occasion.
Today I'm sharing my spin, and I hope you'll enjoy it this summer as well.
What's your secret ingredient for putting in the "best" potato salad recipe?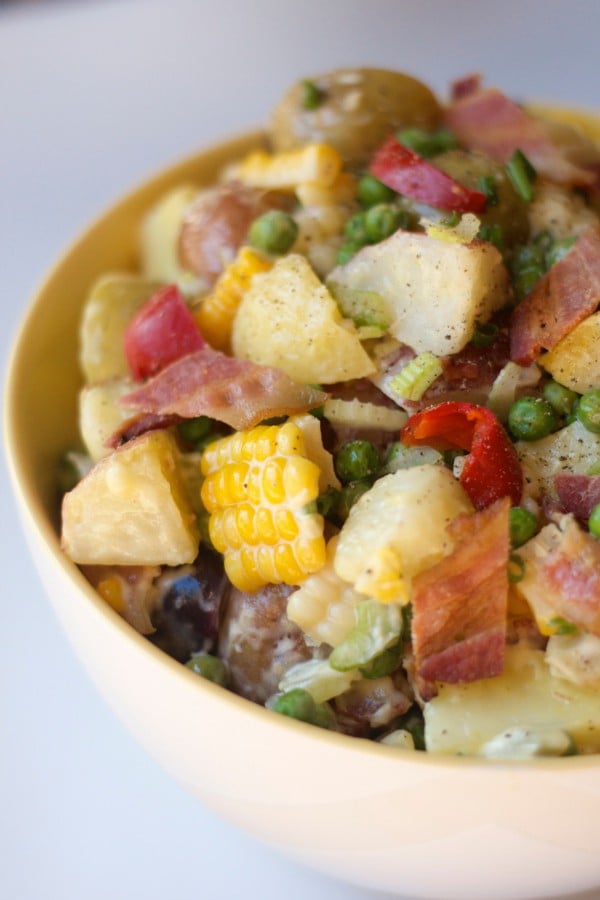 Print Recipe
Best Potato Salad
You can make 1 day ahead prior to serving. Garnish with fresh chives!
Prep Time20 mins
Cook Time12 mins
Total Time32 mins
Servings: 8
Ingredients
2 pounds mixed fingerling potatoes cut into 1-inch chunks
1 Tbsp. salt
3/4 cup mayonnaise
1 Tbsp. prepared mustard
1 Tbsp. pickle juice
1 tsp. sugar
1 garlic clove crushed
1 cup peas cooked and drained
1 cup corn cooked, cut off the cob
8 slices fully cooked bacon chopped in large pieces
1/2 cup bread and butter pickles chopped
1/2 cup celery chopped
1/4 cup red sweet peppers
1/4 cup chives
Instructions
Bring water to boil in a large pot; add in 1 Tbsp. of salt plus the chopped potatoes. Bring to a simmer and cook for abut 10-12 minutes, until the potatoes are tender. Drain well.

In a small bowl, make the dressing by adding the mayonnaise, mustard, pickle juice, sugar, and garlic. Mix together and set aside.

Cook the peas and corn and allow to cool. Chop the bacon, pickles, celery, sweet peppers, and chives.

Toss the potatoes gently with the dressing; allow to sit for about 10 minutes.

Add in the remaining ingredients; salt and pepper to taste. Gently toss until mixed together.
Picnic ideas:
Summer Picnic Recipes and Tips {Two Peas and Their Pod}
Picnic Tablecloth Cookies Recipe {Katrina's Kitchen}
Ultimate Manly Picnic Sandwich {Noble Pig}