Yeast-Raised Whole Grain Waffles
If you're looking for a new weekend waffle recipe to try, you'll love these Yeast-Raised Whole Grain Waffles, made with a few marionberries in the batter. I think weekends are the best time for slowing down, and trying new recipes, don't you?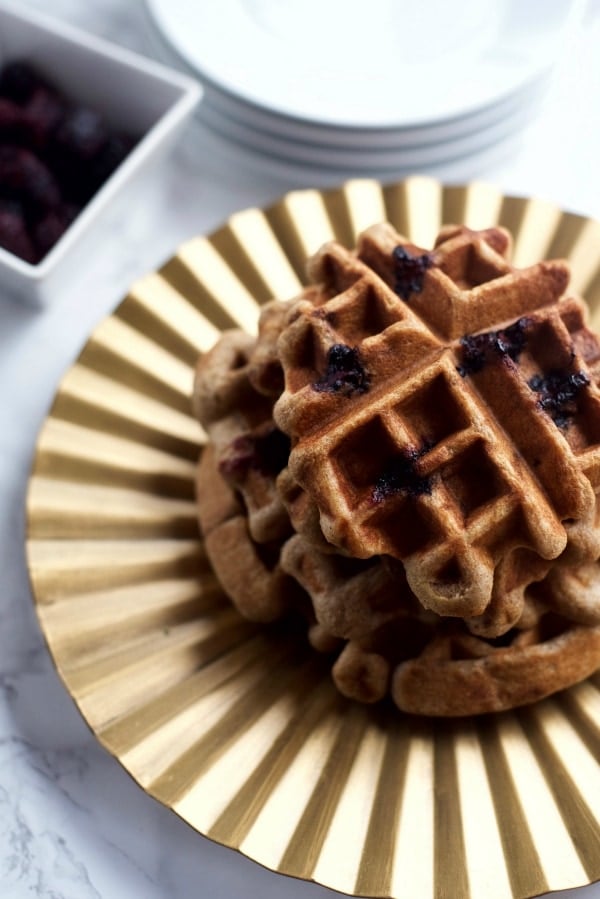 Friends, I'm not an expert in listening, but I do have one year of change in my life, and some experience in really trying to hone in on this skill.
Life's answers are not always right out in front of us …. I wish they were. Sometimes we have to make changes, or be willing to take risks to see them, or slow down, and learn to listen more.
My story today is about taking a chance one year ago, selling our house, and moving to a new town!
Fast forward one year later, finally, and it feels like we've emerged from winter. Paul and I were joking the other day, it was like we were picked up, placed in another mountain home, a new snowy climate, but now we are back … home!
We are home, back to the place we moved to one year ago, surrounded by dirt, trees, sage brush, and beautiful weather.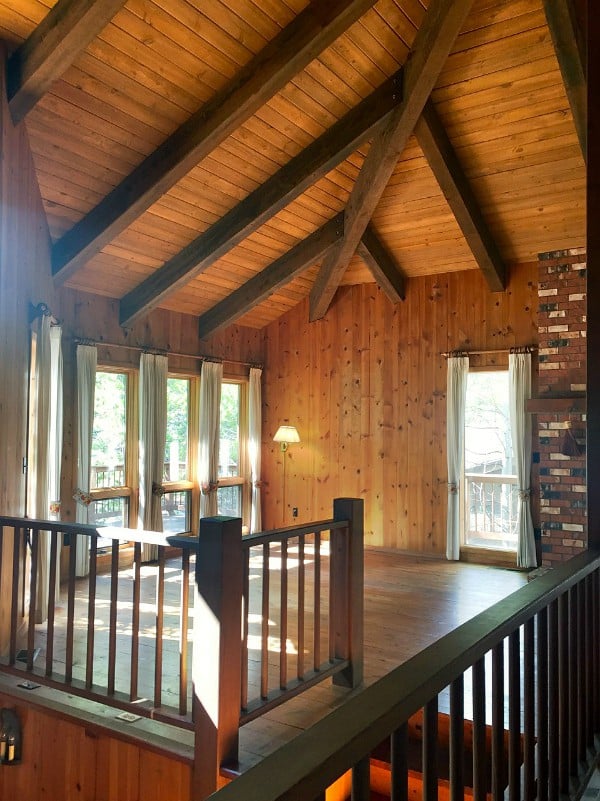 One year ago, I was in Italy when Paul texted me the link to our mountain home, and I quickly viewed the photos and knew right away there was so much potential, with all of the wood. Paint it white, open up the space to one large great room. The quaint wrap-around-deck, and I envisioned a white kitchen.
One year later, here we are! We love our home so much, and every day we count our blessings.
If someone asked me, through this big change in our lives, for one thing I've learned, I would say listening.
Listening to what's around me. What God is telling me. What He's telling me through my friends, other people, what I'm reading, hearing, and being quiet in nature.
I've been able to listen more, without so many distractions.
Honestly, it's taught me a lot about myself.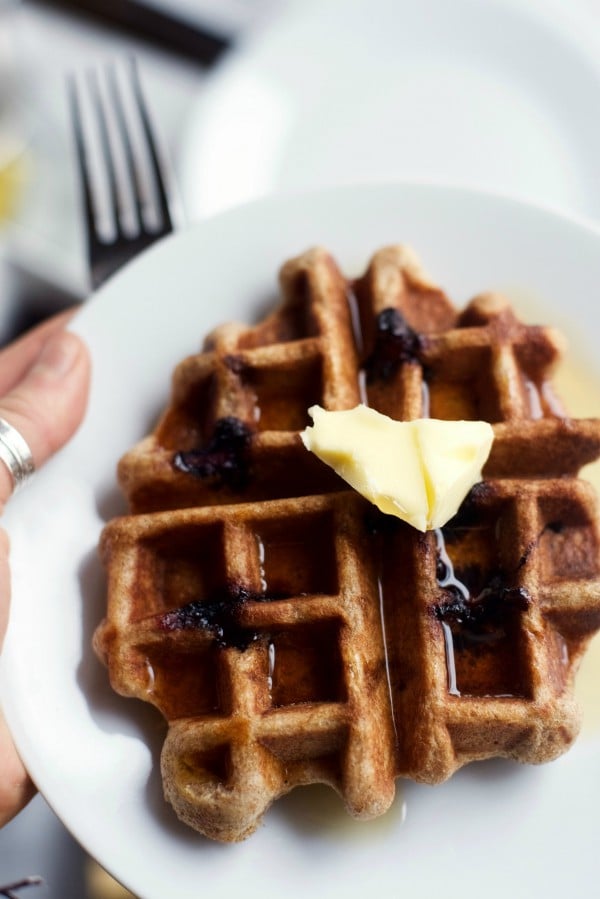 Yeast-Raised Whole Grain Waffles
These Yeast-Raised Whole Grain Waffles – oh, so good!
Served with marionberries (or your favorite frozen berry), or a side of berries.
Maple syrup, and a dab of butter.
Perfect for the weekend ahead!
Enjoy!
What are some aspects of listening that you struggle with?
Get the Recipe: Yeast Raised Whole Grain Waffles
Ingredients
2 c. milk
½ c. butter, melted
¼ c. raw sugar
½ tsp. salt
1 tsp. vanilla
2 eggs
3 c. whole wheat flour
2 ½ tsp. yeast
½ c. warm water
1 c. frozen marionberries, or favorite berries
Instructions
Warm milk and butter on stovetop on low heat. Do not boil. Add sugar, vanilla, and salt and dissolve. Remove from heat and allow milk to cool.

In separate bowl, mix yeast into ½ cup of lukewarm water. Mix until dissolved and frothy on top, about 5 minutes.

When milk has cooled, combine with yeast mixture. Add in the flour; gently mix.

Cover and allow to rise in the refrigerator over night, or 2-3 hours at room temperature.

Heat waffle iron. Add eggs and 1 tsp baking soda before cooking. Place a couple of berries in the batter before closing the iron.

Serve with Marionberry jam, almond butter, or maple syrup.
Hello and welcome to my home and table!
I'm Sandy—lover of food, family, cooking, THE BIG BOARD, travel, and bringing people together. Through great recipes and connection around the table, we become better, stronger, and more courageous people. Feasting on Life is real, and every time we do it, we grow a little more. Read more...