Gobble Up Olive Kebabs for Easy Appetizer
These Olive Kebabs are so easy, they only takes about 5 minutes to makes!
When I'm entertaining at home, I have a variety of simple appetizers that I reach for for last minute company. Some hostesses say that you need to serve a variety of appetizers for your guests to nosh on, such as something plain, and something spicy, and even something sweet like fruit. This is a great idea for a larger dinner party. I also like to have a selection so that all the guests will have something different to try!
Smaller party.
But in the case of a smaller group, or a last minute party, I love to serve an easy Olive Kebab recipe. All you need is olives (a variety makes the dish more interesting), a fresh vegetable, and a piece of meat or cheese.
There's no right or wrong!
Jazz it up.
I like to jazz it up with specialty olives that you can buy in the deli department or grocery store. Olives are easy to buy!
You can mix and match the food, making different bites (served on a toothpick), and then serve on any size of plate, platter, or bowl.
These are so yummy, your guests will gobble them up!
And of course, this would go well for an Italian themed party, or even a barbecue or a summer picnic!
How to make.
Take a cocktail toothpick and start with an olive, a vegetable, a tomato, and a piece of salami.
How to serve.
Serve the little kebabs on a large platter, or stand up straight in a glass container, with plenty of napkins nearby. If serving with thinly sliced Italian or French bread, or dipping sauces, make sure you have small plates set out. If serving the skewers by themselves, there's no need for plates or forks.
A few years ago my friend brought these with fresh blueberries, Pepperoncini peppers, salami, and cream cheese. Another great idea!
What's your favorite, easy, "gobble up" appetizer that you always have ingredients for?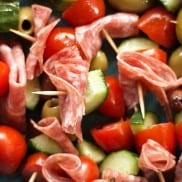 Print Recipe
Olive Kebabs
Ingredients
Jar of olives or specialty olives, such as Delallo's Pitted Olives Jubilee
Vegetable such as cucumber or tomatoes
Meat such as salami or prosciutto
Cheese optional such as swiss, provolone, or mozzarella, cubed
Instructions
With a cocktail toothpick, poke the end into an olive, a folded over piece of meat, a vegetable, and end with another olive.

Place them on a serving platter or a bowl; serve!
Are you following me on Instagram, Twitter, Facebook and Pinterest? If you'd like to subscribe to Reluctant Entertainer, to have each post delivered straight to your e-mail box, then please add your email, here. It's really easy! Thanks for being here today!