Charcuterie Olive Kebabs Recipe
A simple appetizer for any party: Charcuterie Olive Kebabs Recipe. A tasty nosh that only takes 5 minutes to prepare! Serve on an epic charcuterie board!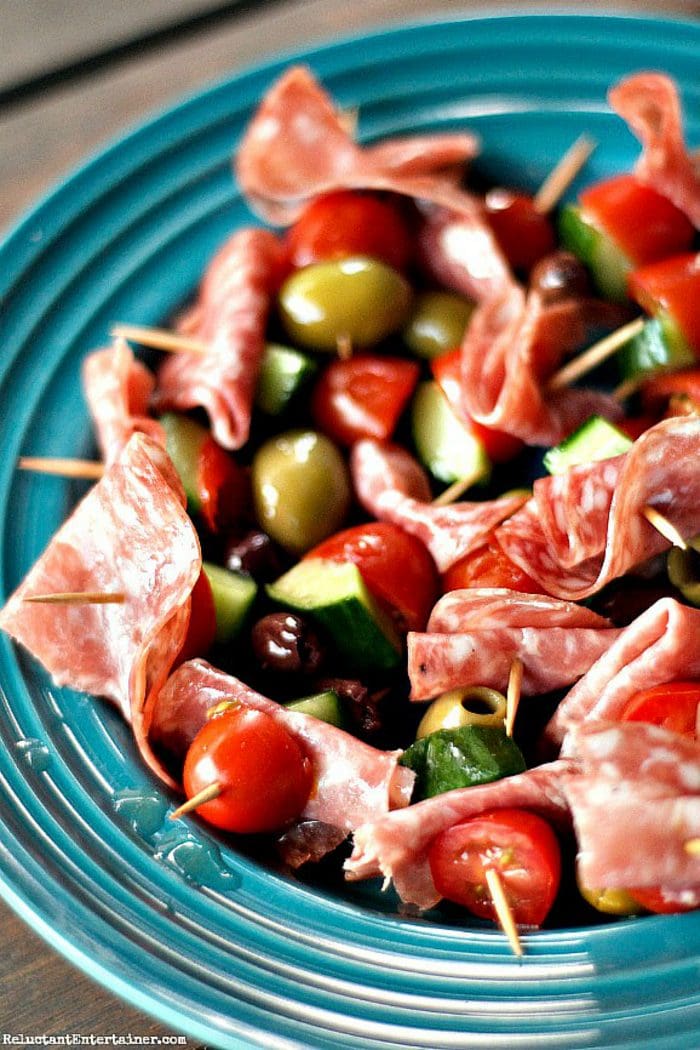 Friends, looking for a quick appetizer? We love these Olive Kebabs, because you can make them in no time, and even make-ahead for a party! Of course, we love these Salami Wrapped Blueberry Pepperoncini Rollups, too!
Charcuterie Olive Kebabs Recipe
Think charcuterie! Or, serve these little bites alone or on any of my "The Big Board" entertaining ideas!
[*In lightt of what's happening in our country this week, we are saddened and praying for peace. Thank you for supporting my business here on RE.]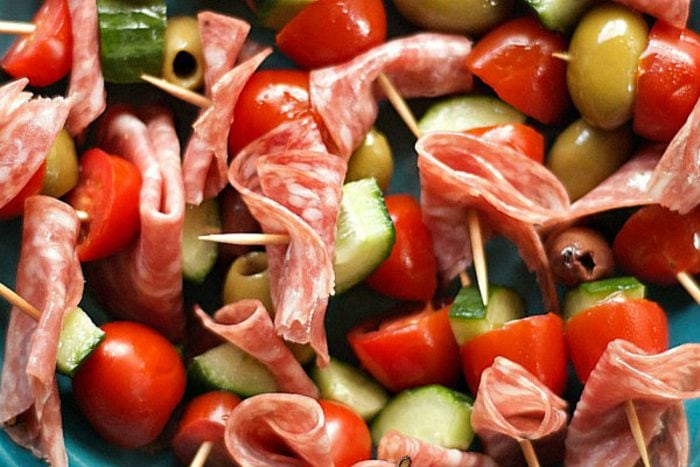 All you need for olive kebabs:
Meat (salami or your favorite charcuterie meat)
Vegetable (cherry tomatoes, cucumber, or whatever veggie you want to use)
Cheese (favorite hunk of cheese)
Good quality olives
Toothpicks
When I'm entertaining at home, I have a variety of simple appetizers that I reach for for last minute company. Some hostesses say that you need to serve a variety of appetizers for your guests to nosh on, such as something plain, and something spicy, and even something sweet like fruit.
This is a great idea for a larger dinner party. I also like to have a selection so that all the guests will have something different to try! You can also try these Easy Greek Appetizer Skewers.
Le Creuset Serving platters
Friends, I love these 2 sizes of serving platters for appetizers, because the edges slope up!
A set includes 2 platters: one 14″ and one 16 1/4″ platter [affiliate link].
Or, you can buy a round platter [affiliate link].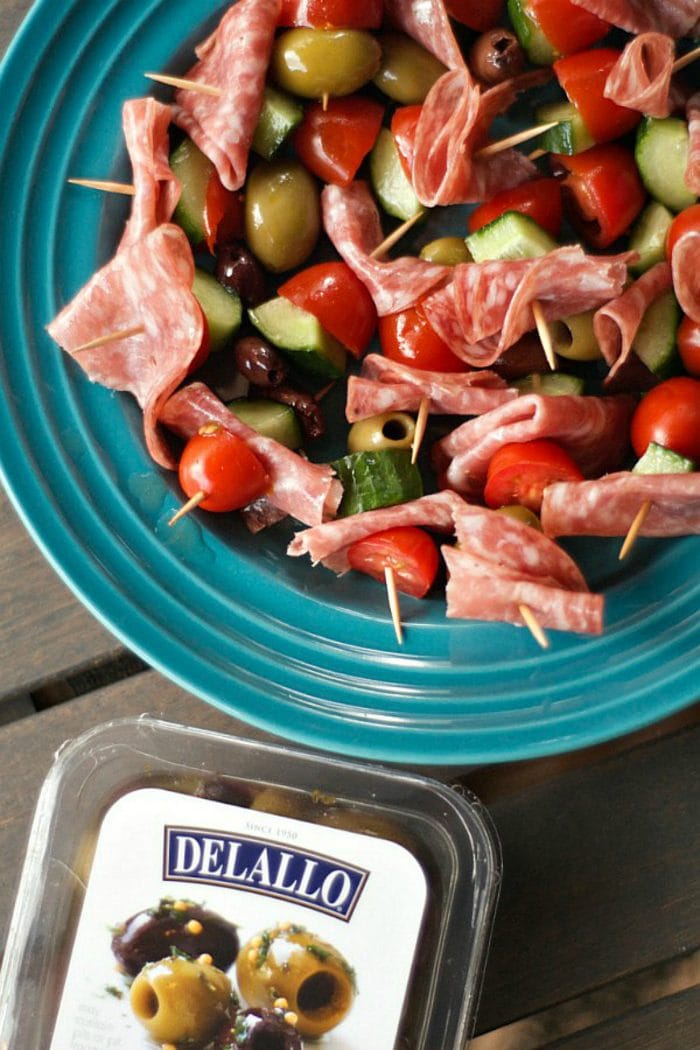 Olive Kebabs
In the case of a smaller group, or a last minute party, I love to serve an easy Olive Kebab recipe. All you need is olives (a variety makes the dish more interesting), a fresh vegetable, and a piece of meat or cheese.
There's no right or wrong!
Jazz it up
I like to jazz it up with specialty olives that you can buy in the deli department or grocery store.
Olives are easy to buy! Choosing a good quality is also important (for the best flavor).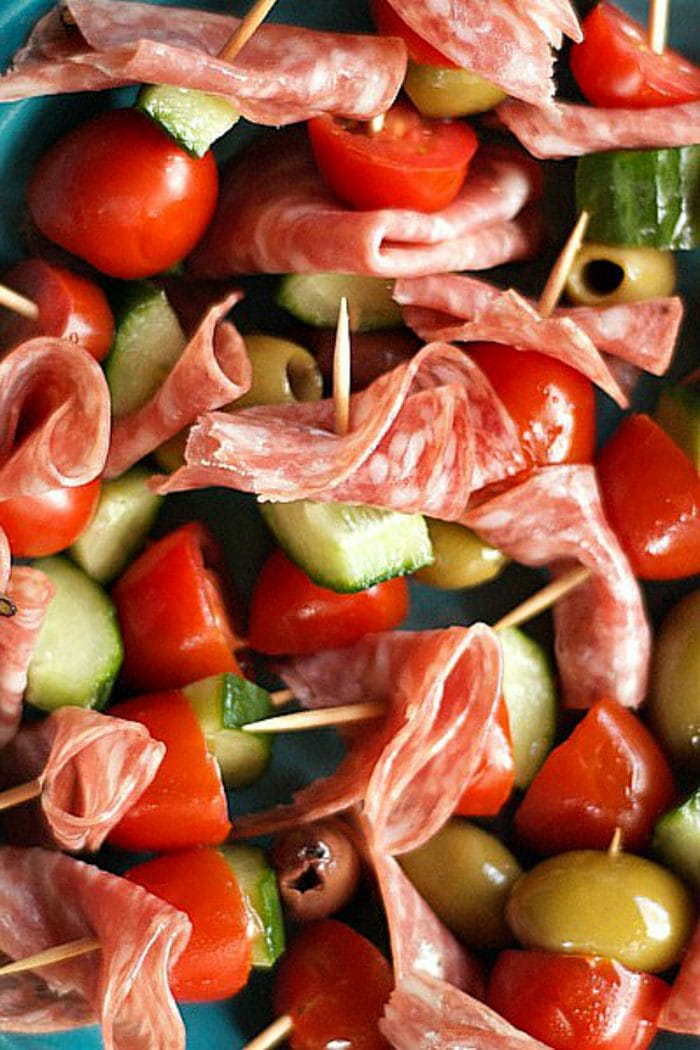 You can mix and match the food, making different bites (served on a toothpick), and then serve on any size of plate, platter, or bowl.
These are so yummy, your guests will gobble them up!
And of course, this would go well for an Italian themed party, or even a barbecue or a summer picnic! These 4th of July Blueberry Caprese Skewers are perfect for summer and the Fourth if you love blueberries.
How to make olive kebabs
Take a cocktail toothpick and start with an olive, a vegetable, a tomato, and a piece of salami.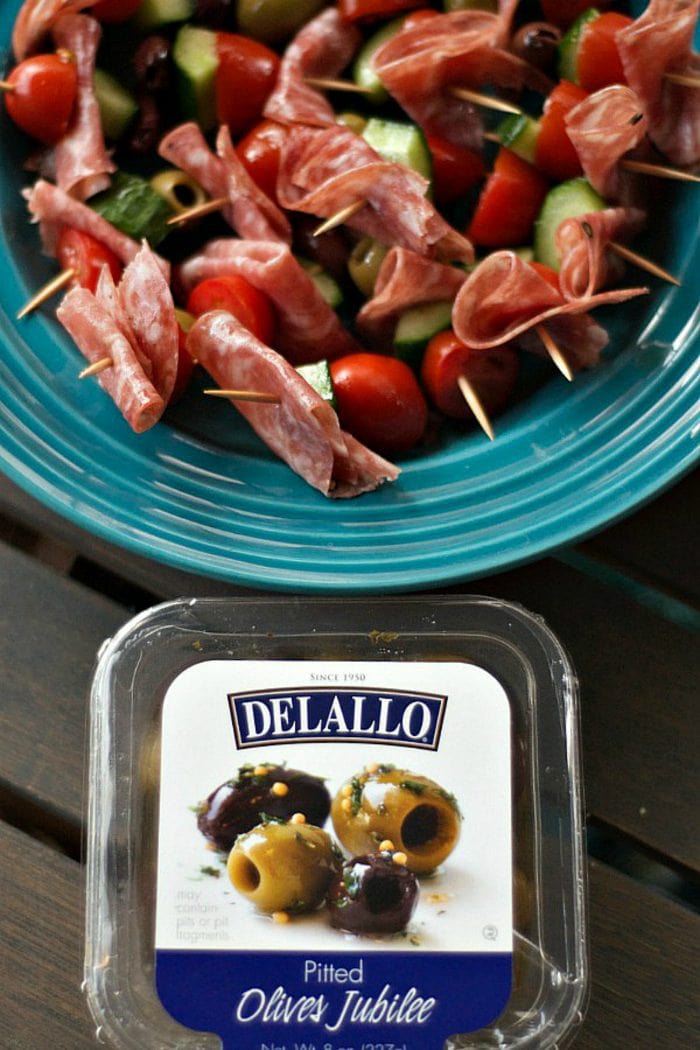 Serve on an epic charcuterie
Serve the little kebabs on a large platter, or epic charcuterie board.
You can stand them up straight in a glass container, with plenty of napkins nearby.
If serving with thinly sliced Italian or French bread, or dipping sauces, make sure you have small plates set out.
If serving the skewers by themselves, there's no need for plates or forks.
ENJOY!
Get the Recipe: Olive Kebabs
Ingredients
1 jar olives, or specialty olives, such as Delallo's Pitted Olives Jubilee
Vegetable, such as cucumber or tomatoes, cut in small pieces
Meat, such as salami or prosciutto
Cheese chunks, swiss, provolone, or mozzarella, cubed
Instructions
With a cocktail toothpick, poke the end into an olive, a folded over piece of meat, a vegetable, and end with another olive.

Place them on a serving platter or a bowl; serve!
Notes
Reposted from AUG 2017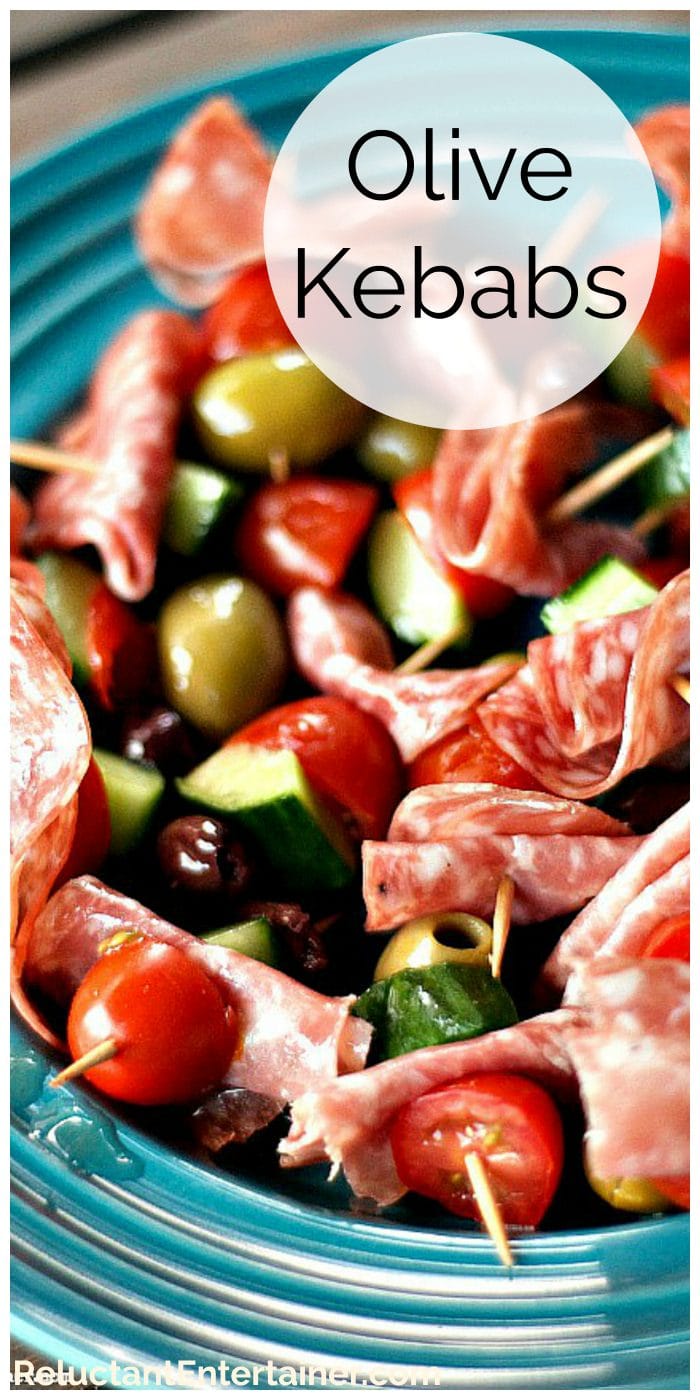 Hello and welcome to my home and table!
I'm Sandy—lover of food, family, cooking, THE BIG BOARD, travel, and bringing people together. Through great recipes and connection around the table, we become better, stronger, and more courageous people. Feasting on Life is real, and every time we do it, we grow a little more. Read more...