Pepperoncini Steak Marinade for Grilling
This delicious grilled steak has only 4 ingredients! Pepperoncini Steak Marinade for Grilling makes the best steaks! Perfect for any season. Watch the VIDEO below!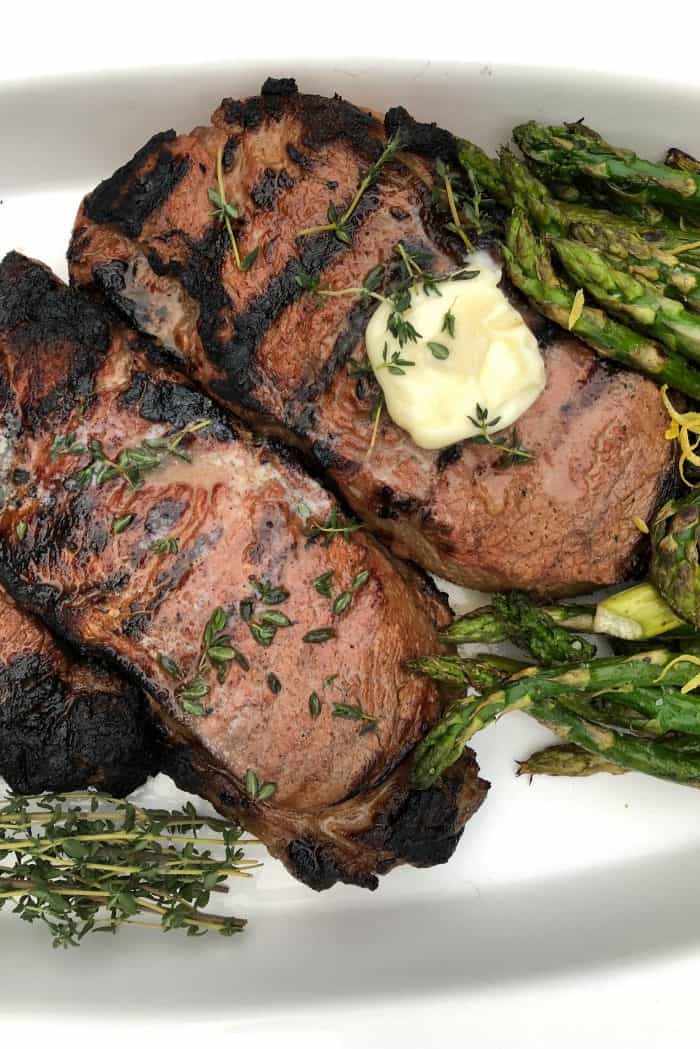 If you're looking for how to grill the perfect steak, then this recipe is for you! Grilling steaks is so easy, especially with this 4-ingredient recipe, served with a side of your favorite onions or asparagus!
This recipe today is fantastic and so easy, but you may also love this Grilled Garlic Pepper Tri Tip recipe! Made similar as my delicious prime rib recipe!
Grilled Steak Recipe
The sun was out so we sat outside and enjoyed this grilled steak recipe this week (in between the bouts of cold weather).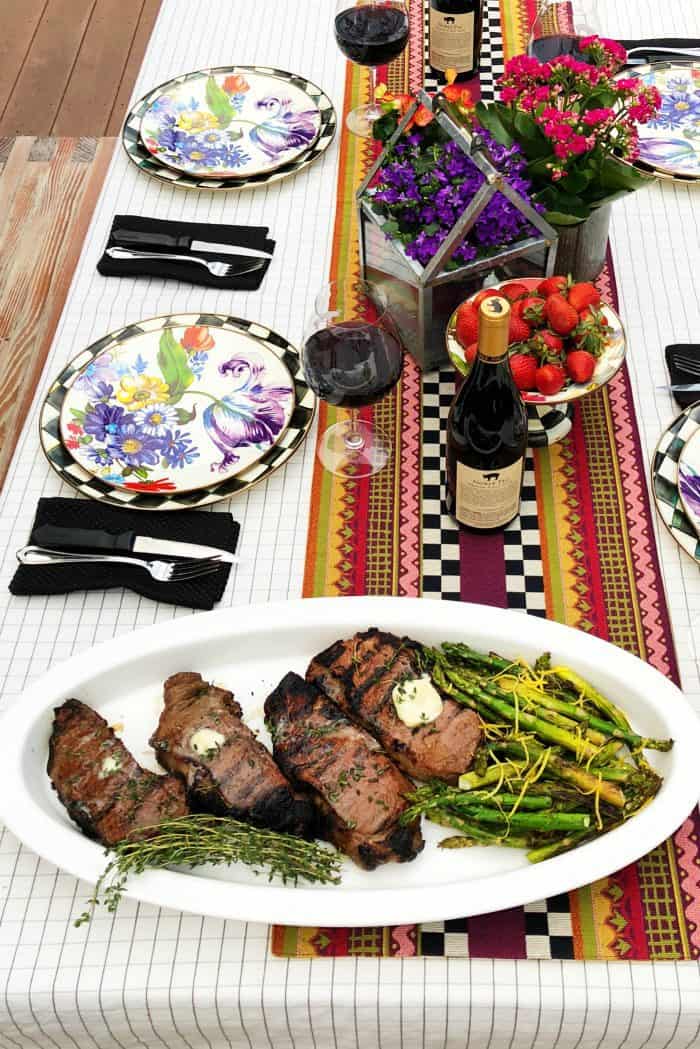 How to grill steak
It's a fact that food tastes better when it's hot off the grill, so today take note of this super easy, Pepperoncini Steak Marinade for Grilling, our go-to steak recipe. You can't mess up! With 4 simple ingredients, there's so much flavor, and as long as you don't burn it on the grill, you're golden! If you love tri tip, try this Grilled Garlic Pepper Tri Tip recipe!
The sunshine has been glorious here in central Oregon. In fact, I snuck in a little nap on our back deck yesterday. I can feel springtime coming, I can feel it in my bones. I shut my eyes and I can feel myself floating on the Deschutes River. :)
"It was one of those March days when the sun shines hot and the wind blows cold: when it is summer in the light, and winter in the shade." -Charles Dickens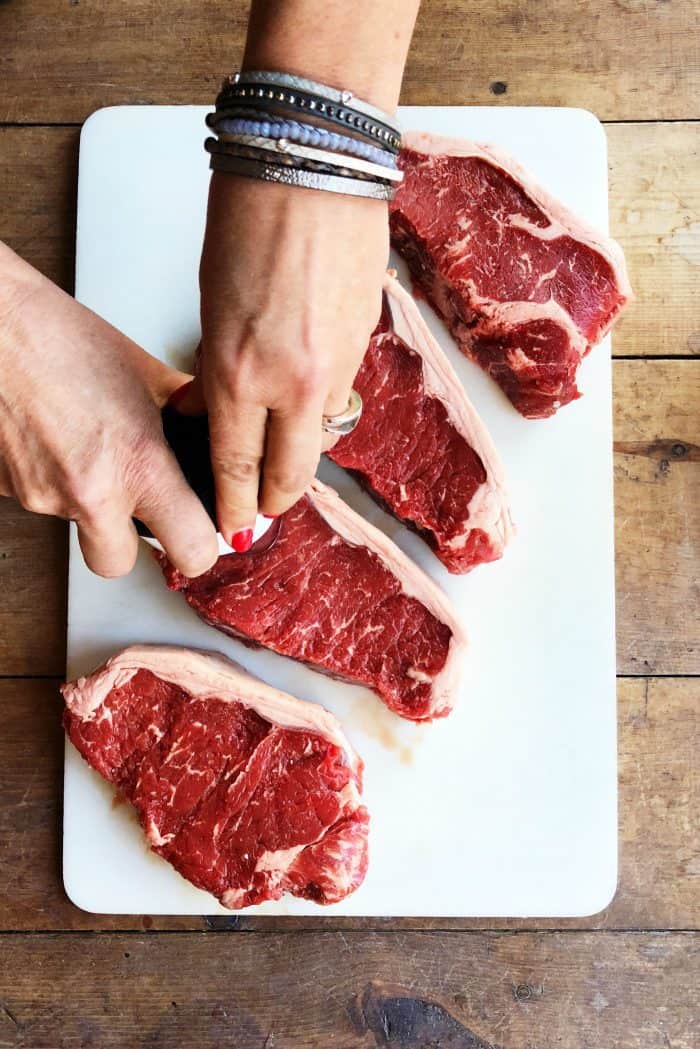 Pepperoncini Steak Marinade for Grilling
Start with 4 boneless New York steaks (but of course you can use any steak!), and make this amazing easy steak marinade (recipe below).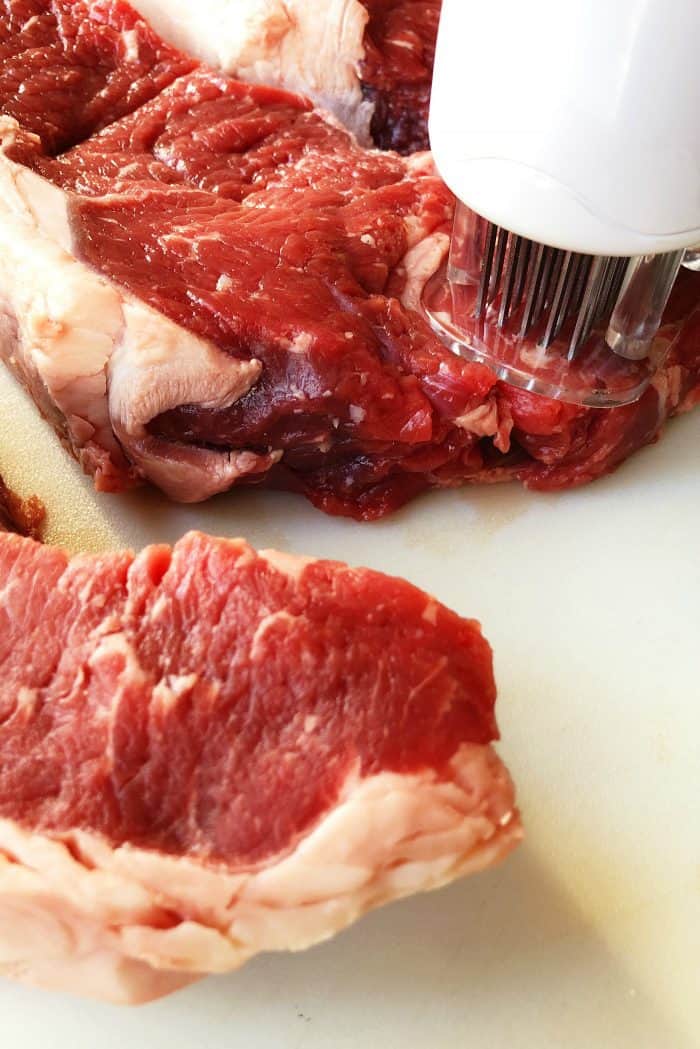 We use this little OXO clean bladed meat tenderizer for tenderizing, which has prongs that go deep into the meat. You won't believe how tender it makes the meat. (Check it out, friends. You will want one of these tools, or better yet, buy ahead for Father's Day!)
Marinate ahead in the fridge–2 hours to 24 hours–and the meat is perfect for grilling.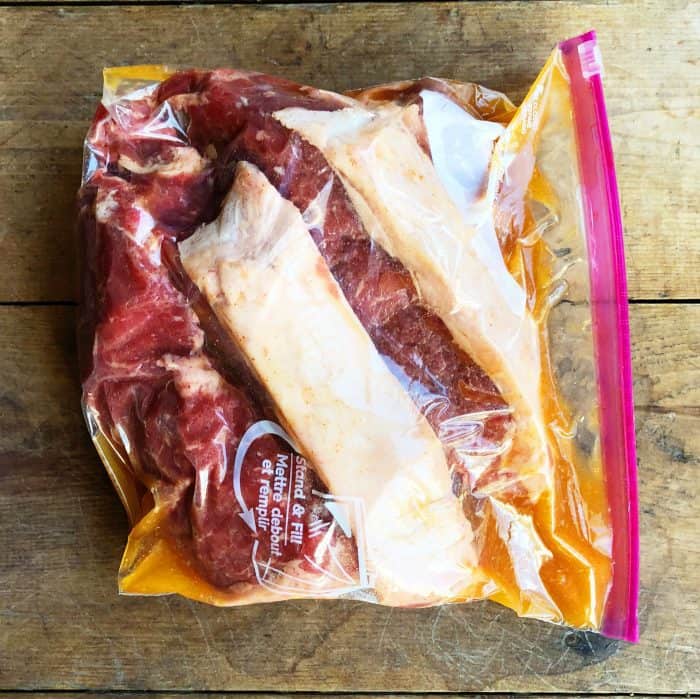 We all know grilling season is sweeter when you share it with friends. Some of our greatest summer memories are grilled meals around our outdoor dining table!
We love this recipe with a side of asparagus. Or even sweet onions (recipe coming soon!)
Right now, we have a KitchenAid Full-Size Propane Gas Grill on our deck. Charcoal grills burn hotter than gas grills, and are easier to use for smoking. But they require more lead time than gas grills, because you have to heat the coals before you begin the cooking.
Gas grills light instantly, and offer that steady, adjustable heat.
For a quick meal, and last minute guests? Gas is best.
The more you grill, the more you master the art.
How long to grill steak
Our grill is super-easy, because it came with an internal thermometer.
How to grill the perfect steak? High heat for about 8 minutes total! Most grilling is done over high heat, so you get those nice grill marks on the outside of your meats and veggies.
If you like a little pizzazz in your cooking, then this Pepperoncini Steak Marinade for Grilling is for you!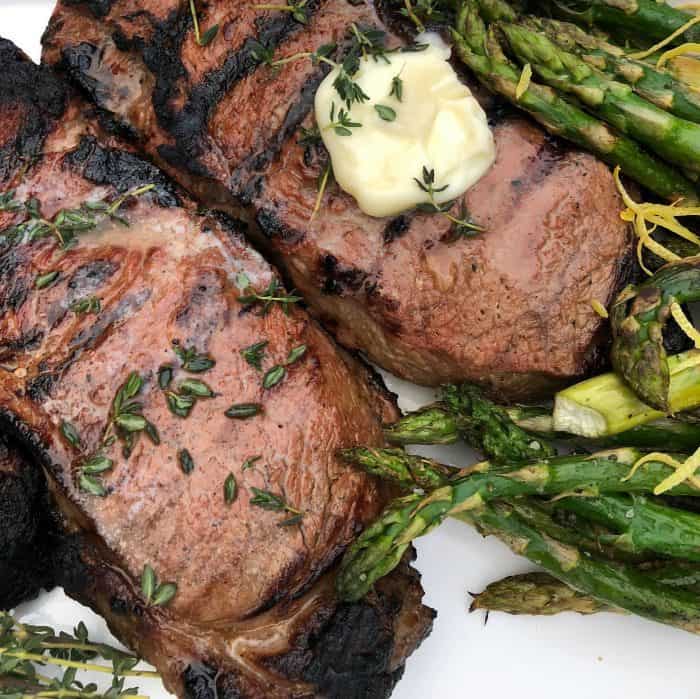 Get the Recipe: Pepperoncini Steak Marinade for Grilling
With a delicious pepperoncini marinade, we also love this steak leftovers for meal planning, freezing, salads, or for Mexican dishes. We've tried other seasoning salts, but Lawry's is our favorite!
Ingredients
4 Boneless New York steak, about 1 pound each
1 1/2 cup pepperoncini juice from a jar of pepperoncinis
2 Tbsp. sugar
2 Tbsp. Lawry's Seasoning Salt
Instructions
Mix together in a small bowl the pepperoncini juice, sugar, and salt. Set aside.

On a cutting board, tenderize both sides of each steak.

Pour the marinade into a Ziploc bag; place the 4 steaks inside. Remove the air from the bag and seal tightly. Marinade steaks overnight for best flavor (or for at least 2 hours before grilling).

Grill over high heat, no more than 8 minutes, and top off with chopped thyme and slice of butter (optional). Apply butter first so the thyme will stick to the steak. Allow butter to melt then serve.
This post has affiliate links. Every purchase from these links supports RE at no extra cost to you. Thank you!
Hello and welcome to my home and table!
I'm Sandy—lover of food, family, cooking, THE BIG BOARD, travel, and bringing people together. Through great recipes and connection around the table, we become better, stronger, and more courageous people. Feasting on Life is real, and every time we do it, we grow a little more. Read more...