Weekend at Sunriver Resort, Central Oregon
A Weekend at Sunriver Resort, Central Oregon, located just 15 miles south of Bend, Oregon, offers a unique Oregon vacation experience for all ages!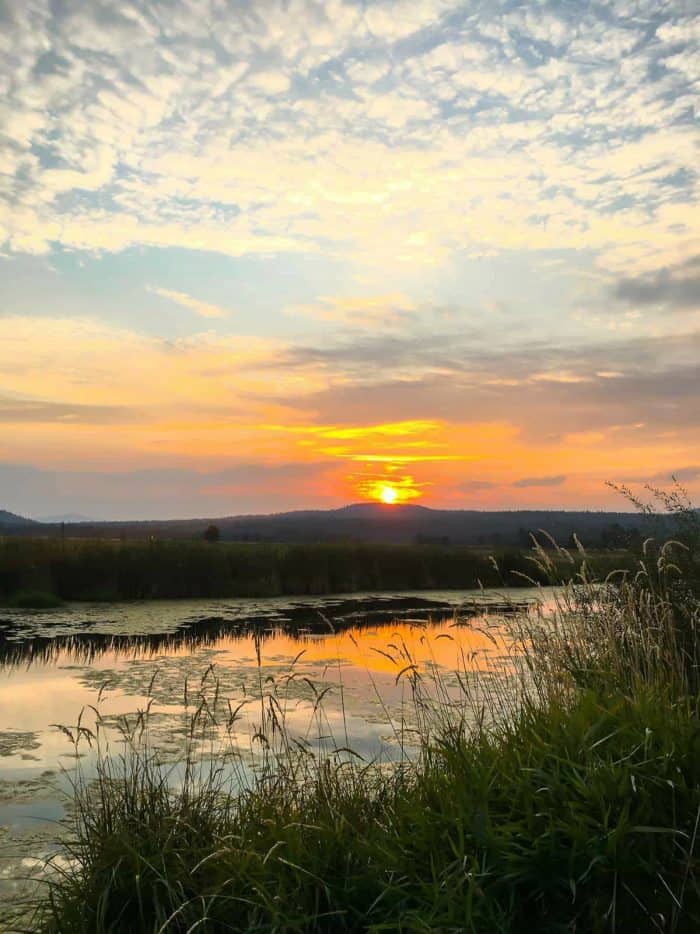 A weekend to remember happened last month when my friends came to central Oregon to stay at Caldera Springs in Sunriver, Oregon, for a blogging retreat, hosted by Sunriver Resort!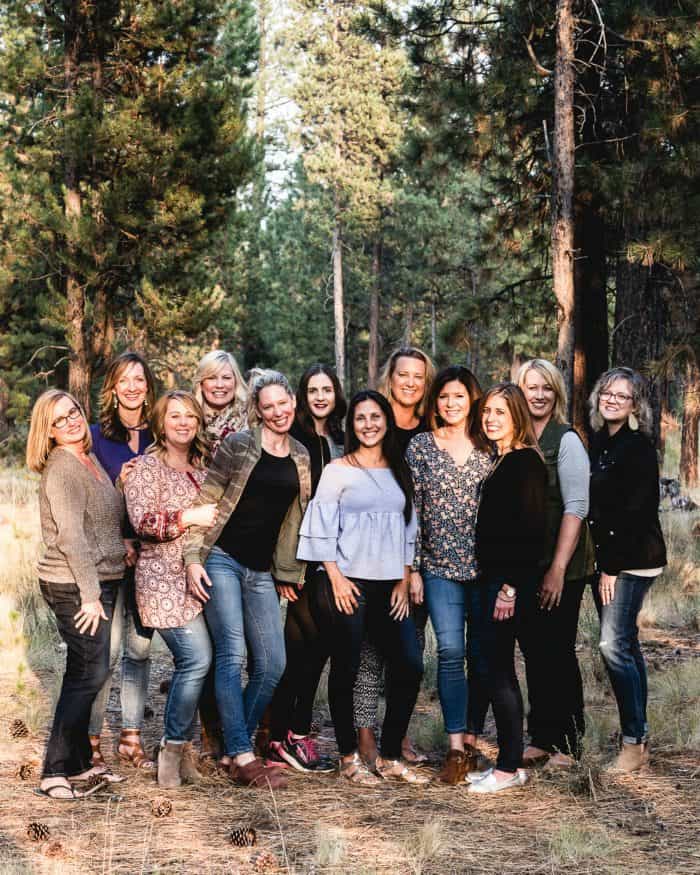 Weekend at Sunriver Resort, Central Oregon
Set in the foothills of the Cascade Mountains, Sunriver boasts 300 days of sunshine, and so many outdoor activities: 63 holes of championship golf, a world class spa (Sage Springs Spa), over 40+ miles of biking trails, hiking, kayaking, horseback riding, white water rafting, skiing, rock climbing, and more!
Imagine riding bikes through a rolling meadow, with the Cascade mountain range in the background, a few feet away from the Deschutes River, with crisp blue skies. And then kayaking those pristine waters on a sunny day, and enjoying the gorgeous sunset … in September!
That is exactly how we spent our 3 days here in central Oregon!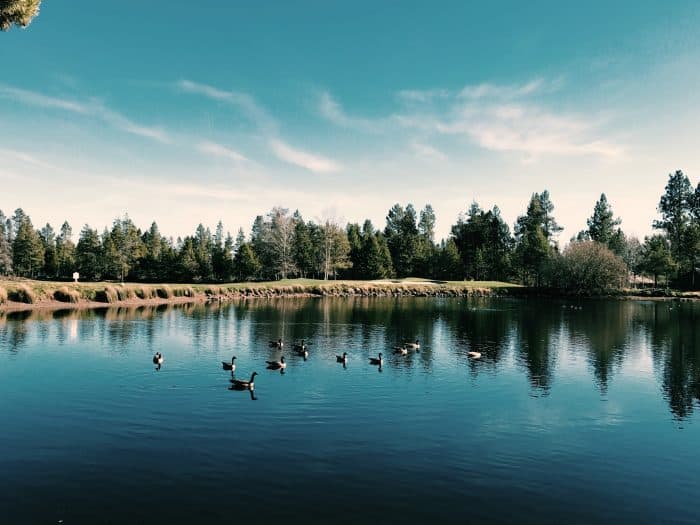 Because of the accessible outdoor activities and gorgeous, peaceful setting, Sunriver remains a favorite getaway spot for many, with so many lodging options to choose from. You can rent a house or cabins, or stay in the Sunriver Lodge.

Our home in Caldera Springs slept 12, and had everything that we needed for a lovely 3 day stay!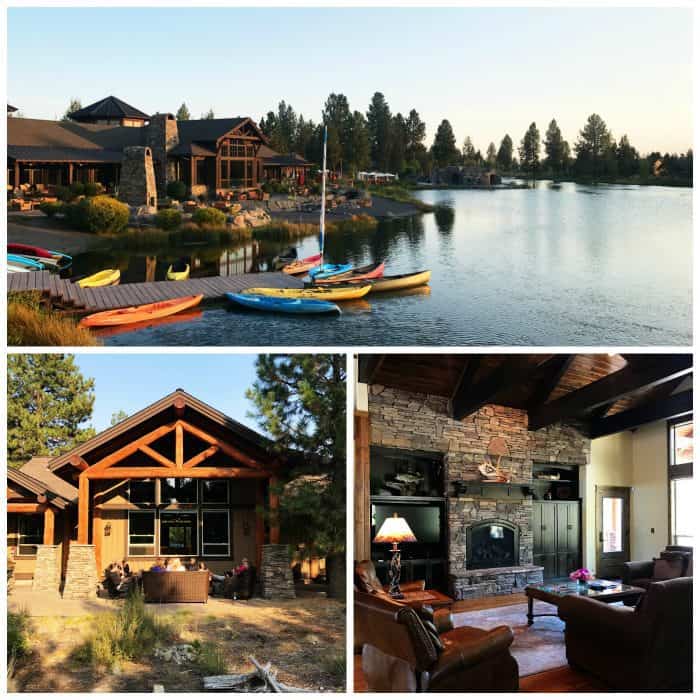 Caldera Springs
Located adjacent to Sunriver, Oregon is Caldera Springs, a 400-acre gated residential community. The Caldera Springs master plan includes 320 single-family homesites, with lot sizes ranging from about a quarter acre to more than one acre, as well as 45 Caldera Cabins.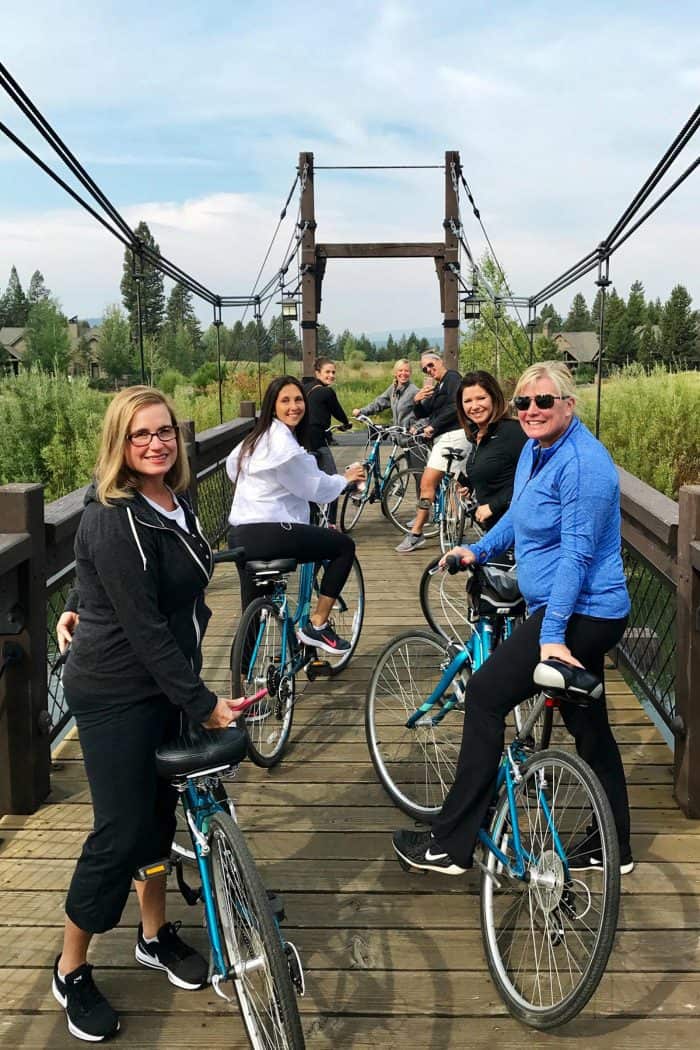 Our house was stocked with 12 cruiser bikes, so the first activity was hitting the bike trails. Sunriver has a Bike Barn, so you're sure to get just the right size bike when you rent their beautiful homes.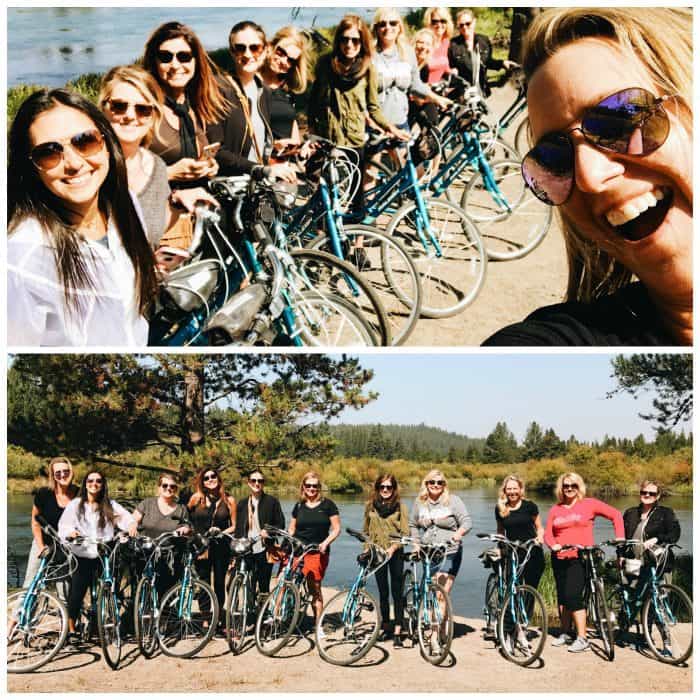 We rode all over Sunriver, ending up at the marina for lunch at Hola Mexican Restaurant. The bike paths are flat and well paved, making it an easy trek for all abilities. It was our friend Mary's first time to ride in 25 years!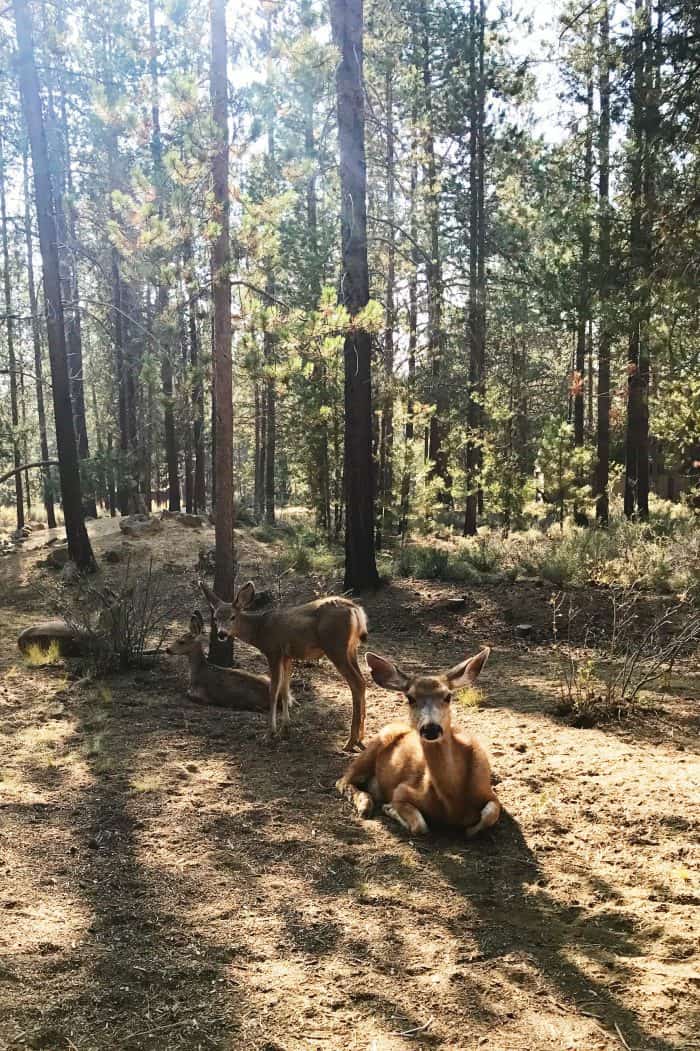 Sage Springs Club and Spa
Then we did a little shopping in the village. Saw the deer in perfect sunlight on return. And enjoyed a spa treatment at Sage Springs Spa.
We loved our time at Sage Springs Club and Spa. They offer a full range of massages, facials, body treatments, and salon services.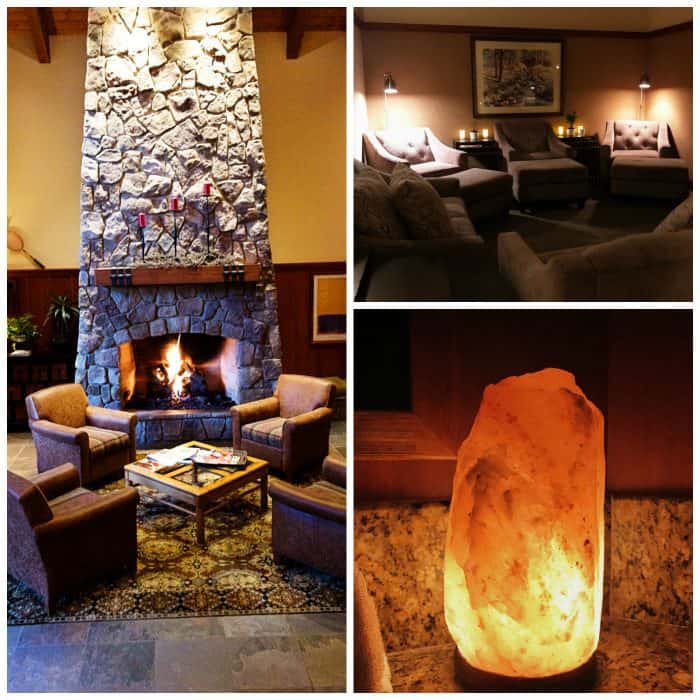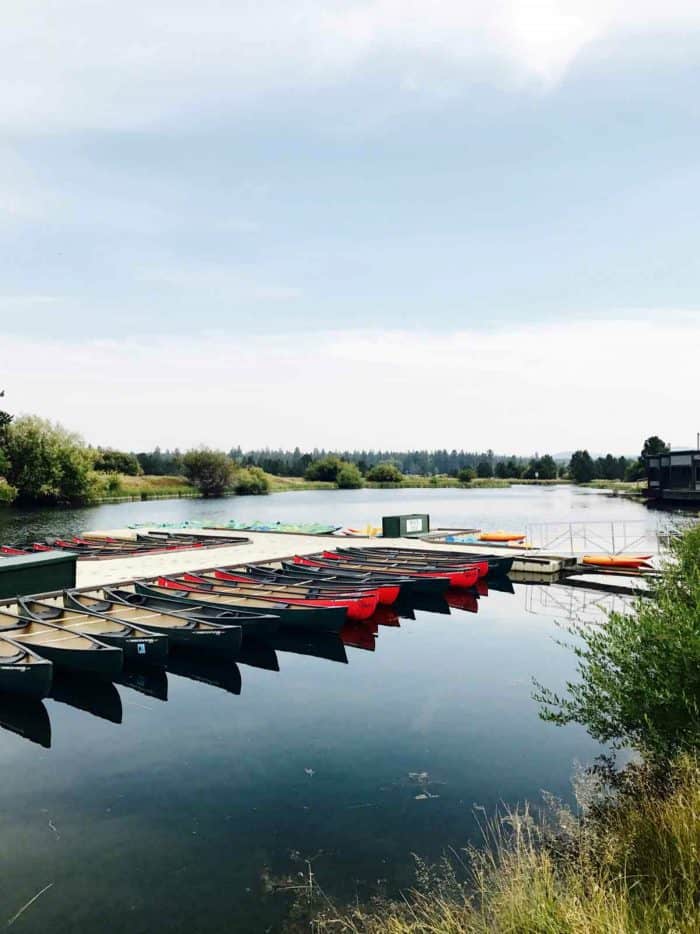 The Marina
Everyone got their own kayak, and we floated down the beautiful Deschutes River, with a pleasant detour up Spring River, where we had lunch, provided by Whole Foods Bend.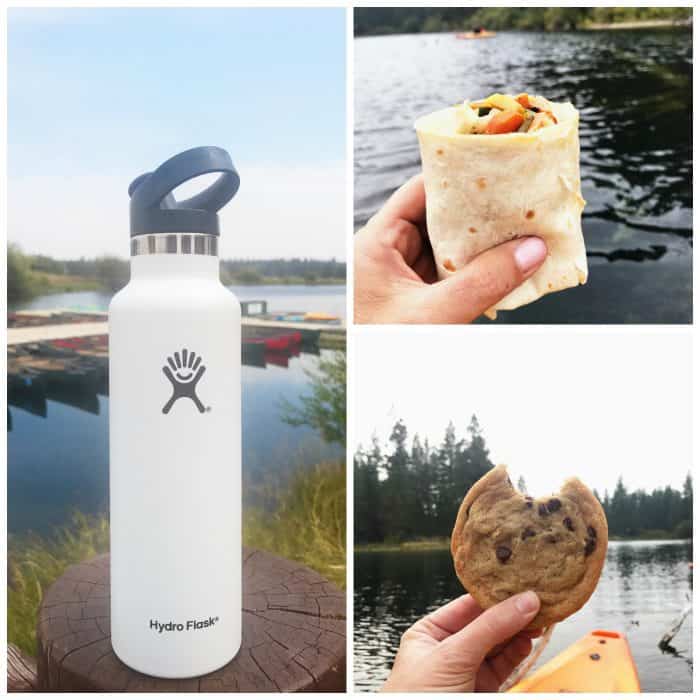 The wraps and cookies were a huge hit. Hydroflask provided beautiful colored flasks for our water.
The sun was out, the ducks were as cute as could be. What more could a group of girls ask for?
Sunriver Lodge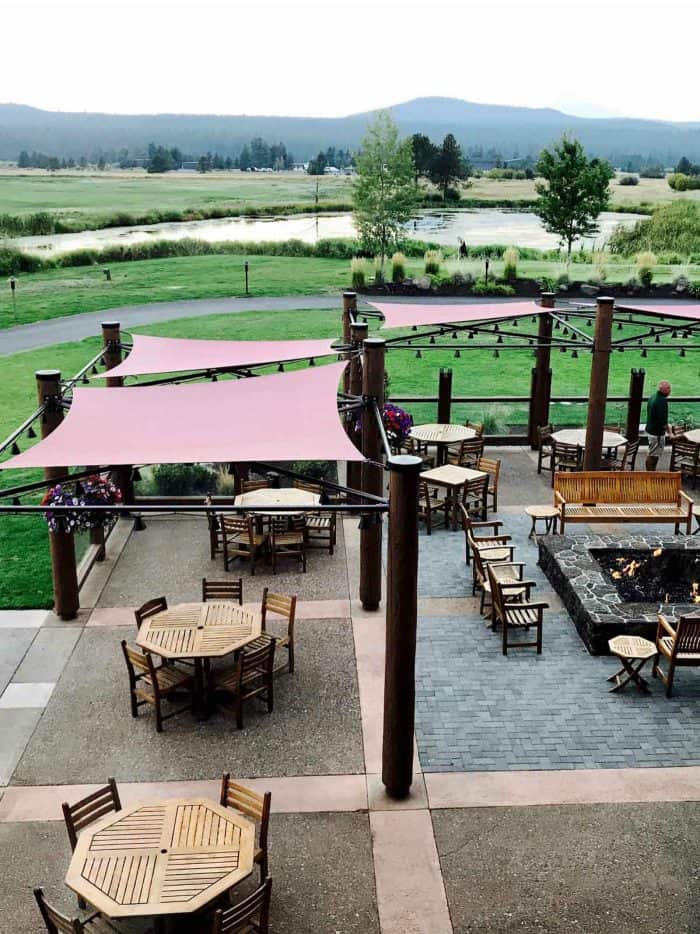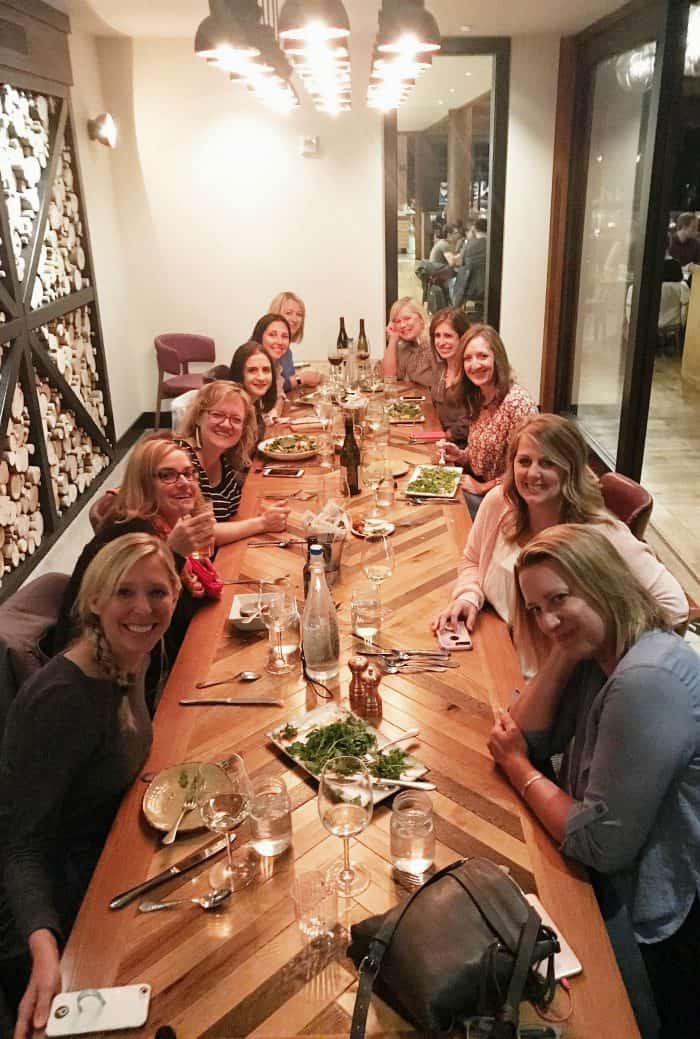 Our last night together, we ate at Carson's at the Sunriver Lodge.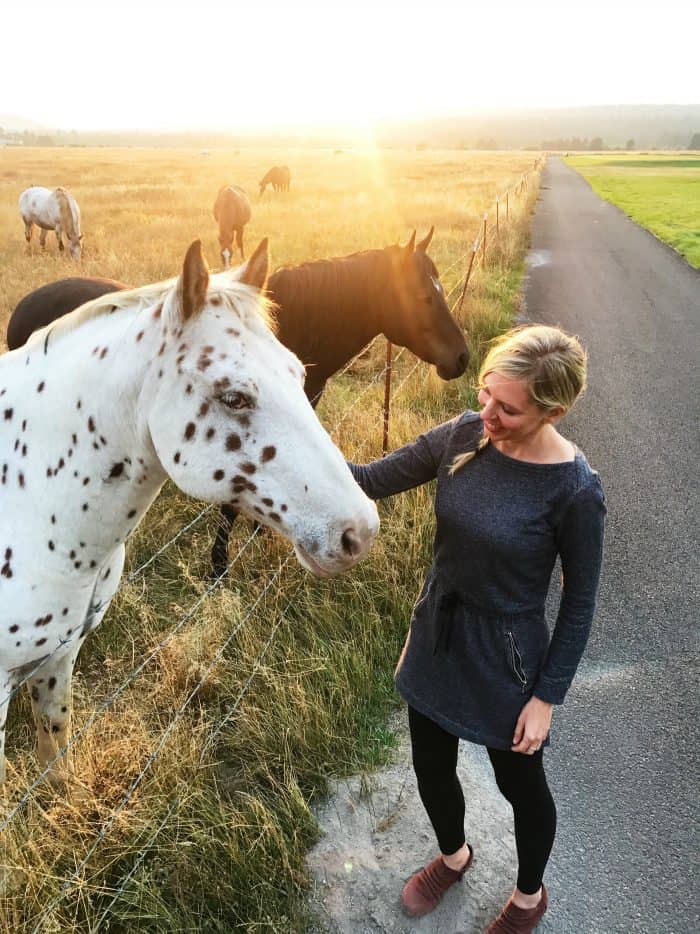 The sunset was perfect, with a glow that was unforgettable in the meadow, and the horses were glorious, kissed by the sun.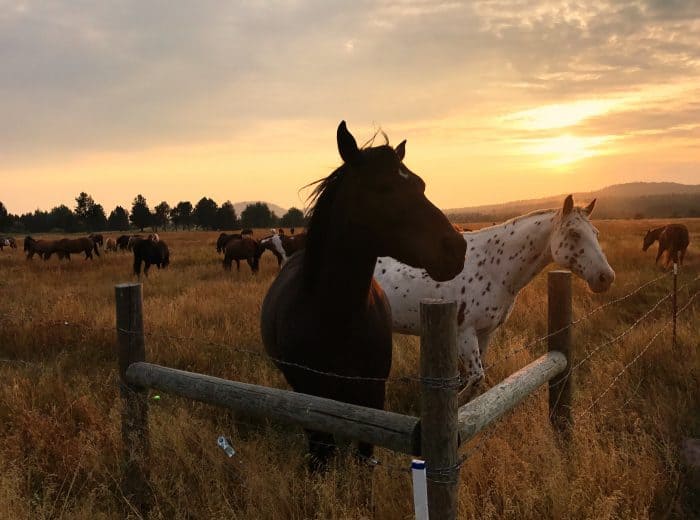 Sunriver Resort What to Do
Other things to do at Sunriver Resort include enjoying The Cove pool complex, or soaking in a hot tub under the stars.

There's a state-of-the-art Sunriver Observatory, stables for horseback riding, skiing at Mt. Bachelor in the wintertime, or floating the beautiful region's whitewater rapids in the summertime.
Music is a big part of Sunriver in the summer. Behind the lodge you can enjoy the free outdoor Summer Concert Series, with live music, brews and food at The Backyard!

During the weekend, these brands made our experiences more special, and delicious! Sunriver Resort was the main sponsor, and we are truly grateful for our wonderful stay.
Birdseed Foods. Gluten-free, fabulous granola.
Storyville Coffee. Award-winning beans that make more than a cup of coffee. Order their online beans delivered fresh to your doorstep, with all profits to help end human trafficking.
Hydroflask. My new white Hydroflask goes with me everywhere I go!
Noble Pig Wine. The BEST wine from Oregon: Pinot Gris and Pinot Noir (their Chadonnay is great, too.)
DeLallo Foods. Everything you need to make a fabulour Italian spread for entertaining, and especially a Charcuterie Board.
Whole Foods Bend. Check out their ultra-affordable store brand, 365 Organics, now available on Amazon!
Being able to lounge and unwind and just be together was a wonderful way to spend time in beautiful Sunriver. Thank you Sunriver Resort, for hosting us! In this post, as always, all opinions are my own.
Hello and welcome to my home and table!
I'm Sandy—lover of food, family, cooking, THE BIG BOARD, travel, and bringing people together. Through great recipes and connection around the table, we become better, stronger, and more courageous people. Feasting on Life is real, and every time we do it, we grow a little more. Read more...