Pesto Chicken Thighs Sheet Pan Dinner
Pesto Chicken Thighs Sheet Pan Dinner for an easy weeknight meal. Line the pan with parchment paper or foil, mix the ingredients together; bake and serve!
Oh, Friends, the colors of fall …
I've been taking 2 walks a day, to soak it all in. (Hello, beautiful Fall and Mama and baby!)
I love this reminder to savor not only the beauty around us, but people.
Our kitchens … the smells of nostaligia (love these words). I do remember the smell of apples, dinner rolls baking, freshly sliced pumpkin bread, one-pot roast beef on the dinner table with carrots and potatoes … oh, such comfort foods.
"Use what you have, use what the world gives you. Use the first day of fall: bright flame before winter's deadness; harvest; orange, gold, amber; cool nights and the smell of fire. Our tree-lined streets are set ablaze, our kitchens filled with the smells of nostalgia: apples bubbling into sauce, roasting squash, cinnamon, nutmeg, cider, warmth itself.

The leaves as they spark into wild color just before they die are the world's oldest performance art, and everything we see is celebrating one last violently hued hurrah before the black and white silence of winter."
― Shauna Niequist
We hosted our dear friends the other evening (my childhood friend), and just sat around the table and talked.
When is the last time you didn't rush through your meal, and you just sat there enjoying each other?
Life is short, and our time together is precious.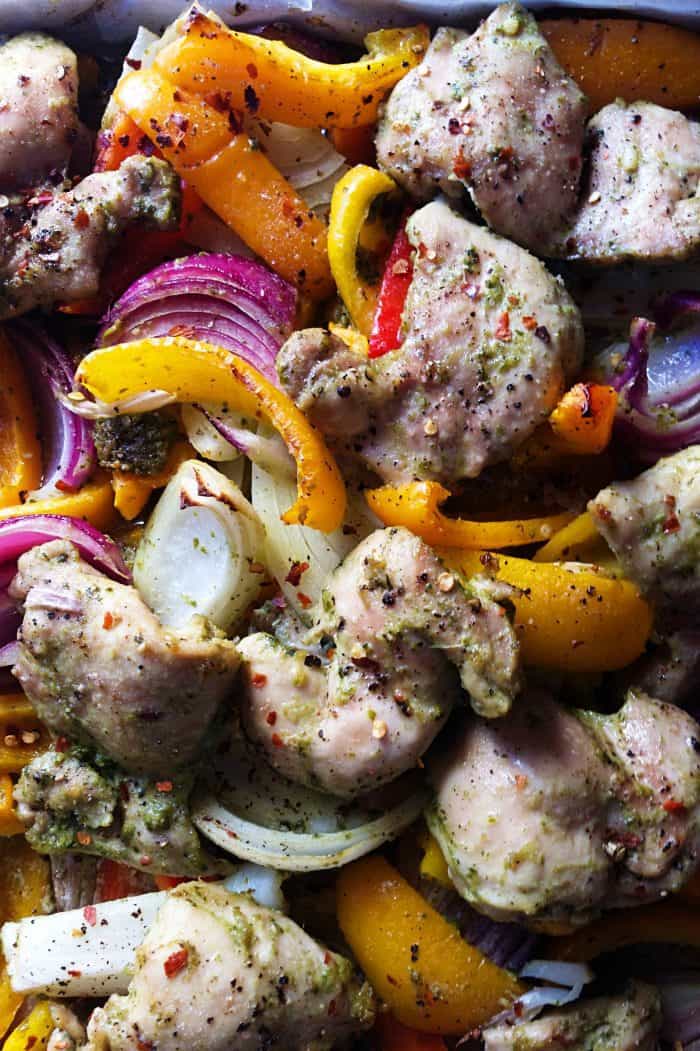 Pesto Chicken Thighs Sheet Pan Dinner
Everyone loves a sheet pan dinner, and you may have already tried my One-Sheet Broccoli Baked Salmon, and Roasted Lemon Salmon with Green Beans, and Pesto Bratwurst Sheet Pan Dinner.
This time we used boneless chicken thighs (which cooks a bit longer than sausage or bratwurst).
I say add your favorite seasoning, because you may love a 5-spice combo, or basil or oregano.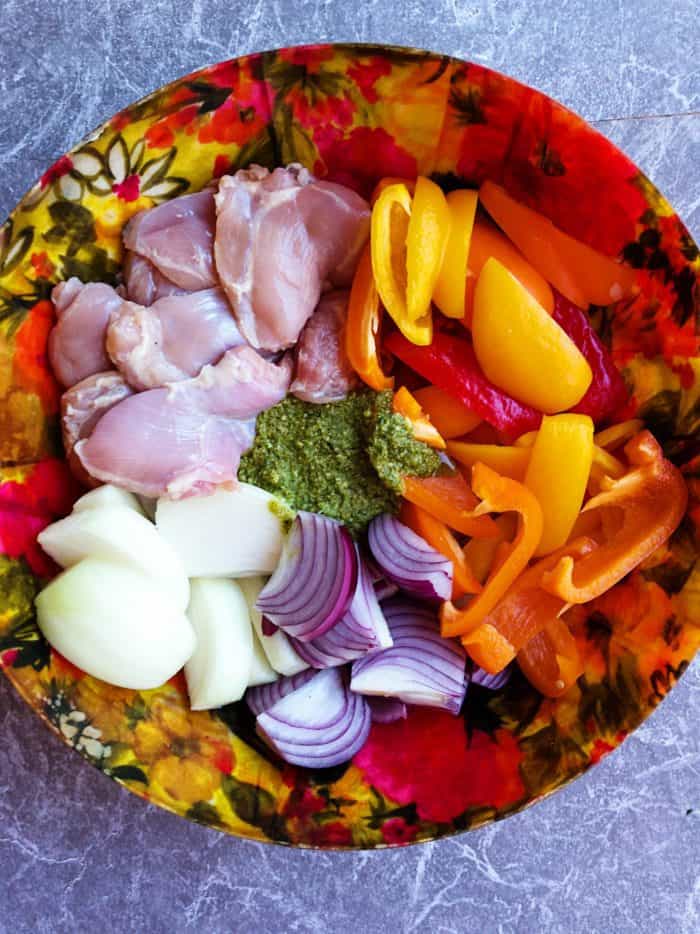 Sprinkle on top before baking.
When it's out of the oven, sprinkle with red pepper flakes!
Serve with your favorite rice, pasta, or quinoa!
Get the Recipe: Pesto Chicken Thighs Sheet Pan Dinner
Ingredients
2 lbs. boneless chicken thighs
1 large red onion, quartered
1 large sweet white onion, quartered
2 yellow or orange bell peppers, sliced
2 red bell pepper, sliced
1/2 cup pesto
Salt & pepper
Your favorite seasoning
Red pepper flakes
Instructions
Preheat the oven to 350 degrees and line a large baking sheet with aluminum foil or parchment paper.

In a large bowl, add all the ingredients together (except red pepper flakes). Heat pesto in the microwave for about 1 minute. Pour over the mixture; mix the ingredients together with your hands or a large spoon.

Pour chicken mixture onto the prepared baking sheet. Cover with foil and bake for 40 minutes. Remove foil and cook an additional 10 minutes; turn the chicken thighs over. Cook for 10 more minutes.

Sprinkle with red pepper flakes (optional).

Serve right in the pan, with your favorite side (rice, pasta, or quinoa).
More Sheet Pan dinners: Sheet Pan Low Country Boil [A Spicy Perspective], Mustard Salmon Sheet Pan Dinner [FoodieCrush], Easy Sheet Pan Breakfast Pizza [The Cookie Rookie].
Hello and welcome to my home and table!
I'm Sandy—lover of food, family, cooking, THE BIG BOARD, travel, and bringing people together. Through great recipes and connection around the table, we become better, stronger, and more courageous people. Feasting on Life is real, and every time we do it, we grow a little more. Read more...