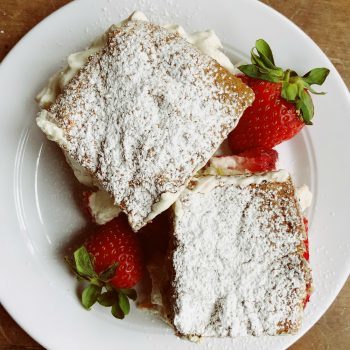 Print Recipe
Tangerine Poppy Seed Cake With Strawberries
Bake the cake 1 day early and store in an airtight container at room temperature. A delicious poppy seeds cake with an orange flare. Scrumptious served with fresh strawberries and whipped cream.
1/2

cup

extra-virgin olive oil

1 1/2

cups

flour

plus enough for dusting

1

tsp.

baking powder

1/2

tsp.

kosher salt

1/2

tsp.

baking soda

1

tsp.

ground cardamom

6

Tbsp.

poppy seeds

1/2

cup

granulated sugar

2

large eggs

1/2

tsp.

almond extract

1

Tbsp.

finely shredded tangerine zest

1/2

cup

tangerine juice

1

cup

heavy whipping cream

1/4

cup

powdered sugar

1/2

tsp.

vanilla

4

cups

strawberries

sliced (Add sugar if needed)
Preheat oven to 350°. Prepare an 8x8 square baking pan with cooking spray; dust with flour.

In a medium bowl, combine 1 1/2 cups flour, the baking powder, salt, baking soda, cardamom, and poppy seeds.

In a large bowl, using a mixer, beat the oil with the granulated sugar until well blended, 1 to 2 minutes. Add eggs and almond extract, and beat until slightly bubbly, 1 to 2 minutes. Add in the tangerine zest and juice and beat on low speed until blended. Add the flour mixture; beat on medium-low speed until batter is smooth. Scrape the batter into the 8x8 pan. Sprinkle remaining poppy seeds over batter.

Bake cake until golden, about 30 to 35 minutes. Let cake cool on a rack 10 minutes. Loosen cake from sides of pan and invert onto rack. With a serrated knife, cut the cake in half (lengthwise), so you have a top and a bottom.

Whip the cream until thick; add in the powdered sugar and vanilla extract. Whip slightly until blended together.

Slice the strawberries. Only add sugar if the berries are tart. (Depending on how tart, 2 Tbsp. to 1/4 cup of sugar.) Mix gently.

Set the bottom half of cake on a platter; spoon cream on top and add the berries. Place the top layer of the cake on top; gently push down. Sift with powdered sugar. Cut into squares and serve!