Tangerine Poppy Seed Cake With Strawberries
How do you make a poppy seed cake? Tangerine Poppy Seed Cake with Strawberries recipe is delicious, served with fresh whipped cream and sliced strawberries.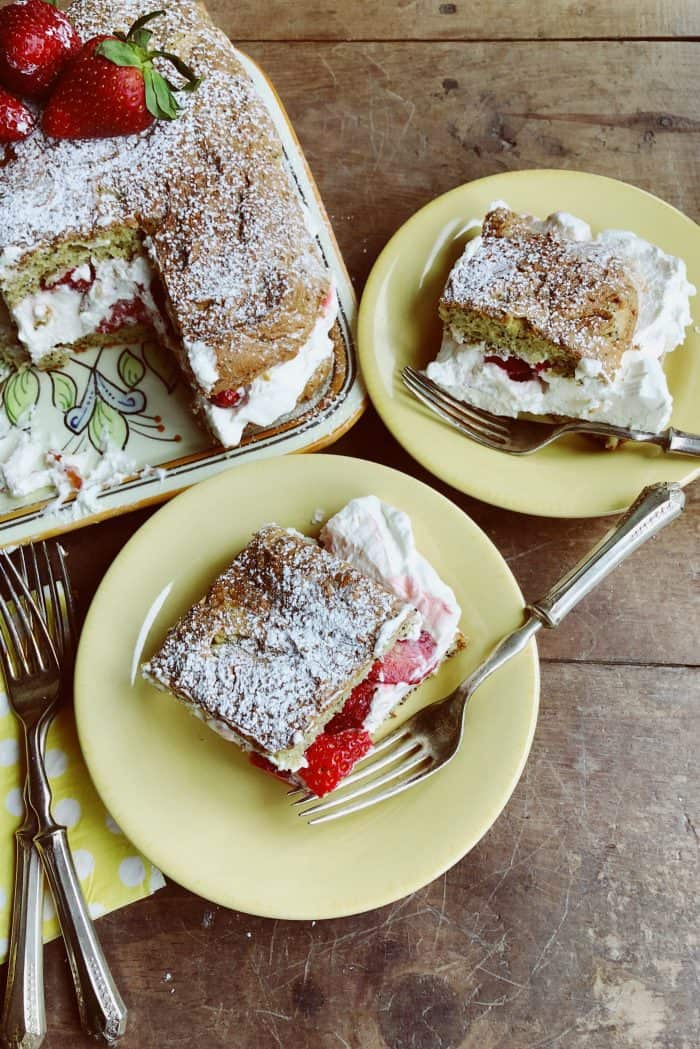 Friends, I'm a big believer that your home says a lot about who you are. For sure, it's a reflection of your style, no matter what that style is.
It's even better when it smells good, with a yummy dessert baking in the oven! I think you'll love this Poppy Seed Cake (or this delicious Strawberry Cream Shortbread Dessert) today! It has a fresh taste of orange, perfect for spring or summer!
Poppy Seed Cake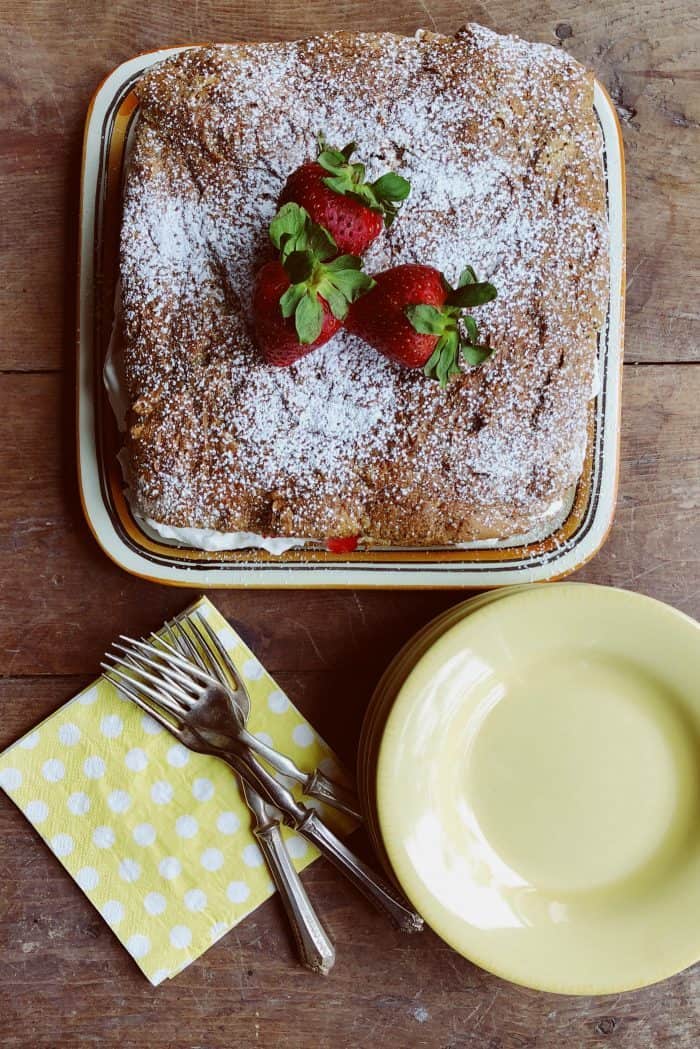 Our little mountain home is pretty simple.
Decorating with fiddle leaf fig plants
We painted all the wood walls white, to freshen it up and make it feel better. Plus, I just love the clean look of white walls.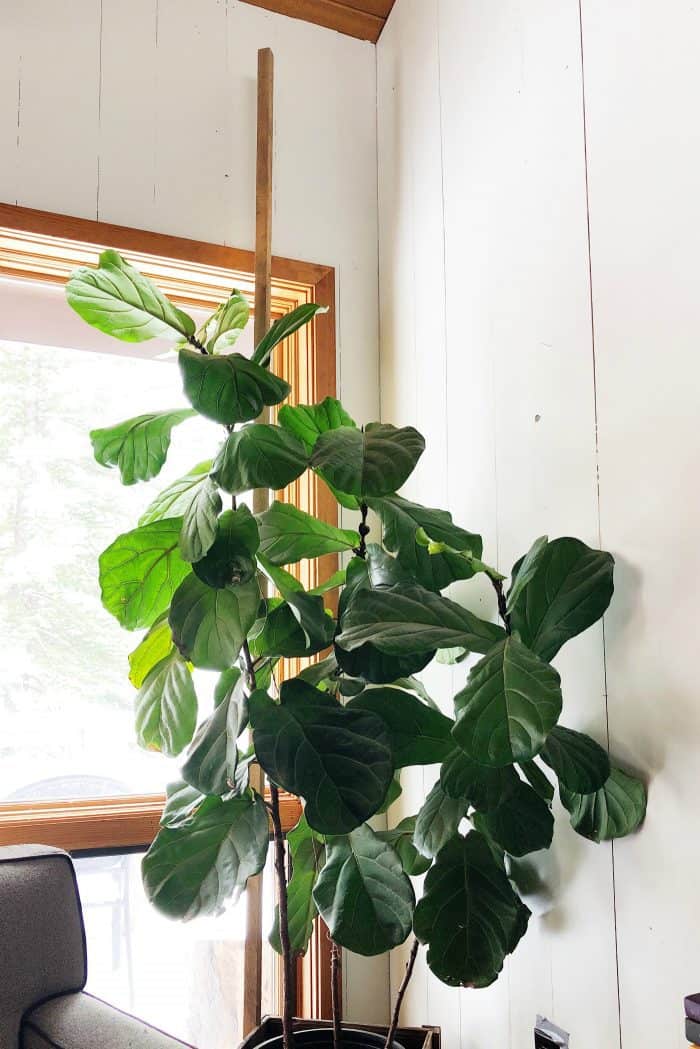 Over in the corner is my ever-growing fiddle leaf fig plant. I asked my husband to put a stick in the pot, because the leaves were bending over so badly, I was afraid they would break off.
Do you think he was a little optimistic in how tall this fiddle is going to grow? LOL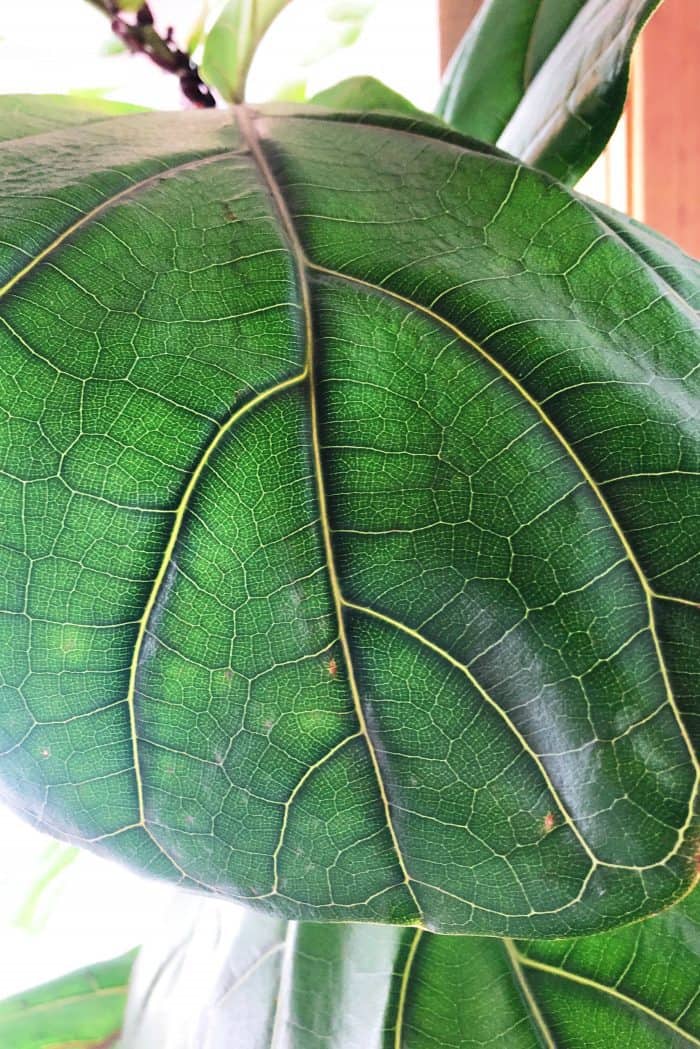 I'm telling you, this plant LOVES our central Oregon sunshine!
Have you ever thought that when people walk into our homes, it gives a little clue about who we are? Not in a judging way (hopefully people won't look too closely at the dust, or the piles in the corner), but I mean the overall style. It invites people in, and says a little about our story.
Oh, she's a southern gal, or yes, she's from the Pacific Northwest. Or, there's no doubt, she is a California girl. You know what I mean.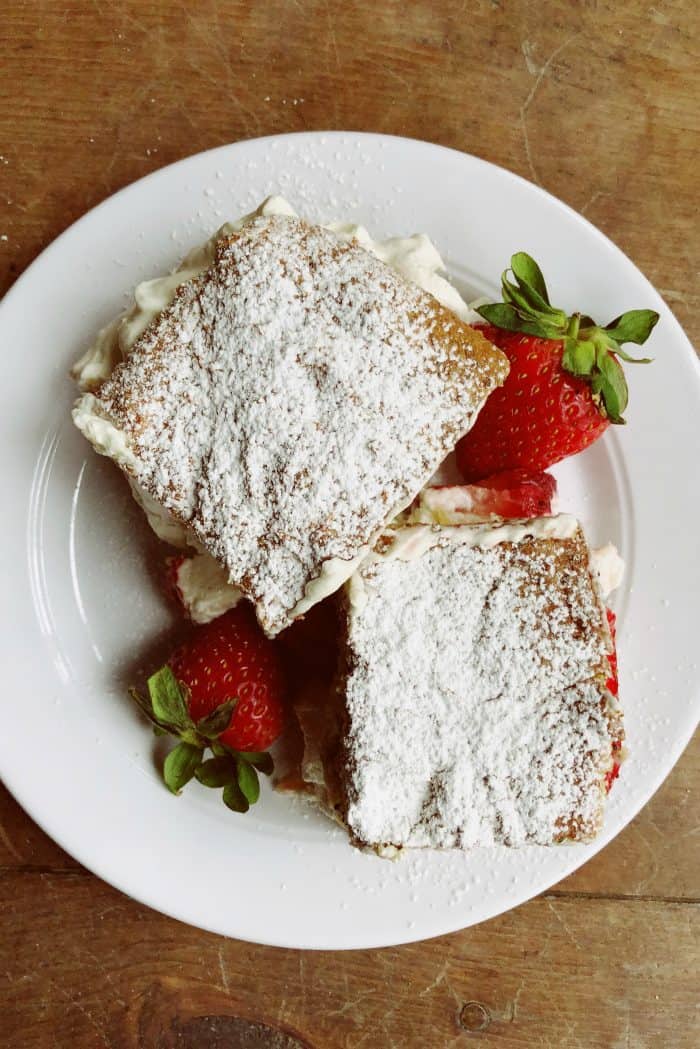 The 3 largest pieces of furniture, when you walk into our great room (the only room we all hang out in), is a very large sectional, a dining room table, and a piano.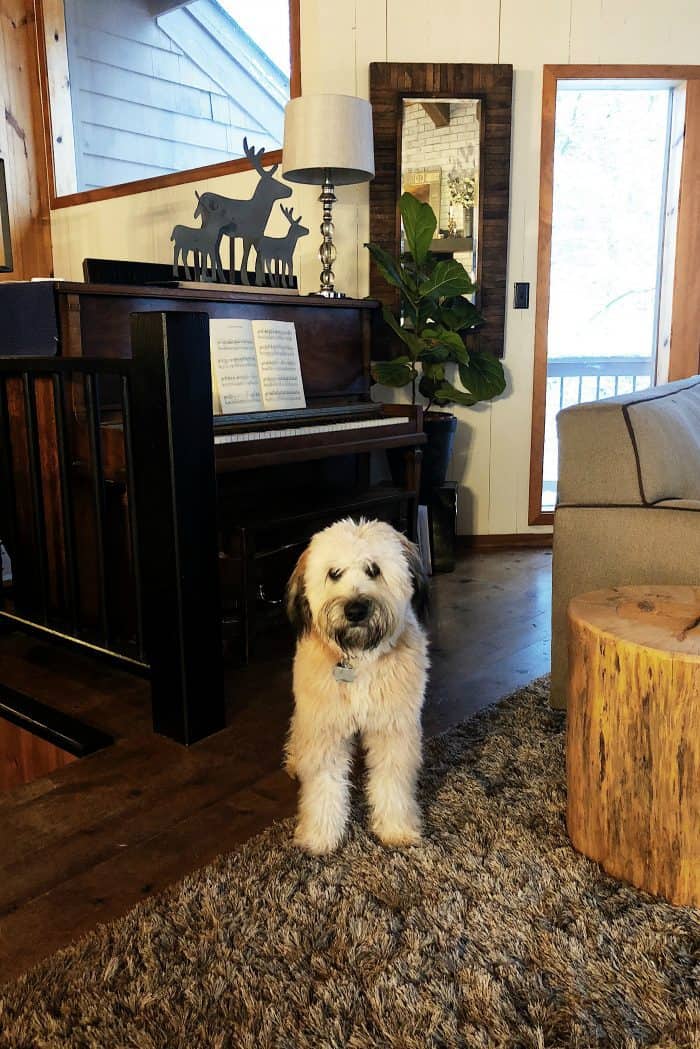 Those pieces say a lot about our family. Music is important, gathering and eating together are important. (Alder, The Whoodle, above.)
How to make poppyseed cake
Our homes are driven by our family values, and for me, I want it to be comfortable and inviting, not only for my family, but for the many guests who pop in for a visit or who share a meal.
Ready to bake a cake today?
You'll love the uniqueness of this cake, not too, sweet, and of course any cake is delicious with fresh berries inside and on top.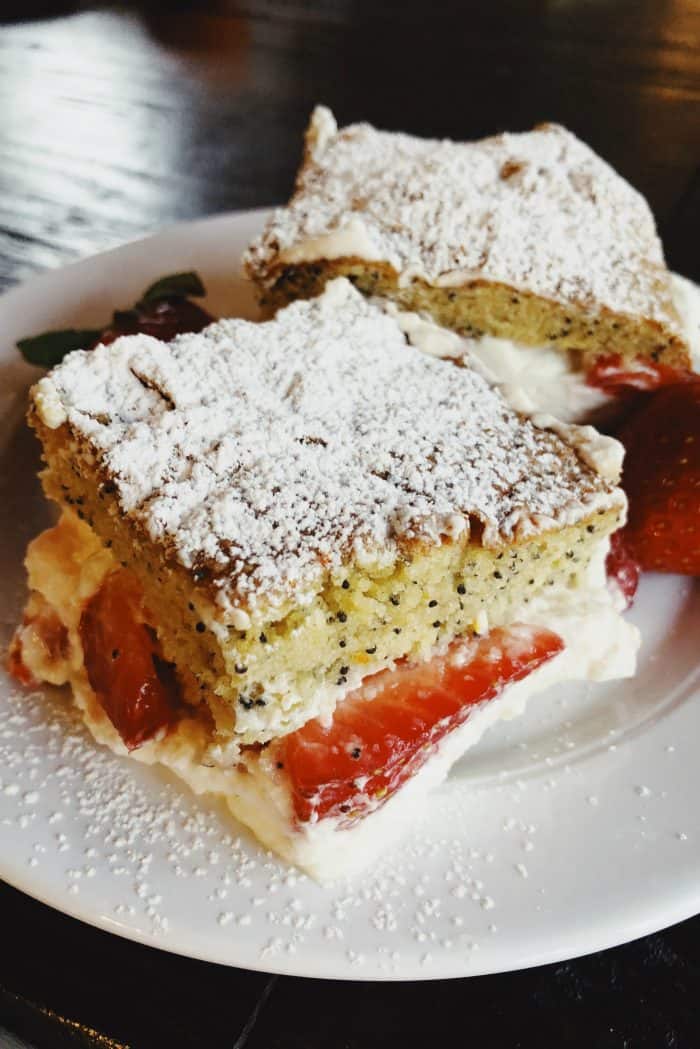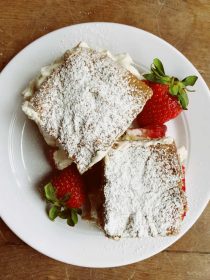 Get the Recipe: Tangerine Poppy Seed Cake With Strawberries
Bake the cake 1 day early and store in an airtight container at room temperature. A delicious poppy seeds cake with an orange flare. Scrumptious served with fresh strawberries and whipped cream.
Ingredients
1/2 cup extra-virgin olive oil
1 1/2 cups flour, plus enough for dusting
1 tsp. baking powder
1/2 tsp. kosher salt
1/2 tsp. baking soda
1 tsp. ground cardamom
6 Tbsp. poppy seeds
1/2 cup granulated sugar
2 large eggs
1/2 tsp. almond extract
1 Tbsp. finely shredded tangerine zest
1/2 cup tangerine juice
1 cup heavy whipping cream
1/4 cup powdered sugar
1/2 tsp. vanilla
4 cups strawberries, sliced (Add sugar if needed)
Instructions
Preheat oven to 350°. Prepare an 8x8 square baking pan with cooking spray; dust with flour.

In a medium bowl, combine 1 1/2 cups flour, the baking powder, salt, baking soda, cardamom, and poppy seeds.

In a large bowl, using a mixer, beat the oil with the granulated sugar until well blended, 1 to 2 minutes. Add eggs and almond extract, and beat until slightly bubbly, 1 to 2 minutes. Add in the tangerine zest and juice and beat on low speed until blended. Add the flour mixture; beat on medium-low speed until batter is smooth. Scrape the batter into the 8x8 pan. Sprinkle remaining poppy seeds over batter.

Bake cake until golden, about 30 to 35 minutes. Let cake cool on a rack 10 minutes. Loosen cake from sides of pan and invert onto rack. With a serrated knife, cut the cake in half (lengthwise), so you have a top and a bottom.

Whip the cream until thick; add in the powdered sugar and vanilla extract. Whip slightly until blended together.

Slice the strawberries. Only add sugar if the berries are tart. (Depending on how tart, 2 Tbsp. to 1/4 cup of sugar.) Mix gently.

Set the bottom half of cake on a platter; spoon cream on top and add the berries. Place the top layer of the cake on top; gently push down. Sift with powdered sugar. Cut into squares and serve!
More cakes with strawberries: Chocolate Covered Strawberries [RE], Strawberry Shortake Scones [Belly Full], Strawberry Shortcake Cake Roll [Crazy for Crust], and Strawberry Breakfast Yogurt Cake [RE].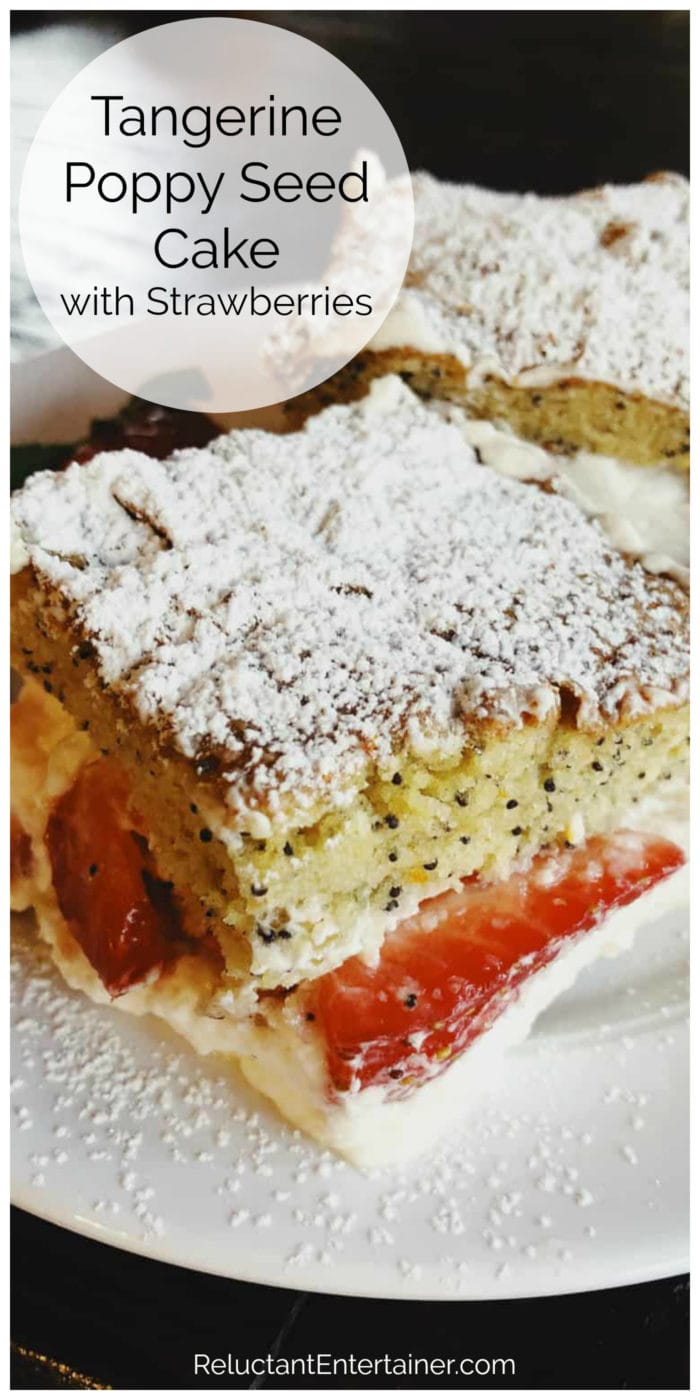 Hello and welcome to my home and table!
I'm Sandy—lover of food, family, cooking, THE BIG BOARD, travel, and bringing people together. Through great recipes and connection around the table, we become better, stronger, and more courageous people. Feasting on Life is real, and every time we do it, we grow a little more. Read more...