Strawberry Cream Shortbread Dessert
Strawberry Cream Shortbread Dessert is a creamy white chocolate strawberry slab pie with a shortbread crust. Serve with whipped cream!
Friends, you'll love this dessert day … perfect for Valentine's Day, spring, summer … ENJOY!
Strawberry Cream Shortbread Dessert
If you love white chocolate and shortbread crust, then this strawberry slab pie is for you! It's a springtime favorite dessert–one you can set out, and everyone serves themselves!
Don't forget the whipped cream!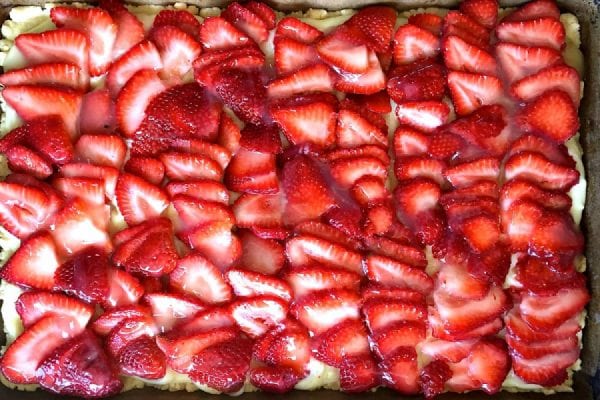 Ingredients for Strawberry Cream Shortbread Dessert
Butter
Powdered sugar
Flour
White baking chips
Whipping cream
Cream cheese
Fresh strawberries
Pineapple juice
Lemon juice
Sugar
Cornstarch
Heavy cream, powdered sugar, vanilla (optional for whipped cream)
Perfect for spring and summer, this golden-edged cookie dessert paired with a creamy, custard filling with fresh strawberries.
Did your mom ever make a slab pie? Add the glaze on top of this dessert, and it brings back wonderful memories!
Pussy willows for spring
When I was a little girl, I knew when spring was near, because my mom always brought pussy willows into the house for springtime decor! They come from a bush with little furry things that looked like soft, fluffy kittens, eventually forming into little yellow flowers.
Since my kitchen always feels better with a touch of life, I bought some pussy willows (at Costco) and placed them in a tall vase, for a recent dinner party!
In the meantime, getting ready for my girlfriends to come to dinner, I had my menu planned, dessert made (yummy recipe below), but I had to tackle getting the kitchen ready.
Is my kitchen always clean? No way, but hosting a dinner party makes me get in there and clean in all the nooks and crannies. I've come to the understanding that kitchens are to be lived in, and unless everybody is going to stay on top of the dishes, etc., it's simply not always going to be neat and clean.
How to make strawberry pie dessert
The shortbread crust only takes about ten minutes to make–press it right into the pan–and then pop into the oven.
Let it cool (while began the cleaning process).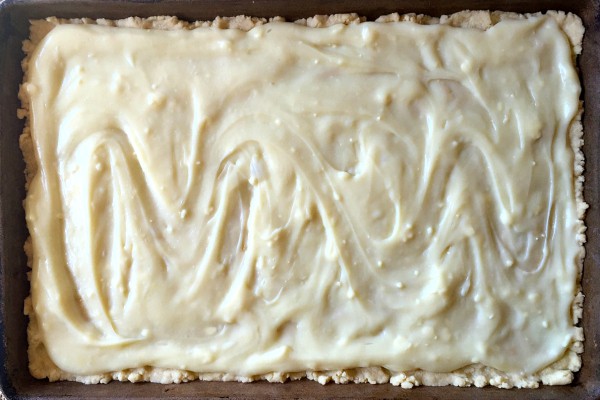 Slice strawberries with an egg slicer
After cooling, make a white-chocolatey cream to spread on the cooled shortcake. Wash the berries and pull out the egg slicer. Buy this FAVIA Hard Boiled Egg Slicer (for Mushroom Strawberry Cherry Tomato Kiwi Fruit), with 9 blades, and dishwasher safe!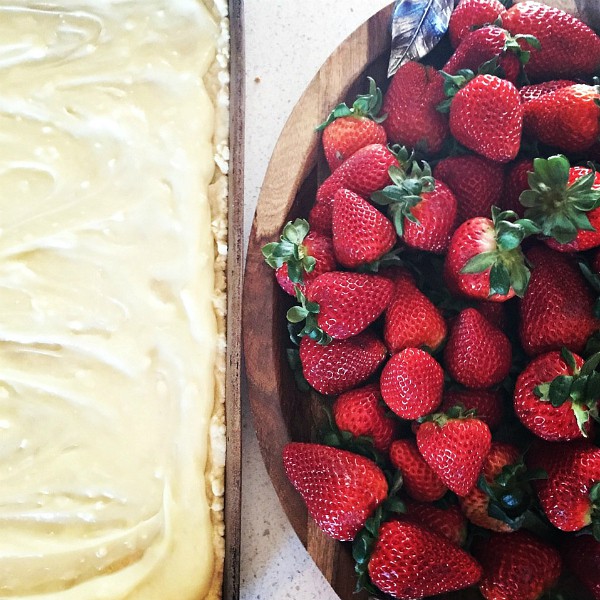 Before I finished the dishes, I whipped the cream (set back in the fridge), and made the glaze to pour over the strawberries.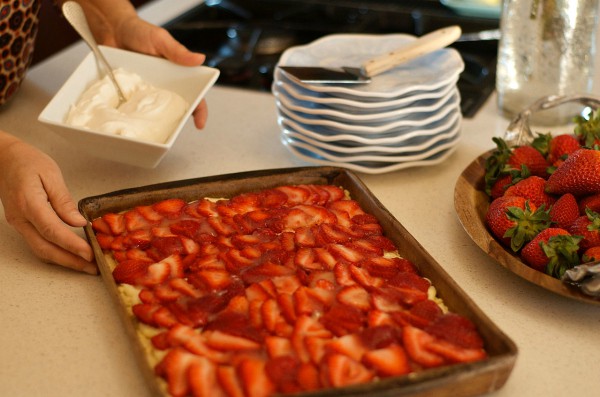 A delicious Strawberry Cream Shortbread Dessert, served with whipped cream!
My house wasn't perfect, but I felt I gave it my best shot, making it sparkly clean and organized for company!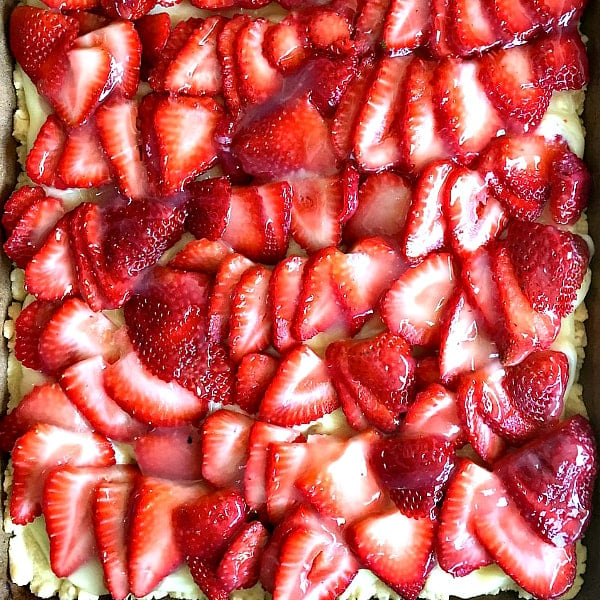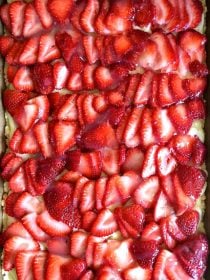 Get the Recipe: Strawberry Cream Shortbread Dessert
You can make the crust the day before, then prepare the cream and strawberries the day of serving. Dessert should be served within 24 hours or the crust gets soft. Serves 12-15!
Ingredients
3/4 cup butter
1/2 cup powdered sugar
1 1/2 cups flour
10 oz package white chips
1/4 cup cream
8 oz cream cheese
Fresh strawberries, sliced
1/2 cup pineapple juice
1 Tbsp. lemon juice
1/3 cup sugar
1 Tbsp. cornstarch
Whipping cream (optional)
1 cup Heavy cream
1/8 cup powdered sugar
1/2 tsp vanilla
Instructions
For the crust: Mix the first (3) ingredients (butter, powdered sugar, flour) well and press onto a cookie sheet or pizza pan. Bake at 300° for 20 minutes or until golden brown. Cool.

For the filling: Melt the chips (I use the microwave on LO); add in the cream; mix well. Stir in the cream cheese and blend until smooth (I use a hand mixer). Spread on the cooled crust.

Slice strawberries (I use an egg slicer).

Arrange sliced strawberries on the creamy layer.

For the glaze: Combine the pineapple juice, lemon juice, sugar, and cornstarch. Cook until thickened on medium heat, stirring constantly. Cool slightly and drizzle over the strawberries. Chill.

Serve with whipped cream (optional).
Hello and welcome to my home and table!
I'm Sandy—lover of food, family, cooking, THE BIG BOARD, travel, and bringing people together. Through great recipes and connection around the table, we become better, stronger, and more courageous people. Feasting on Life is real, and every time we do it, we grow a little more. Read more...