Strawberry Galette 
Strawberry Galette is the perfect early summer dessert. I love making this easy and impressive dessert when the local strawberries are in season – the summer sun gives them so much flavor! So much easier to make than a regular pie, this easy Strawberry Galette recipe is always oohed and ahhed over!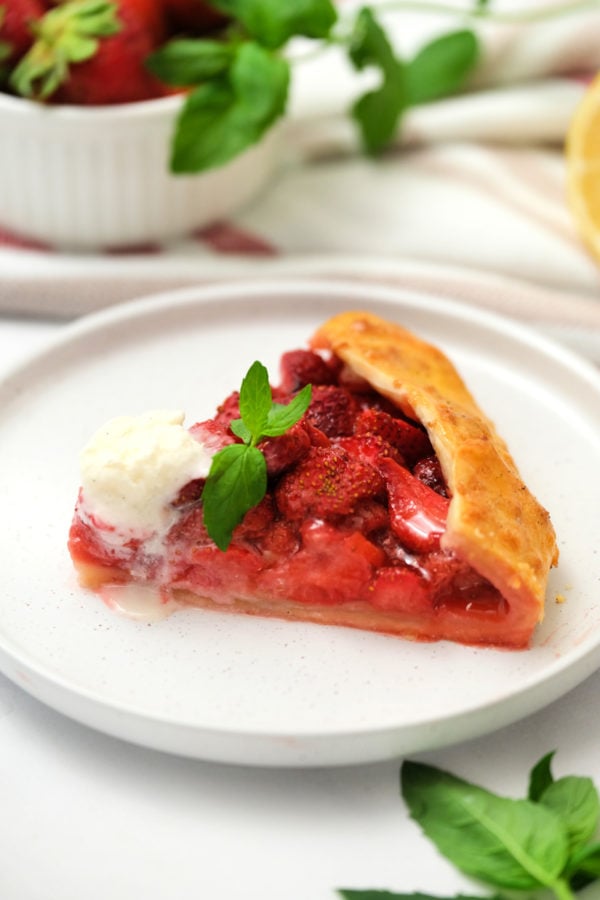 I have a huge sweet tooth, but I like to mix things up when I'm baking. Galettes are one of my favorite desserts, and when filled with fresh fruit, there's simply nothing better.
Strawberry galette
I make this easy galette recipe with store-bought pie crust. Look for the ones that are rolled up, then all you need to do is unroll it, make the filling, and bake! It couldn't be easier!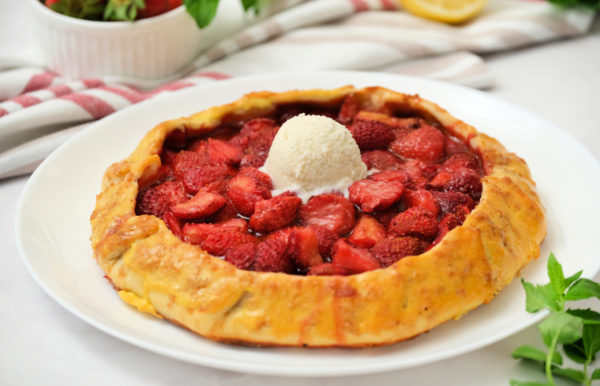 And the flavor! Boy, is this strawberry dessert good! I love serving the still-warm galette with a scoop of vanilla ice cream – it's dessert heaven! You may also want to try our Strawberry Shortcake Ice Cream – there's nothing like homemade!
This is also a super easy dessert for entertaining. You can make the strawberry filling ahead of time, then all you need to do is assemble (and that's really quick), bake, and eat! Pass the ice cream and dig into summery flavor with this amazing Strawberry Galette recipe!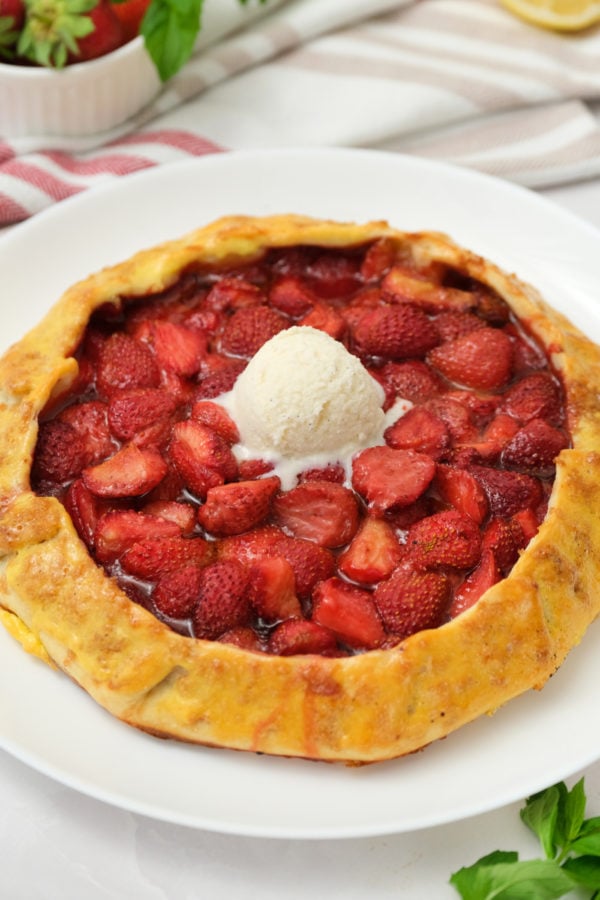 What's a galette?
Wondering what a galette is? Galettes are like pies, only far less structured. They're made with a bottom crust that you form by hand and fold up and over the filling. There's no top crust, so you really get all the fresh fruit flavor in every bite. You can slice a galette just like a pie, too, and top them with ice cream or whipped cream for extra deliciousness.

Why I love this recipe
It has all the flavor of a delicious pie, but the rustic look and charm are casual and appealing.
It has an amazing fresh strawberry flavor!
This galette is so easy to make, and you can make the filling ahead of time.

Gather these ingredients to make a strawberry galette
Fresh strawberries – Washed, hulled, and sliced.
Pie crust – You can make your own or use store-bought rolled pie dough.
Sugar – White granulated sugar.
Cornstarch
Lemon – Fresh lemon juice.
Butter
Egg
Ginger – I like the flavor of crystallized ginger in this. See my substitutions below.
Turbinado sugar
How to make the best Strawberry Galette
Preheat your oven to 425-F degrees and line a large baking sheet with parchment paper.
Roll out the dough of your favorite pie crust or use a store-bought pie crust. Place the dough onto the parchment paper-lined baking sheet.
Mix the sugar, cornstarch, lemon juice, crystallized ginger, and strawberries in a large bowl until well combined.
Transfer the fruit mixture to the middle of the pie crust, keeping the fruit away from the sides and mounding it slightly in the middle.
Fold the sides of the dough up and over the filling so that it covers at least 2-inches of the filling.
Freeze the galette for 15 minutes just to chill the pie dough.
Whisk the egg and water together and brush the edges of the pie just before baking. Sprinkle the wet sides with turbinado sugar.
Add pats of butter to the top of the fruit and bake for about 30 minutes or until the crust is golden brown.
Let cool slightly before serving and dig in!
Tips & substitutions
Fresh strawberries are best in galettes. Frozen and thawed berries are too wet, and your pie dough will get soggy.
Can't find turbinado sugar? You can also use Sugar in the Raw – you can find it wherever the sugars and sweeteners are in your grocery store.
Crystalized ginger adds great flavor and texture, but you can substitute 1 tablespoon of dried ginger instead.

Serving suggestions
Serve this Strawberry Galette with a scoop of good-quality vanilla ice cream, a dollop of whipped cream, or a dusting of powdered sugar, but it's also amazing on its own! You can slice the galette like you would a pie, and you can eat it cold, room temperature, or a bit hot but be careful because the filling will be molten hot when it is just out of the oven.
I love serving this dessert after a spring or early summer dinner of scallops, a Greek Chicken, Quinoa & Chickpea Salad, marinated steak, or a grilled fruit and vegetable charcuterie board.

Storage
Store any leftover Strawberry Galette in an airtight container in the fridge for 2-3 days.
Check out these awesome strawberry recipes while you're here
Get the Recipe: Strawberry Galette
Strawberry Galette is the perfect early summer dessert, so much easier to make than a regular strawberry pie, served with vanilla ice cream!
Ingredients
4 cups fresh strawberries, washed and sliced
1 pie crust
¼ cup sugar
2 Tbsp. corn starch
Juice from half a lemon
1 Tbsp. butter
1 egg
1 Tbsp. water
¼ cup crystalized ginger, optional, if you don't use, use 1 tsp. dried ginger
Turbinado sugar or sugar in the Raw, for sprinkling
Instructions
Preheat oven to 425 degree F.

Line large baking sheet (with sides) with parchment paper.

Roll out dough of your favorite pie crust, or use refrigerated pie crust.

In medium bowl, mix sugar, cornstarch, lemon juice, crystalized ginger, and sliced strawberries.

Pour strawberries into center of pie crust, mounding berries in the middle.

Fold and crimp the dough, so it covers at least 2 inches of the filling. Freeze the galette for at least 15 minutes to chill the dough.

Whisk egg and water together. Just before baking, brush edges of pie crust with egg wash, and sprinkle the dough generously with turbinado sugar.

Add pats of butter on top of strawberries, in three or four small pieces.

Bake for approximately 30 minutes or until crust is golden brown.

Serve warm with vanilla ice cream. Or, add a scoop of ice cream in the middle, or serve it simply with a dusting of powdered sugar or some whipped cream.
Calories: 258kcal, Carbohydrates: 39g, Protein: 3g, Fat: 10g, Saturated Fat: 4g, Polyunsaturated Fat: 1g, Monounsaturated Fat: 4g, Trans Fat: 0.1g, Cholesterol: 33mg, Sodium: 145mg, Potassium: 185mg, Fiber: 3g, Sugar: 17g, Vitamin A: 113IU, Vitamin C: 56mg, Calcium: 26mg, Iron: 1mg
Hello and welcome to my home and table!
I'm Sandy—lover of food, family, cooking, THE BIG BOARD, travel, and bringing people together. Through great recipes and connection around the table, we become better, stronger, and more courageous people. Feasting on Life is real, and every time we do it, we grow a little more. Read more...