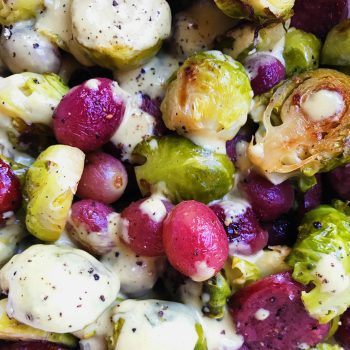 Print Recipe
Sausage Grape Roasted Brussles Sprouts
Crunchy, perfectly browned bites of Brussels sprouts, with the occasional bite of roasted grape, which lends a fresh, slightly sweet note to the dish.
Heat oven to 425° F. On a large rimmed baking sheet, lay Brussels sprouts on one end, and grapes and sausage on the other. Drizzle with olive oil; add salt and pepper.

Roast for 20-25 minutes, stirring once. Remove from oven.

In a small bowl, add the mustard and lemon juice; mix well.

Place the Brussels Sprouts mixture in a serving bowl; drizzle with the dressing and serve!