Sausage Grape Roasted Brussles Sprouts
Sausage Grape Roasted Brussles Sprouts, a delicious side, salad, or main dish with crunchy, perfectly browned Brussels sprouts, grapes, and mustard sauce.
Today I'm sharing a delicious side dish Sausage Grape Roasted Brussles Sprouts for Thanksgiving, but it's also a great main dish, or potluck dish! I'd totally scarf this down if I was at a potluck :)
Last week, it snowed here in central Oregon. Like real snow, deep snow, and it was so beautiful.
The first snow of the year is truly wonderful!
We took the pups out and of course, Alder-bear is a delight to watch. (Stay tuned for a 6-month post on our sweet Whoodle pup !)
He's crazy about the snow. Haggis just faithfully tags along. But I think he likes it too.
My favorite tree near our house.
It reminded me of a year ago when the elk were down from the moutains near our home.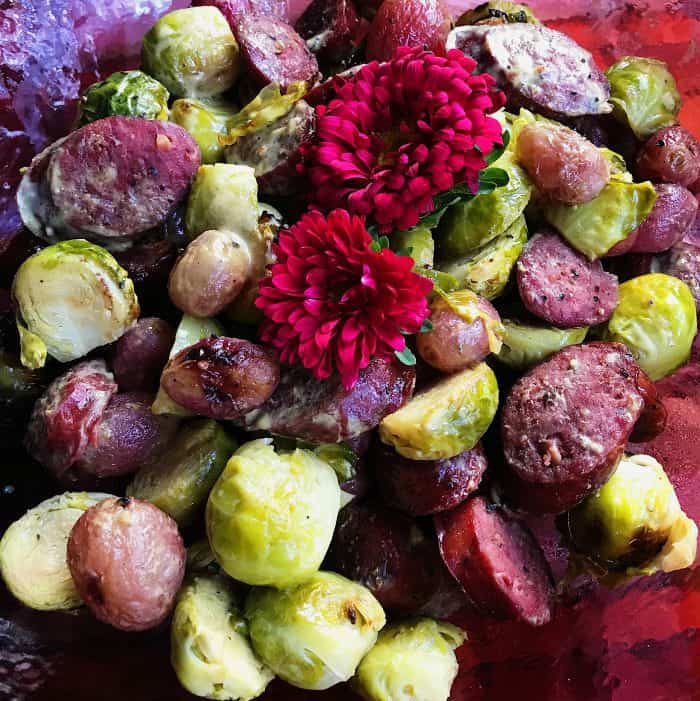 Sausage Grape Roasted Brussles Sprouts
Thinking about the most wonderful time of the year, getting ready for company next week, and preparing a new recipe. I like to try new recipes first, do you?
This Sausage Grape Roasted Brussles Sprouts is a bit different, you might say. But it's super easy and surprising how the flavors mingle so well together.
I adpapted this recipe Better Homes & Gardens November 2017 edition. :)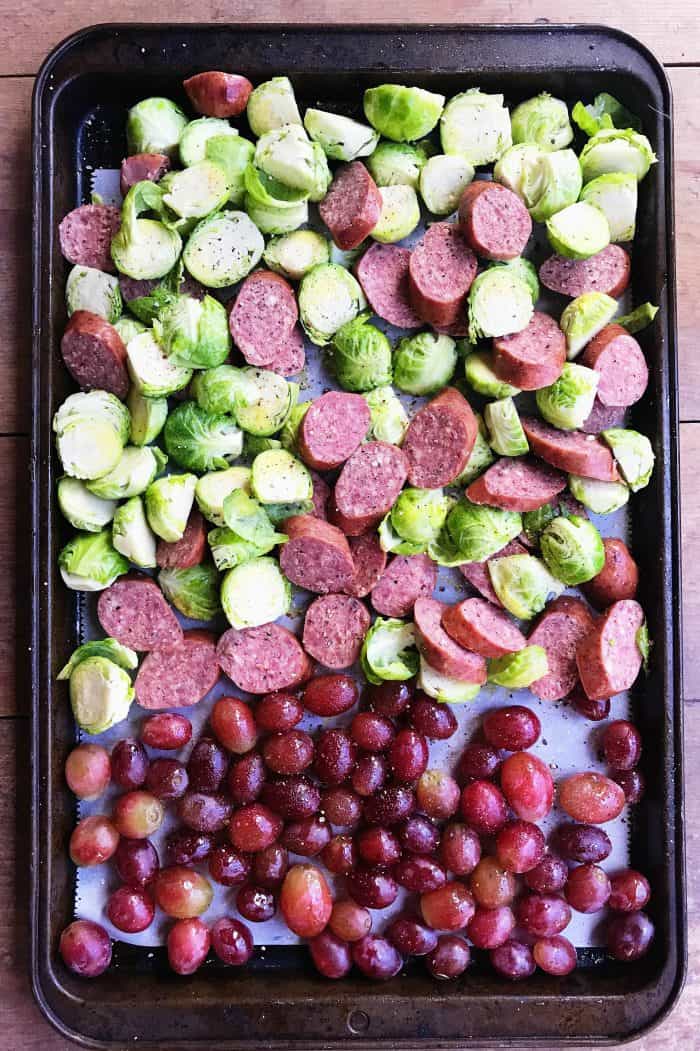 Made with Brussels sprouts, red seedless grapes, your favorite sausage (I buy Organic Kielbasa Smoked Beef Sausage from Costco), and a light Dijon-mustard dressing!
Roast, toss, drizzle, and serve!
Thanksgiving Prayer
I also came across a beautiful prayer as I was reading this week.
Do you ever feel that you can do more? I mean, we're grateful, we know we've been given so much (at least for most people reading my blog), but deep inside …
We can do more.
Thank you for letting me share this prayer with you today! Being generous with our time, talents, and money is one thing. Being generous with the way we look at others, talk to them, love them … is another.
We give what we have, but not all – help us to be more generous.
We serve as we are called –
help us to see when you are calling us further.
We love within our limits –
help us to break down those barriers.
So that we may love and serve you and give wholeheartedly. In Jesus' name. Amen.
© Marjorie Dobson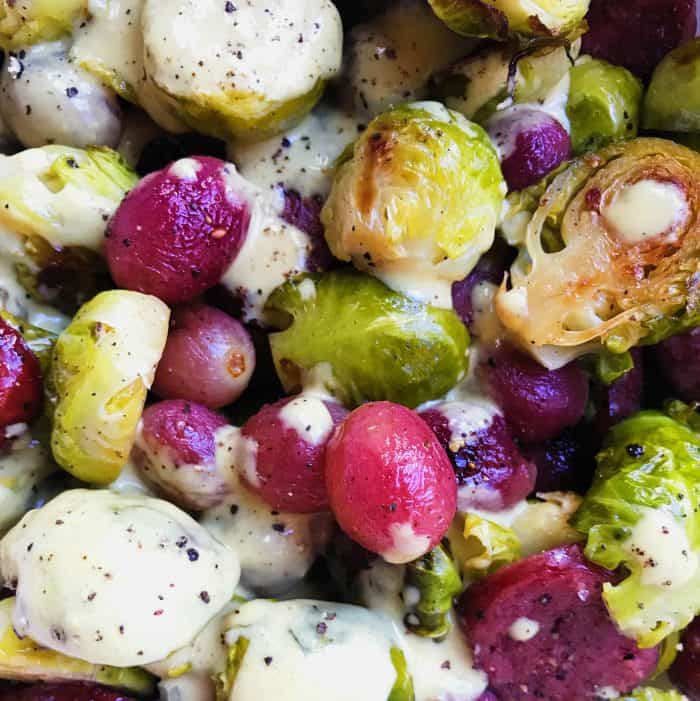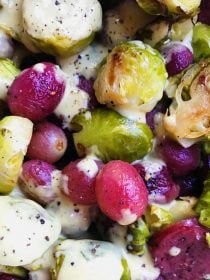 Get the Recipe: Sausage Grape Roasted Brussles Sprouts
Crunchy, perfectly browned bites of Brussels sprouts, with the occasional bite of roasted grape, which lends a fresh, slightly sweet note to the dish.
Ingredients
1 pounds Brussels sprouts, trimmed and halved
4 cups red seedless grapes
1 pound sausage links, cut in chunks (I buy Organic Kielbasa Smoked Beef Sausage)
3 Tbsp. olive oil
4 Tbsp. Dijon mustard
3 Tbsp. lemon juice
Salt and pepper
Instructions
Heat oven to 425° F. On a large rimmed baking sheet, lay Brussels sprouts on one end, and grapes and sausage on the other. Drizzle with olive oil; add salt and pepper.

Roast for 20-25 minutes, stirring once. Remove from oven.

In a small bowl, add the mustard and lemon juice; mix well.

Place the Brussels Sprouts mixture in a serving bowl; drizzle with the dressing and serve!
More Brussels Sprouts recipes: Roasted Brussels Sprouts with Apple and Bacon [Barefeet in the Kitchen], Maple Pecan Roasted Brussels Sprouts [Valerie's Kitchen], Caramelized Shallot Bacon Brussels Sprouts [RE].

Hello and welcome to my home and table!
I'm Sandy—lover of food, family, cooking, THE BIG BOARD, travel, and bringing people together. Through great recipes and connection around the table, we become better, stronger, and more courageous people. Feasting on Life is real, and every time we do it, we grow a little more. Read more...