Caramelized Shallot Bacon Brussels Sprouts
These Caramelized Shallot Bacon Brussels Sprouts are a delicious side dish to serve at a dinner party, or better yet, enjoy a bowl for your main course!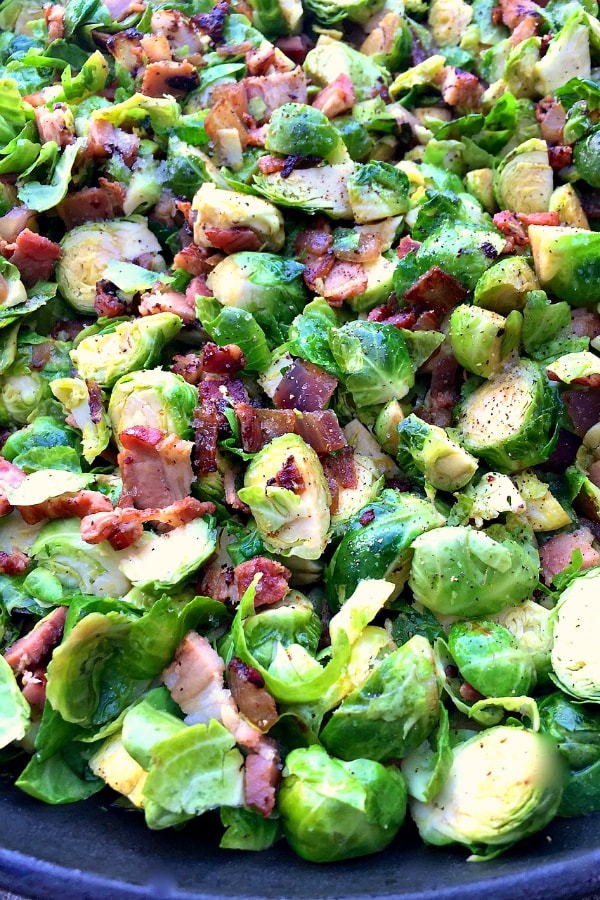 Awhile back our friends visited us from Portland and my friend, Steph, whipped up a pan of these delicious Caramelized Shallot Bacon Brussels Sprouts. Since then they've been a family favorite!
I was thinking for a Valentine's dinner, I'd love to make Mini Beef Wellingtons (check out this quick video), plus this side dish which would pair well with the "minis", plus I'd serve a beautiful green salad! This doesn't mean it has to be a gigantic dinner party, this recipe today would be a great dish for 2 (just cut the recipe in half).
My home in February
I've really been ejoying our home these days. I'm not sure if it's the vast array of windows, soaking in all the light and sunshine, the fact that our son is living with us for a season (playing lots of piano), the pets are arround me–our home is a place of safety, love, a haven.
Oh, and of course it's even better when there's good food cooking, or we have friends around our table!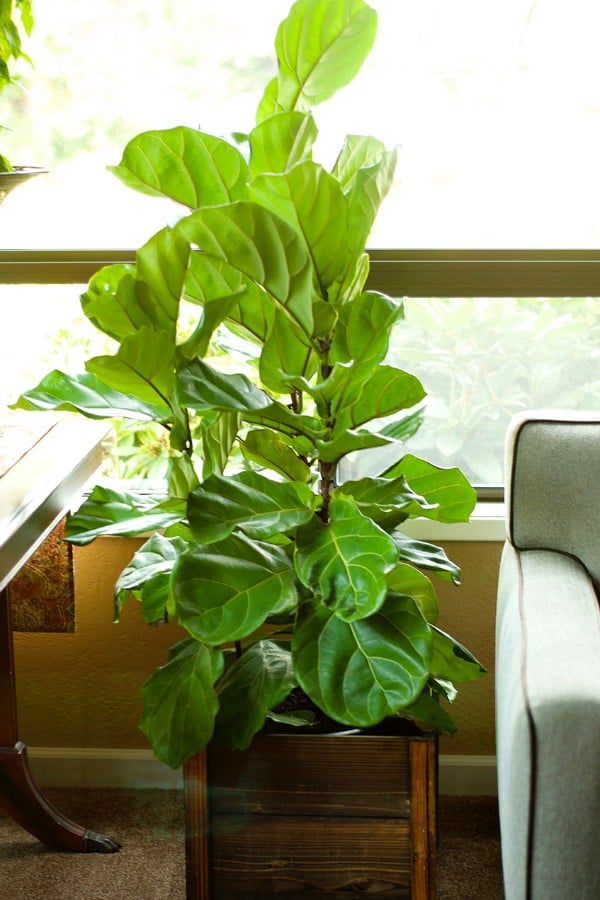 My fiddle leaf fig plant
I've never had a green thumb for indoor plants, but my Fiddle Leaf Fig is loving all the light in our living room.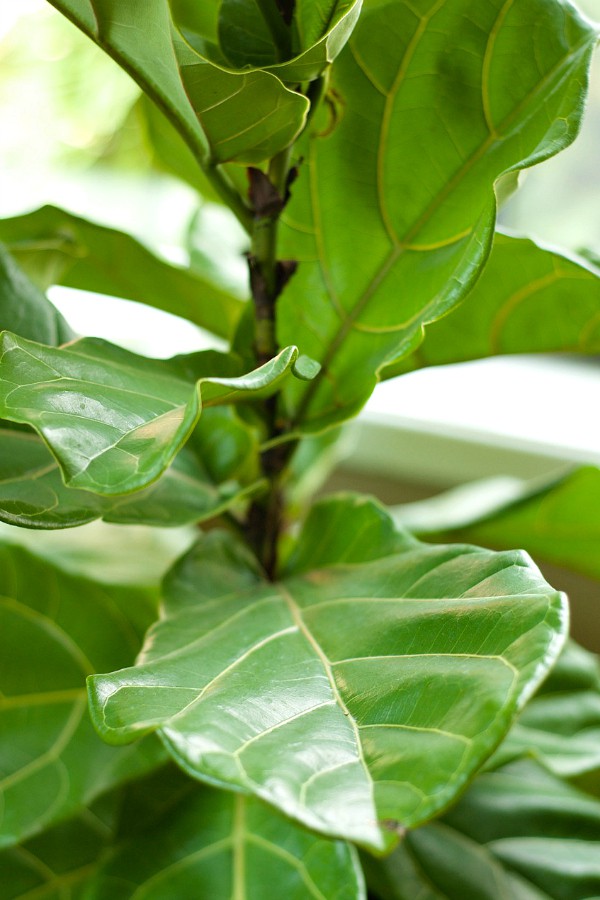 It's healthy, and doing great! (I bought mine at Home Depot for $49.99 last year. They are seasonal plants and Home Deopot only carries them for a short period of time if you live in Medford!)
Proud owner of air plants
Earlier this month I bought some air plants, and they are so pretty! I've never been the proud owner of air plants (because I tend to kill all indoor living green things), but they are fun to decorate a table with, and pretty for a side table, or even on a tray in a bathroom.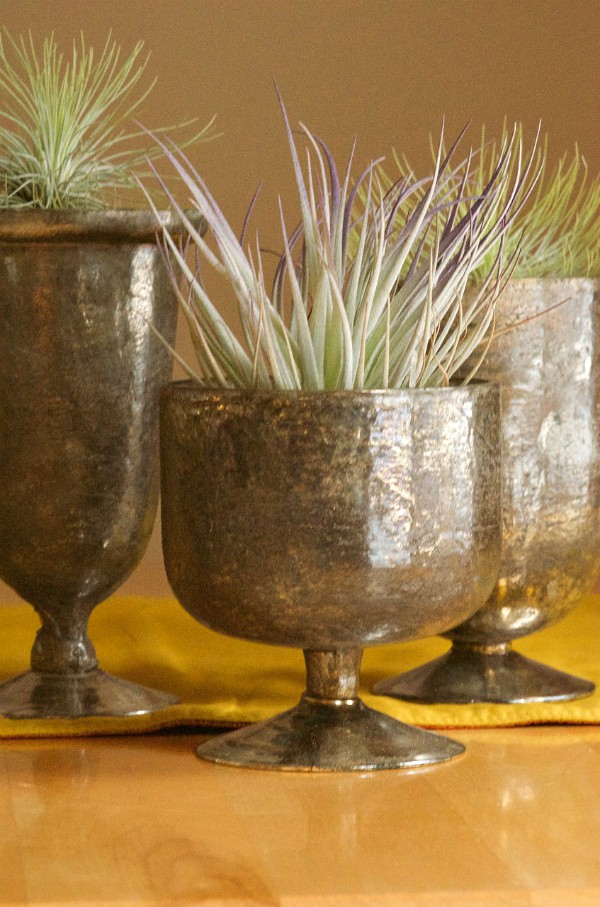 Did you know there are more than 650 types of air plants that can grow — and thrive — without soil? They just need light and a few spritzes of water! They're that easy to take care of! In fact, Better Homes & Gardens has a post on How to Grow Air Plants.
Caramelized Shallot Bacon Brussels Sprouts
Back to the Brussels Sprouts recipe, which I could eat every day!
After they are cooked, lightly sprinkle with sea salt and plenty of fresh ground pepper!
ENJOY …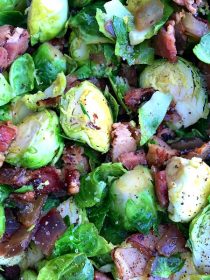 Get the Recipe: Caramelized Shallot Bacon Brussels Sprouts
Adapted from Food and Wine Magazine.
Ingredients
3 pounds brussels sprouts
4 tablespoons extra-virgin olive oil
6 shallots, thinly sliced (1 1/2 cups)
4 ounces sliced bacon, cut into 1/4-inch pieces
Kosher or Sea salt
Fresh ground pepper
Instructions
In a large pot of boiling salted water, cook the brussels sprouts until crisp-tender, about 5 minutes. Drain and pat dry. Slice the sprouts in 2-3 pieces.

In a large, deep skillet, heat 2 tablespoons of the oil. Add the shallots and cook over moderately low heat, stirring, until lightly browned, 10 minutes; scrape into a bowl.

Add the remaining 2 Tbsp. of oil to the skillet. Add the brussels sprouts, cut side down, and the bacon. Season with salt and cook over high heat, stirring occasionally, until the sprouts are browned and tender, 10 minutes. Season with salt, transfer to a bowl and serve.

Hello and welcome to my home and table!
I'm Sandy—lover of food, family, cooking, THE BIG BOARD, travel, and bringing people together. Through great recipes and connection around the table, we become better, stronger, and more courageous people. Feasting on Life is real, and every time we do it, we grow a little more. Read more...