Pumpkin Spice Chex Party Mix Board
Pumpkin Spice Chex Party Mix Board is tasty for the holiday season. Make for your go-to snack for Halloween, Thanksgiving or Christmas and EASY gift-giving.This post is sponsored by Chex Party Mix. WATCH THE VIDEO!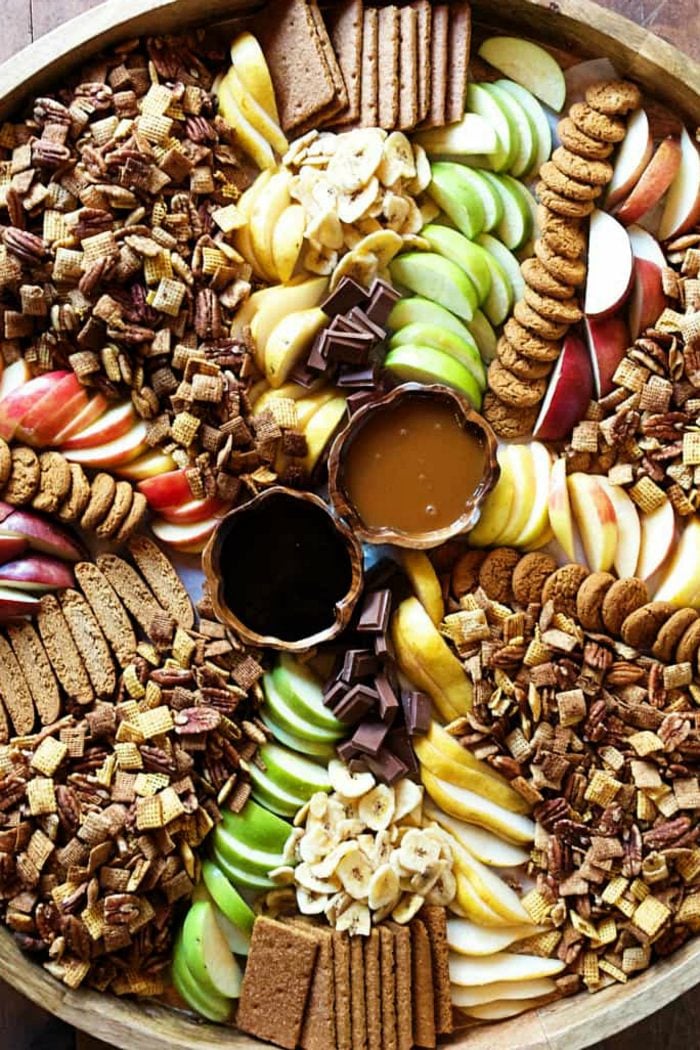 Friends, Chex Party Mix has the perfect, hassle-free, convenient snack this holiday season. So easy to make in advance (and store for up to 2 weeks), serve it on a large charcuterie board for your next party!
Chex Party Mix
What we've found at our gatherings is that Chex Party Mix isn't just a staple, it truly gets the party started.
This year for Thanksgiving we'll be hosting friends from out of town. Whether it's the day before, or the weekend after, how delicious to have a snack board to munch on while we're playing games, watching football, or just hanging out!
Pumpkin Chex Mix
Everyone knows that these recipes get people excited to come together and celebrate the holidays! And this recipe is the easiest mix of nostalgia and yumminess, because it's similar to what my Mom would make every holiday season.
This time with pumpkin spice, and with just the right amount of sweetness, believe me, it's hard to stop at just one handful!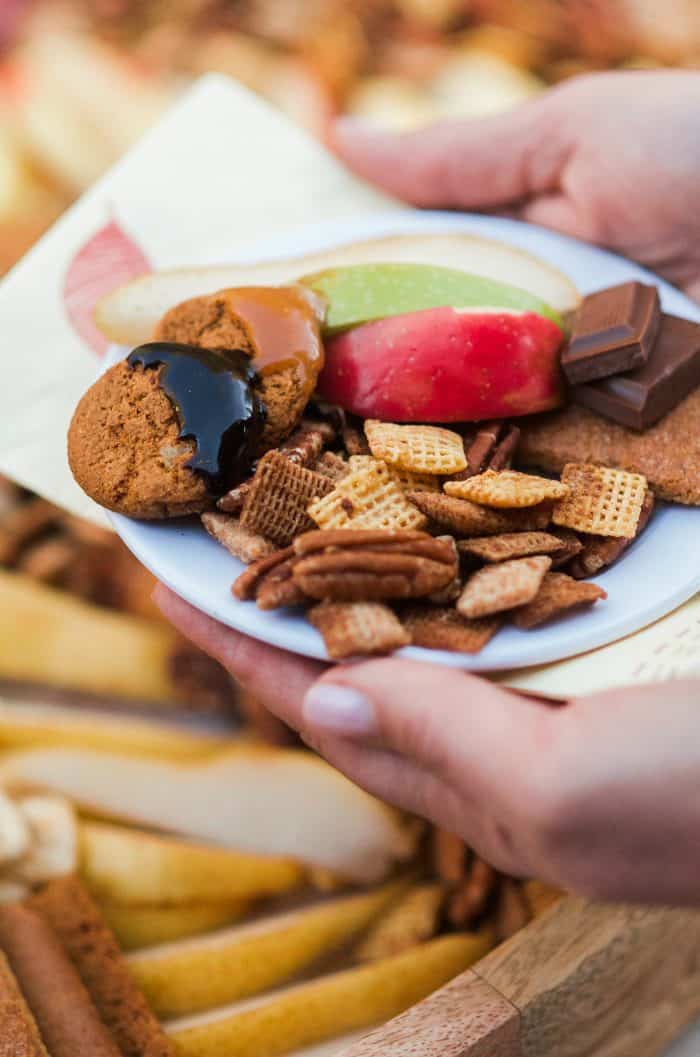 Pumpkin Spice Chex Party Mix Board
Today, my twist on making a pretty, tasty holiday experience is to create a Pumpkin Spice Chex Party Mix Board.
It's easy to prepare (remember you can make the Party Mix ahead of time and store up to 2 weeks in a tight container)–all you need is a plan.
26-inch Charcuterie Board
Friends, be watching this week for my pre-order link for new boards made in the USA, from JK Adams! They will be FOOD SAFE, have a LIP so the food doesn't fall off, and I'll be selling 2 amazing sizes. With my RE logo on the back! Thanks for your support!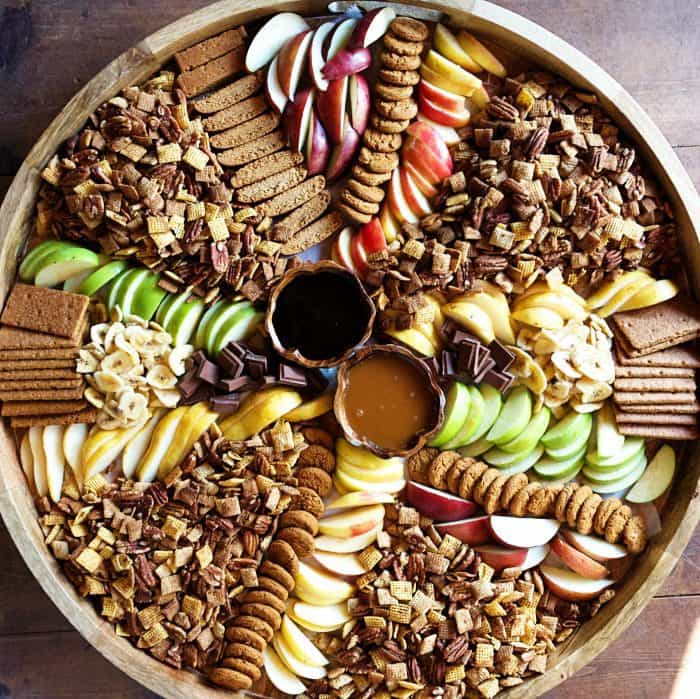 Add your favorite dips in the center of the board. I used chocolate and caramel sauces.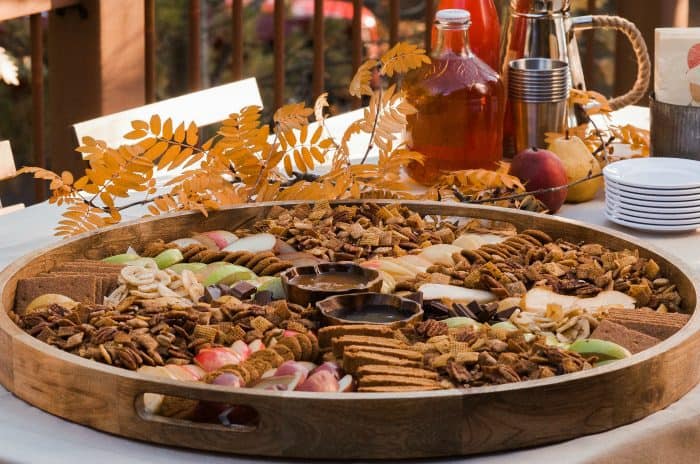 A little bite for everyone, layer in between the rows of Pumpkin Spice Chex Party Mix some fresh fruits and your favorite party snacks.
So what do I love about this great party idea? Chex Party Mix is a crowd favorite that doesn't require lots of time and effort.
It keeps you out of the kitchen, and enjoying the party more with your favorite people!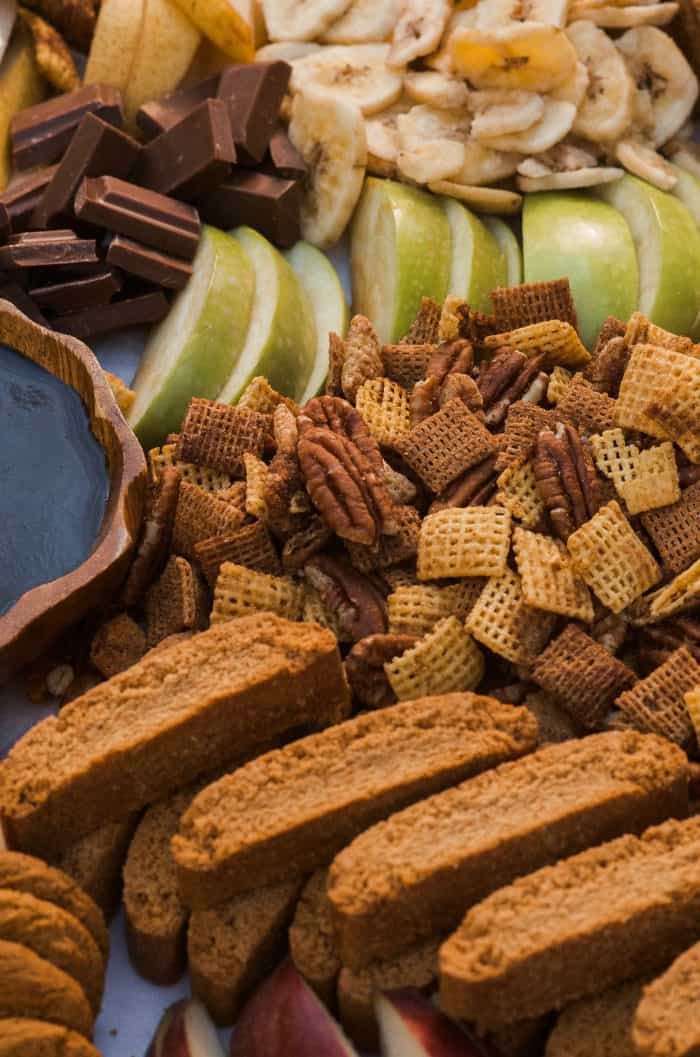 Great snack for the holidays
What a great way to celebrate the holidays, friends. I also love this for Game Day, and will carry it on through all the holidays in the year to come!
More recipe ideas: TidyMom shares how to make Pumpkin Chex Party Mix for the Perfect Party, and Living Locurto has a recipe for Brown Sugar Bacon Chex Party Mix. YUM. On my blog, I've shared a Caramel Nut Chex Mix Recipe, and a Curried Cashew Snack Mix Holiday Gift Bags idea (super fun!) ENJOY!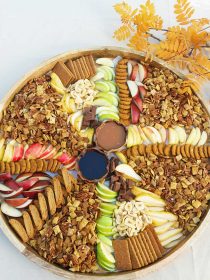 Get the Recipe: Pumpkin Spice Chex Party Mix Board
Double or triple the recipe for a large board. Do-Ahead Tips: To ease the load of last-minute prep, make the mix up to 2 weeks ahead and store in an airtight container.
Ingredients
Pumpkin Spice Chex Party Mix:
1/4 cup brown sugar
1 tablespoon pumpkin pie spice
1/4 cup butter
2 teaspoons vanilla
2 cups Cinnamon Chex™ cereal
2 cups Wheat Chex™ cereal
2 cups Honey Nut Chex™ cereal
8 oz pecans
Board Ingredients:
Pumpkin Spice Chex Party Mix
1 jar chocolate sauce for dipping
1 jar caramel sauce for dipping
Apple and pear slices
Gingersnap cookies
Pumpkin Biscotti
Dried banana chips
Graham crackers
Chocolate candy bar pieces, big chunks
Instructions
In small bowl, mix brown sugar and pumpkin pie spice; set aside. In small microwave-safe dish, microwave butter on High about 30 seconds or until melted. Stir in vanilla.

In large microwavable bowl, mix all cereals and pecans. Pour butter mixture over cereal mixture, stirring until evenly distributed. Add sugar and spice mixture and stir until coated.

Microwave uncovered on high 5 minutes, or until mixture begins to brown, stirring every minute. Spread on wax paper or a cookie sheet to cool. Store in airtight container.

On a large round board, lay down parchment paper. Set the dipping sauces in the middle of the board.

In rows, add sliced fruit, cookies, biscotti, graham crackers, adding in large amounts of Pumpkin Spice Chex Party Mix in between.

Serve and enjoy!
This post is sponsored by Chex Party Mix, but as always, all opinions are my own.
This post includes affiliate links at no extra cost to you! Thank you for helping support RE!
Hello and welcome to my home and table!
I'm Sandy—lover of food, family, cooking, THE BIG BOARD, travel, and bringing people together. Through great recipes and connection around the table, we become better, stronger, and more courageous people. Feasting on Life is real, and every time we do it, we grow a little more. Read more...