Baked Chicken Breasts with Roasted Grapes
Looking for tips to inspire a small dinner party? Try Baked Chicken Breasts with Roasted Grapes, and my Best Brown Rice recipe–you've got a dinner party!
Friends, we need to make living life more fun and more of an advenutre! All it takes is a little bit of creativity (don't be afraid to try a new recipe), and a bit of courage, to invite some new friends over for dinner!
Baked Chicken Breasts with Roasted Grapes
Baked Chicken Breasts with Roasted Grapes is a delicious dish to serve this time of year.
And the rice? Best Parmesan Basil Brown Rice Recipe!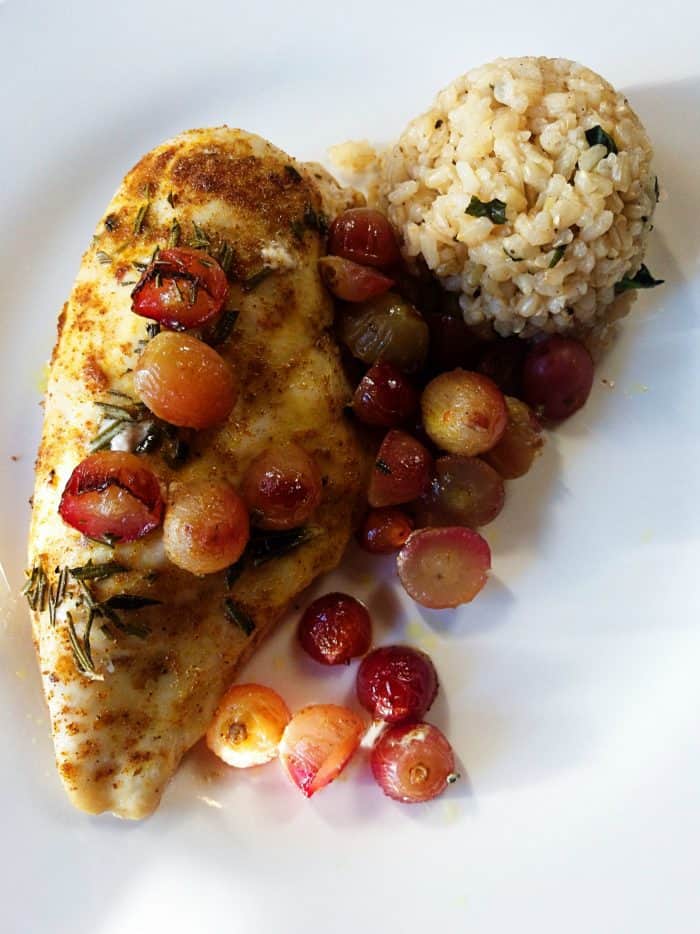 How to make Baked Chicken Breasts
You can prepare everything on a foil-lined cookie sheet.
Prepare the chicken. Get the grapes ready with vinegar and honey.
Pop in the oven about 30 minutes before you're ready to eat!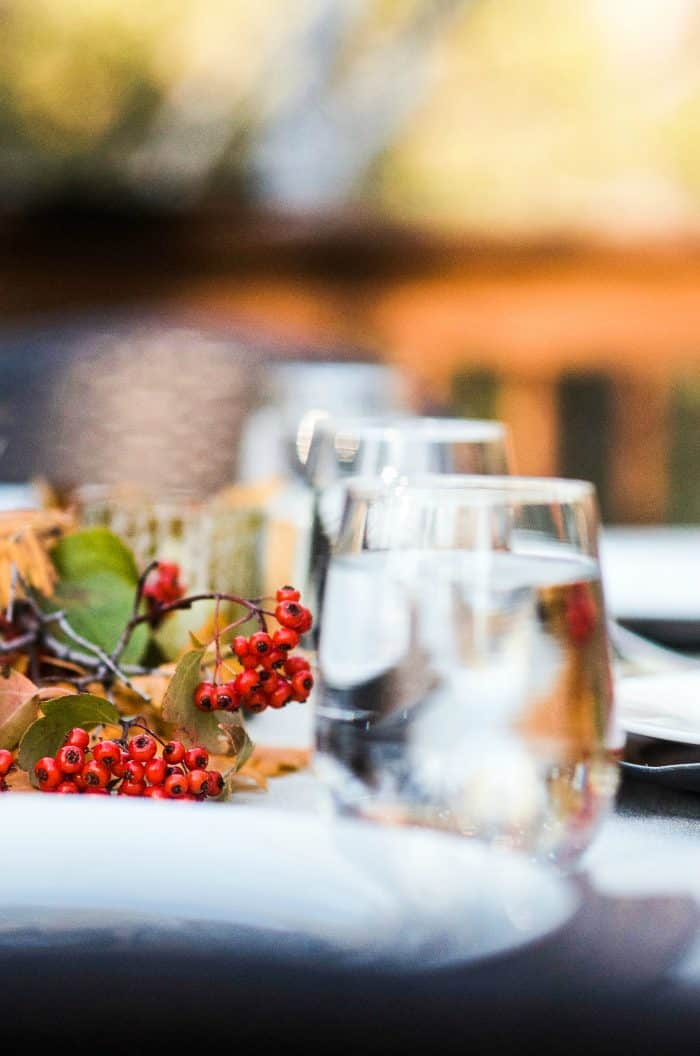 Start where you are! Don't let finances get in the way of having people over!
1. MAKE A DECISION TO INVITE: Look at your calendar, find a date that works, think of who you want to connect with, and INVITE. A dinner party can be as few as 4 people.
2. KNOW WHAT YOU CAN SPEND: Look at your budget and see what you can afford before you plan the menu. Can you afford a prime rib, chicken, or soup and salad? Choose recipes that work for you, and then delegate the appetizer or dessert to help offset your budget.
3. MAKE A PLAN: Prepare ahead of time and get your grocery shopping done early. Think ahead to where you'll be hosting (inside or out), and what you plan to use for the table. Don't be afraid to mix and match, or use a color scheme you normally wouldn't use (remember, make it LIVELY!)
4. 30 MINUTE WINDOW: Aim to be completely finished with cooking and chores, with the table set and your hosting clothes on, 30 minutes before the guests arrive. This helps you breathe a little, and gives you time to tinker with the details so you're fresh and ready for your guests.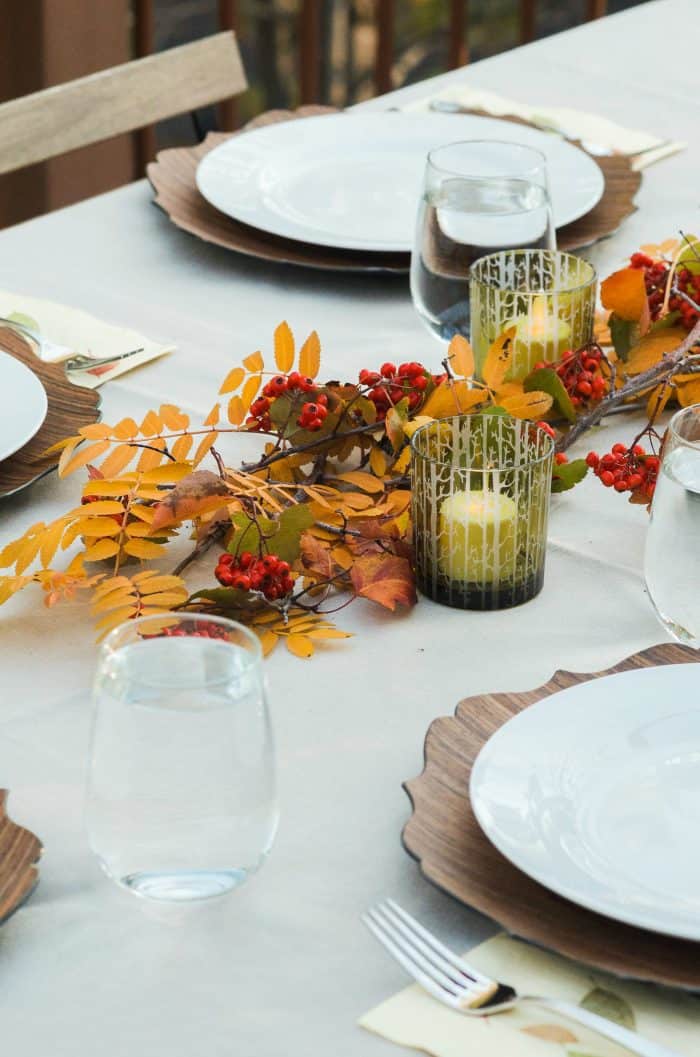 Set a pretty table! This season is easy, because all you have to do is snip a few branches. (This post was written a couple of weeks ago) :)
After church last Sunday, Paul and I were running a few errands. The trees and colors in downtown Bend … aMAZing.
Our friends were coming (on this warm day before the snow and cold front came through), and we couldn't be happier.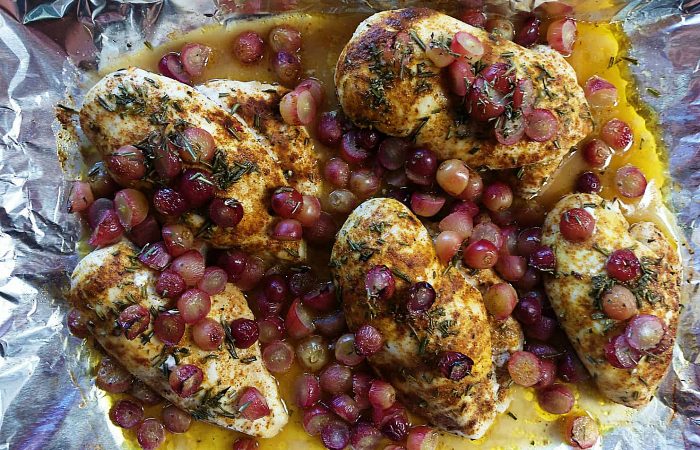 Baked Chicken Breasts
Outside for an early dinner.
Then inside for dessert. This is the way you have to entertain in the fall, because the nights get chilly – FAST!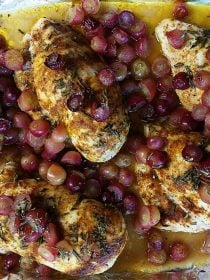 Get the Recipe: Baked Chicken Breasts with Roasted Grapes
Ingredients
4-6 boneless skinless chicken breasts, brined in saltwater
1/4 cup melted butter or olive oil
Salt & pepper
1 tsp. Five Spice, or I used Southern Spain Pinchito Spice
1/2 tsp. paprika, I prefer smoked paprika
1/4 cup kosher salt, for brining
2 cups red grapes, halved
1 Tbsp. white wine vinegar
1 Tbsp. honey
2 Tbsp. fresh rosemary, finely chopped
Instructions
Brine the chicken breasts in a bowl of warm water with 1/8 cup kosher salt. Let the breasts sit in the mixture to brine for 30 minutes. Remove the breasts from the brine, rinse, and pat down with paper towels.

Heat oven to 450°F.

Prepare the grape mixture: Mix together grapes, vinegar, and honey. Set aside.

Place the chicken breasts on a foil-lined baking sheet. Drizzle both sides (turning once) evenly with the melted butter or olive oil.

Sprinkle the spices evenly over the chicken on both sides.

Pour the grape mixture over the chicken; top with evenly sprinkled fresh rosemary.

Bake for 20-25 minutes, or until the chicken is cooked through and not pink when you slit it with a knife (165°F).

Let the chicken rest for at least 5-10 minutes. Serve immediately with Best Brown Rice.
More baked chicken recipes: Baked Salsa Chicken [Crazy for Crust], Honey & Soy Baked Chicken [Tidy Mom], Apricot Greek Yogurt Baked Chicken Thighs [RE], Baked Teriyaki Chicken Tenders [RE].
Hello and welcome to my home and table!
I'm Sandy—lover of food, family, cooking, THE BIG BOARD, travel, and bringing people together. Through great recipes and connection around the table, we become better, stronger, and more courageous people. Feasting on Life is real, and every time we do it, we grow a little more. Read more...