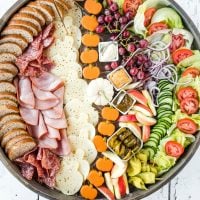 Print Recipe
Harvest Party Ham Sandwich Board
Use a pumpkin cookie cutter to cut out thin slices of cheese for fun ham sandwiches!
On a large board, arrange a small decorative pumpkin in the center. On either side, lay down the pumpkin mousse cake from Trader Joe's.

Around the outside place the sliced bread. Optional to toast the bread first. Next, lay down the salami and ham next to the bread.

In small bowls, add the sauces and pickles.

On the other side of the board, place the wedges of lettuce with a tomato. Next to the lettuce, arrange the cucumber slices and red onion.

Using a pumpkin cookie cutter, cut out thin slices of your favorite cheese (Harvarti and cheddar work great!). Lay it down between the meat and the center pumpkin cakes.

Add tongs and spoons and serve!