Harvest Halloween Party Cookie Caramel Rolls Recipe
These delicious, easy, gooey Nutter Butter Cookie Caramel Rolls can be made and served in 40 minutes! Perfect for a Harvest or Halloween party!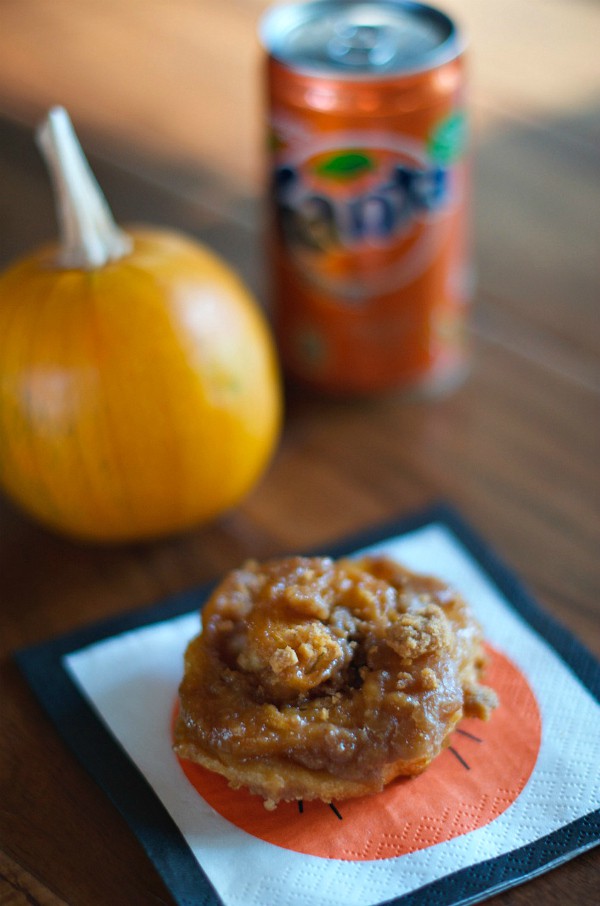 Today's Cookie Caramel Rolls recipe post is sponsored by Fanta, Nabisco, and the The Coca-Cola Company + #SpookySnackLab Halloween campaign.
Happy Friday, Friends! You may have already taken advantage of entering this awesome contest that I'm hosting here at RE, to win an easy $500. But if you want more information, read on, or head to this post to enter your comments! It's really that easy! —contest CLOSED.
Here's the perfect warm treat for pajama-clad family mornings, or for a surprise on Halloween morning, to make for your family. One of my fondest memories, when our kids were little, was to create something fun or delicious for each holiday.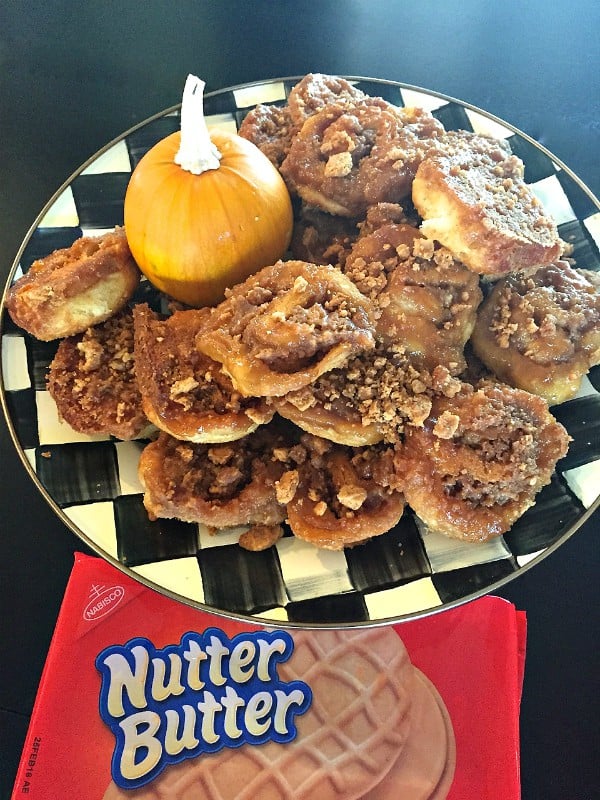 Cookie Caramel Rolls.
This Cookie Caramel Rolls recipe takes no time at all—and they are also a great, sweet snack to take to a party! One thing I love about this recipe is you can use any flavor of your favorite cookie, but today I used Nutter Butters.
Set out the Cookie Caramel Rolls on a black and white platter.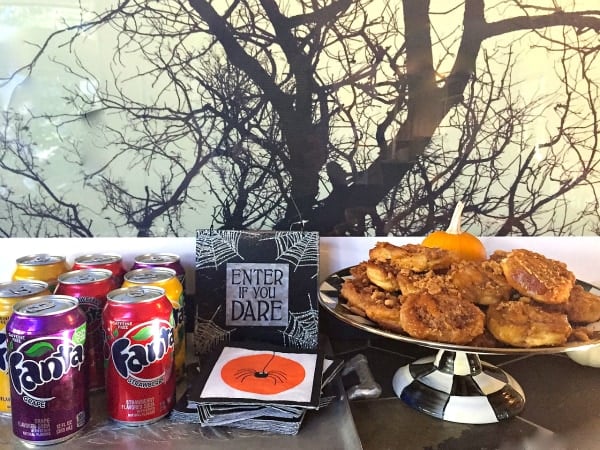 Serve FANTA for party drinks.
Some chilled FANTA party drinks in an orange and black bucket. By the way, did you know Fanta is a global brand of over 100 fruit-flavored carbonated soft drinks? I think it's fun to serve FANTA, because everyone can choose their favorite flavor, such as orange, strawberry, grape, and pineapple!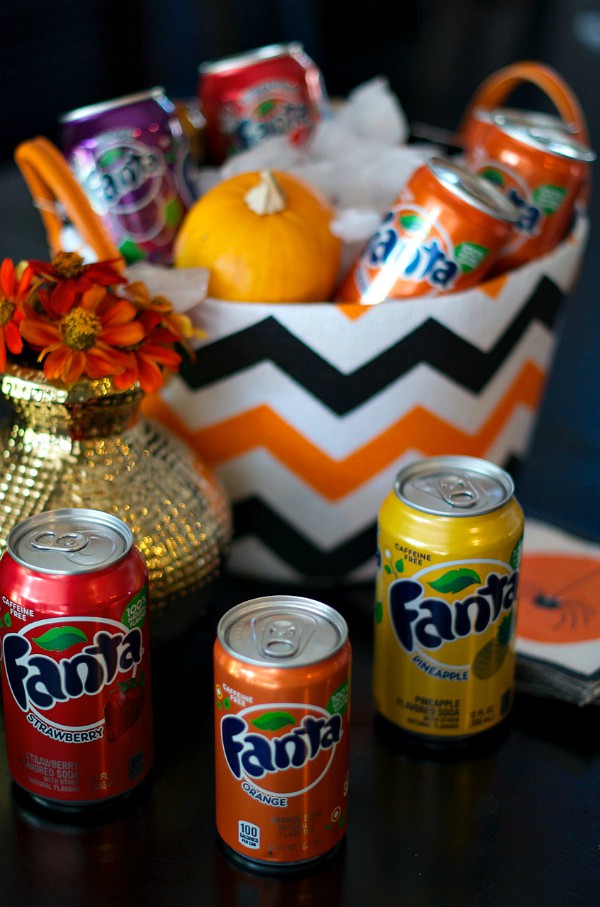 And ENTER as you dare.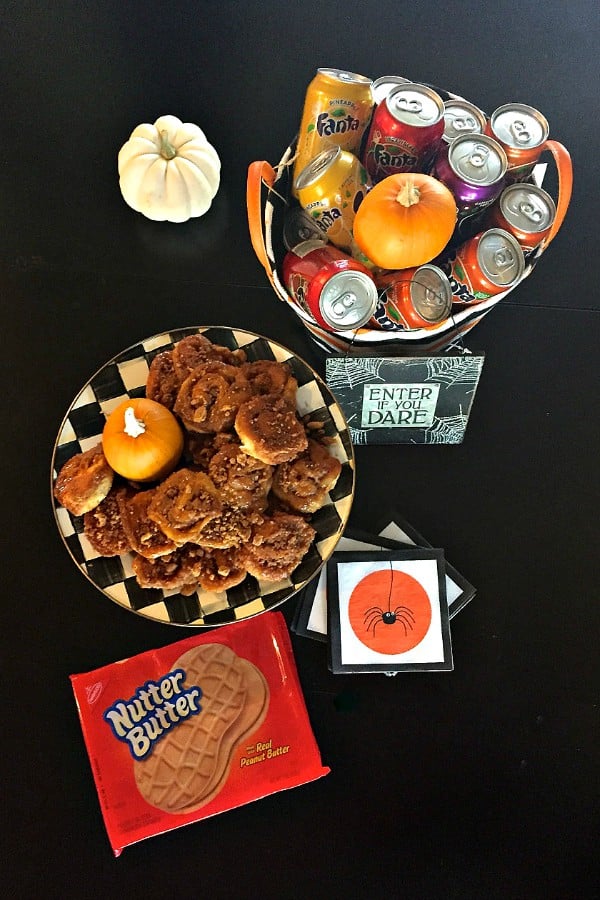 Nutter Butter Cookies.
Here's the delicious recipe. Get your kids in the kitchen to help you create these treats. They can start by putting 20 Nutter Butter Cookies in a Ziploc bag, crushing them with a rolling pin.
Make the caramel sauce; line a large jelly roll pan. Push the crescent rolls together with your fingers, filling with crushed cookies.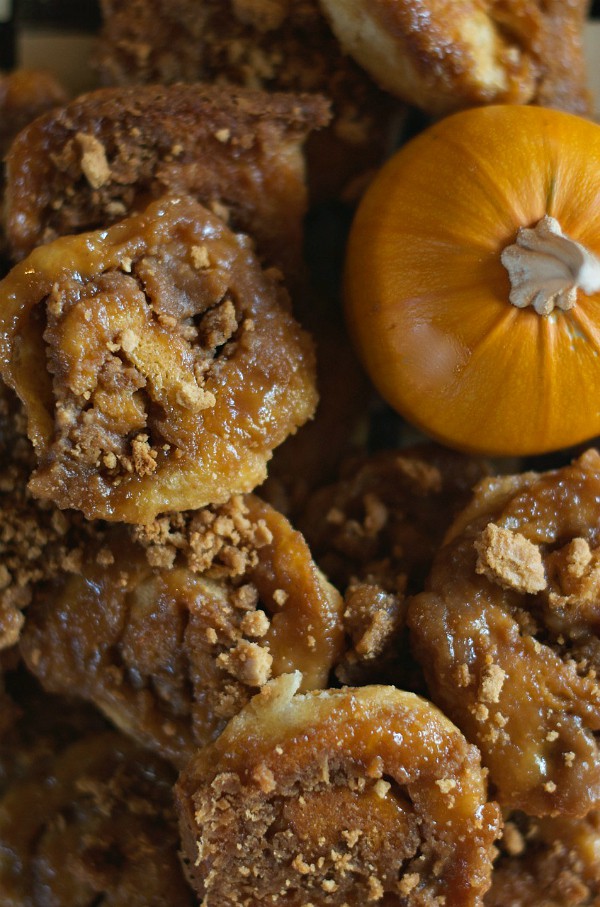 More DIY ideas.
Recipe for caramel rolls is below, but in the meantime, if you're looking for more simple or fun or crazy ideas, head over to the Fanta and OREO Spooky Snack Lab featuring Evette Rios, as the Spooky Snack Lab Scientist. Try some of these ideas at your party: Fanta Pina Ghoulada + Spooky Oreo Spiders or Nutter Butter Bees + Fanta Bloody Brew! FUN!
Now for the contest … what to win?
WHO wants to WIN $500? You can create your own #SpookySnackLabContest Pinterest Board for a chance to win your own Spooky Snack Lab prize! Fun! — contest CLOSED
My #SpookySnackLabContest Pinterest Board.
I've already created my own Fanta and OREO #SpookySnackLabContest Pinterest board. Check it out!
For more Halloween inspiration, visit the Spooky Snack Lab on Pinterest. You can also follow along on social media by using the hashtag #SpookySnackLab.
ENTER HERE!
Click to enter your comment and pins on THIS POST, and read all rules. (Comments will be closed on this post, Random counter will be used for all eligible comments). Contest ends 10/31/15.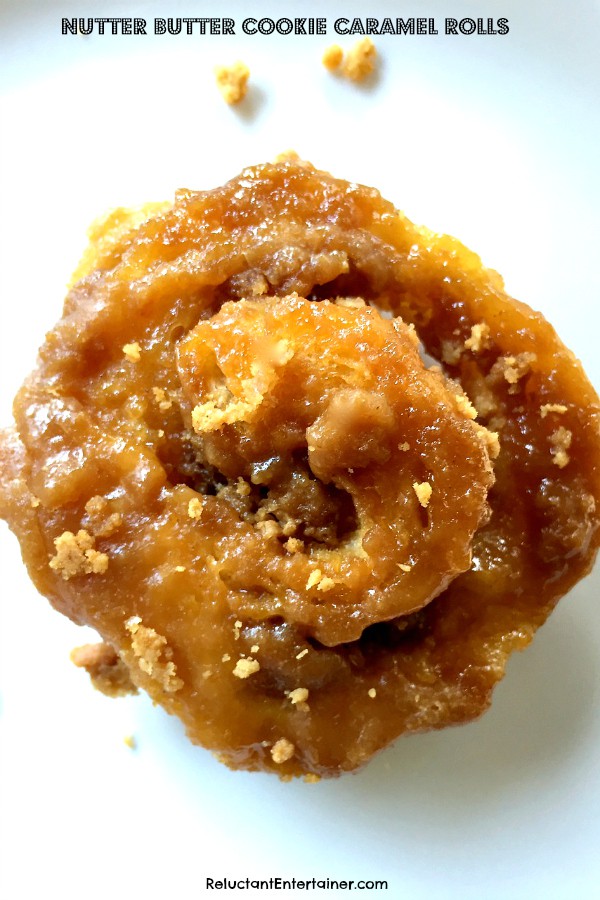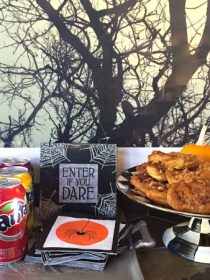 Get the Recipe: Cookie Caramel Rolls
Use your favorite cookies for this recipe!
Ingredients
2/3 cup packed brown sugar
2/3 about 10 Tbsp cup butter, cubed
2 Tbsp maple syrup
2 tubes, 8 ounces refrigerated crescent rolls
20 Nutter Butter cookies, or your favorite sandwich cookies
Instructions
Preheat oven to 375°. In a small saucepan, combine brown sugar, butter, and maple syrup; cook and stir over medium heat until blended. Pour into a prepared, sprayed (cooking spray) jelly roll pan.

Separate crescent dough into four rectangles; gently press perforations to seal. In a large Ziploc bag, crush the cookies; sprinkle evenly over rectangles. Roll up jelly-roll style, starting with a long side; pinch seams to seal.

Cut each roll into 12 slices; place all 24 into prepared dish, cut side down. Bake 18 minutes or until golden brown. Cool 1 minute before inverting onto a serving plate.
This is a sponsored post written by me on behalf of Coca-Cola for Nabisco. All opinions are 100% mine.
Are you following me on Instagram, Twitter, Facebook and Pinterest? Thanks being here today, and if you'd like to subscribe to Reluctant Entertainer, to have each post delivered straight to your e-mail box, then please add your email, here. It's really easy!
Hello and welcome to my home and table!
I'm Sandy—lover of food, family, cooking, THE BIG BOARD, travel, and bringing people together. Through great recipes and connection around the table, we become better, stronger, and more courageous people. Feasting on Life is real, and every time we do it, we grow a little more. Read more...