#GloriousAutumn 3-Ingredient Smoky Dressing with Green Salad Recipe
Welcome to Autumn! Yesterday I recreated a 3-Ingredient Smoky Dressing with Green Salad— so fresh and lively!
Do you know how much I adore Autumn? So much that I'm hash tagging my photos on Instagram with #gloriousautumn in celebration of all things inspired by beautiful autumn colors, lighting, recipes, scents, the feeling of warmth and love that is in the air. I'd love for you to join me. Just hashtag your photos #gloriousautumn and then we'll be able to see each other's "glorious autumn" passions! Too much fun!
Goodbye Summer 2014.
Saying goodbye to summer was hard for me this year, because my summer literally flew by. Quickest summer yet, probably because of our Africa trip, and so many other short trips to some very cool places. Yesterday I took this photo with my iPhone. Goodbye Summer 2014!
Fall is more salads.
I'm going to be eating more salads this month. I can just feel that I need to, plus get back into yoga 4-5 times a week. There's just something about #gloriousautumn that inspires me with new schedules, comfort recipes, healthy recipes, with grains, greens, beans, and more, organizing, hunkering down and enjoying "family."
Inspired by my friend Karen, who owns a natural organic juice bar in Ashland, we indulged in the best mini dinner party at their place a few evenings ago. I say "mini" because 4 is sometimes the perfect number for a dinner party. Who really defines what a dinner party is, anyway?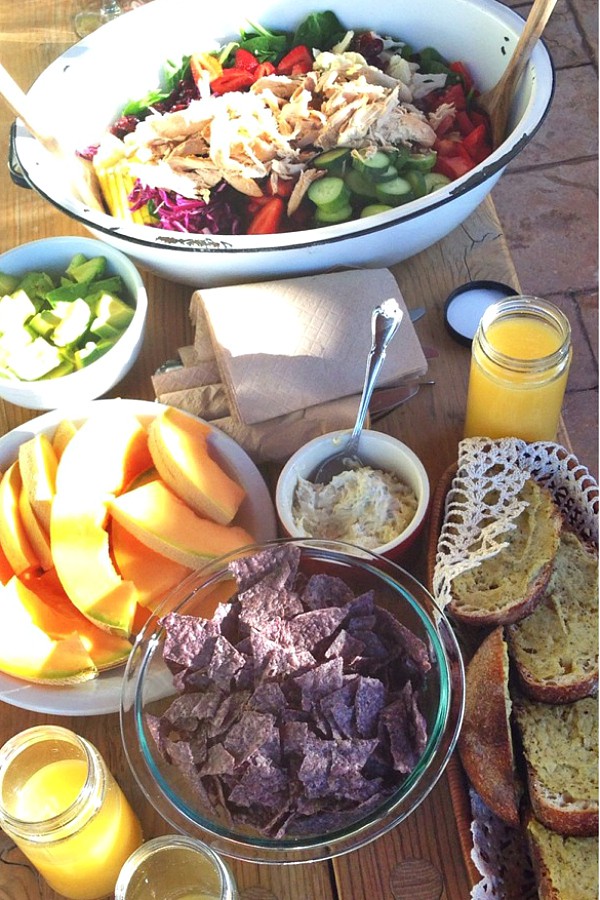 Casual entertaining.
Ours was casual, the food set out on a bench, enjoying the great outdoors with a warm end-of-summer breeze. I wish I would have taken more photos of the food, the sunset, the sky (be still my heart), and then the fabulous fire. But this shot was perfect. It show how simple entertaining can really be, as we indulged in salad, crunchy bread, juice from their shop, wine, and ice cream cookies for dessert.
It was the perfect way to end summer, and to welcome #gloriousautumn into our lives.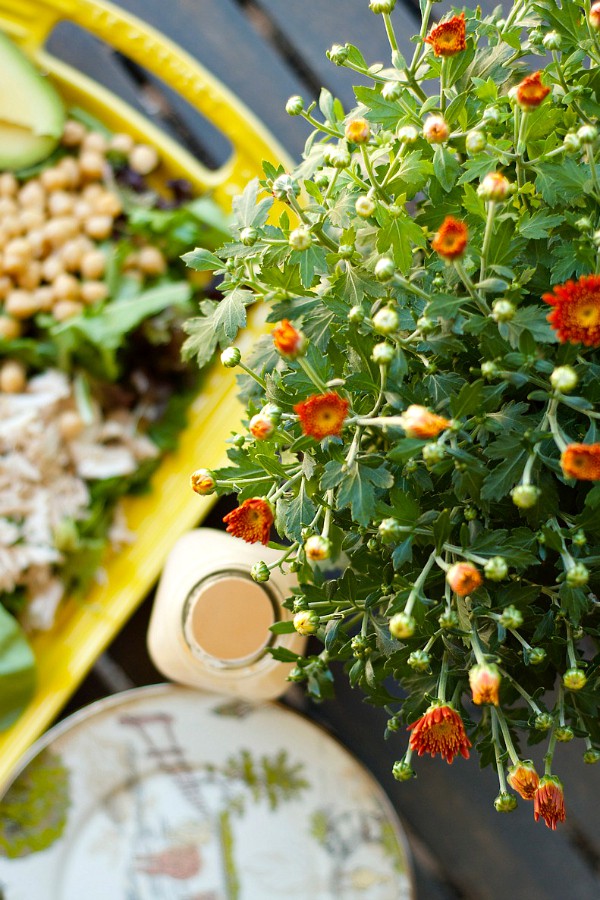 Making the dressing and salad.
Yesterday I recreated Karen's smoky dressing–3 easy ingredients that everyone has in their home, and so fresh and lively! And I used one of their NW Raw juice bottles for the dressing (the perfect size)!
Served on a bed of fresh organic greens, I added garbanzo beans (or chic beans), carrots, currants, green onions, and chicken. Oh, and avocado on the side.
We tossed it, sat on the back patio, and enjoyed the #gloriousautumn breeze!
#GloriousAutumn
Ahhhh! Autumn is here!
What about Autumn inspires you most?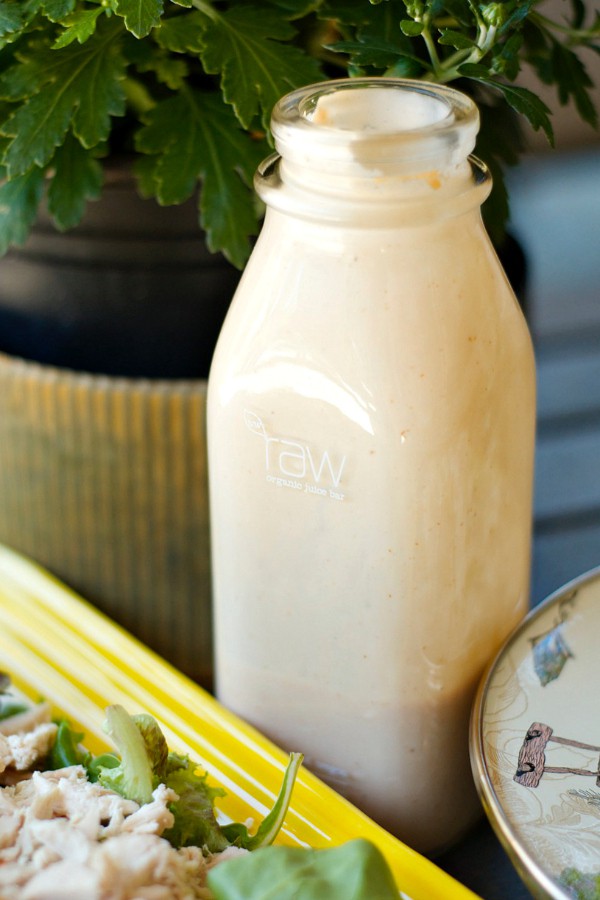 Get the Recipe: 3-Ingredient Smoky Dressing with Green Salad Recipe
Ingredients
1 1/2 cups mayonnaise, you can use Vegan if you prefer
1/4 cup organic ketchup
1 tsp. liquid smoke
Organic greens
1 cup Bush's garbanzo beans
1/2 cup green onions, chopped
1/2 cup carrots, finely chopped
1/2 cup dried currants
1 cup chicken, shredded or diced
1 avocado, sliced, and placed on top of the salad after tossing
Instructions
Mix the first 3 ingredients together with a whisk. Add water to thin to a salad dressing consistency, about 1-2 tablespoons.

On bed of fresh greens, add the other ingredients (except the avocado); drizzle the salad with dressing and toss.

Serve with fresh sliced avocado on top of the salad.
Are you following me on Instagram, Twitter, Facebook and Pinterest? Thanks being here today, and if you'd like to subscribe to Reluctant Entertainer, to have each post delivered straight to your e-mail box, then please add your email, here. It's really easy!
Hello and welcome to my home and table!
I'm Sandy—lover of food, family, cooking, THE BIG BOARD, travel, and bringing people together. Through great recipes and connection around the table, we become better, stronger, and more courageous people. Feasting on Life is real, and every time we do it, we grow a little more. Read more...