Apricot Chicken Orzo with Marcona Almonds
This one-pot Apricot Chicken Orzo with Marcona Almonds is a fabulous fall recipe to make and serve to dinner party guests!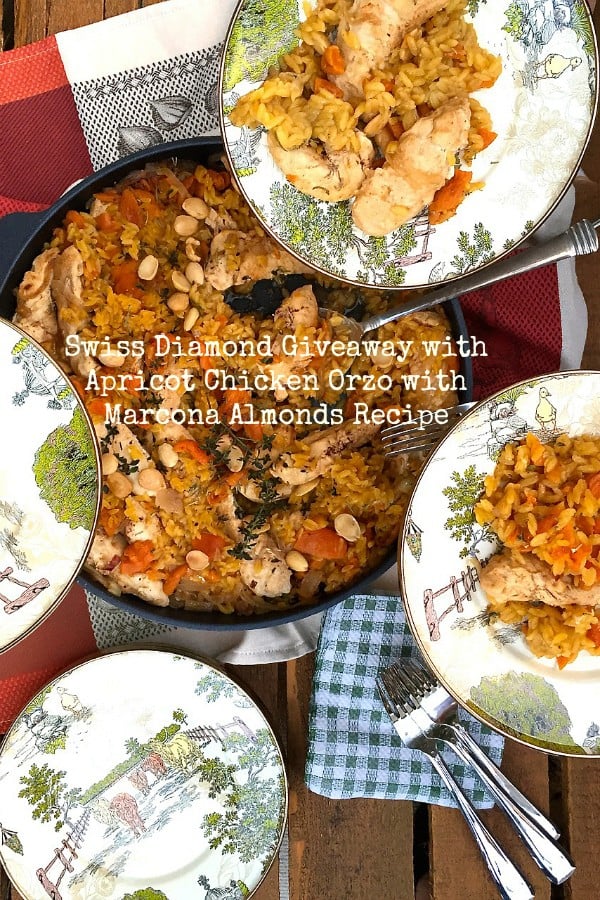 **Contest is closed. Winner has been contacted. Thank you for enterting!
Let me introduce you to one of my new favorite kitchen brands, Swiss Diamond, and my incredible 12.5″ Induction Nonstick Fry Pan with beautiful glass lid. I was first introduced to Swiss Diamond when I visited Asheville, NC, a few months ago. Isn't it beautiful?
Win me.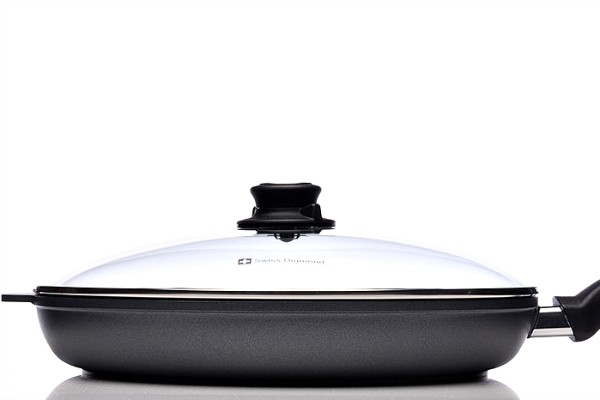 My good friend, Sommer, hosted a fabulous party in her home, and in the goody bag was a 7″ Swiss Diamond frying pan. I thought to myself, no big deal, I've used all sorts of nonstick frying pans and they're all the same–eventually they are overused, worn thin, the coating comes off, and we toss them and buy new pans.
I was pleasantly surprised, and so was my family.
Apricot Chicken Orzo with Marcona Almonds.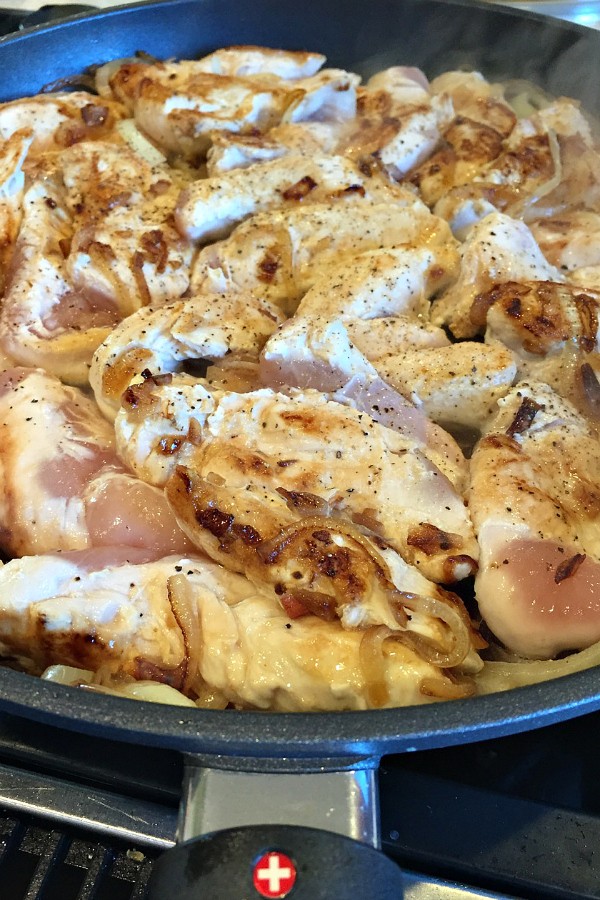 My son recently helped me make a delicious Apricot Chicken Orzo with Marcona Almonds, and he really could have done his own commercial. He was excited as I was over this new induction frying pan! Our kids are also impressed that their eggs in the morning no longer stick to the pan! (Who wants to clean up that mess?)
We cooked up a one-pot meal, which I'm very much into making these days, because it takes little time and there are way fewer dishes to clean up!
Swiss Diamond's largest skillet, the 12.5 inch Induction Fry Pan, comes with a glass lid, which makes it easy to monitor food and prevent splatter.
Here's a little info about the technology: It's not only guaranteed, but the aluminum construction will never warp, and it heats food evenly and efficiently. I was reading that real diamond crystals are embedded in the nonstick coating, to create a durable and resilient cooking surface. I was so impressed by how evenly the food cooked!
It's also dishwasher safe and oven-safe up to 500°F.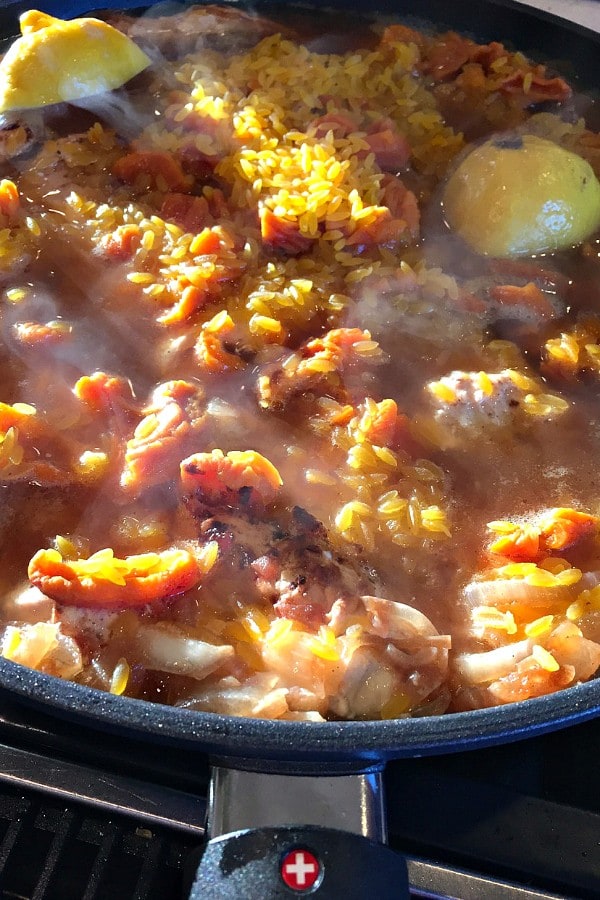 Eating outside.
It was a glorious autumn day and we had our little fire going in the back yard, so I brought dinner out for us to dish up and enjoy in the outdoors.
Inspired by our recent trip to Istanbul, this one-pot meal is sweet, with the addition of fruit and zesty lemon, and salty, with the Marcona Almonds, cooked right in the pan with chicken and orzo.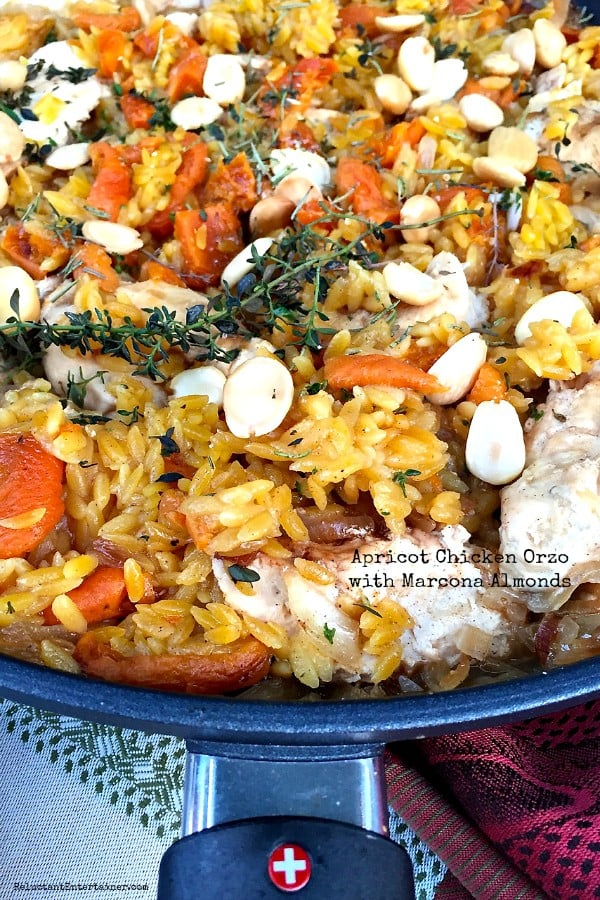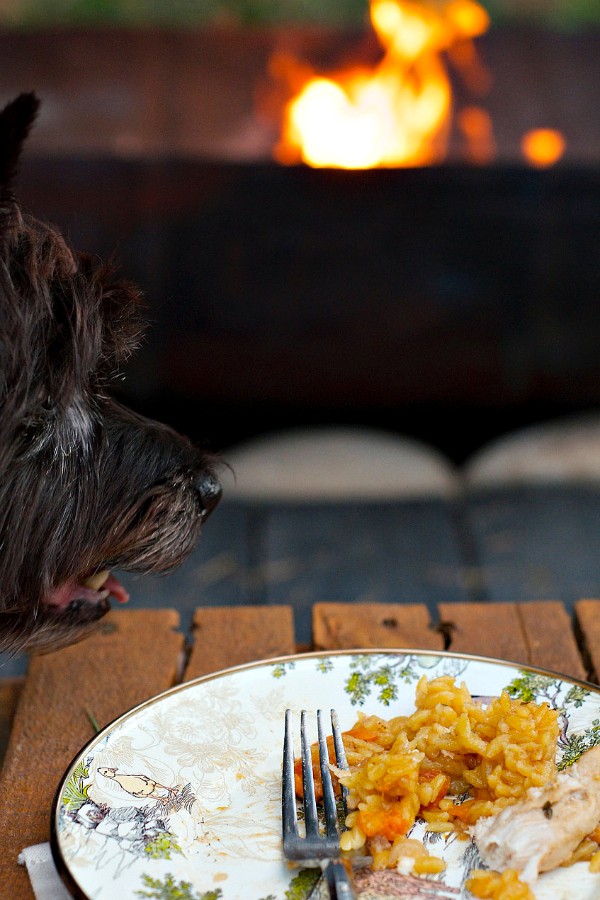 It's satisfying, comforting, and delicious, with the added thyme and almonds on top.
I must say it tasted even better in the great outdoors. (Haggis wanted a bite so badly!)
Enter to win.
**CONTEST CLOSED. Congratulations to winner: Cheryl
Get the Recipe: Apricot Chicken Orzo with Marcona Almonds
I made this recipe with DeLallo's gluten-free orzo and it was delicous!
Ingredients
2 cups chopped dried apricots
2 Tbsp. butter
2 shallots, finely chopped
1/2 sweet onion, finely chopped
4-6 garlic cloves, pressed
3 lbs. chicken boneless skinless tenderloins
1/2 teaspoon of powdered cinnamon
1/2 teaspoon of ground black pepper
1 teaspoon of salt
One lemon, juiced
2 cups chicken stock
12 oz. orzo, I use DeLallo
2 Tbsp. fresh thyme, finely chopped
1 tablespoon of honey
6 oz. Marcona almonds
Instructions
Cut the apricots in small pieces and soak in boiling water for about 10 minutes until softened; drain.

Melt the butter in a large flat frying pan and add the shallots and onion, sautéing on low for about 8 minutes until they turn golden; add the garlic and cook another 1-2 minutes.

Add the chicken tenderloins, browning them on both sides (about 3 minutes per side) before adding the cinnamon, salt and pepper, and fresh squeezed lemon juice. Leave the lemon halves in the pan (to release more flavor) and cook on low, with the lid on, for another 5 minutes.

Pour in the chicken stock and drained apricots; bring to a boil and reduce the heat to a simmer before covering with a lid. Simmer for 30 minutes.

Add the orzo pasta, 1 tablespoon of fresh thyme, and cook for 15 minutes (you want the orzo to be al dente).

Uncover and sprinkle the Marcona almonds on top of the dish, drizzling with honey, ending with 1 tablespoon of fresh thyme. Serve!
Are you following me on Instagram, Twitter, Facebook and Pinterest? Thanks being here today, and if you'd like to subscribe to Reluctant Entertainer, to have each post delivered straight to your e-mail box, then please add your email, here. It's really easy!
This post is sponsored by Swiss Diamond Cookware. As always, all opinions are my own.
Hello and welcome to my home and table!
I'm Sandy—lover of food, family, cooking, THE BIG BOARD, travel, and bringing people together. Through great recipes and connection around the table, we become better, stronger, and more courageous people. Feasting on Life is real, and every time we do it, we grow a little more. Read more...