Dinner Party Menu + Bacon Mashed Potatoes
These Bacon Mashed Potatoes, with fresh chives, are the perfect side dish for a potluck, gathering, weeknight meal, or holiday meal.
I'm so in love with this season! Just look at the glorious colors in our beautiful Rogue Valley this past weekend! They seriously take my breath away, as I'm driving down the streets of Medford.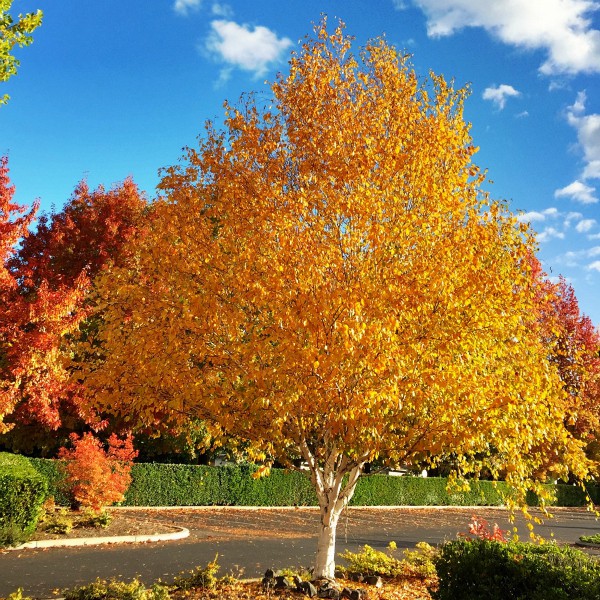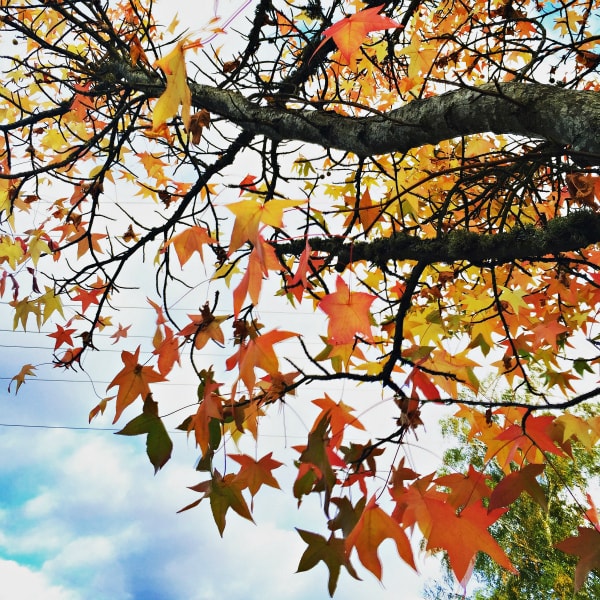 I was preparing for a few friends to join us for dinner, and I wanted to serve a yummy side dish, with a delicious Cornish Game Hens recipe (originally from my girlfriend of 30+ years, Jenny).
I've realized I don't have a ton of "side dish" recipes on my blog, so I'll be sharing a few in the next couple of weeks. Today's recipe, Bacon Mashed Potatoes, is so easy, and loved by all!
My secret to feeding lots of guests (without spending a ton) is to cook a scrumptious main dish, and then have the guests bring the rest of the meal, the salads, bread, desserts.
Making side dishes.
Notice I did not mention "side dishes." Rarely do I ask my guest to bring a side, unless it's a really good friend and I know she has a killer potato or veggie dish.
Sometimes it's awkward to ask your guests to bring a "side dish." I'm not sure why–side dishes are sort of like the ugly cousin who comes to the dinner, a bit awkward and out of place. No one wants to make and bring them!
So I usually just make the sides, like orange sweet potatoes, green beans, roasted sweet potatoes, fennel potatoes, pumpkin mashed potatoes, butternut banana mash, and Brussels sprouts with dates.
Keep it super simple, and create a dish that you've perfected and is super yummy.
Bacon Mashed Potatoes.
Start off with your basic mashed potatoes.
Add in the "extra" flavors–we love bacon and sour cream.
Mix in fresh chives.
This recipe pairs well with Cornish Game Hens, if you're looking for a very simple main dish to serve to company.
Cornish game hens are very small chickens; not very old, and with very tender meat. They weigh under 2 pounds, but the average butchered weight is a little over a pound. They cost a tiny bit more than regular chicken, but it's so worth it for a special meal.
November Dinner Party Menu.
So here's a lovely November dinner party menu for you to serve to your guests:
Roasted Butternut Arugula Crostini
Bacon Mashed Potatoes
Pumpkin Flourless Chocolate Cake
Happy weekend, Friends!
What's your favorite way to make mashed potatoes?
Get the Recipe: Bacon Mashed Potatoes
Ingredients
3 lb. russet potatoes, peeled and cut into 2-inch pieces
1 Tbsp. kosher salt, plus more, to taste
1 cup half-and-half
1 cup sour cream
3 Tbsp. unsalted butter, cut into 3 pieces
3 Tbsp. minced fresh chives + enough for sprinkling on top
8 oz. bacon, cut into 1/4-inch pieces and cooked until crispy
Freshly ground pepper, to taste
Instructions
Put the potatoes in a large pot. Add the 1 Tbsp. salt and enough water to cover the potatoes by 3 inches. Bring to a boil over medium-high heat, reduce the heat to medium-low and simmer until the potatoes are tender when pierced, 15 to 20 minutes. Drain well in a colander.

Set the pot over low heat, add the half-and-half, sour cream, and butter and whisk until the butter melts. Using a mixer, mix the potatoes on low, folding with a silicone spatula, slowly adding the liquid, until the mixture is smooth and creamy (or chunky if you prefer).

Stir in the chives and bacon, and season with salt and pepper. Transfer the potatoes to a warmed serving bowl and serve immediately. Serves 8.
Are you following me on Instagram, Twitter, Facebook and Pinterest? Thanks being here today, and if you'd like to subscribe to Reluctant Entertainer, to have each post delivered straight to your e-mail box, then please add your email, here. It's really easy!
Hello and welcome to my home and table!
I'm Sandy—lover of food, family, cooking, THE BIG BOARD, travel, and bringing people together. Through great recipes and connection around the table, we become better, stronger, and more courageous people. Feasting on Life is real, and every time we do it, we grow a little more. Read more...