Baguette Ham Overnight Breakfast Casserole
Enjoy this Baguette Ham Overnight Breakfast Casserole is made with a sourdough baguette, with chopped ham and green onions sauted in butter!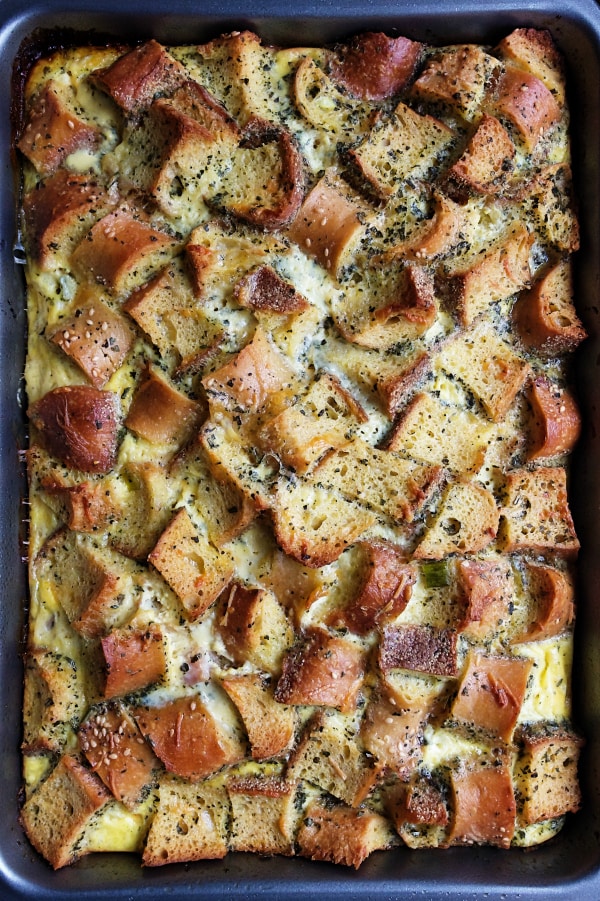 Happy Monday, Friends. How was your Easter?
We hosted dear friends for brunch after we went to church. We missed not having our daughter with us, but we will all be seeing her in Seattle for Mother's Day weekend! I wish there was a way to send up a homecooked meal to Abby, like this Baguette Ham Overnight Breakfast Casserole! Yum!
We served brunch for a late lunch yesterday, with breakfast casseroles, fresh fruit, and a yummy 5-Ingredient Strawberry Royale Dessert (only made with raspberries this time).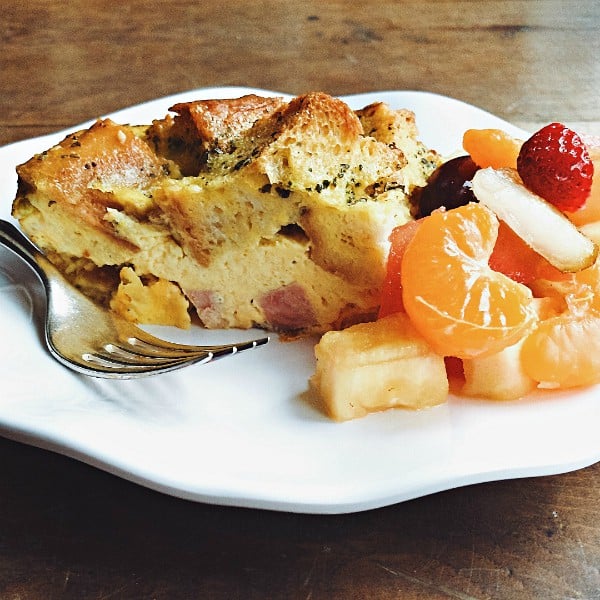 Today is Monday. A brand new day. A new day to be present in our lives, to be mindful of how I spend my time (and being organized from the minute I crawl out of bed the night before helps me not waste time), and starting off the day with my best.
I've known this for years, and I really have better weeks when I keep on top of clutter in my home. For instance, I've started something new on Sunday nights. Before heading to bed, I take a basket around to each room and pick up anything that is not in its place. Along with that, a duster (have you seen the dust that we get over here in the high desert? sigh). I straighten the pillows, clean off the counter, and I get ready for … Monday.
The way you begin your day sets the tone for the rest of the day.
Outer order contributes to inner calm. – Gretchen Rubin
Of course there are days where something is more important than being organized or clutter-free. Believe me, I have those days. But the days that I plan ahead, I feel more energized, ready, and present.
Also in planning for Monday, look in the fridge and see what your leftovers are, and do some menu planning.
Baguette Ham Overnight Breakfast Casserole
If you have leftover ham this week, here are 12 leftover ham recipes, plus Red Lentil Ham Carrot Soup (so good!), and Tortellini with Ham and Peas, that you may want to try.
Planning brunch dishes can be easy with overnight casseroles. Place the mixture into a big casserole dish and let it sit in the refrigerator overnight. The next morning all you have to do is put it in the oven, and in less than an hour, you're ready to eat.
This egg dish is made with a sourdough baguette, with chopped ham and green onions sauted in butter!
The assembled casserole needs to soak overnight before baking, so plan accordingly.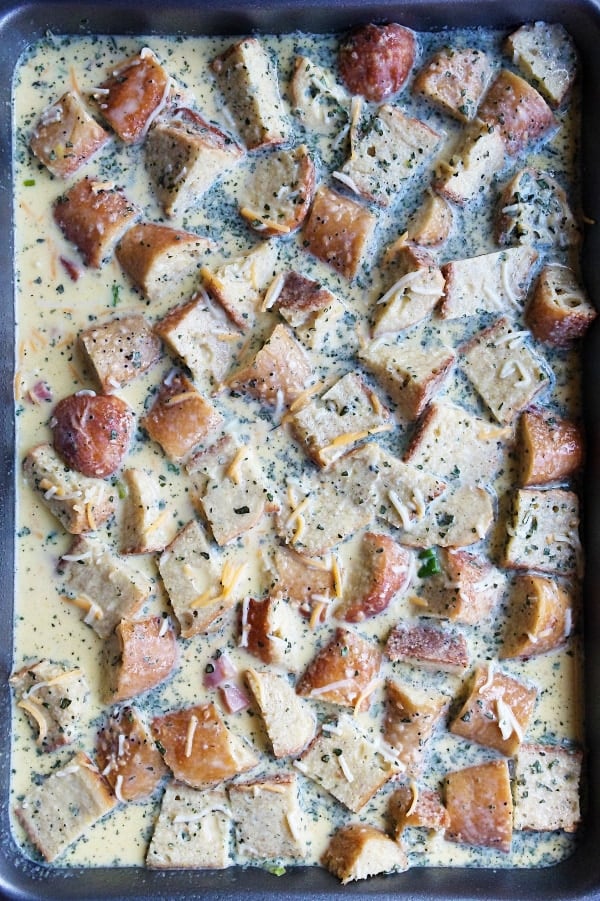 Bake and cut into squares and serve!
How do you plan the night before, to prepare for the next day?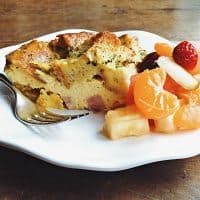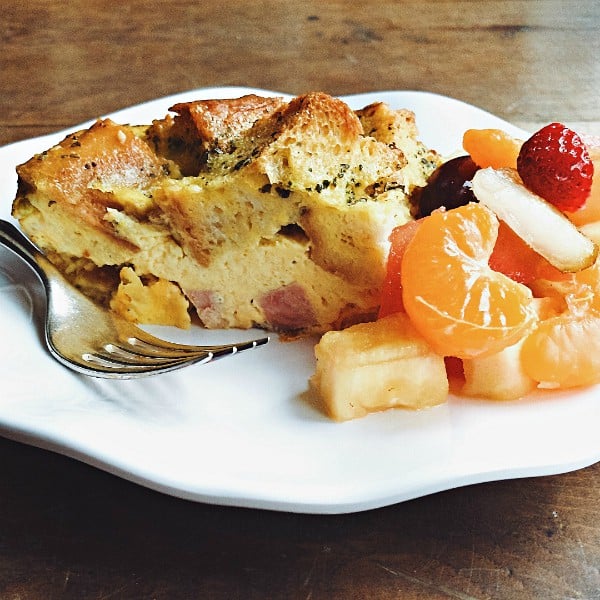 Print Recipe
Baguette Ham Overnight Breakfast Casserole
Ingredients
1

Tbsp.

butter

1

pound

cooked ham

I use boneless ham steak

3

green onion

sliced

12

large eggs

1 1/2

cups

1% milk

1

cup

whipping cream

2

tsp.

ground mustard

1

Tbsp.

dried basil

1 1/2

tsp.

kosher salt

1/2

tsp.

freshly ground black pepper

10

ounce

French or sourdough baguette

cut into 3/4-inch cubes (about 6 cups)

2

cups

mixed cheese

Sharp cheddar + Monterey Jack cheese
Instructions
Heat the butter in a large frying pan over medium heat. Add the ham and green onions and cook for 3-5 minutes. Remove the pan from the heat and let it cool for 10 minutes.

Place the eggs in a large bowl and whisk. Add the milk, cream, mustard, salt, pepper, and basil and whisk to combine. Add the reserved ham, green onions, bread, and cheeses and stir to combine. Pour the mixture into a 13-by-9-inch baking dish

Cover the dish with aluminum foil and refrigerate overnight (or 2 nights).

Preheat oven to 350°F. Remove the casserole from the refrigerator and let it sit at room temperature.

Uncover the casserole and bake until a toothpick inserted into the center comes out clean, about 45 minutes.

Remove the pan to a wire rack, and let it cool for 10 minutes before serving.