Favorite Snack Banana Split Honeycrisp Apple Nachos
Perfect for game day, enjoy our favorite snack Banana Split Honeycrisp Apple Nachos recipe, a delicious treat any time of year. WATCH THE VIDEO!
Friends, just in time for game day, slice your favorite apples, add delicious toppings, and make your own APPLE NACHOS!
Apple Nachos
Super fun for a party, serve on a large platter, and I promise, your guests will be asking for more!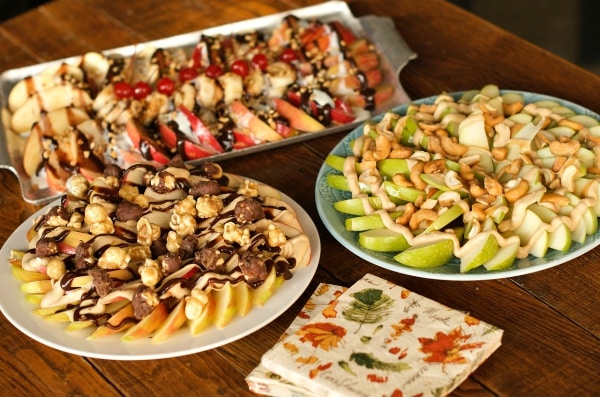 How do you make apple nachos?
Thinly slice the apples arrange on a platter.
Place bananas slices in the center. Drizzle with the sauces.
Sprinkle with chopped peanuts; serve!
I've been cleaning and organizing and getting ready to send our baby girl off to college here very soon. You may follow my friend, Ree, who's just sent her oldest (daughter) off to Texas A&M. It's not easy, but it's been fun packing, planning—we've already booked Abby's flight home for Thanksgiving—shopping, and cooking together.
Just last week, we made several apple nacho recipes together in the kitchen, including this Banana Split Honeycrisp Apple Nachos.
You can get the recipe for this beloved Moose Munch® recipe over at the Harry & David blog: Apple Nachos with Moose Munch® Gourmet Popcorn (made with a homemade white chocolate and peanut butter sauce).
September is … everything apple
We made 3 delicious recipes, and had some serious snacking going on. I adore apple season. Which, by the way, did you know that the apple is a symbol of love and fertility? :) Every year, some friends I've known for over 30 years, Roger and Faye, bring us bags of their beautifully grown apples. We're spoiled! We make applesauce, apple butter, apple goody dessert, apple cake with custard sauce, apple pear skillet dessert, on of our favorite appetizers … September is "everything apple" in my mind.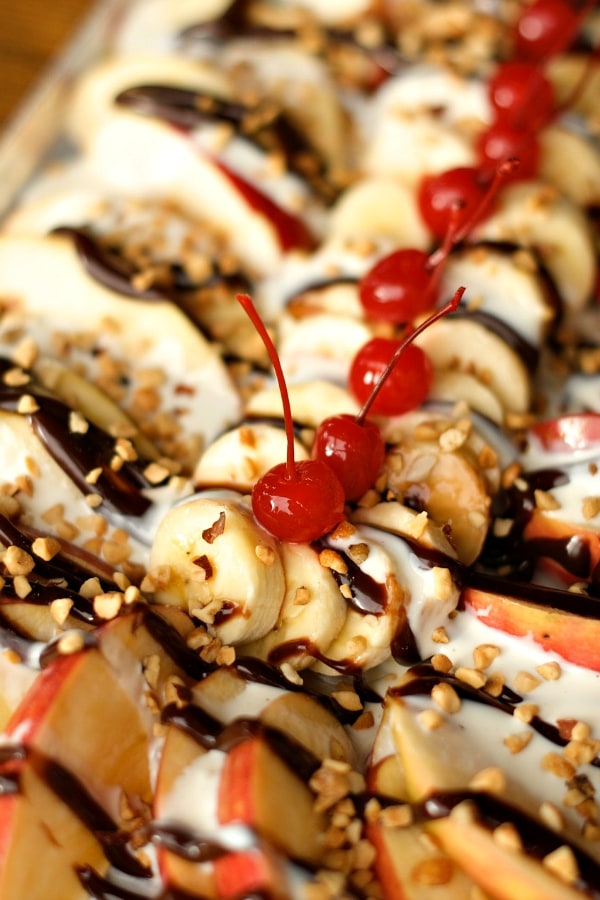 Banana Split Honeycrisp Apple Nachos
This particular recipe – a BIG hit. Layer the apples.
Add the sauces.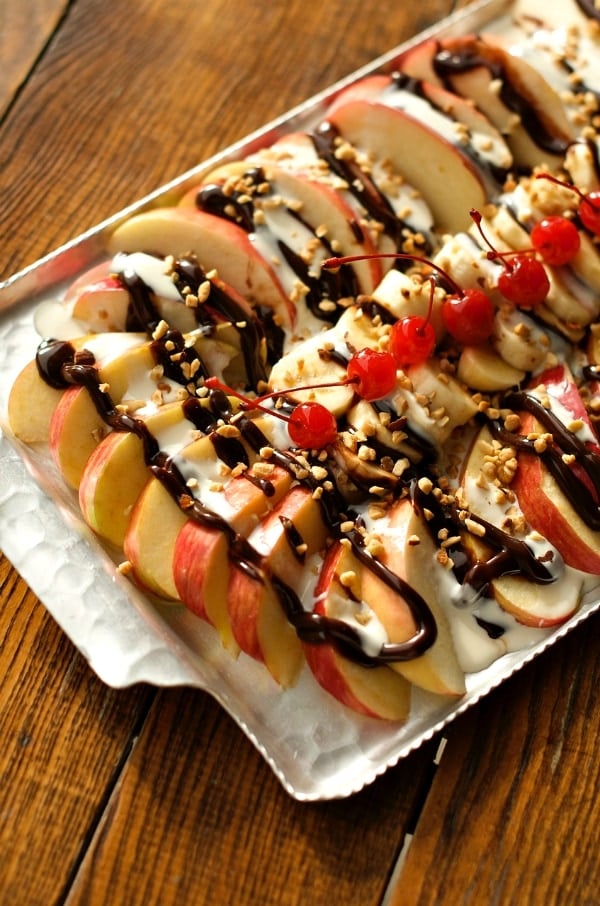 Top with bananas, nuts, cherries.
The perfect semi-healthy, fun apple snack or dessert!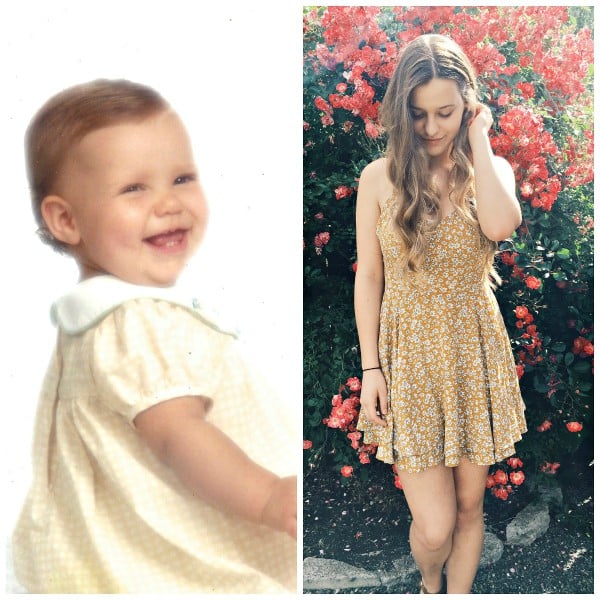 18 years ago.
Also, in my purging and organizing photos, I came across this adorably-cute picture of our little Abby 18+ years ago.
Where did the time go?
I'm going to tuck these little words of wisdom into her bag before she leaves for college:
Each time anyone comes into contact with us, they must become different and better people because of having met us. We must radiate God's love. – Mother Teresa
Don't you think those are good words to live by?
I'm going to miss our little Miss Abby, yummy snacks and cooking and doing little projects together.
But this I know, just as apple season comes and goes and brings us new delicious recipes, year after year, there will be new seasons with our kids that we'll watch from afar. But no one can take away the sweet savoring of all the good times and family memories.
More apple nacho recipes:
Caramel Apple Nachos [Butter with a side of Bread]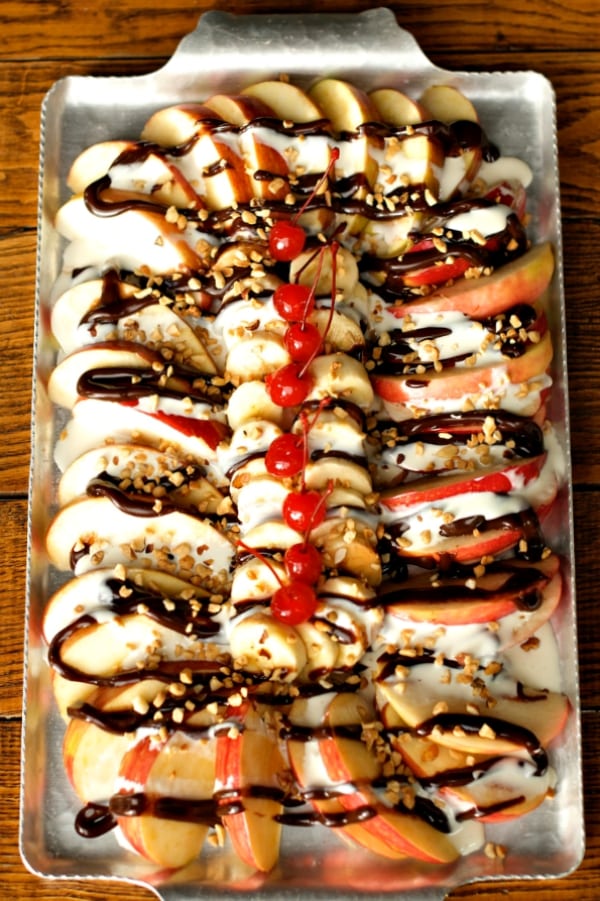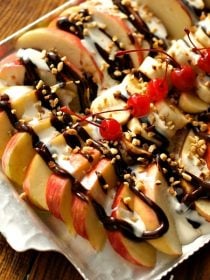 Get the Recipe: Banana Split Honeycrisp Apple Nachos
Ingredients
2-3 Honeycrisp apples, sliced thinly
2 bananas
Chocolate Fudge sauce
Marshmallow sauce
Chopped Peanutes
Maraschino cherries
Instructions
Thinly slice the apples arrange on a platter.

Place bananas slices in the center. Drizzle with the sauces.

Sprinkle with chopped peanuts; serve!
This post was originally sponsored by Harry & David, but as always, all opinions are my own.
Hello and welcome to my home and table!
I'm Sandy—lover of food, family, cooking, THE BIG BOARD, travel, and bringing people together. Through great recipes and connection around the table, we become better, stronger, and more courageous people. Feasting on Life is real, and every time we do it, we grow a little more. Read more...