"I Ran out of Time" with Salted Caramel Peaches and Ice Cream
Looking for a quick dessert? You'll love this Salted Caramel Peaches and Ice Cream recipe, everything you can quickly pick up at the local market, for last-minute company!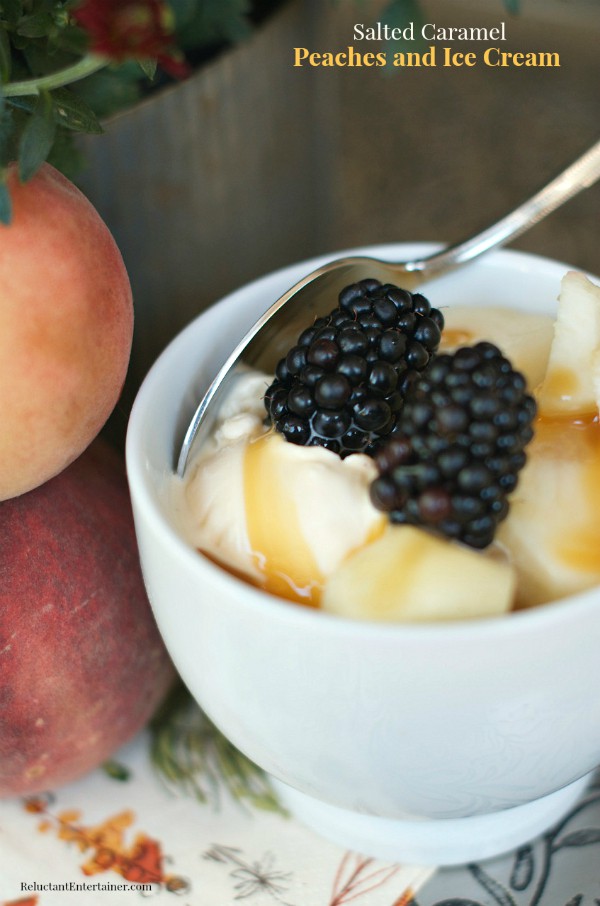 Happy Wednesday, Friends. This week has me coming and going, as I can't keep the days straight. Every time there is a holiday on a Monday, it throws me off! This past Sunday we hosted a few friends for dinner, and I seem to always run out of time on a Sunday when we have company over. I'm not sure what it is, but I had every intention to make this wonderful peach cobbler, but before I knew it, it was 5 pm.
Check-off list.
I always have a few things to check off in my mind, like … bathroom clean, table set, serving dishes out, back patio clean, menu organized and ready. (Here are my 8 simple and sane entertaining tips.)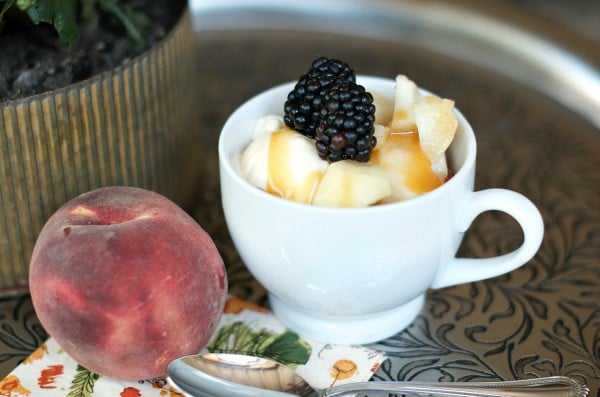 But dessert … well, I'm glad I had a back-up plan for the white peaches on the counter.
Salted Caramel Peaches and Ice Cream.
And, actually, I'm glad I didn't make the peach cobbler (even though it's soooo wonderful, with a hint of almond in the peaches and the crust), because this Salted Caramel Peaches and Ice Cream was a hit!
I usually keep vanilla ice cream in the freezer at all times. I bought this Smucker's Salted Caramel Topping (oh, boy, it's really good).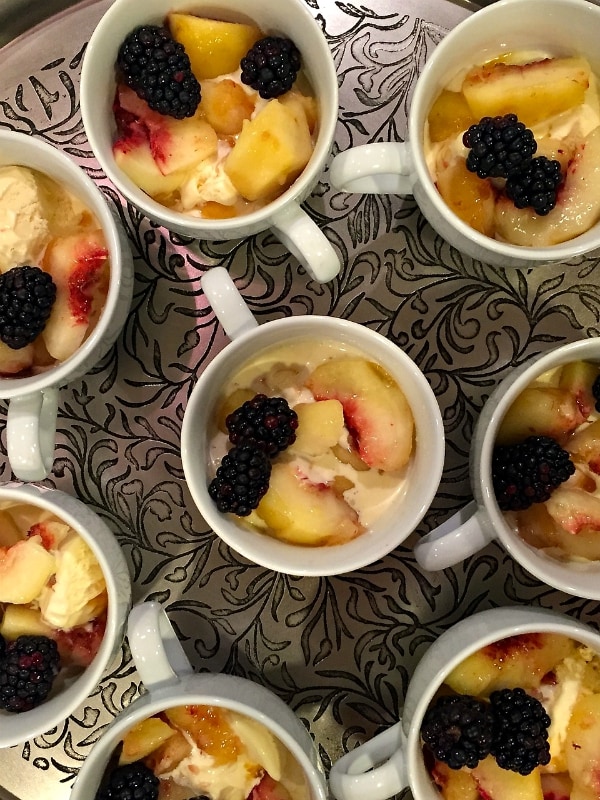 We scooped out the ice cream into mugs.
Heated up the caramel.
Sliced the fresh peaches.
Topped it off with 2 Oregon blackberries (nice and big and sweet).
Our guests loved it.
I ran out of time.
Sometimes I love "last-minute," or having to be creative on the fly. Cooking is like art. When we're free and we let go of expectations (dang, I didn't get the cobbler made), it opens the door to try something new! I'm glad I ran out of time.
Be confident in trying new things.
Had I tried this before? Caramel on peaches? No. But I was confident that these flavors would go together.
And by the way, this group that was over was very lively on this night. I'm not sure why, but we couldn't stop talking, laughing, and telling stories. It was one of our favorite evenings this summer!
We always feel blessed, having people into our home. It's really not at all about us.
It's starting small, moving forward, hands open to giving and receiving love from others, making the most of the space that we've been blessed with, to help, encourage and ultimately love others.
I'm glad we could end the night with these delicious peaches and ice cream.
How do you handle running out of time to make a dish or accomplish "your list" when entertaining? Do you get stressed out, or do you ever feel more creative?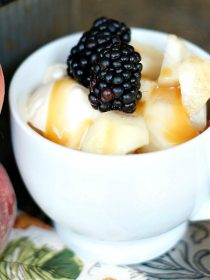 Get the Recipe: Salted Caramel Peaches and Ice Cream
Ingredients
Vanilla Ice Cream
Smucker's Simple Delights Salted Caramel Topping
Fresh peaches, I used white peaches, peeled and sliced
Fresh blackberries
Instructions
Heat the salted caramel topping in the microwave to soften.

In small bowls add several scoops of ice cream. Pour the topping over the ice cream. Add sliced peaches. Place a blackberry or 2 on top (optional); serve!
Are you following me on Instagram, Twitter, Facebook and Pinterest? If you'd like to subscribe to Reluctant Entertainer, to have each post delivered straight to your e-mail box, then please add your email, here. It's really easy! Thanks for being here today!
Hello and welcome to my home and table!
I'm Sandy—lover of food, family, cooking, THE BIG BOARD, travel, and bringing people together. Through great recipes and connection around the table, we become better, stronger, and more courageous people. Feasting on Life is real, and every time we do it, we grow a little more. Read more...