Summer Motivation and Basil Chicken Salad Wrap Recipe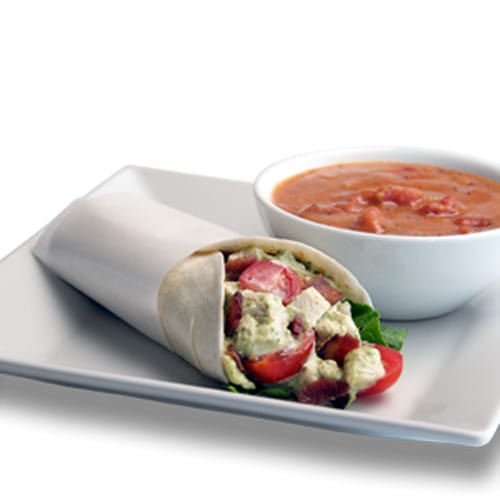 This post is sponsored by Tyson Foods.
The last few months I've written about the Countdown to a Better You program, which has helped me stay on track with diet and fitness, and has kept me motivated for summer! A few things, along with taking good care of my body and exercising, has been making good food choices. I've set some goals with fitness, drinking more water, hula-hooping 10 minutes a day, and regular weight training at the gym. My workout partner and I just celebrated 1 year with weights at the gym. I made a yummy juice consisting of pear, celery, ginger and cucumber. Delicious!
So when Tyson Foods asked me to team up with their Tyson® Grilled and Ready® brand to participate in a Countdown to a Better You program, I jumped on board. I'm already disciplined with a workout plan of weights and cardio 3x a week, and then running the other 2 days, but any kind of NEW accountability helps! Plus, I like to encourage others with a healthy lifestyle.
If you're motivated by reading blogs, working out with your friends, new healthy recipes, or the fact that summer is coming – then head over to the Tyson® Grilled & Ready® Facebook page and check out the Countdown to a Better You tab. You can follow along on their page with guilt-free meal ideas.
Here are 2 ways to participate in the Countdown to a Better You:
1. For those of you who signed up for the Countdown to a Better You, it's time to start thinking about how you want to reward yourself! The program ends on the first day of summer (June 21), which means you need to redeem your UPCs by then. To redeem your UPCs for you reward, simply visit the Countdown to a Better You tab on Facebook and follow the steps!

2. For an added bonus, you can also enter the sweepstakes for a chance to win one of 10 grand prizes – $500 VISA gift cards!
I love this time of year with so many guilt-free recipes to enjoy! This one is really yummy, but I'll eat anything with fresh basil! Enjoy!
· Basil Chicken Salad Wrap
[print_this]
Basil Chicken Salad Wrap
A quick, fresh handheld wrap in a convenient, smaller portion size.
Ingredients
Cooking Instructions
Prepare Grilled & Ready® Oven Roasted Diced Chicken Breast according to package directions. Set aside.
In a large bowl whisk together mayonnaise and basil pesto, until smooth. Stir in chicken.
To assemble: Place tortilla on work surface. Layer romaine, tomatoes, chicken mixture and bacon down center. Fold lower end of tortilla over filling then fold sides in, keeping ingredients tightly packed.
Cut in half to serve.
[/print_this]
This post is sponsored by Tyson Foods, Inc., but as always, all opinions are my own.
Hello and welcome to my home and table!
I'm Sandy—lover of food, family, cooking, THE BIG BOARD, travel, and bringing people together. Through great recipes and connection around the table, we become better, stronger, and more courageous people. Feasting on Life is real, and every time we do it, we grow a little more. Read more...