Best Chocolate Cake Recipe
A moist, delicious Best Chocolate Cake Recipe made with buttermilk in a 9×13 pan; frosted with a thick, creamy, chocolate frosting.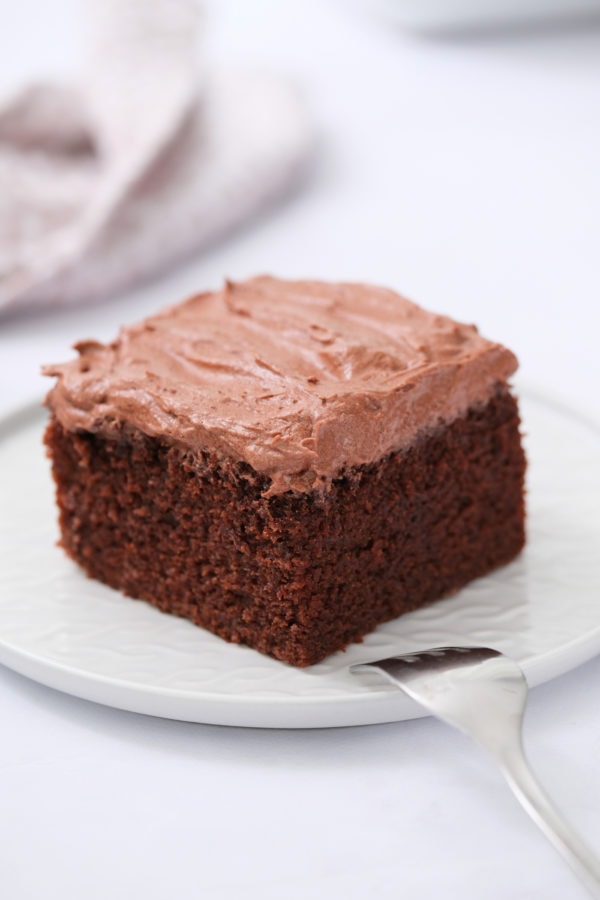 Enjoy a piece of moist Best Chocolate Cake Recipe on this special day! This recipe makes a very delicious chocolate cake. And the frosting is so creamy good. I'd say today is a good day for a slice of chocolate cake!
Best Chocolate Cake Recipe
This cake is also the perfect weekend, holiday, or any-time cake to bake. It will be devoured quickly!
The best chocolate cake recipe ever? There are so many chocolate cake recipes out there with chocolate frosting, but this one is super special today.
Happy 30th Anniversary Cake
Today we celebrate our 30th wedding anniversary! It seems like yesterday we were married out in Applegate, Oregon, on a very hot, southern Oregon (108 degree) afternoon. I remember my very full, ruffly-fluffy dress, and being very, very warm. :)
It was a lovely day full of beautiful memories, as 300 guests gathered with us to witness our marriage vows. There's a reason you have people stand beside you when you get married—and many of those people are still very dear to us now 30 years later.
Bake a chocolate cake
But now for the rich, moist chocolate cake. All youu need are these ingredients!
All you need are these ingredients for this moist chocolate cake recipe:
Buttermilk + vegetable oil
Eggs
Flour + sugar
Baking soda + salt
Cocoa powder
Cup strong hot coffee (or espresso)

It's all about the frosting? Do you like it thick and very rich, or more light and creamy? We love this chocolate frosting recipe with these easy ingredients.
Best Chocolate Frosting:
Butter (salted)
Powdered sugar
Cocoa powder
Heavy cream
Vanilla extract
How to frost and store the cake
Frost the cake immediately (after cooling time), or cover the cake tightly and store.
The frosting keeps for up to 1 week in the refrigerator or up to 4 months in the freezer.
Anniversary chocolate cake
I am beyond blessed to have spent these past 30 years of marriage with Paul …
It's been an adventure from the start and I can't wait to see what our future brings!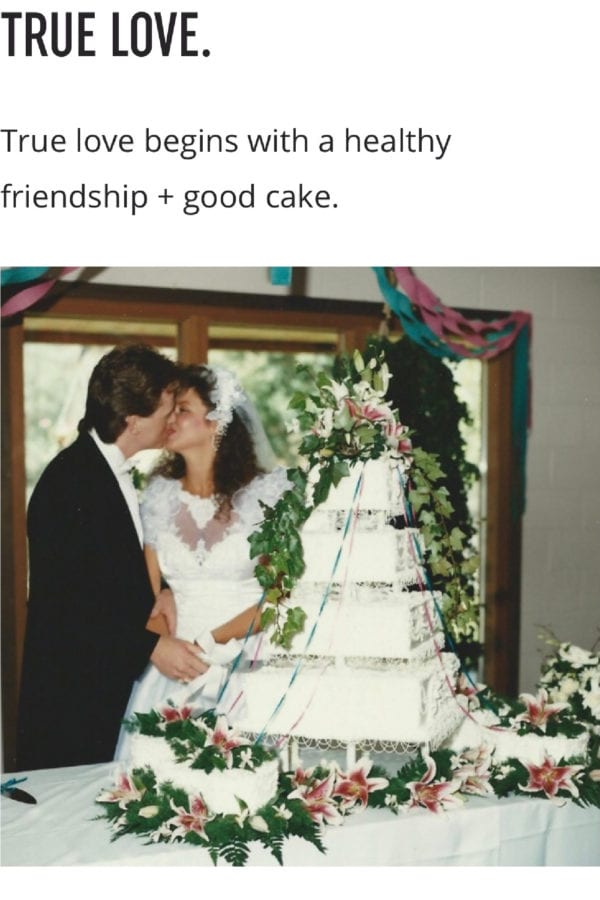 Life is full of twists and turns and hard times, but also beautiful, loving, tender moments.
Some thoughts I've learned along the way:
*Love and respect will get your through most anything.
*Love is a verb–full of action as well as a feeling.
*Learn to say I forgive you, or will you forgive me?
*Be a dreamer with your spouse.
*Don't stop praying.
*Don't complain about your spouse to others.
*Laugh a lot. I mean, a lot.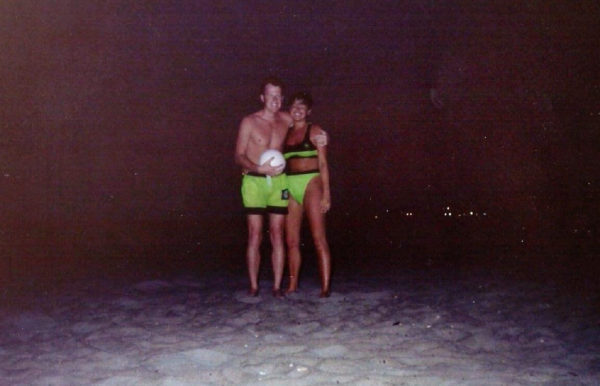 So here's our honeymoon picture in Mexico 30 years ago this week. Yes, matching neon swimwear (HA).
I'm so glad we are still dreaming together, Mr. Paul … 30 years later.
So have a piece of chocolate cake with us today! :)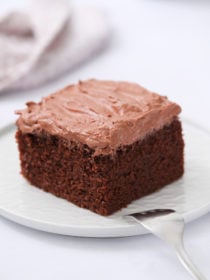 Get the Recipe: Best Chocolate Cake Recipe
Cake adapted from The Taste of Oregon cookbook.Frosting: Use immediately or cover tightly and store for up to 1 week in the refrigerator. Also optional to freeze up to 4 months.
Ingredients
1 cup buttermilk
1 cup vegetable oil
2 eggs
2 cups flour
2 cups sugar
1 Tbsp baking soda
1 tsp salt
½ cup baking cocoa
1 cup strong, hot coffee
Chocolate Frosting:
1 cup butter (salted), softened
3 ½ cups powdered sugar
½ cup cocoa powder
3 Tbsp heavy cream
1 tsp vanilla extract
Instructions
Preheat oven to 350 degrees. Combine and mix well buttermilk, oil, and eggs. Set aside.

In a separate bowl, sift together flour, sugar, soda, salt. Add cocoa.

Combine liquid and dry ingredients, alternating with cup of coffee. Beat well.

Bake at 350 degrees in a greased and floured 9" x 13" pan for 35-40 minutes. Cool for 30-40 minutes.
For the frosting:
Beat the butter on medium speed for 2 minutes. Add powdered sugar, cocoa, heavy cream, and vanilla extract. Beat on low speed for 30 seconds, then increase to high speed and beat for 1 full minute. If needed, add extra powdered sugar or cocoa powder if frosting is too thin. Or, you can add a few drops of heavy cream if frosting is too thick.

Frost the cake immediately (after cooling time), or cover the cake tightly and store.

The frosting keeps for up to 1 week in the refrigerator or up to 4 months in the freezer.
Hello and welcome to my home and table!
I'm Sandy—lover of food, family, cooking, THE BIG BOARD, travel, and bringing people together. Through great recipes and connection around the table, we become better, stronger, and more courageous people. Feasting on Life is real, and every time we do it, we grow a little more. Read more...