Blueberry Banana Breakfast Cake
This Blueberry Banana Breakfast Cake is a delicious morning treat, made with Greek yogurt, fresh blueberries and bananas!
Sometimes you think all you need is love, but also a solid trust in a healthy relationship. My husband and I are in our 50s now, and we often reflect on the longtime friends that we have in our lives. These friendships are humbling, beautiful, and rare gifts that we never want to take for granted. Life is short, constantly changing, and we just never know when it will be our last time to see each other. I know it sounds sappy, but it's true!
We floated the Deschutes River for my birthday a few weeks ago, on a lovely, hot, sunny morning. Yes, morning.
We decided to do a morning float, so I said, I'll bring the breakfast cake!
It was so gorgeous out, I had to pinch myself! I was on the water, so warm and toasty, with my family, and some of our dearest friends.
What I love about kayaking is that it's slow. And easy. And the scenery is so inspiring and glorious.
I remember when …
We often hook up together, just slowly floating, side by side, and one conversation with my friend was … I remember when.
I remember when we had our first meal at your house.
I remember what you served … taco salad and your amazing banana cream pie.
I remember how much our families connected.
I remember how much I loved your sweet spirit, your gentle ways of mothering, the way you adored your husband.
I remember when we packed our 2 families in a 600 square foot cabin on the Metoleous River.
I remember when … we've shared so much along the way.
Those "remember whens" took place when our oldest sons were in 3rd grade, playing soccer together, 15 years ago!
Solid friendships matter. The boys (now men) are in their 20s, one is now a rock star (it's true!), whose new album, Whitney, has recently been released on iTunes and featured on Apple. (If you love '60s guitar, indie pop, you'll love Julien's sweet soul falsetto – he's the drummer and lead singer). The other young man is preparing for his MCAT for medical school. :)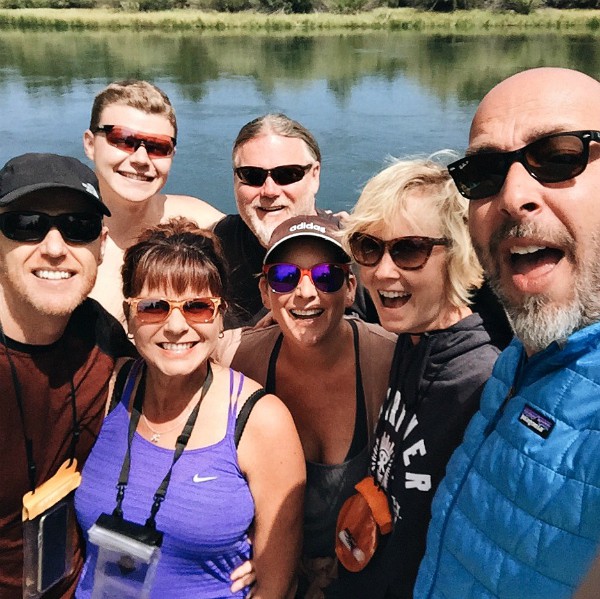 Their voices matter
The rest of the fam, we're close, loving life, and thankful for the blessings of friendships, and that all of our kids, in unique ways, are still entwined with one another. We work hard to invest in friendships, and when we circle the wagon, these are the people that we reach out to, who have known us forever.
Their voices matter the most, in fact, they had some input and wise thoughts on our family moving to our new destination.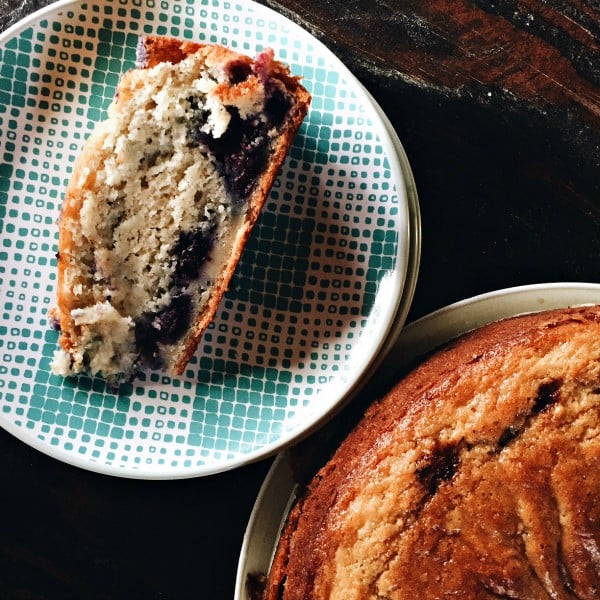 Blueberry Banana Breakfast Cake
I adapted one of my favorite breakfast cakes to bake for our morning float, because I had a few black bananas sitting on the counter. When you make banana bread, over-ripe (black) bananas are the best (nice and sweet).
And then adding fresh blueberries! (Yes, you can add frozen blueberries.)
Don't forget that every oven bakes differently, so use the toothpick method that your mama taught you, to check the middle for doneness!
And then, on the river of course, we paddled over to the shore, and enjoyed our breakfast cake with our favorite Storyville Coffee that we brought in a thermos.
Oh, the beauty of summer … and longtime friendships!
Get the Recipe: Blueberry Banana Breakfast Cake
If you run out of fresh, use frozen blueberries!
Ingredients
1/2 cup butter, softened, plus more for the pan
1 cup sugar
3 eggs
1 1/4 cup plain yogurt, or sour cream
1 tsp. almond extract
2 bananas, mashed (about 1 cup)
2 1/4 cups all-purpose flour
1 tsp. salt
1 1/2 tsp. baking powder
1 tsp. baking soda
1/2 tsp. cinnamon
2 cups fresh blueberries, or frozen blueberries
Instructions
Preheat oven to 350 degrees. Butter a 10-inch springform pan, and line it with buttered parchment paper.

In a large mixing bowl, combine butter, sugar, eggs, yogurt, and almond extract. Mix well; add in bananas. Add flour, salt, baking powder, and baking soda, cinnamon, and mix gently by hand.

Gently add in the blueberries and stir; do not over-mix.

Put the batter into the springform pan.

Bake for 50 minutes, or until toothpick inserted in the center comes out clean. Let cool for 10 minutes and transfer to a cake plate; serve!
More posts about the outdoors:
Hello and welcome to my home and table!
I'm Sandy—lover of food, family, cooking, THE BIG BOARD, travel, and bringing people together. Through great recipes and connection around the table, we become better, stronger, and more courageous people. Feasting on Life is real, and every time we do it, we grow a little more. Read more...