FreshOver a Meal with Braised Pork Tacos
The last two months, I've been partnering with Rachael Ray and Ziploc Brand by using fresh ingredients and cooking fresh meals for my family and friends – it's called the Great American FreshOver project.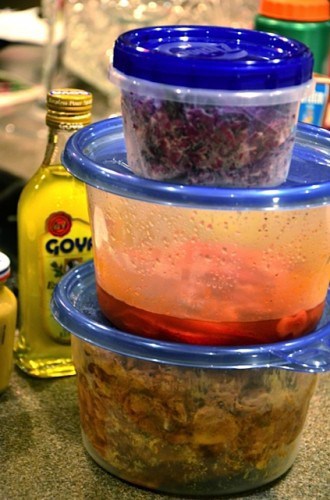 As I cook extra food for one meal, I store the leftovers freshly in different types of Ziploc Brand products, and then turn around and serve them for a second meal.
My family members are all health nuts, and as they watch me cook with healthy food products, and see the benefits and efficiency of double cooking, I hope I'm teaching them well.
For easy clean-up, the leftovers go straight into the Ziploc Brand Containers and Bags. I also watch my family divvying up the leftovers in small Ziploc Brand products for their lunches the next day. Again, they'd choose healthy food over eating out, any day.
A few months ago, during the holidays, my family and I enjoyed some back-to-back entertaining, as in we cooked and ate the same meal two days in a row. I must say, it made entertaining a whole lot more fun and relaxed.
One weekend we made this delicious Rachael Ray recipe of Braised Pork Tacos, then turned around the next night and served it for some special guests.
You should have heard the "oohs" and "ahhhs."
My family also commented on how fresh the food tasted, even on the second night!
A few months ago, we enjoyed entertaining a foreign exchange student from China in our home over the holidays, Victor. He brought an element of joy to our family, as we played hours of ping pong, went to parties, watched movies, and ate a lot of good food. :)
Having a guest in our home, for me, adds an element of putting a "spin" on cooking and stepping it up a bit more, plus, as you know, I love entertaining in my home. We want to create good memories, and for a foreign exchange guest, new culinary experiences.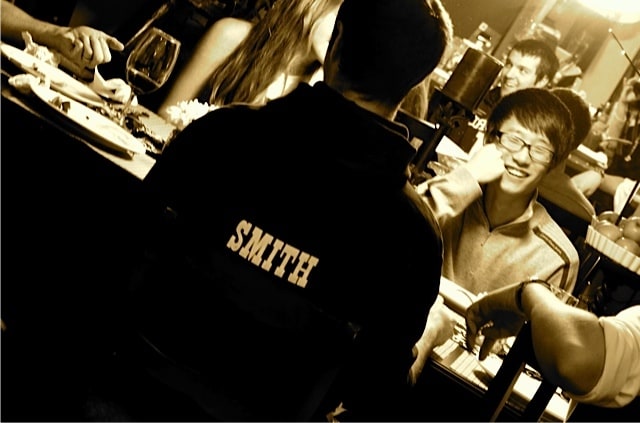 I'd like to encourage RE readers to check out the Ziploc Brand Recipe Guide on Facebook for more recipes, and ways of eating fresher. And as a part of the FreshOver mission, Ziploc will be donating to Rachael Ray's non-profit organization – Yum-O!, which is dedicated to helping children across the country develop positive attitudes towards eating fresh. I love this! Families can support the cause by "pledging" to start their family's FreshOver project by "liking" the Ziploc Brand Facebook page, downloading Rachael's exclusive FreshOver Recipe Guide on Facebook.com/Ziploc (more details below). With every download, up to a maximum of 50,000 downloads, between 1/1/12 and 12/31/13, Ziploc Brand will make a $1 donation to Rachael Ray's Yum-O! organization on the fans behalf, for up to a maximum $50,000 donation. To further support Yum-O!, Rachael Ray and Ziploc will donate an additional $200,000 during the same time period, no matter how many guides are downloaded.
Do you cook extra when preparing a meal, and then "fresh-over" the leftovers for a second meal?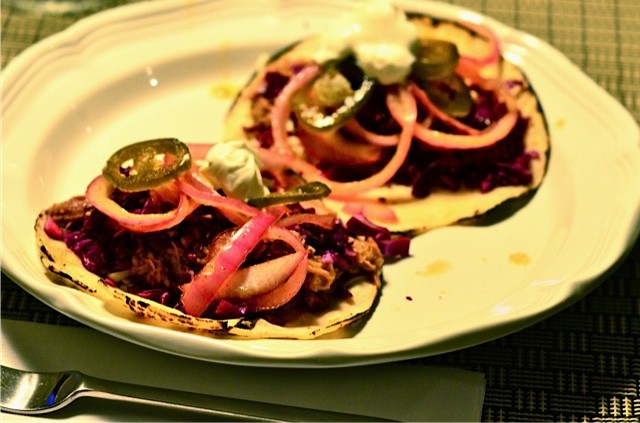 [print_this]
Recipe: Rachael Ray's Braised Pork Tacos
Summary: Easy Fresh-Over Meal to cook and enjoy two nights in a row from Rachael Ray and Ziploc Brand.
Ingredients
1 (4 to 5 pound) boneless pork shoulder
Salt and freshly ground black pepper
2 tablespoons vegetable oil
2 tablespoons extra-virgin olive oil
2 onions, cut into wedges, root end attached
4 large cloves garlic, crushed
1 1/2 teaspoons chopped oregano leaves, half a palmful
2 red chiles, thinly sliced
4 bay leaves
1 (12-ounce) bottle Mexican beer
2 cups chicken stock
4 oranges, juiced about 2 cups
1 chipotle pepper, seeded and finely chopped, plus 1 tablespoon of adobo sauce
2 limes, juiced
1 1/2 cups white wine or white balsamic vinegar
1/2 cup sugar
2 small red onions, thinly sliced
1 cup drained sliced store-bought pickled jalapenos or banana pepper rings
1/4 head red cabbage, shredded
1 cup crumbled queso fresco or 2 cups shredded monterey jack
16 corn or flour tortillas, charred over open flame and kept warm in tortilla warmer or towel
Instructions
Preheat the oven to 325 degrees F. Season the pork generously with salt and pepper, to taste, and let sit at room temperature for 30 minutes.
Pat the pork dry with a paper towel. Heat a large Dutch oven or heavy-bottomed pot over high heat with 2 tablespoons of vegetable oil, 2 turns of the pan. Put the pork in the pot and evenly brown the meat all over, it will take about 10 to 12 minutes; remove the pork to a plate and reserve.
Turn heat down to medium-high, and add the extra-virgin olive oil to the pot, a couple of turns of the pan. Add the onions and garlic, salt and pepper, to taste, the oregano, 1 sliced chili pepper and 2 bay leaves and cook for 7 to 8 minutes. Deglaze the pot with the beer, scraping up the bits stuck to the bottom of the pot. Stir in the chicken stock and orange juice. Add the reserved pork back to the pot (the liquid should come about 2/3 the way up the meat) and bring to a simmer.
Cover and put the pork in the oven, turning the meat halfway through cooking, until the meat is very tender, about 2 1/2-3 hours. Remove the pork from the pot, to a cutting board and tent with foil to keep warm. When cool enough to handle, pull the meat apart with 2 forks.
Simmer the braising liquid over medium heat until reduced by half. Add the chipotle and adobo sauce and the lime juice.
Add about 2/3 of the shredded meat and stir. Cool the remaining shredded pork and chill for another use.
While the pork is cooking, prepare the pickled red onions. In a small saucepot, bring the white wine vinegar, sugar, teaspoon of salt, remaining chili pepper and bay leaves to a simmer over low heat.
Put the sliced red onions in a small Ziploc Brand Twist 'n Loc Container. Carefully pour the hot liquid over the onions, cover and give it a shake. You may need to lift the lid to release some of the pressure. Every now and then, give it a good shake. Refrigerate to cool.
To serve, put the chipotle pulled pork on a platter and garnish with pickled onions and pickled jalapeno slices. Serve with shredded cabbage, crumbled cheese and tortillas for wrapping.
TIP: Save money by purchasing bonus packs of beef, chicken or pork and separating and freezing with Ziploc Brand Perfect Portions Bags. After storing your servings in Ziploc Brand Freezer Bags, label with quantity and date to eliminate guesswork.
Preparation time: 30 minute(s)
Cooking time: 3 hour(s) 30 minute(s)
Number of servings (yield): 4

[/print_this]
(I have partnered with Ziploc® Brand and am being compensated for my posts. However, my opinions on the product are my own.)
Hello and welcome to my home and table!
I'm Sandy—lover of food, family, cooking, THE BIG BOARD, travel, and bringing people together. Through great recipes and connection around the table, we become better, stronger, and more courageous people. Feasting on Life is real, and every time we do it, we grow a little more. Read more...