Old is New Again Broccoli Salad with Raisins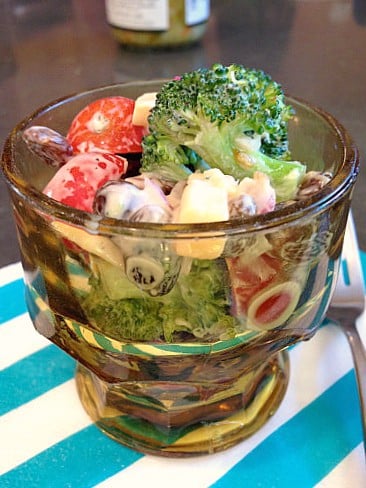 I love how everything old eventually comes back and is cool again. Like trends, fashion, design, and food recipes like Broccoli Salad with Raisins.
We went to Portland a few weeks ago for one of my many birthday celebrations and I was so impressed how my friend Steph's kids devoured the same broccoli salad that I grew up eating!
Steph has a sort-of retro house, and she definitely knows how to make it relaxing and fun. Her favorite color is orange and the style has a 60's feel to it. Too fun!
Right after dinner, I walked by and saw her out on the back patio reading to her kids. Couldn't help but grab my camera.
She has the best kids who eat anything and everything. No pickiness at all! So it's fun to sit around the table with them, plus they say the cutest things.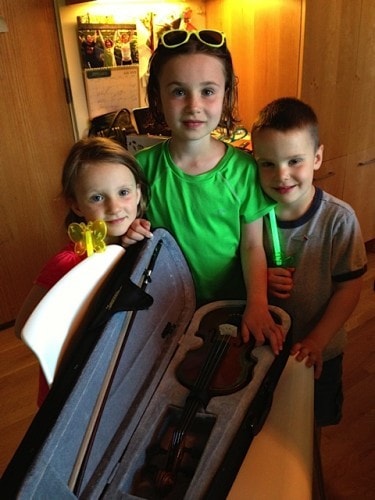 Cuteness plus a yummy old-fashioned salad works for me! And by the way, my mom always made this salad.
Which makes it old. But now it's new again – on RE!
What's your favorite way to make broccoli salad?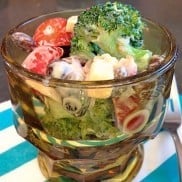 Print Recipe
Broccoli Salad with Raisins Recipe
Optional: Add crisp, crumbled bacon pieces and sunflower seeds.
Ingredients
2

heads fresh broccoli

cut into bite size pieces

1/4

cup

red onion

chopped

1

cup

raisins

3/4

cup

cheddar cheese chunks

cut into small pieces

3/4

cup

cherry tomatoes

halved

1/2

cup

mayonnaise

4

tablespoons

white wine vinegar

2

tablespoons

white sugar

Salt and pepper
Instructions
In a medium bowl, combine the broccoli pieces, chopped onion and raisins.

In a small bowl, whisk together the vinegar, sugar and mayonnaise. Pour over broccoli mixture, and toss until well mixed.

Salt and pepper to taste. Refrigerate for at least two hours.