Entertaining Groove and Cheesy Pumpkin Farro with Marcona Almonds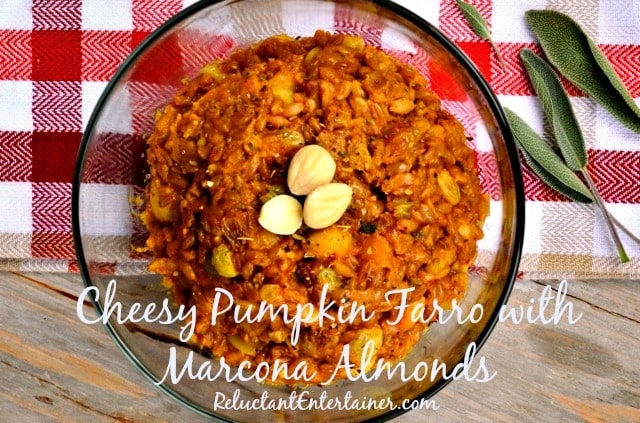 Even though it's December, I still have pumpkin on my mind. I'm all stocked up, only a fingertip away in my pantry for easy recipes. Like today's recipe, where I'm using delicious hearty farro (did you know I started a Farro and Quinoa Pinterest Board?) and McCormick Spices, a Cheesy Pumpkin Farro with Marcona Almonds recipe that can be served as a main dish or a side dish. Oh, man, it was good.
Getting in the groove
I'd first like to talk about the groove of entertaining. How often do you do it? Are you comfortable doing it? Is entertaining always a struggle for you, or do you feel the more you entertain, the easier it becomes?
I do. Entertaining regularly, even in a small way (one extra guest for a meal, a quick lunch, or appetizers or dessert only), helps me feel more comfortable opening my home.
I seem to be in the groove, relaxed, and willing to overlook things that would otherwise make me uptight (little piles, things not perfectly clean, projects unfinished).
Making it practical
Probably the most practical thing about entertaining, is that it helps me keep up with my housekeeping.
There's nothing like knowing company is coming that will cause your eyes to take a swoop around the house for things that are out of place, dirty, dusty. I pull out the Windex – my best friend on entertaining days.
Trying something new
A year ago, I started cooking with farro. It's a hearty grain that I love when served with some kind of cheese. Friends always ask me how I cook the farro, which is similar to rice.
My secret to COOKING FARRO is to use the brown rice setting on my rice cooker and use the ratio:

1 cup farro : 1 1/2 cups of water or stock
It's good to branch out and try new healthy foods, and I've found guests love to eat something they've never tried before.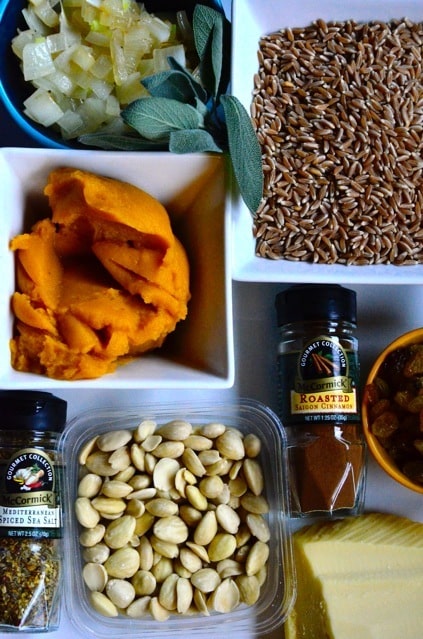 McCormick Go 4 Gourmet Contest
I made this recipe when McCormick Spices sent me 3 simple ingredients: Marcona Almonda, Mediterranean Sea Salt, and Saigon Cinnamon. I then added the rest of the ingredients. Delicious!
Head over to their website where you can read more about their Tastegiving Contest.
Along with this easy recipe today, remember that hospitality is not about perfection!
It's about being real with your guests (even one!), even if you're not a fancy cook, and you don't have to spend a lot of money! Keep it simple and do a heart check to make sure you're having guests over for the right reason.
It really comes down to love. Which always is better when served with a little cheesy meal.
What helps you get in the groove for entertaining?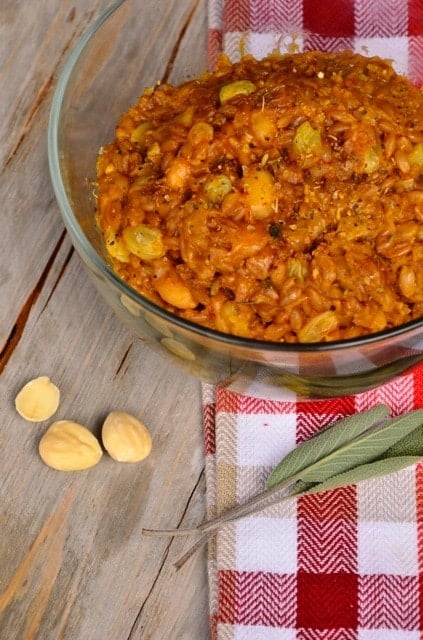 Get the Recipe: Cheesy Pumpkin Farro with Marcona Almonds Recipe
Ingredients
2 cups farro, thoroughly rinsed
2 1/2 cups stock, chicken or vegetable
1/2 cup white wine
1 Tablespoon olive oil
1 yellow onion, diced
1 1/2 cup pumpkin
1/2 cup Marcona Almonds, toasted
1 1/2 cups Guyere cheese, or your favorite cheese
1/2 cup golden raisins
1 tsp. McCormick Mediterranean Sea Salt
3/4 tsp. McCormick Saigon Cinnamon
Fresh sage
Instructions
Heat olive oil in large sauce pan over medium-high heat. Add onions and saute about 5 minutes. Add the onions to the cooked farro.

If using a rice cooker, add the onions, stock, white wine and farro, cooking on the "Brown Rice" setting until completely cooked. Fluff with a fork.

If using stove top, add stock and bring to a boil. Add farro and reduce heat to a low simmer. Stir in the already sautéed onions. Cook at low simmer, partially covered 25 minutes, or until farro is cooked through.

Soak golden raisins in hot water and set aside to plump. After 5 minutes, drain.

Toast the Marcona Almonds, either in the oven or in the microwave for 60-90 seconds (on a paper towel).

Grate the cheese.

In a large bowl, add the farro mixture, pumpkin, cheese, and drained golden raisins and spices. Mix together and add in the Marcona Almonds. Add more stock to moisten the dish, if needed.

Chop fresh sage and add at the end. Mix and serve immediately.
I was compensated for this post by McCormick Spices, but as always, all opinions are my own.
Hello and welcome to my home and table!
I'm Sandy—lover of food, family, cooking, THE BIG BOARD, travel, and bringing people together. Through great recipes and connection around the table, we become better, stronger, and more courageous people. Feasting on Life is real, and every time we do it, we grow a little more. Read more...