Chocolate Peppermint Flourless Cake
Chocolate Peppermint Flourless Cake is a dark chocolate base, flourless cake that sinks in the middle on cooling; sprinkled with peppermint.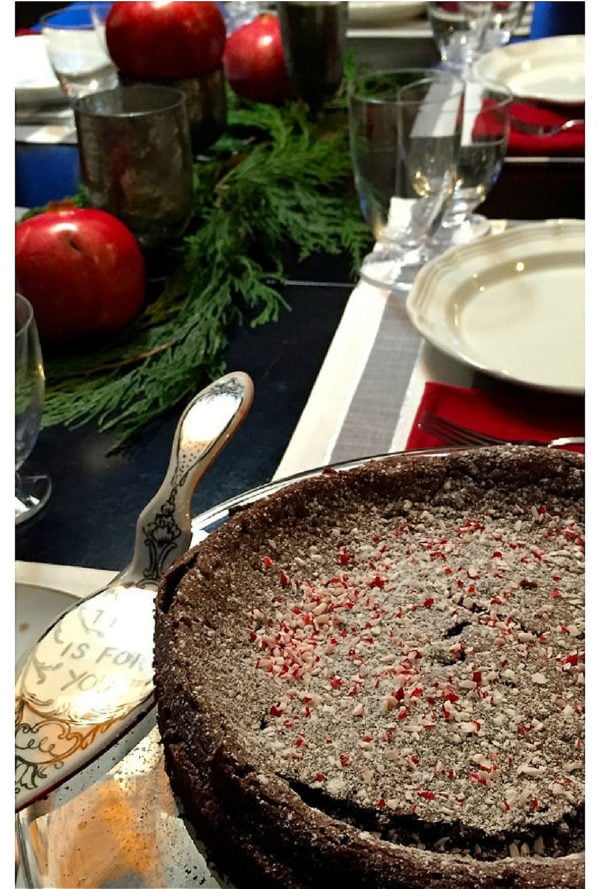 Our days have been full of friends, family, laughter, good food, a beautiful wedding in Ashland this past weekend, SNOW!—and so much love! I truly do love this season. And this amazing Chocolate Peppermint Flourless Cake recipe!
Chocolate Peppermint Flourless Cake
Like this cake I made last weekend, a Chocolate Peppermint Flourless Cake, and served it with peppermint ice cream! Or, maybe you've tried this similar Flourless Chocolate Cake with Peppermint Whipped Cream — so good!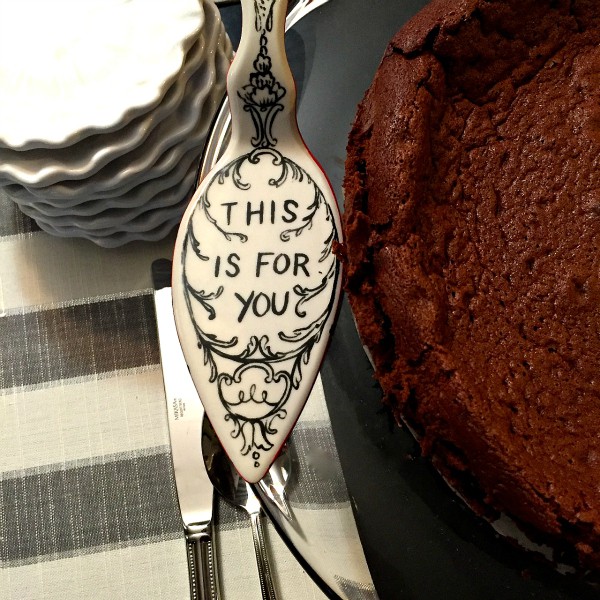 This week, I've thought about the real reason I love hosting a dinner party. (Those cute little dessert plates are Better Homes & Gardens brand, from WalMart, and the cake server from Anthropologie.)
Flourless cake ingredients
Bittersweet chocolate, minimum 70% cocoa solids
Unlsalted butter
Eggs
Sugar
Peppermint extract
Powdered sugar
Peppermint candy, finely chopped
Peppermint ice cream, optional
When all the work is done–putting energy in to planning, cooking, creating, pulling it all together— I can reflect on why it truly matters, and I see where the outcome is slow, deliberate, and intentional.
Here are the common elements of a leisurly and enjoyable dinner party:
Slow. I love the minute that guests arrive, and for the next 4-5 hours, we enjoy delicious food, drinks, conversation … and each other! It's like the hours move in slow motion … with so much substance.

Deliberate. A dinner party doesn't just happen, it's done consciously and intentionally, carefully thought out, and unhurried. I've learned over the years what matters and what doesn't. For me what matters is that the food is served on time, it's good and nourishing, the table is set, and I'm organized for my guests to have a good time). It's not chaotic, it's not perfect, and it's not stressful. It's relaxing, and we make our guests #1, keeping their needs in mind.

Intentional. The invite list is done purposefully, inviting a different set of people most every time. It's become an art of placing people together, connecting those who should know each other better, and we love getting to know new people, or enjoy old friends, ourselves.

The in-between spaces
It's good to feel, explore, learn, expand, and grow, and this is what happens every time we gather. I think sometimes we get so busy, we miss out on personal growth, or teaching our family what hospitality is all about.
Shauna Niequist says it well …
"We live in a world that values us for how fast we go, how much we accomplish, how much life we can pack into one day. But it's in the in-between spaces that our lives change, and that the real beauty lies." —Shauna Niequist
So true. We eat our meals so quickly, and then we're on to the next thing. Rarely do we make the space for others in our home, around our tables.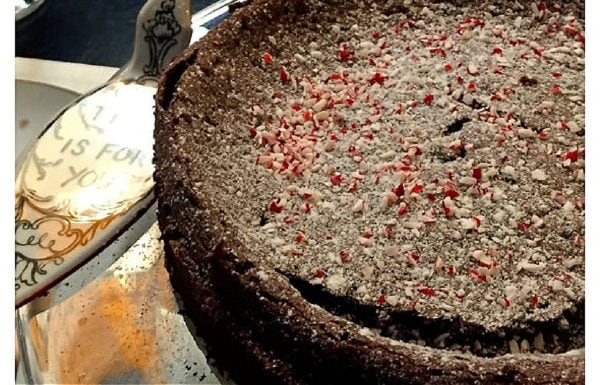 Planning a dinner party is actually investing in the lives of others, as we give up as much as a day's time planning, shopping, cooking, and then sitting and lingering for hours around the table.
This time of year, I can't think of anything I'd rather give my friends more than the gift of time, food, reflection, honesty (life is hard!), and encouragement around the table.
Even when it's not the holidays, we truly do love to entertain year-round in our home for these reasons.
More Flourless recipes:
Peanut Butter Cake with Chocolate Frosting
Pumpkin Flourless Chocolate Cake
Flourless Peanut Butter and Jelly Cookies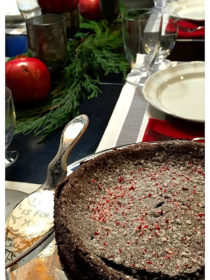 Get the Recipe: Chocolate Peppermint Flourless Cake
This Chocolate Peppermint Flourless Cake is a melting, dark, flourless, chocolate base, that sinks in the middle on cooling; sprinkled with peppermint, it's perfect for holiday entertaining.
Ingredients
9 oz. bittersweet chocolate, minimum 70% cocoa solids
9 tablespoons unsalted butter, softened
6 large eggs, 2 whole, 4 separated
¾ cup sugar
1 tsp. peppermint extract
Powdered sugar
Peppermint candy, finely chopped
Peppermint ice cream, optional
Instructions
Preheat the oven to 350ºF.

Line the bottom of a 9 inch springform cake tin with baking parchment. Spray the sides with cooking spray.

Melt the chocolate either in a double boiler or a microwave, and then let the butter melt in the warm chocolate.

Beat the 2 whole eggs and 4 egg yolks with ¼ cup of sugar, then gently add the chocolate mixture, the peppermint extract.

In another bowl, whisk the 4 egg whites until foamy, then gradually add the ½ cup of sugar and whisk until the whites are holding their shape, but not too stiff.

Lighten the chocolate mixture with a dollop of egg whites, and then fold in the rest of the whites. Pour into the prepared tin and bake for 35-40 minutes, or until the cake is risen and cracked, and the center is no longer wobbly. Cool the cake in its tin on a wire rack; the middle will sink as it cools.

When you are ready to eat, place the still tin-bound cake on a cake stand or plate for serving, and carefully remove the cake from its tin. Don't worry about cracks or rough edges: it's the crater look we're going for here.

After the cake has cooled, dust it with powdered sugar, and sprinkle with chopped peppermint candy. Serve with peppermint ice cream!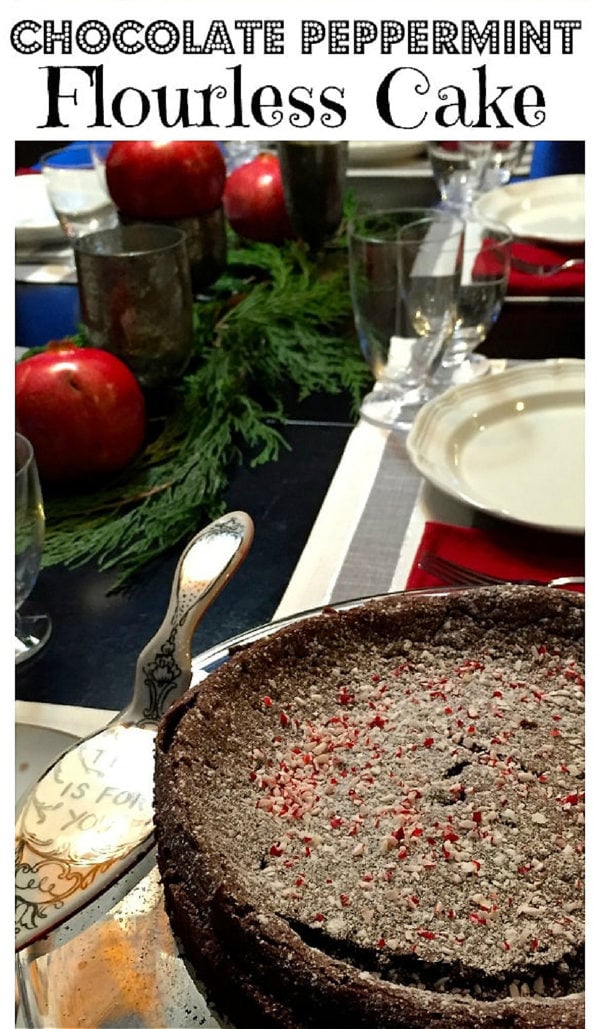 Hello and welcome to my home and table!
I'm Sandy—lover of food, family, cooking, THE BIG BOARD, travel, and bringing people together. Through great recipes and connection around the table, we become better, stronger, and more courageous people. Feasting on Life is real, and every time we do it, we grow a little more. Read more...