A New Season and Corn and Mango Dip
This Corn and Mango Dip is a delicious summertime dip served with chips, crackers, or vegetable sticks.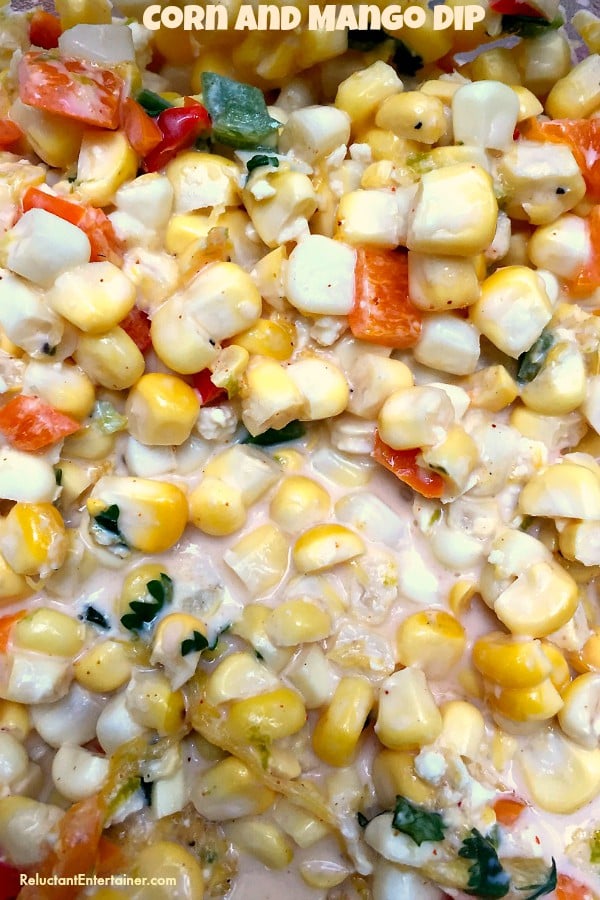 Friends, the mornings have been so cool this past week, I feel a slight sense of fall in the air. Have you felt this in your neck of the woods?
Part of me does not want to let go of summer. I'd say the most-eaten summer foods in our home this year have been watermelon and mangos. I'm not sure why we've just had an abundance of both. There always seems to be a big hunk of watermelon on the counter, or a few mangos just calling out to be chopped and put into a delicious dip, salsa, or salad.
Mangos can be tough to buy though. It seems when you need them for a recipe, it's hard to find a ripe mango in the grocery store. Every time I think of mangos, I think of our daughter, Abby. Our youngest child, headed off for college here in a month, has loved mangos her entire life. Which makes this recipe today even more special.
My dad's wife, Ginny, always makes this recipe for us, because she knows we all love it.
Corn and Mango Dip.
It's the perfect bite–a sweet and savory mixture–and I love to serve it with chips, sliced vegetables sticks (carrots, celery, jimica), or crackers. It's even good as a salad!
Or, just a spoonful, on its own. :)
Thinning through the stuff.
We've let Abby know that every single Beanie Baby, doll, and toy in our home needs to be sorted through (hopefully put in the yard sale bin), before she leaves the nest. It's time. Time to start going through the shed, attic, upstairs closets … time to thin out.
Living simpler is on our minds, and Paul and I have our own stuff that we are sorting through—books, entertaining supplies, clothing, outdoor equipment, gardening tools. How much do we really need?
Maybe it's in the season of fall, that purging is important? I always thought that was in the spring. For us this year, it's fall.
A new season.
But the early feeling of that new season is here, with the brisk mornings that warrant a sweater and cozy pair of socks, while I sneak out to the back patio for coffee and good reading. This fall is going to be a first for us. A new season of change, new household dynamics, more trips to Seattle, helping our eldest finish his job (working as a scribe for a doctor as he pursues medical school), being supportive to our middle son at U of O (last year – yay!), before he pursues a profession in China. Our kidlets are on a journey in a very competitive world – their journey will be their story to tell. All I know is that you never stop praying for you kids!
For Paul and me, how did the second half of our lives sneak up on us so quickly? I reminded Paul just yesterday that it was 25 years ago this month that we met in a little restaurant in Jacksonville, Oregon. (Does anyone remember Munchies?)
Our house feels different.
So … the house is already feeling different—it feels so big, too big, unnecessarily big.
We're pondering those feelings and putting thought into what comes next for us!
What's your favorite way to serve mangoes in the summertime?
(Don't forget to take this QUICK survey and be entered to win a $100 VISA card. Thank you, Friends!)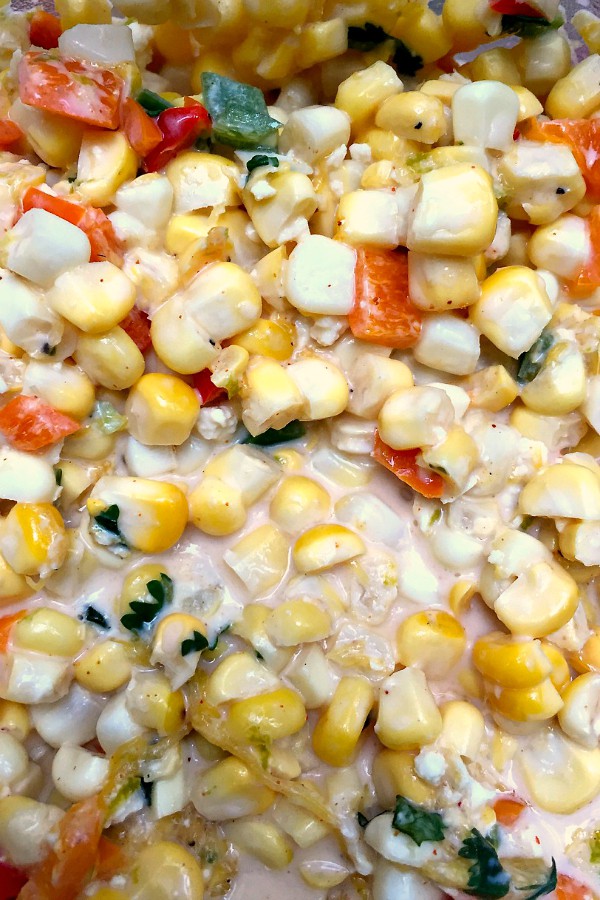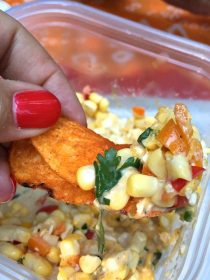 Get the Recipe: Corn and Mango Dip
Ingredients
3 Tbsp. mayonnaise
2 limes, zested and juiced
1 small Serrano chili, ribs and seeds removed and minced
1/2 tsp. chili powder
4 ears corn, husks removed
2 tsp. olive oil
3 mangos, peeled, pitted and diced. (2 to stir into the salad and 1 for garnish)
1 red bell pepper, finely diced (or orange pepper)
1/2 cup crumbled cojita cheese, or feta cheese
3 Tbsp. chopped cilantro
Salt and pepper
Instructions
In a large bowl, whisk the mayonnaise, lime juice and zest, Serrano, chili powder and ½ tsp. salt.

Preheat the grill to medium high heat. Brush the corn with oil, and season with salt and pepper.

Place the corn on the grill and cook, turning occasionally to char all sides, 4-5 minutes.

Remove from grill and after coolining for a few minutes, cut the corn from cob. Place the corn into large bowl containing dressing. Fold in bell pepper and diced mango.

Top with mango, cheese and cilantro. Salt and pepper to taste. Serve at room temperature or chilled with chips or crackers.
Are you following me on Instagram, Twitter, Facebook and Pinterest? If you'd like to subscribe to Reluctant Entertainer, to have each post delivered straight to your e-mail box, then please add your email, here. It's really easy! Thanks for being here today!
Hello and welcome to my home and table!
I'm Sandy—lover of food, family, cooking, THE BIG BOARD, travel, and bringing people together. Through great recipes and connection around the table, we become better, stronger, and more courageous people. Feasting on Life is real, and every time we do it, we grow a little more. Read more...