Creamy Lemon Chicken Pasta
Lemon, garlic, cream, and herbs come together to make Creamy Lemon Chicken Pasta surprisingly light and satisfying, made with egg noodles.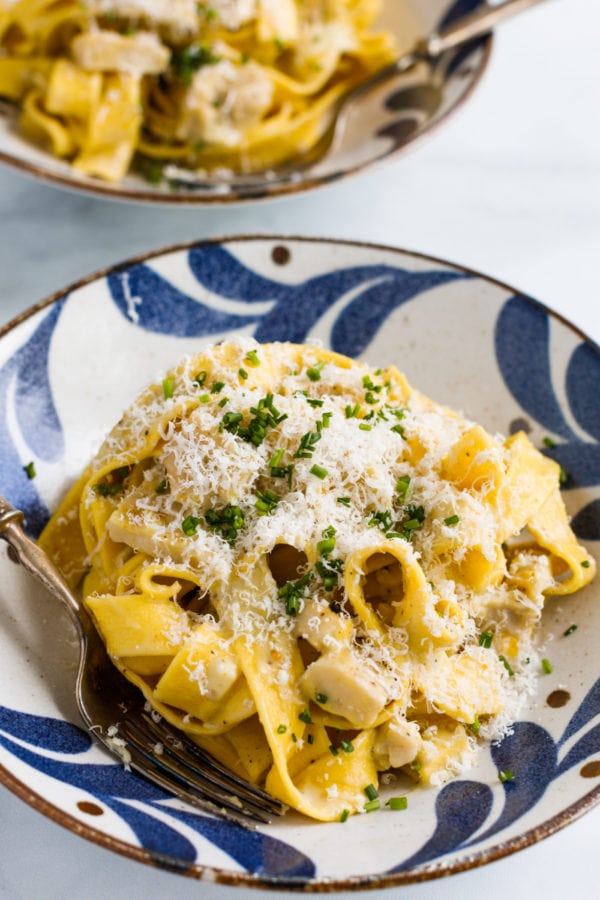 Friends, are you in a rut with your cooking? This Creamy Lemon Chicken Pasta recipe is made with chicken and tender egg noodle pasta, smothered in a delicious white cream sauce. For more "lemony" recipes, try my Skillet Lemon Chicken dish or Lemongrass Curry Coconut Chicken Thighs!
Creamy Lemon Chicken Pasta
Or, if are you uninspired, try mixing different pastas with various protein and sauces! Everything does not need to be a casserole! HA. So today we're sharing this Chicken and Lemon Pesto Egg Noodle Pasta. It's a dreamy, flavorful pasta dinner that you're going to want to make again and again. It's great for a weeknight meal, or even good enough for company, served with a fresh green salad.
I love the combination of lemon and pesto!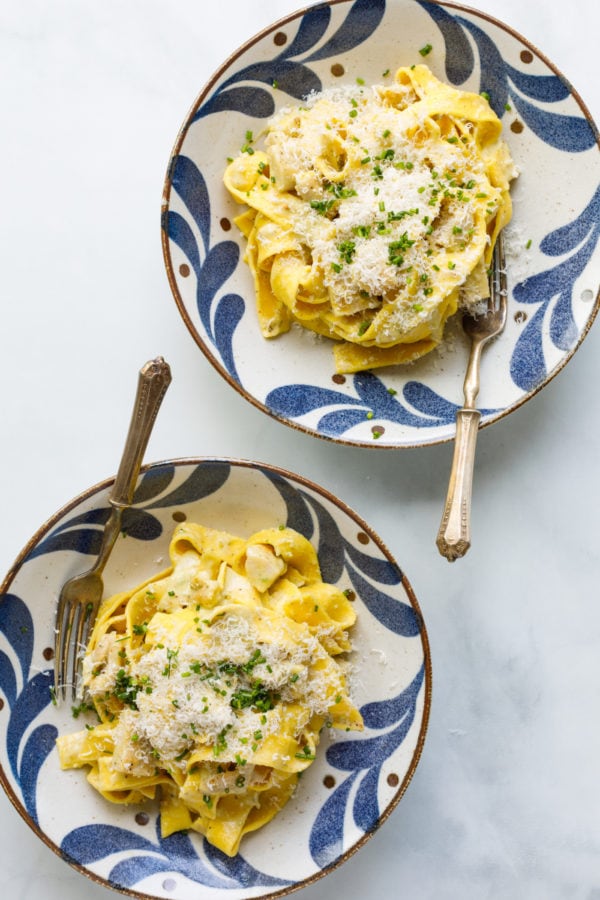 Ingredients for Chicken Lemon Pasta with Egg Noodles
Chicken breasts (but you can also use rotisserie chicken)
Salt and pepper to season
Olive oil
Wide egg noodles
Salt
Lemon Pistachio Pesto (grab the recipe below)
White sauce (grab the recipe below)
Click the recipe below to print, and follow the step-by-step, easy instructions, to make your dinnertime super easy!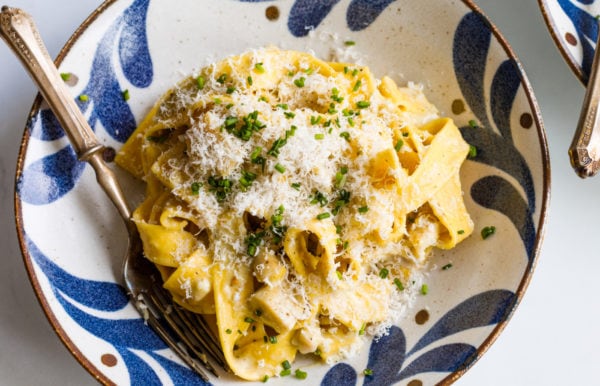 This simple chicken pasta recipe is perfect for nights when you want an easy chicken dish, but haven't planned ahead with a marinade. Does that happen to you, too? Chicken is thawed, but you forgot to add the marinade?
Make your own Lemon Pistachio Pesto
The lemon pesto makes a little extra for you to freeze or use in a separate recipe (might as well, since you're going through the work!)
Lemon
Parmesan
Fresh cracked black pepper
Roasted pistachios
Chives
Olive oil
Honey
How to make white sauce
Olive oil
Garlic
Heavy cream
Egg
Lemon pesto (recipe included)
Lemon juice
Salt
If you don't want to make a cream sauce, simply add the pesto and pasta water to a pan and mix until thickened.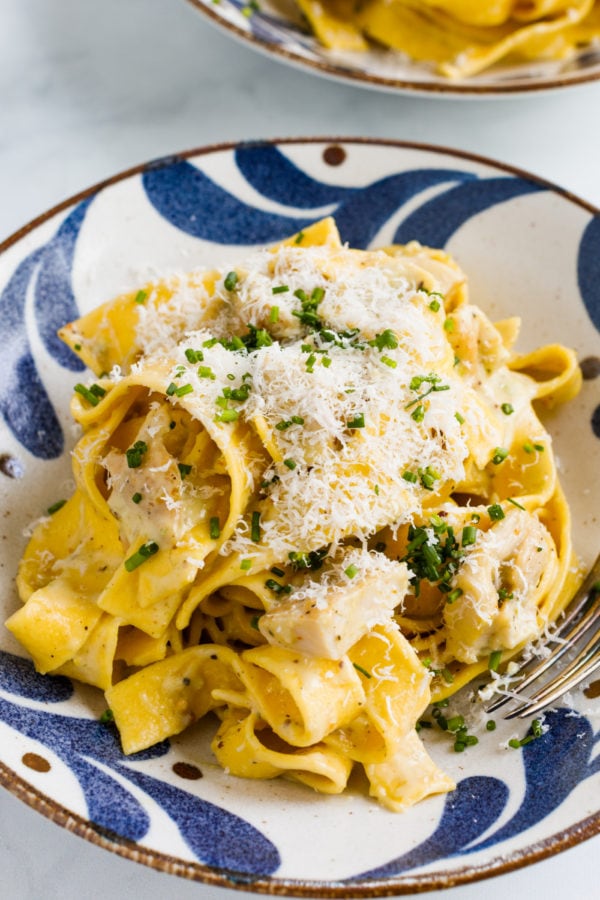 Tips for success:
Make your own pesto: If you don't have time to make the lemon pesto, you can use jarred pesto (but you may miss out on the lemon flavor). Many pesto brands in the store have preservatives and additives to extend the shelf life of the product. Fresh is always better!
Use all of the lemon: Use all parts of a lemon (no waste!), but just make sure to only use the yellow zest, not the bitter, white pith of the lemon.
What noodles go best with pesto? Pesto works best with capellini, thinner spaghettini, and fettuccine, but we love the egg noodle pasta the best. It's so good, the noodles taste like homemade. And if you make your own pasta, make sure and make wide noodles for this recipe.
Save the pasta water: After the noodles are cooked, always keep a cup of the liquid to add to the chicken, as this will give your sauce the right consistency for the pasta. If you forget to save the pasta water (which we do quite often), use chicken broth or water with some bullion; this will have the same effect.
What does pasta water do for the recipe? The pasta water is a little starchy and helps thicken the sauce. Just add the liquid a little at a time to create the consistency you like.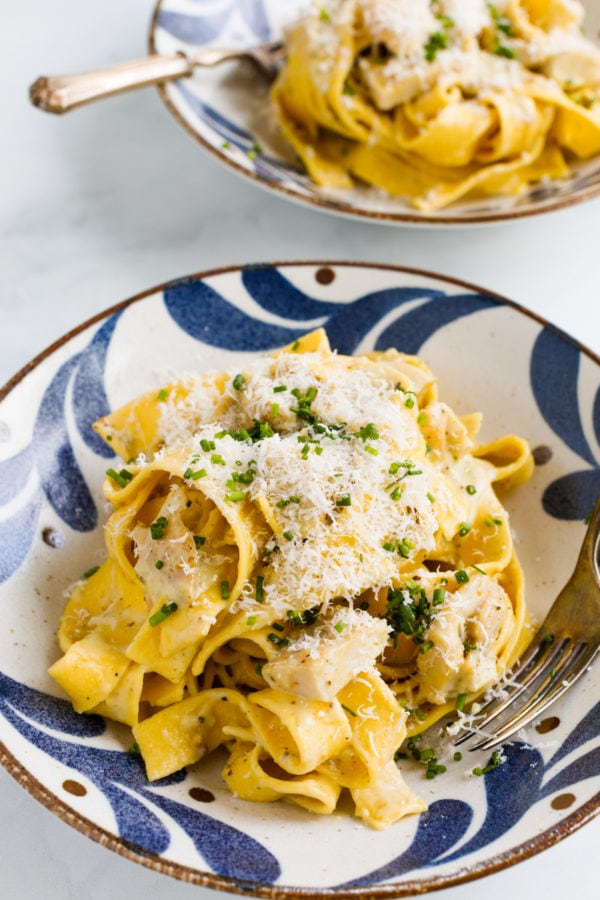 How to serve the chicken lemon egg noodle pasta
The chicken and the pasta can be made two days in advance!
Taste for salt, and toss with the chicken and pasta.
Pour the sauce onto the pasta and chicken; add the lemon juice and stir to coat. Garnish with a generous shaving of Parmesan cheese and chopped chives or parsley. Serve warm.
I came across this lovely quote, so invite a friend and enjoy this pasta dish together!
"I'm starting to think this world is just a place for us to learn that we need each other more than we want to admit." –Richelle E. Goodrich
More lemon chicken recipes to try:
Baked Lemon Chicken and Olives
Get the Recipe: Creamy Chicken Egg Noodle Pasta
Lemon, garlic, cream, and herbs come together to make Creamy Lemon Chicken Pasta surprisingly light and satisfying, made with egg noodles. Optional to buy storebough pesto.
Ingredients
Make the chicken:
3 chicken breasts, rotisserie chicken is fine, too!
Salt and pepper to season
¼ c olive oil
Lemon Pistachio Pesto:
2 lemons, zested into strips and julienned
1 c Parmesan, finely grated or crumbled
1 tsp fresh black pepper
½ c roasted pistachios
½ c chopped chives, plus 2 Tbsp more to garnish
Pinch of salt
⅓ c olive oil
2 tsp honey
White Sauce:
1 Tbsp olive oil
3 cloves garlic crushed
¾ c heavy cream
2 egg yolk
1 c lemon pesto
¼ c lemon juice
Salt to taste
4 quarts water, reserve 1 cup at the end of cooking
1 lb egg noodles
Salt to season
Garnish: Chives, Parmesan cheese
Instructions
Butterfly chicken breasts:
Place in between a cutting board and a sheet of plastic and flatten, using a rolling pin, until about 1/2'' thick. Season with salt on both sides and set aside for at least 20 minutes, or refrigerate up to 24 hours. Once chicken has set, season both sides with fresh cracked pepper. Heat 3 Tbsp of olive oil in a large skillet over medium-high heat. Once hot, add the chicken in a single layer and cook for 5-8 minutes, or until cooked 3/4 of the way through, then flip and continue cooking—5-6 minutes more. If needed, add another 1 Tbsp olive oil after flipping. Remove from the pan, tent with foil to keep warm, and rest until ready to cut and serve.
Prepare the pesto (10 minutes or buy store-bought):
In a food processor, pulse together the lemon zest, Parmesan, pepper, pistachios, chives, and a pinch of salt, until combined into a crumbly texture. Add in the olive oil and honey. Pulse until the pesto has a paste-like consistency. Taste for additional salt and pepper. Reserve 1 cup for the white sauce; store the rest in the refrigerator or freezer for later use.

Make the white sauce (15 minutes):

In a small skillet or sauce pan, add 1 Tbsp of olive oil over medium heat. Add crushed garlic and cook until softened—about 2 minutes. Add the heavy cream and bring to a simmer, then reduce heat to low and reduce—3 minutes. In a small mixing bowl, add the egg yolks. Using a 1 Tbsp measuring spoon and a whisk, add the warmed heavy cream to the yolks to temper them—about 1 Tbsp at a time--whisking constantly until about 1/3 c of cream is added. Once the yolks are tempered, stir in the 1 cup of pesto. Pour the pesto and yolk mixture back into the pan with the rest of the cream; add the lemon juice and taste for salt, turn off the heat.
Make the pasta (8 minutes):
In a large pot, bring 4 quarts of water to a boil, generously seasoning with salt. Add the noodles and boil, stirring a few times, until the noodles are 1-2 minutes shy of al dente. For large egg noddles, around 8 minutes. Reserve about 3/4 cup of pasta water. When pasta is done, drain and return to the pot.

Chop chicken into 3/4'' pieces and add to the cooked pasta.

Heat the pesto cream sauce over medium-high and whisk in about 1/2 cup of pasta water. Reduce heat to low and simmer until thickened—3-4 minutes.
To serve:
Pour the sauce over the pasta and chicken; add the lemon juice and stir to coat. Garnish with a generous shaving of Parmesan cheese and chopped chives or parsley—serve warm.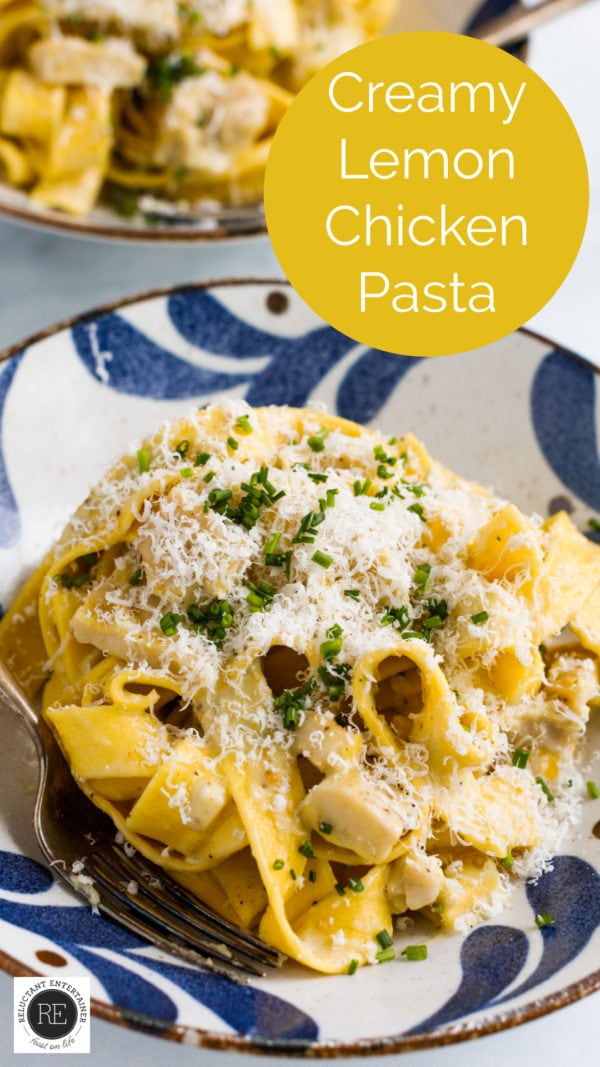 Hello and welcome to my home and table!
I'm Sandy—lover of food, family, cooking, THE BIG BOARD, travel, and bringing people together. Through great recipes and connection around the table, we become better, stronger, and more courageous people. Feasting on Life is real, and every time we do it, we grow a little more. Read more...