Cucumber Tomato Avocado Salad
This Cucumber Tomato Avocado Salad is delicious served with pizza at a Basketball Pizza Party.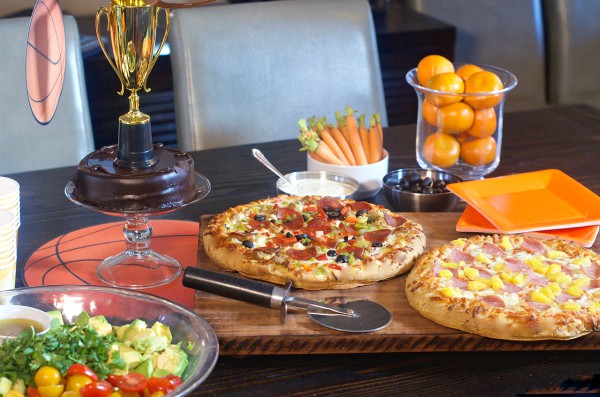 Everyone loves basketball, right? Including my family, who are all adults now (the college basketball tournament is big in our household!). Hosting a basketball party should be easy, and it's always fun when there is good food involved.
Good food, like our family-favorite pizza, and rooting for your favorite team (let the mania begin), makes family time fun. It's even more fun when friends stop by for the party, unannounced.
We love DIGIORNO!
As a hostess, I like to be prepared, so I always keep stocked in our freezer DIGIORNO pizzas. We love DIGIORNO Original Rising Crust pizza, because of its perfect crust – intentionally crafted for a fresh-baked taste out of your oven – and the most delicious, mouthwatering toppings!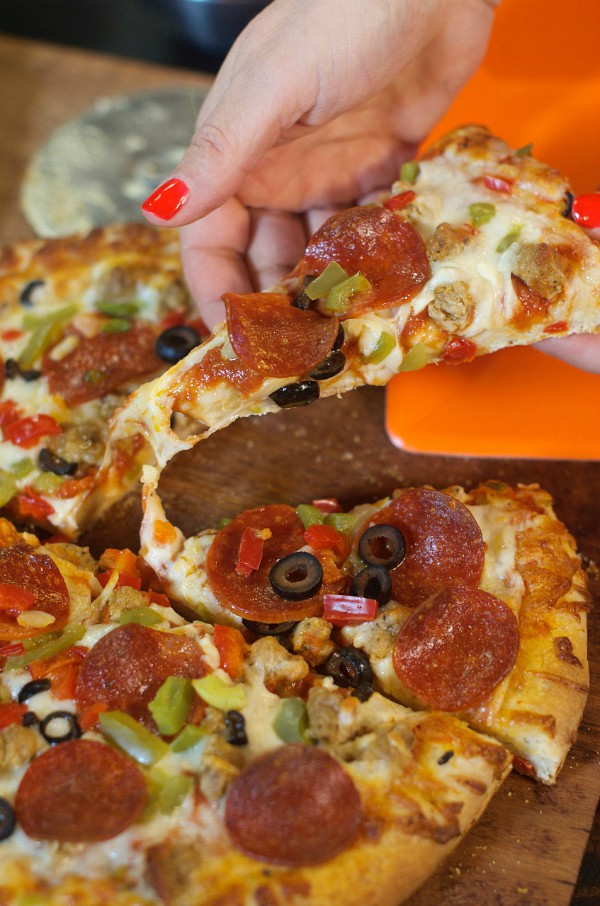 The golden, crispy crust, is soft and airy on the inside and topped with DIGIORNO pizza's signature sauce, made with vine-ripened tomatoes, garlic, spices and herbs.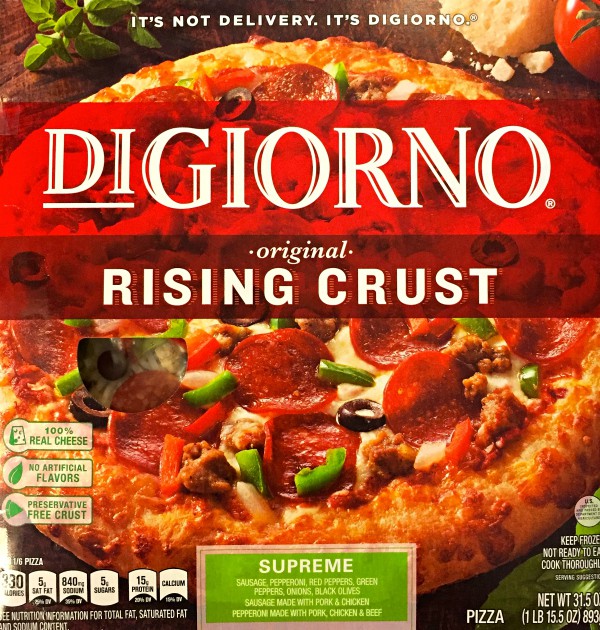 The premium quality meats, cheeses and vegetables have no artificial flavors, plus we love how this true pizzeria-style pizza can be baked right in your own oven!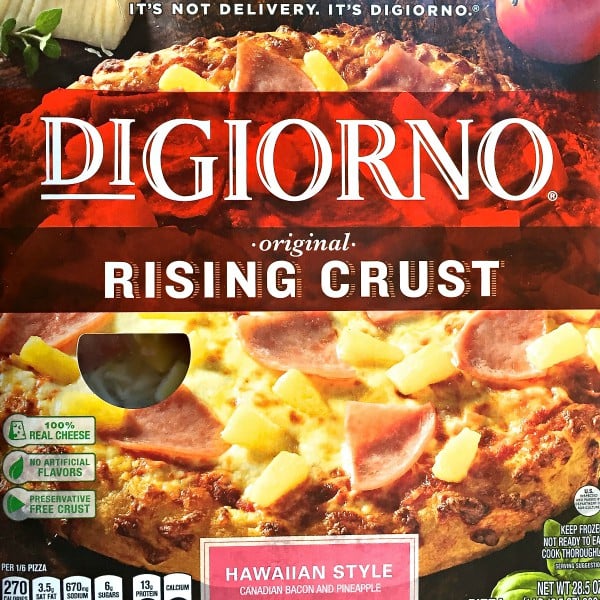 Serve it at a party!
It's perfect for our family, and it's easy and quick to toss another in the oven when friends stop by to watch the games.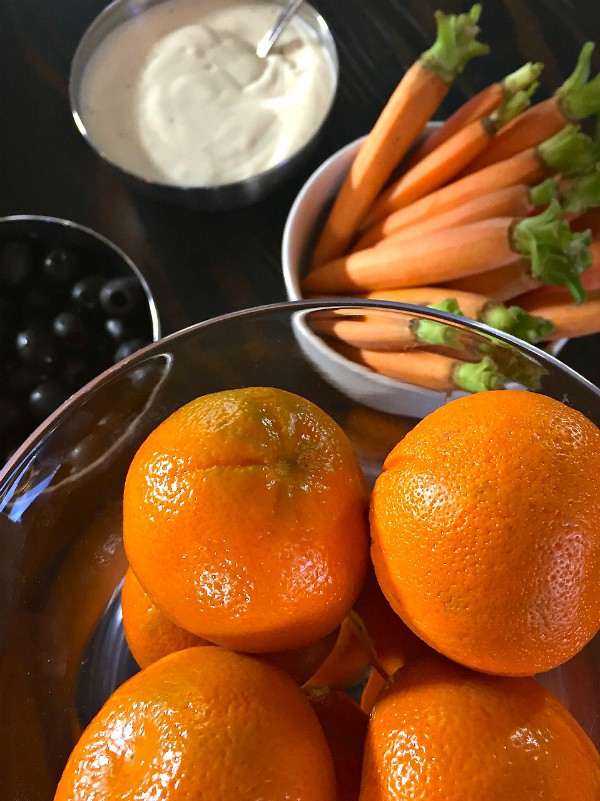 Set out the food and drinks, and they will come!
7 Basketball Pary tips
Here are my tips on setting up a fun Basketball Pizza party, and how to make it memorable.
1. Decorate with what you have on hand (fresh Cutie oranges), adding in a few extra basketball decor items (hanging basketball whirls) to make the party pop. You can encourage everyone to dress in team colors. Use a basketball centerpiece (chocolate cake) with a small trophy on top. Set out orange, black or white (or favorite team colors) paper plate and napkins.
2. Pop a couple of DIGIORNO pizzas in the oven. Make a giant salad (Cucumber Tomato Avocado Salad), and let your family or guests serve themselves with pizza and salad. Serve a dip on the side with veggies and olives.
4. Set out a variety of drinks. Make a delicious dessert, or it's okay to buy something pre made if you run out of time. Keep it simple and FUN!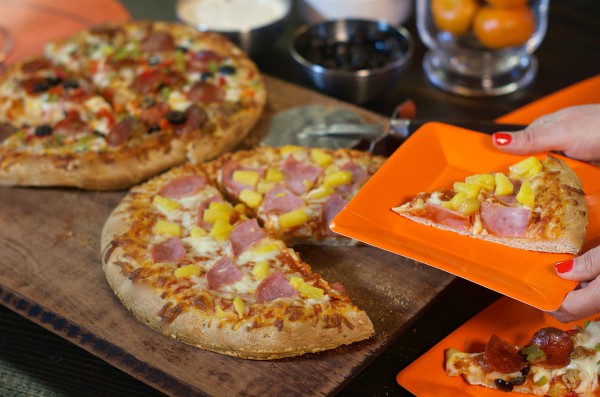 5. Impress your guests with your pizza-creative skills, and make some of these ideas with additional inspiration coming soon.
6. If you have Vegetarians in the family or coming to the party, DIGIORNO pizza has delicious meatless pizzas that guests love, like their Spinach, Mushroom & Garlic Pizza. DIGIORNO is a great fit for small gatherings with the Original Rising Crust that comes in 10 varieties, with options for everyone – like the vegetarians in the family! We love to serve 2 pizzas to offer our guests a choice.
7. Serve the pizza alongside a crisp salad to make the party plate complete. This salad is so fresh, with a sweet dressing tossed in.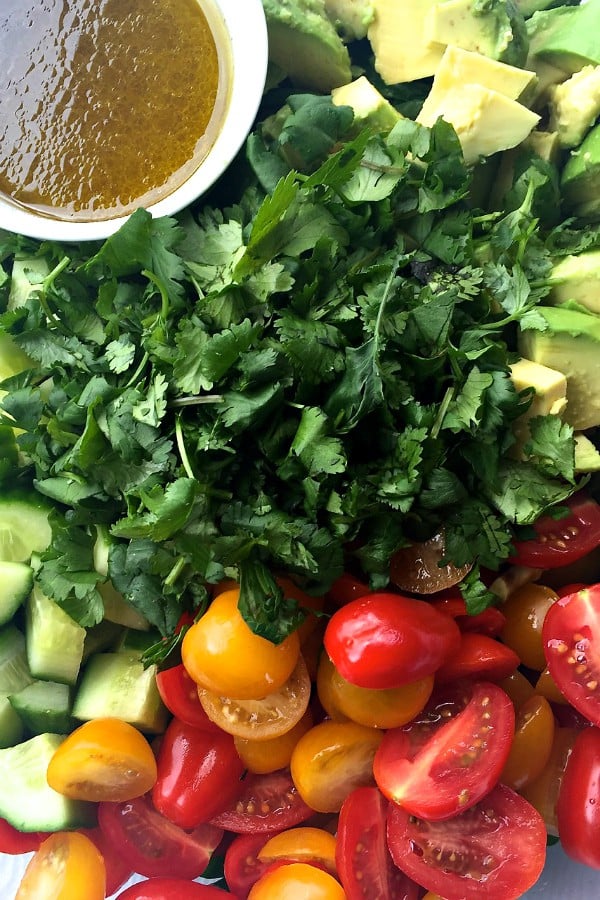 Cucumber Tomato Avocado Salad
Chop the ingredients ahead of time, and toss right before serving!
My favorite pizza? The Supreme!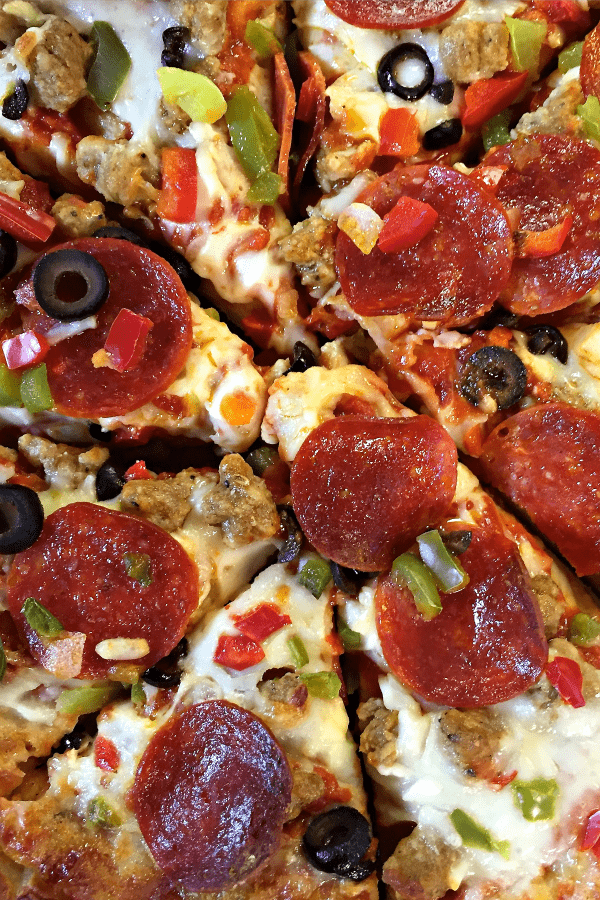 A really good party is all about the company, so keep it simple, make sure as the hostess that you have time to sit down and enjoy the game, and keep the food table stocked with delicious foods!
Are you hosting a basketball party this year?
Get the Recipe: Cucumber Tomato Avocado Salad
Ingredients
1 English cucumber, halved lengthwise & sliced
1/2 pint grape or cherry tomatoes, halved
3 avocados, peeled & diced
2 cups spinach, chopped
1/2 c. chopped cilantro
2 T. fresh lemon juice
3 T. fresh lime juice
3 tsp. honey
1/2 tsp. salt
1/4 tsp. white pepper
3 T. extra-virgin olive oil
Instructions
Prepare the dressing in a small bowl, by combining the lemon juice, lime juice, honey, salt, and white pepper. Whisk until the honey dissolves. Drizzle in the olive oil, and whisk together until well combined. Set aside.

In a large bowl, combine the cucumber, tomatoes, spinach, and cilantro. Add in the dressing. Gently fold in the diced avocado. Toss gently and serve immediately.
Follow DIGIORNO on Facebook, Twitter, and Pinterest.
This post is sponsored by DIGIORNO pizza, but as always, all opinions are my own. Our family loves DIGIORNO pizza, and have enjoyed it in our home for years!
More salad recipes that pair well with pizza:

Hello and welcome to my home and table!
I'm Sandy—lover of food, family, cooking, THE BIG BOARD, travel, and bringing people together. Through great recipes and connection around the table, we become better, stronger, and more courageous people. Feasting on Life is real, and every time we do it, we grow a little more. Read more...