Girlfriend-Friendly Dinner Party with Rhododendron Tabletop
This girlfriend dinner party with a beautiful Rhododendron Tabletop is a prime example how coming together over good food and drink, with excellent company, can benefit the soul. Here's how it happened …
My girlfriends were coming for dinner, so I wanted to set a pretty table. Inspired by our bursting rhododendron bush in the front yard, I took my scissors and went snip-snip.
Grabbing a few canning jars, I stuffed the flowers in the jars and pulled out an already ironed tablecloth and cloth napkins. Totally girlfriend-friendly.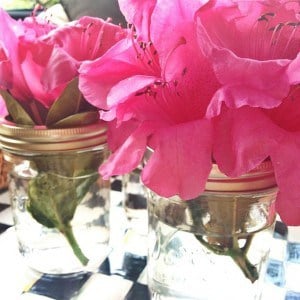 More importantly, I made 3 delicious salads, bought Costco's new Fresh Beet & Jicama salad (because I wanted to try it), and served crunchy bread. Everyone brought drinks! And I made a delicious gluten-free chocolate dessert (recipe to come) which I served with Trader Joe's Coffee Bean Blast ice cream. Yum!
Girlfriend dinners are so fun. You can get the pretty, girlie stuff out, make an all-salad dinner … it's just easy!
Spinach and shrimp salad: Avocados, spicy pecans, baby heirloom tomatoes, sweet onion, and cucumbers. I dressed the salad with a light balsamic glaze and Trader Joe's White Balsamic Vinegar.

Fresh garden salad, with lettuce just harvested from our garden: Heirloom tomatoes, chopped chicken, goat cheese, sweet candied pecans, dried cherries, avocado, and grapes. I dressed the salad with Trader Joe's Pear Vinaigrette dressing.

Farmer's Red Potato Salad: I'll just say that by the end of the evening, everyone wanted the recipe! Delish!
I love the saying: Judge your success by the degree that you're enjoying peace, health, and love.
Well, it was true after spending 5 hours with this group of ladies. Not only did we eat healthy foods, but there was a lot of love flowing around the table, and the entire night just had "peace" written all over it. Everyone was relaxed and enjoying true fellowship.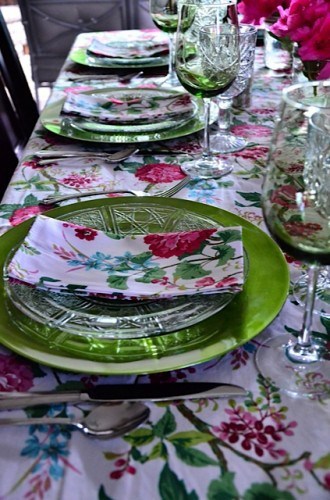 I always get texts or emails the next day. I had taken a risk and invited someone new that most of us didn't know, and she sent me this note. It's important to keep meeting new people and introducing our friends to one another. It just makes our lives richer.
Thanks for all the yummy flavors you created and put together last night. It was a great evening with beautiful women and delicious and nutritious food! Thank you for inviting me!
Which I love.
A peaceful night with good food and old and new friends.
Have you thought about hosting a girlfriend dinner party, or if not, what's holding you back?
Hello and welcome to my home and table!
I'm Sandy—lover of food, family, cooking, THE BIG BOARD, travel, and bringing people together. Through great recipes and connection around the table, we become better, stronger, and more courageous people. Feasting on Life is real, and every time we do it, we grow a little more. Read more...