Easy Pesto Baked Potatoes Recipe
This Easy Pesto Baked Potatoes Recipe is a simple, quick, delicious, flavorful way to serve potatoes at a potluck or dinner party!
Learning to be authentic and real when you make a mistake takes humility.
Can you admit you made an error, and then move on? For those who struggle with this, you have to "forgive yourself" for not being perfect (who is really perfect?), admit your fault, and then move on.
Or, you're a few minutes behind. Don't apologize over and over.
Maybe you're trying a new recipe, or you got a late start. It's okay! Just don't shine light on the fact that you are running behind. It actually makes your guests feel nervous and uncomfortable when the hostess brings attention to her struggles.
What to do
Let's say these easy baked potatoes come out of the microwave, and you drop the entire pan. The cooked potatoes are rolling all over your not-so-clean floor. (That would be mine!)
Your guests are coming in 30 minutes.
See if you can create a diversion.
– Pick up the potatoes
– Wipe them off with a paper towel
– Proceed with the recipe
You really have no choice, unless you want to put more potatoes in the oven and push dinner back 1/2 hour.
What not to do
By all means, DO NOT TELL ANYONE that you dropped the potatoes. Move on! Enjoy the evening with your friends.
Even if your guests see your mishap, make light of it and move on. Say, "20-second rule" and smile big!
Everyone makes mistakes in the kitchen, even the most experience chefs. So for me, as a home cook, that makes me feel a lot better.
Again, no apologizing for the holidays is the goal to have. It will take a lot of pressure off of yourself as you realize you are human, you make mistakes, and everyone else does, too!
Our imperfections and failures can be a blessing to others
What? My culinary mistakes can actually bless others? Yes, because that is not why people are coming over – to critique, criticize, watch every move we make. Or look in our closets or cupboards, monitor our kids' behaviors, check behind the couches or in pantries.
They are coming to visit us and our family.
When you make a culinary mistake, do you feel you need to apologize to everyone?
This recipe today is so easy for a dinner party! TIP: Pre-bake potatoes, heating on a plate in the microwave right before serving.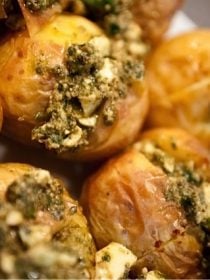 Get the Recipe: Easy Pesto Baked Potatoes
Easy TIP: Pre-bake potatoes, heating on a plate in the microwave right before serving.
Ingredients
6 medium baked potatoes
1/2 cup ready-made pesto
6 small bocconcini, mozzarella balls, chopped
Instructions
Wash potatoes and rub the outside with butter. Place on a cookie sheet and bake at 375 for 1 hour (or until soft when you squeeze them or pierce with a fork).

Mix together the pesto and bocconcini in a small dish.

Remove the potatoes from the heat, slash a cross in the tops, and carefully squeeze each potato gently to open it up. Lightly salt and pepper each potato.

Fill each potato with the pesto mixture and serve immediately.

Make it Easy: Pre-bake potatoes, heating on a plate in the microwave right before serving.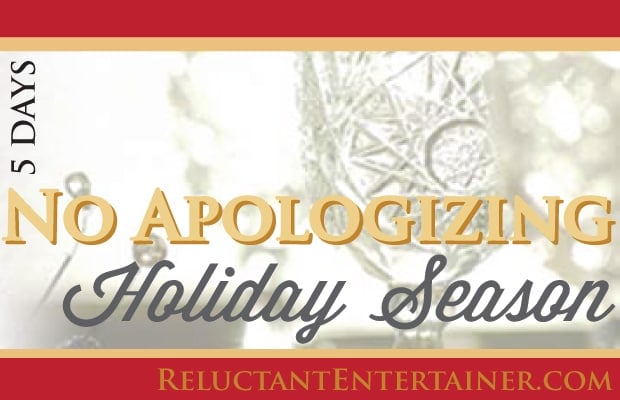 REVIEW all 5 posts and fabulous recipes:
Day 1: The Purpose of the Home, Roasted Grapes & Fresh Rosemary
Day 2: Culinary Mistakes and Beauchamp Orchard Salad
Day 3: Learning to be Authentic and Pesto Baked Potatoes
Day 4: Don't Plan for Perfection and Crusted Pepper Prime Rib
Day 5: Laugh at Your Mistakes with Holiday Poached Pears
Photos in this post by David Gibb Photography.
Hello and welcome to my home and table!
I'm Sandy—lover of food, family, cooking, THE BIG BOARD, travel, and bringing people together. Through great recipes and connection around the table, we become better, stronger, and more courageous people. Feasting on Life is real, and every time we do it, we grow a little more. Read more...