Family Time Takes Effort: Buttermilk Coffee Cake!
One of the things I love about my son coming home from college is that he is so appreciative of my cooking. It helps to have a "plan" of some yummy "favorite" recipes to cook while he's home, but I love trying new recipes, too. Like when I made Carrie Vitt's Buttermilk Coffee Cake while we were on vacation last week. Carrie has this blog and a brand new book, Deliciously Organic, which I've loved cooking through.
I'm wondering if you've experienced what I have found to be true. Intentional family time takes effort to make it happen, and then it doesn't always happen the way I think it should. I've had to learn to be more flexible, for sure. And my husband and I have had to "work" to make it happen. It involves planning, to make sure everyone has the days off of work, and communicating, so the kids are free and don't have other plans, and then we set a time or announce a date ahead of time.
It takes E-F-F-O-R-T.
How to plan family time (especially with teens or grown kids):

1. SET THE DATE: Announce the time and date that you are having a family dinner or get-a-way.

2. PRIORITIZE: Let the family know that you'd like everyone together.

3. PLAN AHEAD: If your kids are in college, get the dates for when they'll be home and plan ahead. Make sure all schedules are cleared.

4. PREPARE: If heading out of town, think ahead to family favorite recipes and prepare as much as possible before you go, so you can ENJOY and not be stuck in the kitchen.

5. DELEGATE: Share the load for dishes and help in the kitchen. It's helpful to include all family members in some way, either by cooking or dishes.

6. THE TABLE: Sit at the table together for as many meals that you can. Be prepared for spirited, fun conversation and laughter and love. Encourage it and revel in it.
Now back to the recipe. I made Carrie's sweet yet healthy Coffee Cake and my family said it was the best they've ever had. They devoured it so quickly, my youngest didn't even get a bite!
Food prep TIP if traveling: Pre-measure the dry ingredients and place in Ziploc bags. It will cut the prep time in 1/2. Anything to save time so you can enjoy the family more!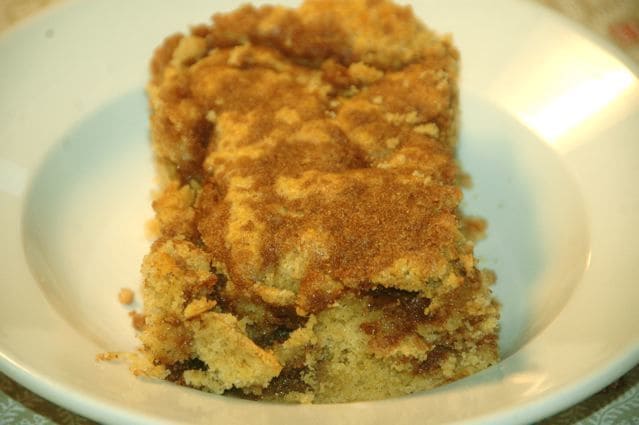 Buttermilk Coffee Cake
Serves 6-8

Ingredients:
8 Tbsp. unsalted butter, room temperature
1 1/4 cups Sucanat or whole cane sugar
2 large eggs, room temperature
1 tsp. vanilla extract
3/4 cup sour cream
2 1/4 cups whole wheat pastry flour
2 tsp. baking powder
1/2 tsp. baking soda
1/2 tsp. sea salt
3 Tbsp. unsalted butter, cold
1 Tbsp. maple syrup
2 tsp. ground cinnamon
1/2 cup walnuts or pecans

Instructions:
1. Preheat oven to 375 and adjust rack to medium position. Butter an 8×8-inch baking dish.

2. Cream 8 T. butter and 3/4 cup whole cane sugar in the bowl of a standing mixer for 3 minutes. With mixer on low, add eggs and vanilla, blending well. Add sour cream and blend well. Remove bowl from mixer.

3. Whisk together flour, baking powder, baking soda, and salt and set aside.

4. Add dry ingredients to the wet ingredients and stir with a wooden spoon until combined. Pour batter into the baking dish.

5. In the bowl of a food processor, pulse the 3 tablespoons of butter, remaining 1/2 cup whole cane sugar, maple syrup, and cinnamon. Pulse until combined, about 5-6 pulses. Add nuts and pulse about 6 more times until nuts are roughly chopped.

6. Crumble topping on top of batter. Bake for 30 minutes or until golden on top.
What has your experience been with getting the family together for meals or get-a-ways?
Hello and welcome to my home and table!
I'm Sandy—lover of food, family, cooking, THE BIG BOARD, travel, and bringing people together. Through great recipes and connection around the table, we become better, stronger, and more courageous people. Feasting on Life is real, and every time we do it, we grow a little more. Read more...