Game Day Sour Cream Lemon Puff Pastry Shells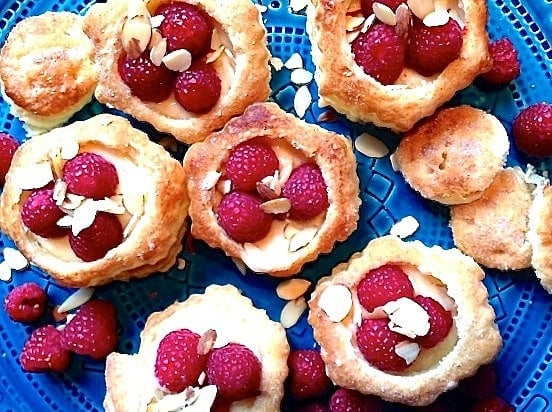 With the Super Bowl right around the corner, I've learned to keep Puff Pastry products in my freezer at all times, for quick and easy recipes (so many options!), or for last minute treats for our guests, such as Sour Cream Lemon Shells, made with Pepperidge Farm® Puff Pastry Shells, the perfect dessert for a few quick bites in between all the excitement.
This recipe is not only perfect for Game Day, it's been a great dessert to take when we've been invited to a weekly home party to watch Downton Abbey!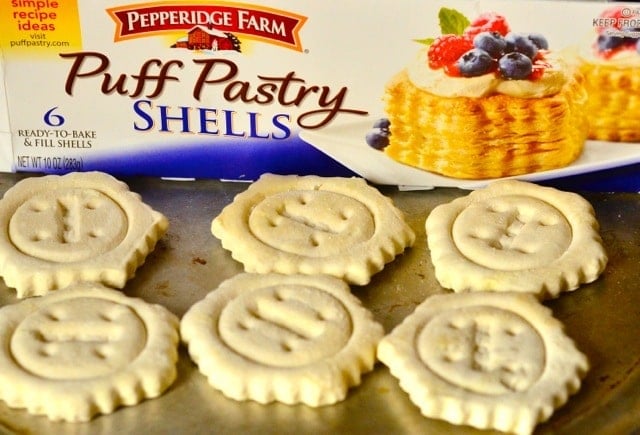 We all get pressed for time, but at the same time we want to make a bite of "Oh, My, Goodness!" for special events, so this recipe is just that.
Oh, My, Goodness!
It involves these easy ingredients:
Pepperidge Farm® Puff Pastry Shells
Lemon Curd
Sour Cream
Cinnamon/Sugar
Raspberries
Almond slices
You start with Puff Pastry shells, sprinkling them with cinnamon and sugar before you bake them. Pop them in the oven for 20 minutes.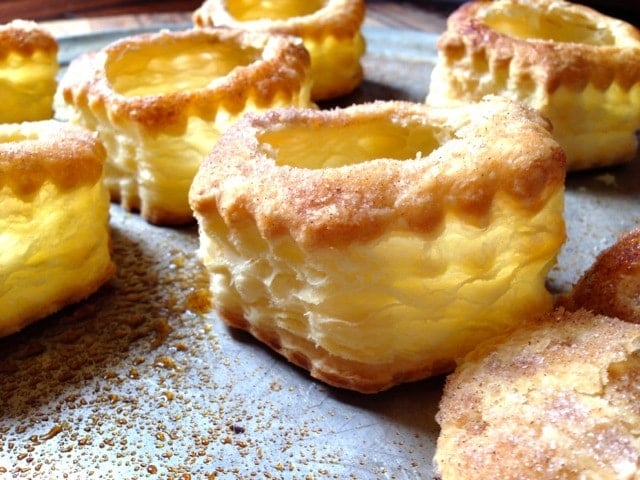 Then mix the lemon curd and sour cream together. You can do this 2 ways; either buy Lemon Curd (I buy Trader Joe's), or you can make your own (but you will need to make in advance to allow to cool before adding the sour cream).
Time may not be your friend, to make the curd, so an easy entertaining tip: Keep different flavored "curds" stocked in the pantry. (Right now I have lemon and cranberry flavors.)
After the shells cool, fill them with the lemon mixture.
Top with fresh fruit (raspberries) and sliced toasted almonds.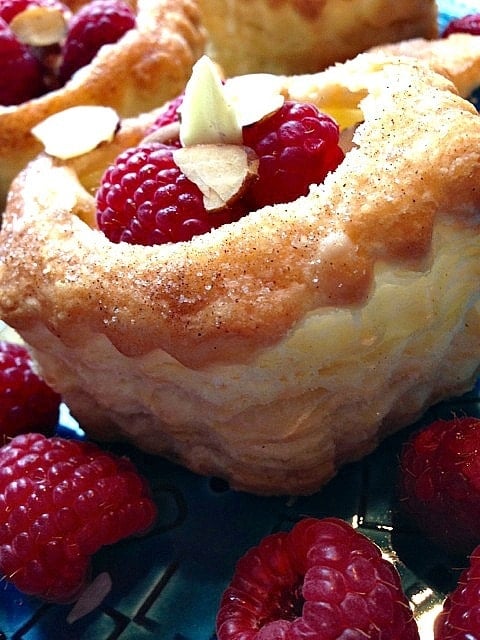 I love anything lemon this time of year, as our lemon tree plant is just beginning to flower, but it's nice to make a fresh tart treat for Game Day guests. It seems like we eat so much dip, chips, veggies, wings, meatballs, sliders …
These Sour Cream Lemon Puff Pastry Shells will top off the game in a good way, no matter who wins, I promise.
Now it's your turn. To win a chance to come with me to the Puff Pastry headquarters this spring, you get to participate by answering my question. Here are more details:
Would you share what creamy delight you'd fill these shells with for Game Day guests?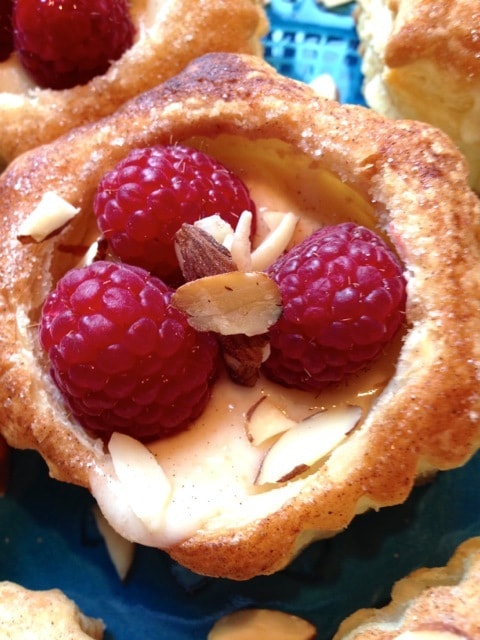 Get the Recipe: Sour Cream Lemon Puff Pastry Shells
Make your own curd: Take 2-3 fresh lemons cut in half; squeeze through a strainer. Take 1/2 cup of lemon juice, adding to a medium sized stainless steel mixing bowl with 2/3 cup white sugar, 1 Tbs cornstarch, 3 large eggs and 1 egg yolk; whisk to combine. Cook mixture over a double boiler by bringing 1-2 inches of water to a boil in a deep stainless pot, placing the bowl with the lemon mixture over the top. Make sure the bowl isn't touching the water and whisk regularly as it thickens. Once it is thick, whisk in 1 stick (1/2 cup) unsalted butter, a little bit at a time. Use a rubber spatula to push that mixture through a strainer into a mixing bowl, or deep plastic container, and place it into the fridge with a layer of plastic wrap pressed down on its surface to completely cool down. (Makes 1-2 cups of curd).
Ingredients
1 box frozen Pepperidge Farm® Puff Pastry Shells
Cinnamon and sugar, 1 Tb. of each
1 10 oz. jar lemon curd
1/2 cup sour cream
Fresh berries, such as raspberries, blueberries, or blackberries
1/4 cup sliced almonds, toasted
Instructions
Preheat oven to 425. Bake the Pepperidge Farm® Puff Pastry Shells according to the directions on the box, for 20 minutes, sprinkling with cinnamon sugar before baking.

Allow to cool for 5 minutes. (Bake shortly before serving so they stay fresh and crunchy).

Mix the lemon curd (whether using pre-made or homemade recipe) with the sour cream.

To serve, gently scoop out the center of the shells, filling the shells with the lemon mixture.

Top with 3 fresh berries and a few sliced almonds. Serve.
My TOP PICK winner from the last recipe I developed, who came up with a delicious way to use the Puff Pastry products, was Sommer from A Spicy Perspective. Soup Shots? LOVE this idea!
Disclosure: I am working with Pepperidge Farm® Puff Pastry, creating recipes using their products as part of their "Puff is the Spark" panel. As always, all opinions are my own.
Hello and welcome to my home and table!
I'm Sandy—lover of food, family, cooking, THE BIG BOARD, travel, and bringing people together. Through great recipes and connection around the table, we become better, stronger, and more courageous people. Feasting on Life is real, and every time we do it, we grow a little more. Read more...