Ham Breakfast Casserole Recipe
This moist, cheesy Ham Breakfast Casserole recipe is moist, baked slowly, and packed with delicious flavor. Perfect for the holidays!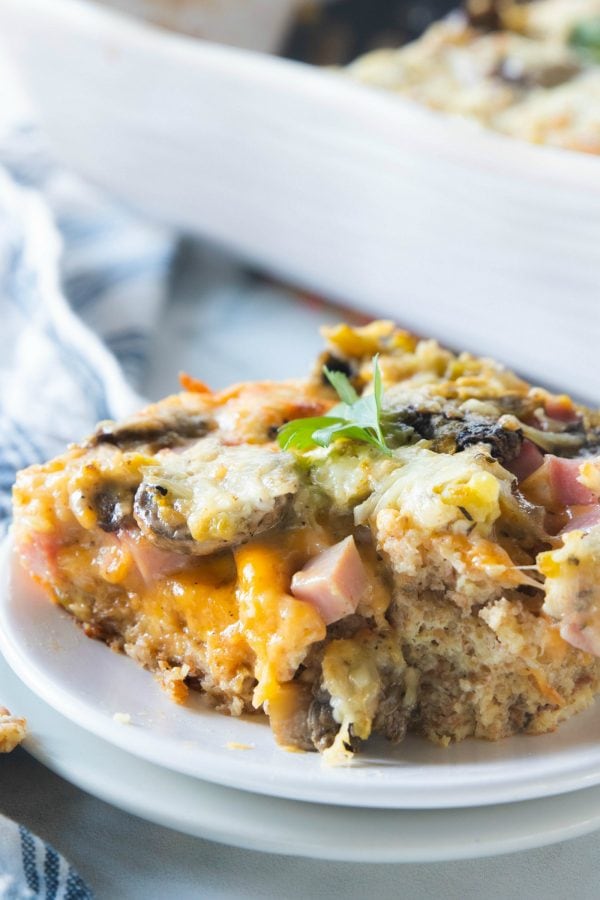 Breakfast is always a delicious part of the weekend! How about you?
On the table this weekend? This easy Ham Breakfast Casserole! A classic in our home.
Ingredients for ham and cheese bake
Loaf sprouted wheat bread (or your favorite bread)
Butter
Ham
Sliced mushrooms
Diced chiles
Jack cheese, I use Tillamook brand
Extra sharp cheddar cheese, I use Tillamook brand
Eggs + milk
Paprika + basil
Salt + pepper
Minced onions
Dry mustard
Ham Breakfast Casserole
Especially during the weekends and holidays, our days consist of lovely meals, walks, enjoying movies, and just slowing down.
Breakfast casseroles also remind me of when our kids were little. We served a lot of breakfast recipes for dinner, and made some delicious memories around our table!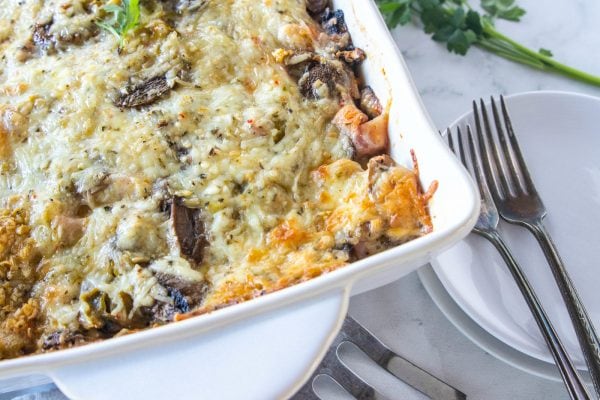 Perhaps the World Ends Here
I came across this poem this last week and I want to share with you. I mean … the first sentence says it all!
Perhaps the World Ends Here, by Joy Harjo

The world begins at a kitchen table. No matter what, we must eat to live.

The gifts of earth are brought and prepared, set on the table. So it has been since creation, and it will go on.

We chase chickens or dogs away from it. Babies teethe at the corners. They scrape their knees under it.

It is here that children are given instructions on what it means to be human. We make men at it, we make women.

At this table we gossip, recall enemies and the ghosts of lovers.

Our dreams drink coffee with us as they put their arms around our children. They laugh with us at our poor falling-down selves and as we put ourselves back together once again at the table.

This table has been a house in the rain, an umbrella in the sun.

Wars have begun and ended at this table. It is a place to hide in the shadow of terror. A place to celebrate the terrible victory.

We have given birth on this table, and have prepared our parents for burial here.

At this table we sing with joy, with sorrow. We pray of suffering and remorse. We give thanks.

Perhaps the world will end at the kitchen table, while we are laughing and crying, eating of the last sweet bite.
As we give thanks this next week and gather with our family, no matter what size our table will be, we give thanks. Those words go deep–very deep, especially this year of 2020.
We have so much too be grateful for, in light of it all.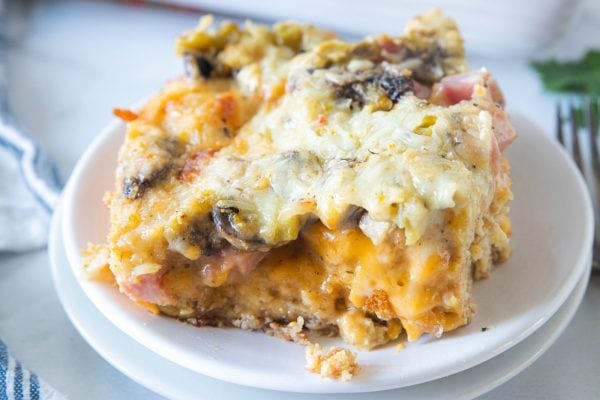 Breakfast for out-of-town guests
This breakfast casserole is also great for out-of-town guests if you're hosting during the holidays! Or, save it for next year when your house may be a little more full.
Sometimes I double the recipe and make one to keep, and one to give away!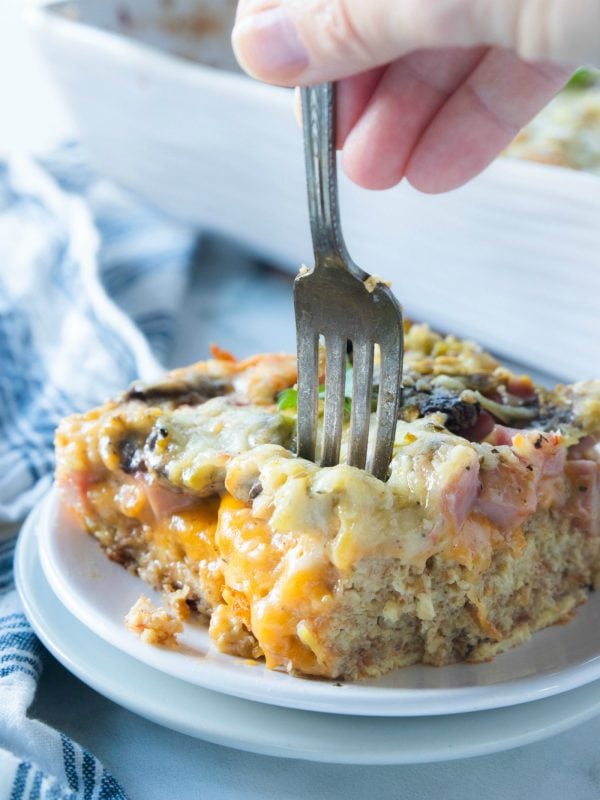 How to make Breakfast Ham Casserole
This time I used leftover honey baked ham, which was delicious.
There are a couple things that make this breakfast dish so exceptional.
Cooking it on a low heat, for a longer time, drizzling the butter over the layered bread, and then the flavors of the diced chilies.
Ending with 2 flavors of cheeses.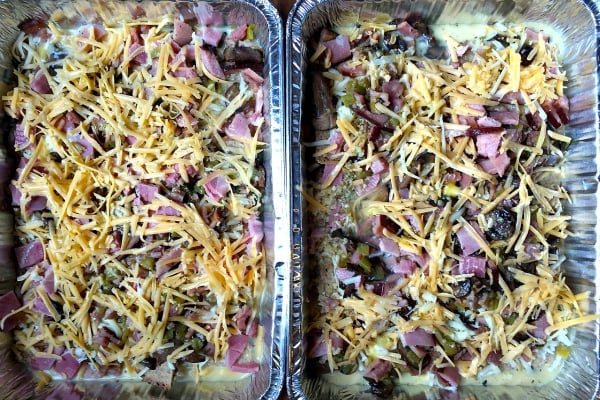 I promise, you will not be serving a dry breakfast casserole!
And your family or guests will love you!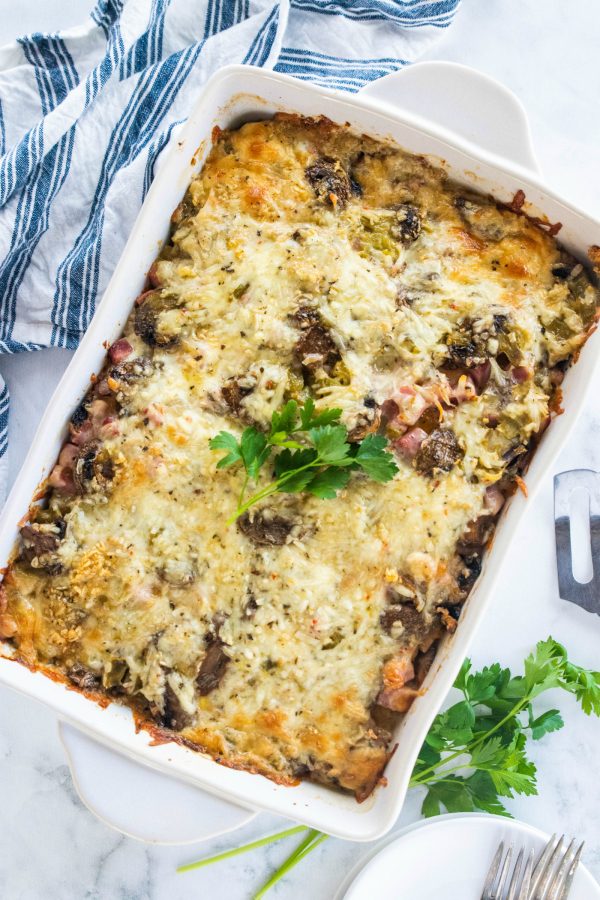 More holiday breakfasts
You'll also love Challah French Toast Casserole with Cranberries, Potato Fennel Gratin, Banana Chocolate Chip Pancakes, and Blueberry Scones! You can also try RecipeGirl's Farmer's Casserole. Oh, and this is our favorite Sour Cream Banana Bread! ENJOY!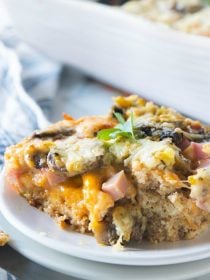 Get the Recipe: Ham Breakfast Casserole
Make this vegetarian, substitute with your favorite meat (sausage or bacon). I used sprouted wheat bread for our guest who had a wheat allergy.
Ingredients
1 loaf sprouted wheat bread, sliced
⅓ cup butter
1 lb. ham
½ lb. fresh sliced mushrooms
1 large can diced chiles
2 cups grated Jack cheese, I use Tillamook brand
2 cups grated extra sharp cheddar cheese, I use Tillamook brand
6 eggs
2 cups milk
½ tsp. paprika
½ tsp. basil
½ tsp. pepper
1 Tbsp. minced onions
½ tsp. dry mustard
Instructions
Place bread slices in the bottom of a 9 x 13 pan, overlapping each other Drizzle the butter over the top. Layer the grated sharp cheddar cheese, meat(s), mushrooms, chilies, and Jack cheese.

Mix in a separate bowl the eggs, milk, paprika, basil, pepper, minced onions, and dry mustard.

Pour egg mixture over the layered ingredients. Cover with foil and chill overnight.

In the morning, remove the foil and bake at 325° for 1 hour, or until center is firm and does not jiggle. Depending on your oven, you may need to cook for an additional 5 mintues.

Let stand 10-15 minutes before serving.
Notes
repoosted from DEC 2015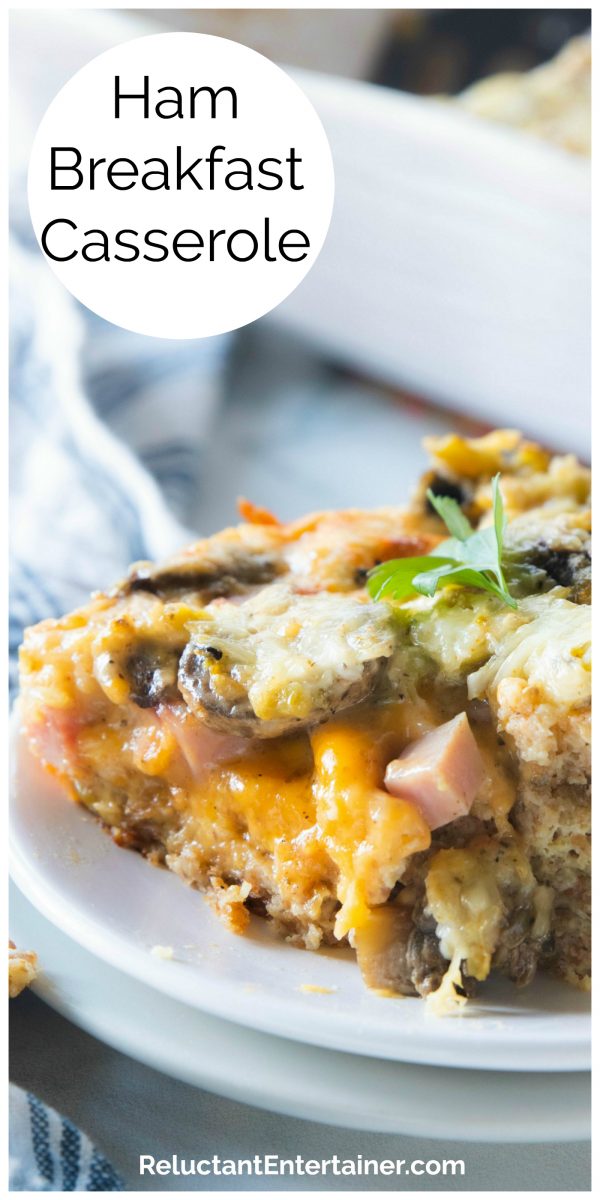 Hello and welcome to my home and table!
I'm Sandy—lover of food, family, cooking, THE BIG BOARD, travel, and bringing people together. Through great recipes and connection around the table, we become better, stronger, and more courageous people. Feasting on Life is real, and every time we do it, we grow a little more. Read more...