Harry & David Blogging Event: Gifts and Pears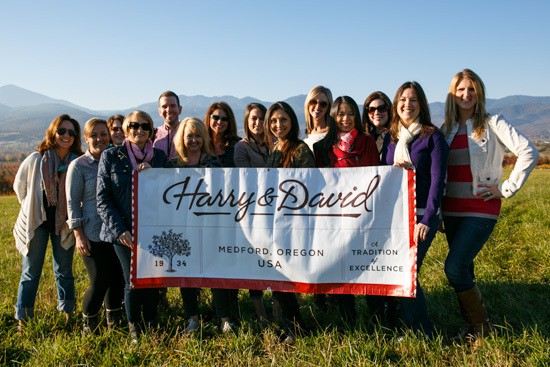 Last month 12 fabulous bloggers came to the Rogue Valley for a Harry & David blogging event to learn about the Royal Riviera® Pear and gift baskets. I was fortunate enough to host this amazing group for dinner in our backyard (yay! for beautiful weather in Southern Oregon), and for 3 days while here we toured the orchards, made candy, visited the Harry & David headquarters, shopped their Country Village Store, and learned more about exclusive holiday gifts! Which, by the way, I'm so excited that Harry & David is now the exclusive online seller of The Cheesecake Factory cheesecakes!
We stayed at the lovely Winchester Inn in Ashland, Oregon, a beautiful historic home nestled in the city of downtown Ashland. Every morning we enjoyed a gourmet breakfast from their award-winning Alchemy Restaurant.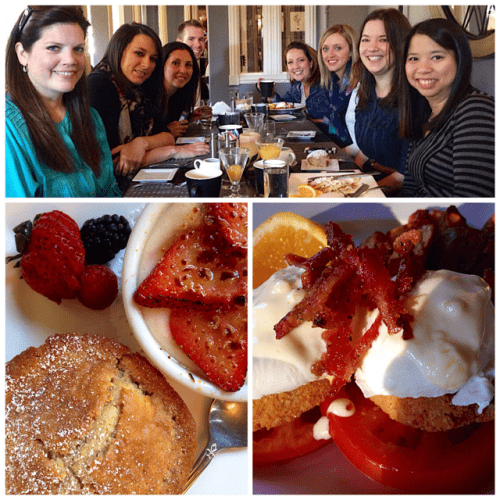 We all fell in love with the grounds, the gracious innkeepers, the chef, and did I mention the sheets? They were the talk of our stay! :)
We started the first day off with an orchard reception and tour. (Photo credit: Ali)
Matt Borman, Harry & David Orchard Director, shared all the facts and details about pears (below photo credit: Inspired by Charm):
· Harry & David has over 700,000 pear trees in 19 producing orchards

· Harry & David harvests about 750 tons of pears

· Harry & David makes, bakes, or grows approx.. 80% of their product

· Harry & David is best known for its signature product, Royal Riviera® Pears, which require special climate and soil found in only a few places in the world

· 1.1 million pounds of cheese, 2.2 million pounds of nuts and nearly 6.7 million pounds of chocolate used in gifts each year.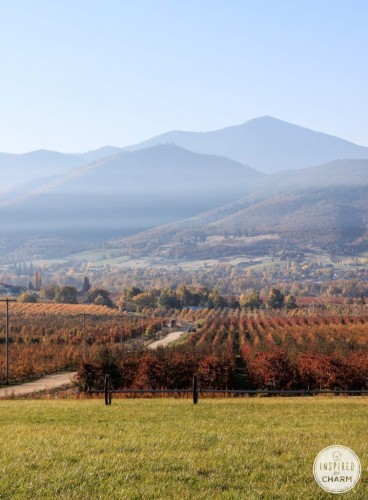 We then did what all bloggers love to do.
We joined Charlie at the Harry & David Chocolate Factory and we tasted and decorated chocolate! We hand painted chocolate leaves, which were then mailed to our home where we got to enjoy the fruits of our labor with family and friends. Oh, and Harry & David uses only the finest chocolate in their products!
We dined for lunch that day at Deja Vu Wine Bar in the McCully House, in historic Jacksonville, Oregon, and then mingled throughout the town for a bit. It was fun to see Bakerella's book at Terra Firma Home.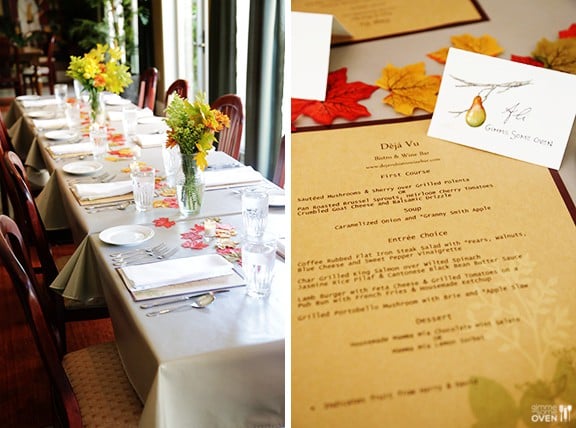 All the bloggers loved visiting Rogue Creamery, an 80-year-old cheese company in Central Point, where we toured, tasted, and learned more about their international acclaim. Rogue Creamery has created eight handcrafted blue cheese recipes, cheddar cheese and TouVelle.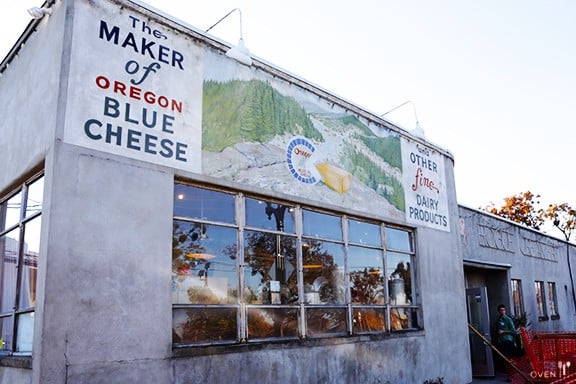 The last day for lunch was a whole other experience. We toured the warehouses where all the pears are stored, right next to a charming floral and design studio, Penny & Lulu Florist.
Fresco, a local mobile food cart, catered our delightful autumn-themed lunch, and Susie and Carol gave us a tour with a history lesson of the warehouse, past and present. :) (That's Ben and Abby serving us!)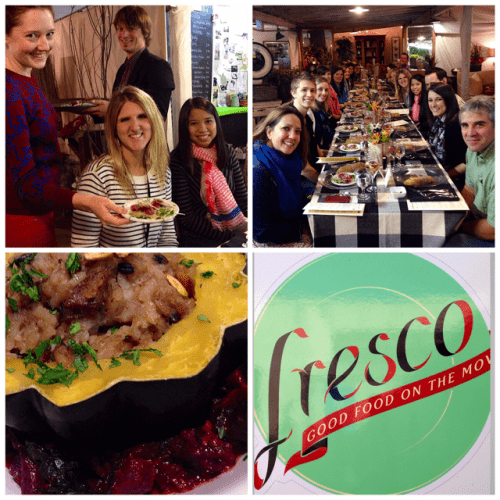 The table was spectacular! Down to the tiny details that made it such a memorable event.
A "must" shot of the 4 designers–Susie and Carol from Penny & LuLu, and Michael and Melissa! :)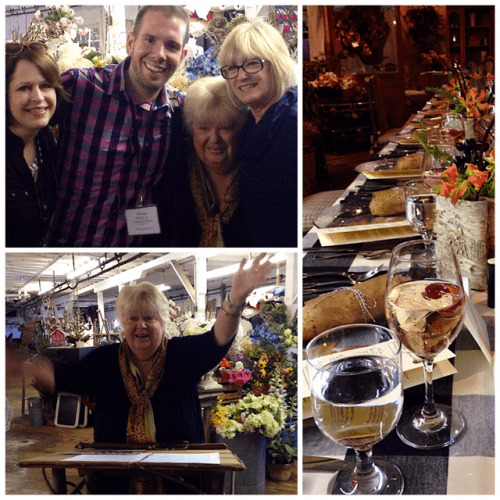 Later we toured the gift basket production line. This is always a favorite event for the bloggers because not only do they get to experience what it's like to pack a basket and make a bow, they get to keep their basket or send it to a loved one!
Special, unique, each basket hand-packed with plenty of love!
That night, our closing dinner at 2Hawk Winery was another fabulous meal, this time prepared by Harry & David's Chef Tim Keller.
Which brings me to the end of our stay, and our story to a close.
Here's a hearty thank you to the amazing Harry & David staff who treated us so well, a perfect ending to a warm, friendly, beautiful 3 days spent in the Rogue Valley, learning more about Harry & David's signature Royal Riviera® Pear.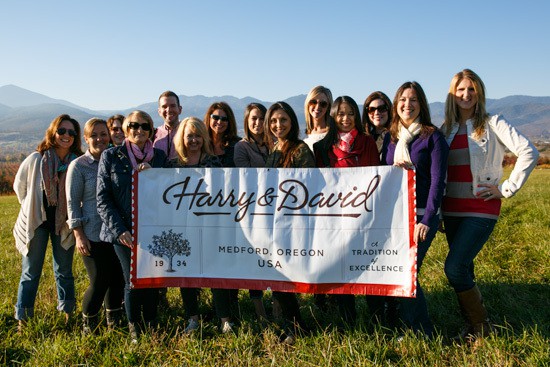 The fabulous blogging group consisted of these bloggers:
Helen Jane from HelenJane.com, Shelly from Cookies & Cups, Melissa from The Inspired Room, Judy of From Home to Roam, Michael from Inspired by Charm, Angie from Bakerella, Cassie from Bake Your Day, Gina from Skinnytaste, Ali from Gimme Some Oven, Julie from The Little Kitchen, Robyn from Add A Pinch, Lindsay from Love and Olive Oil, and Amanda from Kevin and Amanda.
Here are more recaps for you to enjoy:
Inspired by Charm
My trip was paid for by Harry & David, but as always, all opinions are my own.
Hello and welcome to my home and table!
I'm Sandy—lover of food, family, cooking, THE BIG BOARD, travel, and bringing people together. Through great recipes and connection around the table, we become better, stronger, and more courageous people. Feasting on Life is real, and every time we do it, we grow a little more. Read more...