Healthy Korean Beef Bowls
Healthy Korean Beef Bowls, served with an apricot sweet chili sauce, lots of vegetable toppings, and brown rice. Perfect for dinner tonight or healthy GAME DAY option!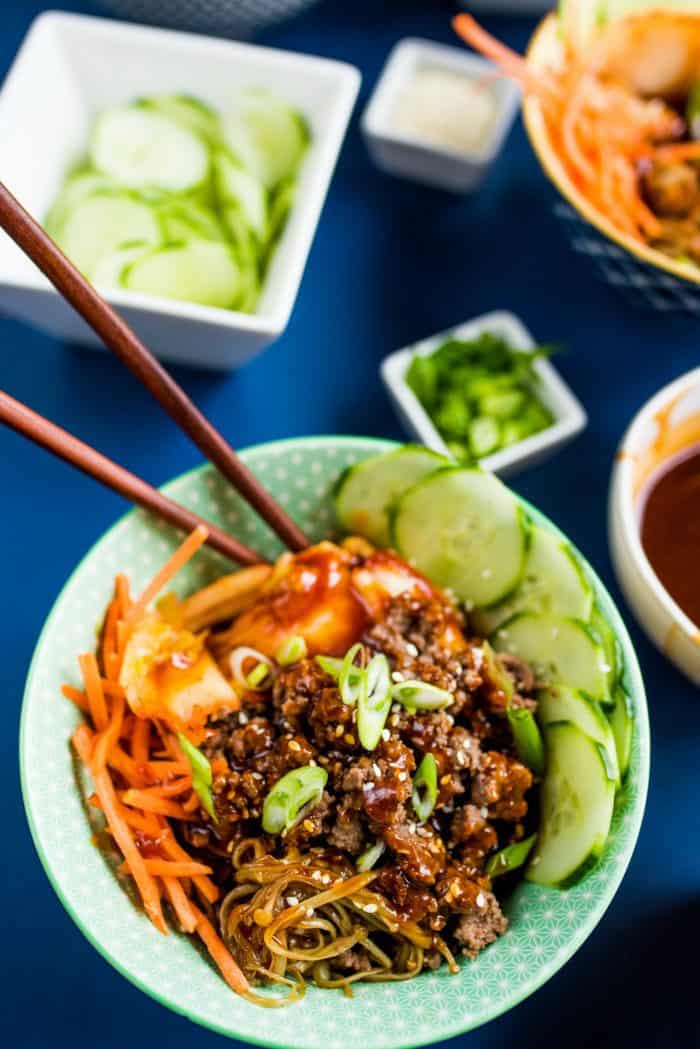 We're still enjoying delicious healthy recipes for the new year, like this Healthy Korean Beef Bowl recipe. I also love this idea to serve on an epic board or for GAME DAY! Watch the video!
Rice and noodle bowls
Rice bowls are like a noodle bowl, except with rice and your favorite meat and vegetable toppings! You may also want to check out my Acorn Squash Sprouted Rice Bowls or Vegetable Quinoa Bowls.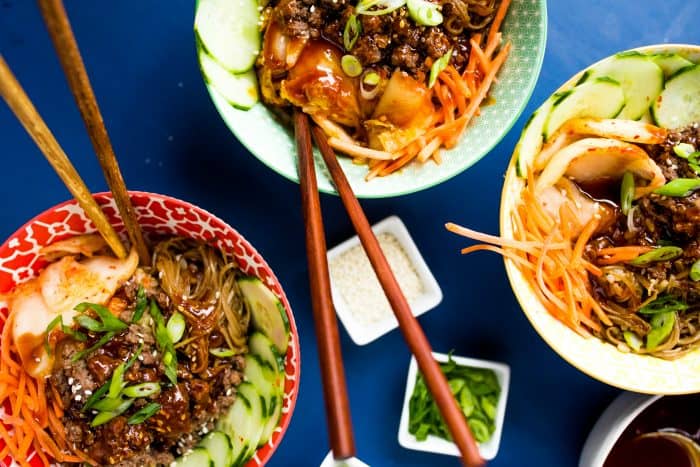 Good-bye Haggis Barley McStitch
Friends, yesterday we had to put our beloved Cairn Terrier Haggis Barley McStich III down. It was one of the hardest things we've ever done. I'll be sharing a lot more about his life in several posts, but for now, it's a very hard day today!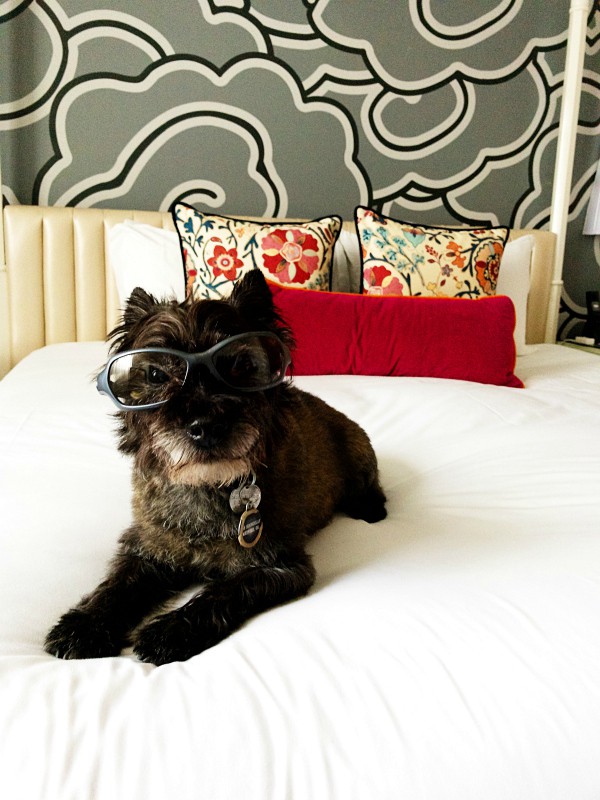 RIP, Haggy-boy! We enjoyed you in our lives for 15 years and 3 months. Not enough time … [photo of our last family trip out of town to Seattle, at the downtown Kimpton Hotel. We were seeing a U2 concert, so it was appropriate that Haggis wore his Bono glasses in our room.] You can see more pictures of this spunky guy on my Instagram!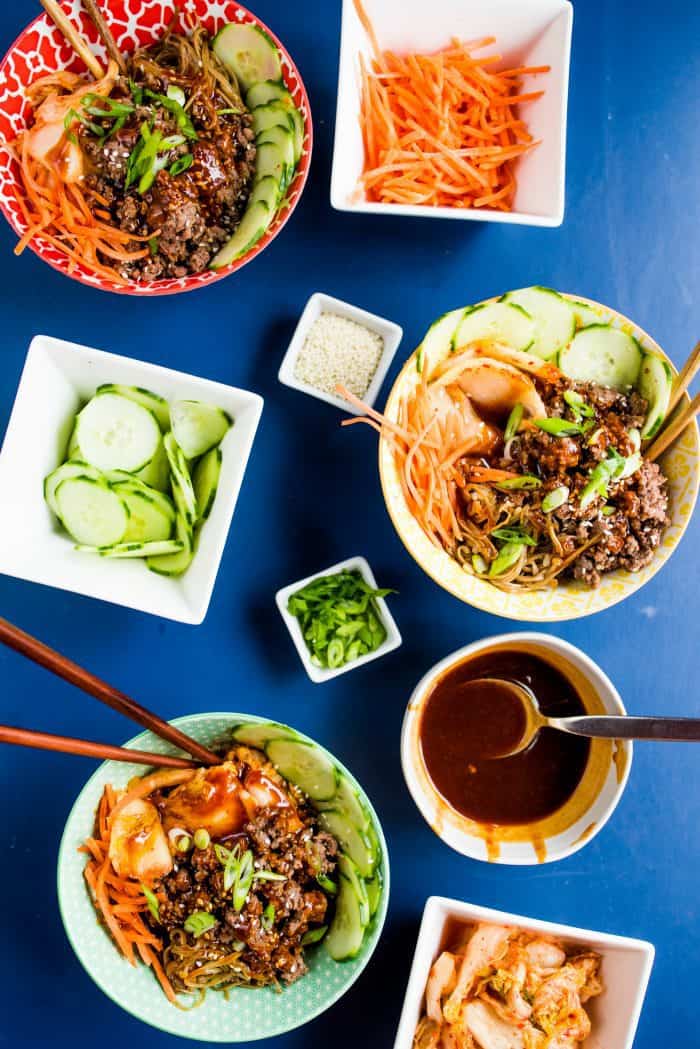 What is a rice bowl?
Speaking of noodle bowls, these Healthy Korean Beef Bowls are the perfect meal in a bowl.
More rice bowls from my friends: Quick Teriyaki Chicken Rice Bowls [Crunchy, Creamy, Sweet] and Chipotle Lime Shrimp Bowls [FoodieCrush].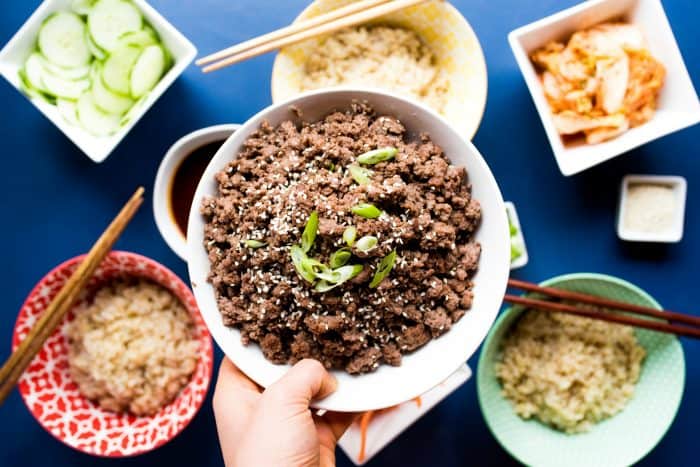 You can certainly serve this Korean beef over rice, or vermicelli rice noodles, fresh herbs and vegetables, and a delicious chili dressing.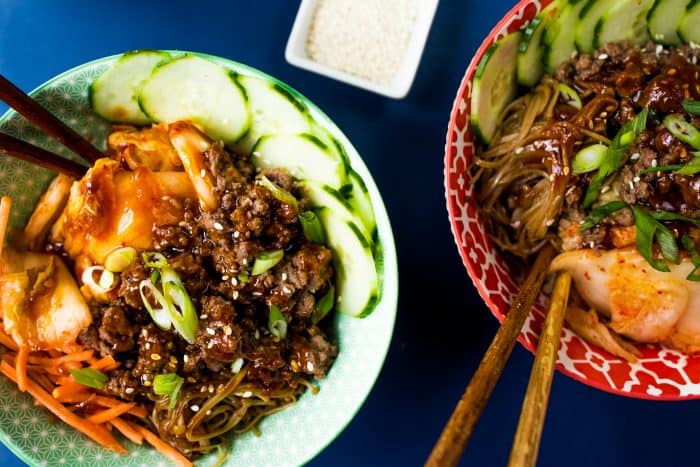 Healthy Korean Beef Bowls
The recipe today, Healthy Korean Beef Bowls, are made with rice and a delicious apricot sweet chili sauce!
Delicious ground beef.
Want to buy Korean Gochujang Chilli Paste? Click HERE to buy from Amazon!
What toppings do you put on a rice bowl?
Shredded carrot
Brown rice
Mushrooms
Sliced cucumber
Kimchi
Sesame seeds
Scallions
I'm glad we could mostly all be together yesterday as a family (one son living away).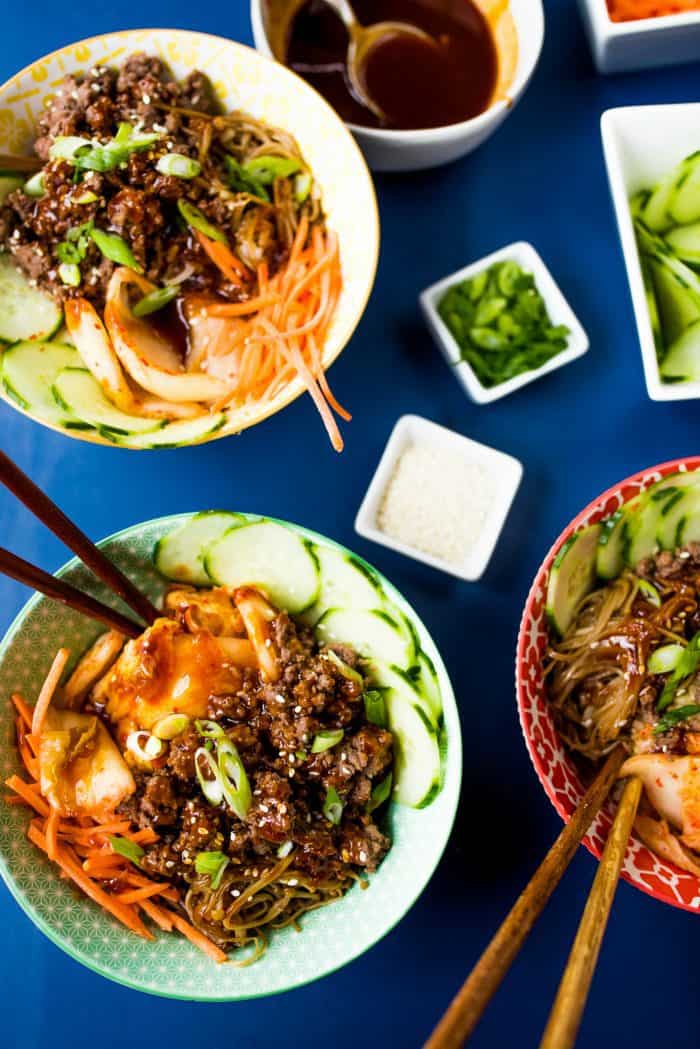 There are the moments, when times get tough, where it's good to be together. [Picture last winter of our 3 kids.]
Time together
We'd nibble on our noodle bowls, and then dive into another Haggis story.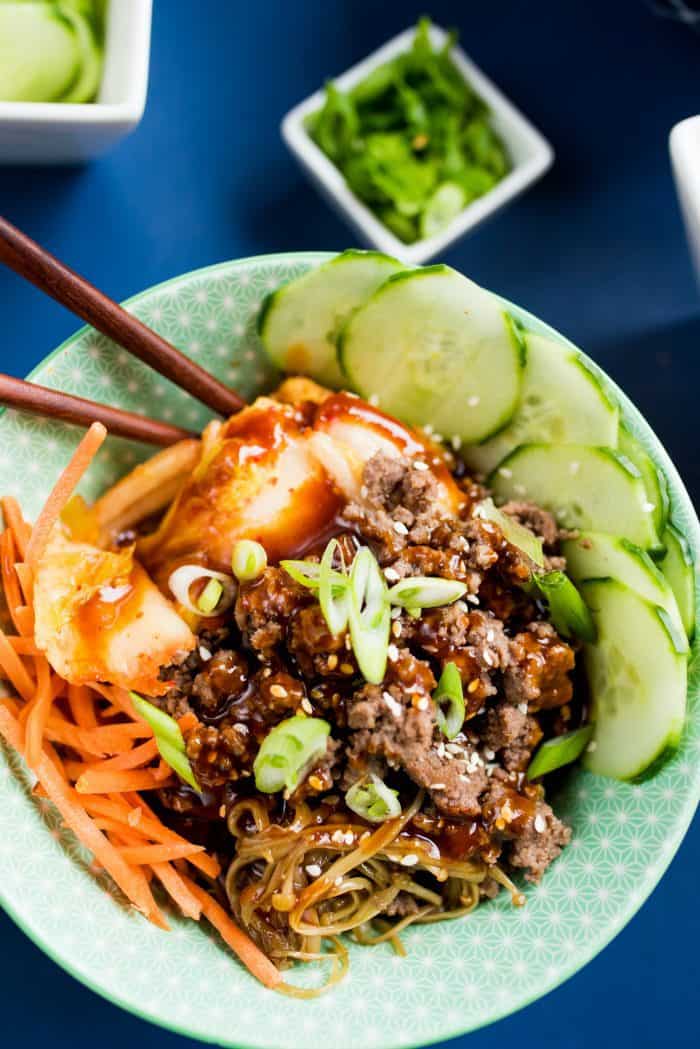 Start with an easy dinner
Start with an easy dinner, like these Healthy Korean Beef Bowls.
Saute, saute, saute!
Don't forget, you can add whatever toppings you like. And most grocery stores have veggies already sliced and ready to go (if you are in a hurry, or you don't mind paying the price). ENJOY!
6 porcelain bowls with colorful designs inside and outside
Do you love these large cereal, soup, rice, or pasta bowls? You can buy the Chelsea Collection, HERE. I am in love with these bowls, and I display them on our open shelves. Plus, we use them daily!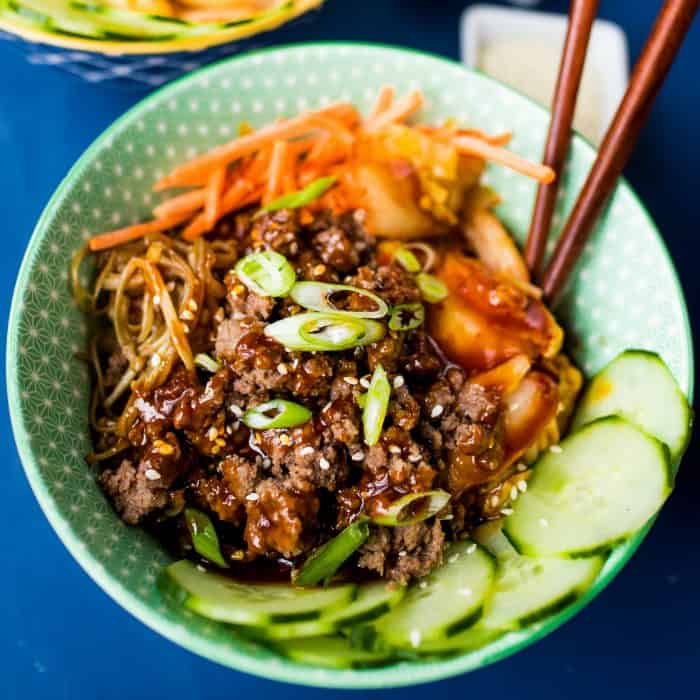 Get the Recipe: Healthy Korean Beef Bowls:
Ingredients
Meat mixture:
1/4 c sesame oil
1.3 pounds organic ground beef
1/8 cup coconut aminos or soy sauce, if using soy sauce, add 2 Tbsp coconut sugar
1 1/2 Tbsp rice wine or mirin
2 Tbsp minced garlic OR 2 tsp garlic powder
2 tsp ginger paste or 1 tsp ground ginger
Salt and pepper to taste
Apricot Sweet Chili Sauce:
Suggested Toppings:
Shredded carrot
3-4 cup cooked brown or white rice
1 cup enoki mushrooms, or other mushrooms
1/8 cup coconut aminos or soy sauce
1 Tbsp sesame oil
Sliced cucumber tossed in 3 Tbsp rice vinegar
Kimchi
Sesame seeds
Scallions to garnish
Instructions
In a large skillet, heat the sesame oil. When oil is hot, add in ginger paste, and stir for 1 minute before adding in the ground beef. On medium high heat, cook beef until browned, then add in the coconut aminos, garlic powder, rice wine/mirin, and salt and pepper to taste. Stir until meat is fully cooked and set aside.

If you are adding mushrooms to your bowl (highly recommended), heat sesame oil on medium high heat. When oil is hot, add in mushrooms and stir gently for 4 minutes with salt and pepper to taste. Next add in coconut aminos, reduce heat to medium, and stir for 2-3 more minutes. Remove from heat and add to bowl of rice while mushrooms are still warm—along with cucumber, beef, carrots, sweet chili sauce, and kimchi.

Top with sesame seeds and green onion. Enjoy!

This recipe can also be made as a salad, with fresh or sautéed greens.
Notes
Originally posted FEB 2019. Reposted with a NEW VIDEO!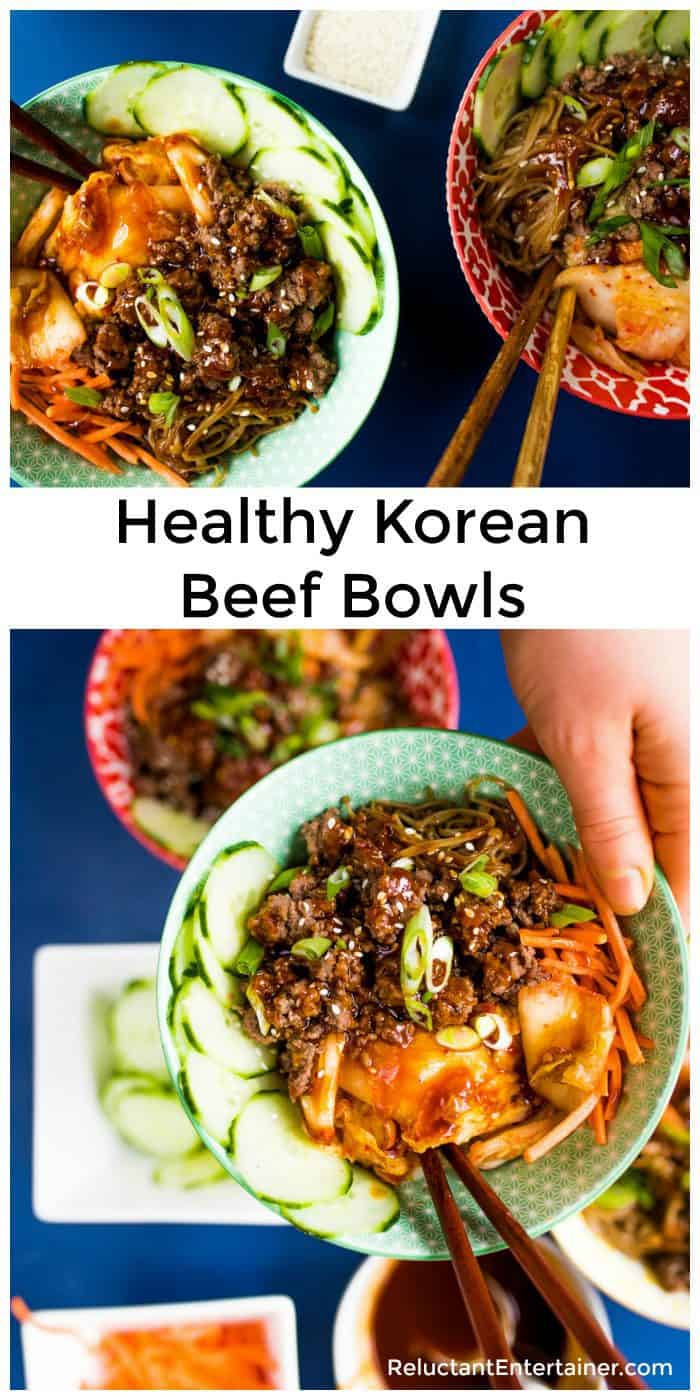 This post has affiliate links. Every purchase from these links supports RE at no extra cost to you. Thank you!
Hello and welcome to my home and table!
I'm Sandy—lover of food, family, cooking, THE BIG BOARD, travel, and bringing people together. Through great recipes and connection around the table, we become better, stronger, and more courageous people. Feasting on Life is real, and every time we do it, we grow a little more. Read more...