Holiday Kid-Friendly Charcuterie Board
Make a simple Holiday Kid-Friendly Charcuterie Board, mixing together crudités with charcuterie (veggies with meats and cheese).
Thanksgiving Day should be a time of enjoyment with friends and family. We're starting off the day with this Holiday Kid-Friendly Charcuterie Board, made on a Lazy Susan. You can also take this board and make a Turkey Snack Board (by The BakerMama).
Holiday Charcuterie Board
Holiday charcuterie boards are a given. If you want to get creative, you can make my Fall Epic Charcuterie Board or Leftover Thanksgiving Epic Charcuterie Board or this Cornucopia Cheese Board!
Kids at Thanksgiving
When you think about mealtime conversation and relationships in general, the holidays can be hard or they can be easy. But have you ever noticed how kids lighten up the mood? Kids love to place olives on their fingers, and dip carrot sticks into ranch dressing.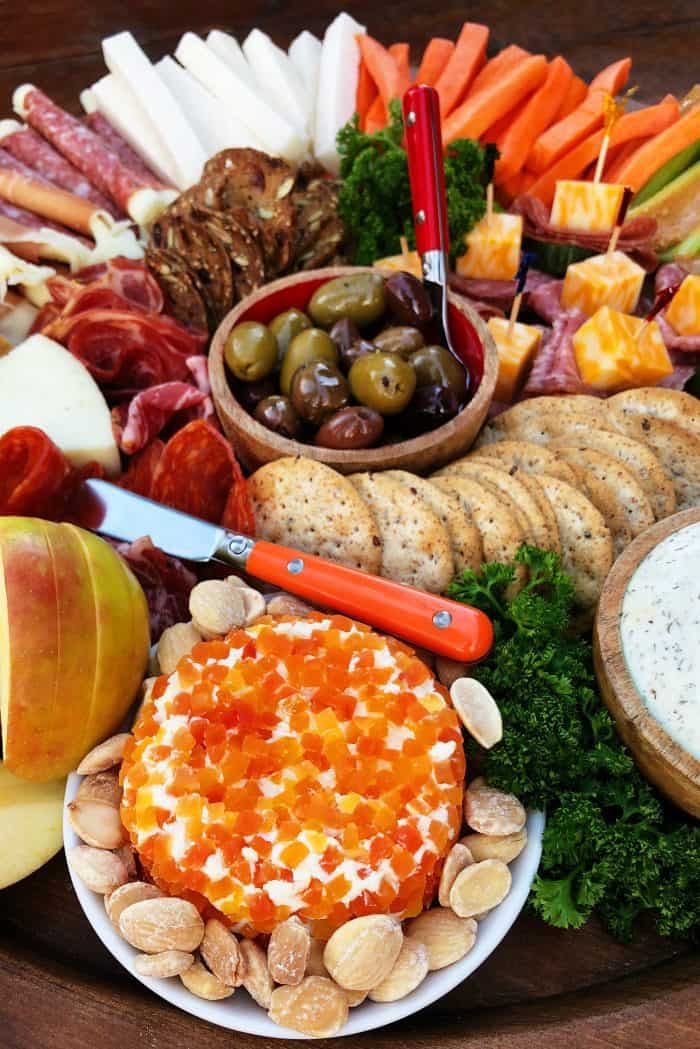 Kid-Friendly Charcuterie Board
Looking at our Kid-Friendly Charcuterie Board, I spy celery sticks stuffed with peanut butter, a great childhood memory and flavor for me!
And here are 7 Tips for a Delicious Crudités Platter (which is how my mom's generation made a vegetable tray).
How to make a Holiday Kid-Friendly Charcuterie Board
Kids love olives, meats, cheese, crackers, and of course carrot sticks and ranch dressing.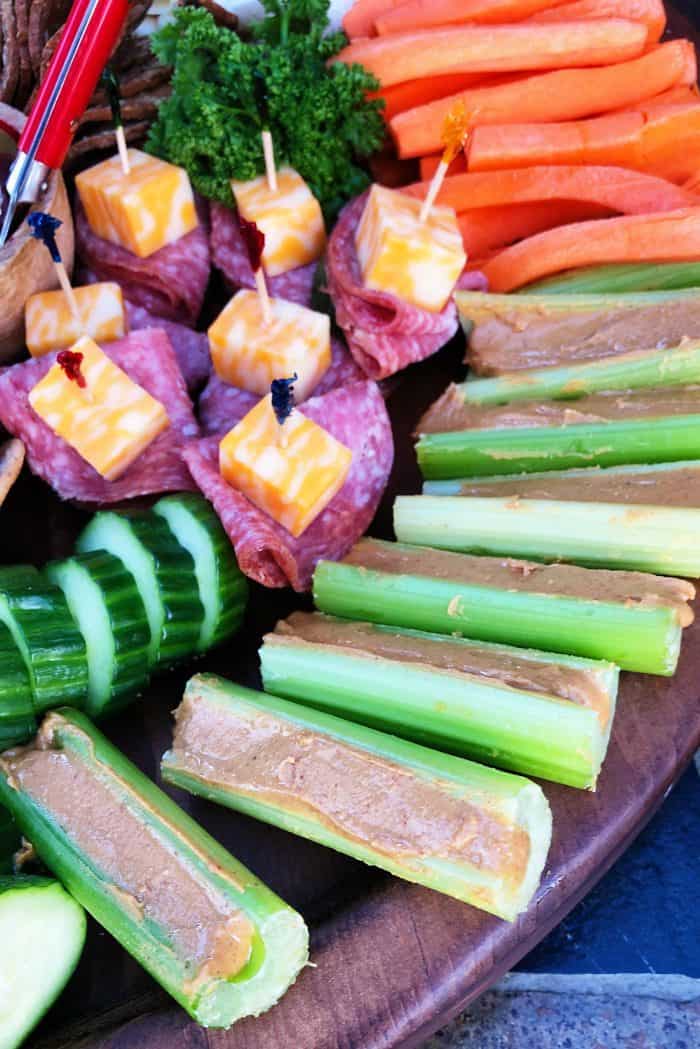 Oh, and celery sticks with peanut butter.
I didn't make it too grand, because we must save room for the Thanksgiving feast!
How do you keep conversation going and make sure that everyone is included?
Thanksgiving Day conversation starters
For Thanksgiving Day, here are a few questions to get the conversation going …
What are you thankful for?
Share an experience you had this past year where you felt truly grateful for something unusual?
Share a childhood Thanksgiving memory that you can't get out of your head?
Think of a person you'd like to invite to dinner next year, and why?
I'm so grateful for our guests coming to dinner this year.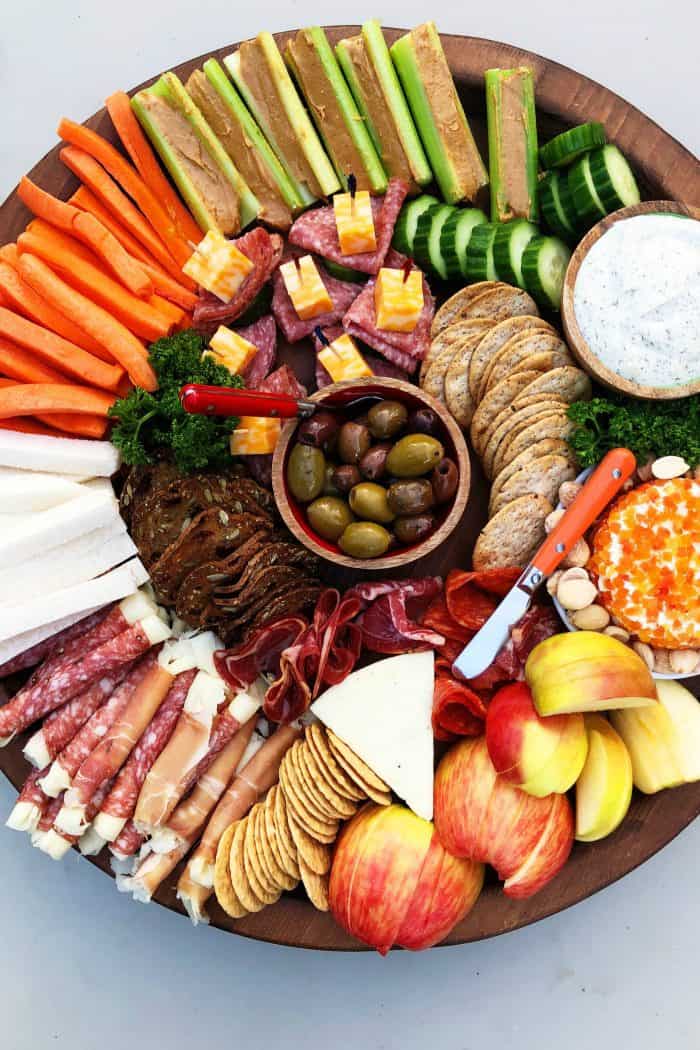 Hosting is a simple and meaningful expression of gratitude. Taking the opportunity to invite others into our homes is a very intimate gesture. We're saying, come into our space; make yourself at home!
Just the opportunity to be together is enough. Adding in delicious food is even better.
Happy Thanksgiving week, Friends!
Friends, The Big Board is here! Yes, I've partnered with JK Adams, the premier woodmaking company in Vermont, with my own line of RE boards!
20-inch
26-inch
12 x 36 inch rectangular
A board with a lip (or raised edged) so the food doesn't fall off
FOOD SAFE
Made in the USA
Undercut handles (a unique design)
Thank you for your support, as we've sold out so many times already!
Order The Big Board today!
Get the Recipe: Thanksgiving Kid-Friendly Charcuterie Board
Ingredients
Mozzarella sticks wrapped in salami and prosciutto
Carrot sticks
Celery sticks, stuffed with peanut butter
Cucumber slices, thick
Olives, black or green
Ranch dressing
2 kinds of crackers
Cheese chunks, with cucumber slice, salami, and toothpick; optional to use a cherry tomato instead of cucumber
Hard cheese
Honey Crisp apples, sliced
Salami slices
Specialty cheese, we used Brillat Savarin with Papaya
Parsley, garnish
Instructions
On a large serving platter, tray, or board, place the ranch dressing and olives in a small bowl.

Arrange the rest of the ingredients on the board. Serve and enjoy!
Hello and welcome to my home and table!
I'm Sandy—lover of food, family, cooking, THE BIG BOARD, travel, and bringing people together. Through great recipes and connection around the table, we become better, stronger, and more courageous people. Feasting on Life is real, and every time we do it, we grow a little more. Read more...