Homemade BBQ Chicken Pizza
This is a recipe for classic Homemade BBQ Chicken Pizza, with barbecued chicken, cheese, pancetta, jalapeños, and a BBQ Béchamel sauce.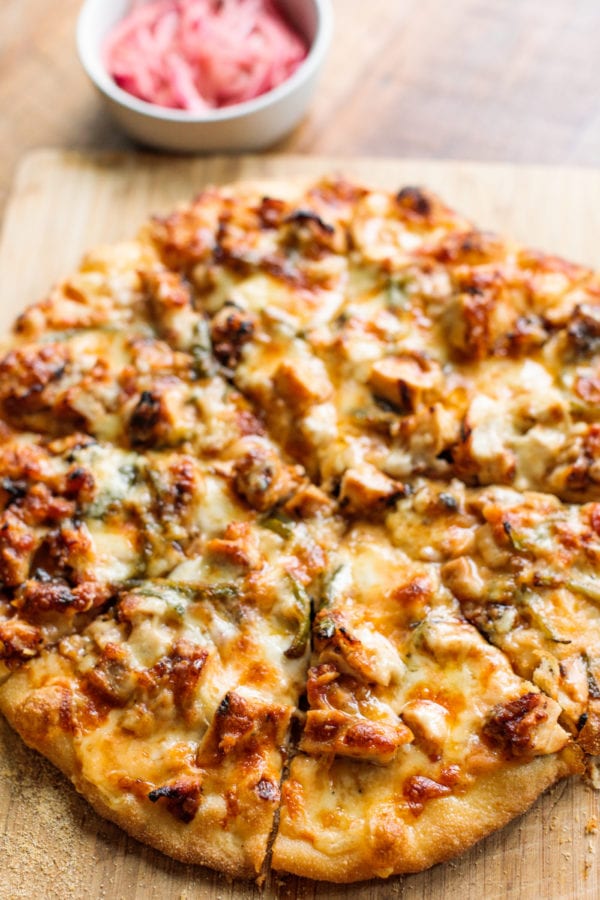 Friends, skip the frozen pizza or restaurant pizza for this easy Homemade BBQ Chicken Pizza made with chopped bbq chicken, cheese, pickled onions and more. You may just want to double this recipe, too! :)
Homemade BBQ Chicken Pizza
Do you have the table set for summer entertaining? We've got a menu of delicious recipes coming up, like this Homemade BBQ Chicken Pizza, recipes that promise to come together quickly.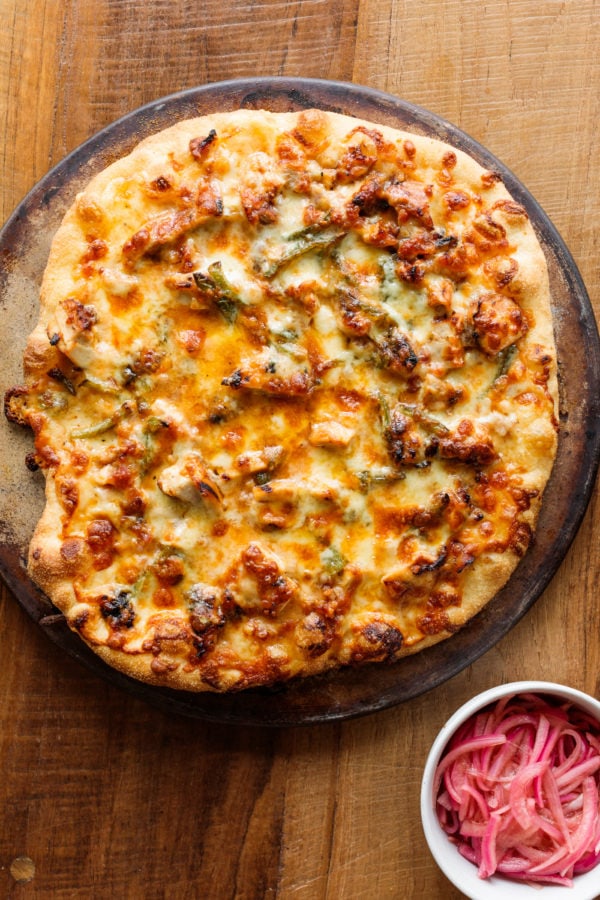 Ingredients for Barbecue Chicken Pizza:
This pizza is deliciously creamy and tangy! Use your favorite barbecue sauce, and don't leave off the jalapeño! It adds great, fresh flavor to this rich pizza.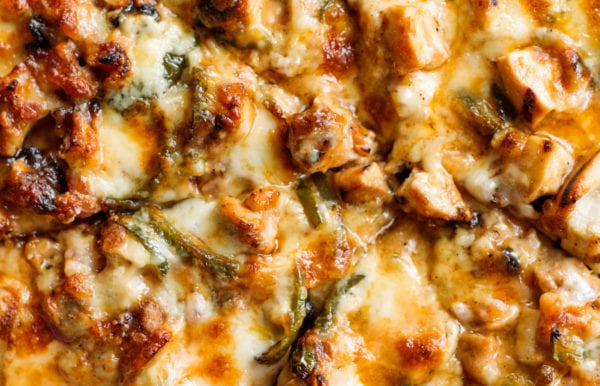 Mozzarella + white sharp cheddar cheese
BBQ sauce (your favorite)
Panchetta
Jalapeños
Pizza dough (we buy at Trader Joe's)
Semolina flour
Salt + olive oil
BBQ Béchamel Sauce (recipe below) butter, flour, whole milk, salt, BBQ sauce
How to make the BBQ chicken
Do you put BBQ sauce on chicken before or after baking? Yes, you do!
Pour the BBQ sauce over the chicken and let it marinate while the oven heats.
Now put the chicken on a baking sheet skin side down.
After 25 minutes, turn the chicken over and baste with more BBQ sauce.
Then another 25 minutes later you'll baste it once more, before a quick broil.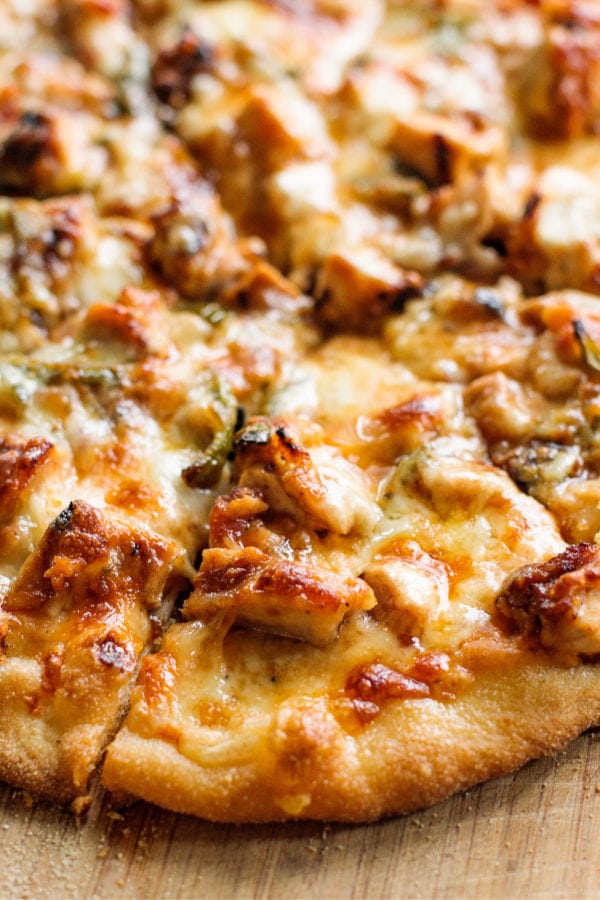 What's your favorite type of pizza?
BBQ chicken has always been for me, though I do love traditional all-meat, and sometimes I'm in the mood to liven things up with a taco pizza. I love a good taco pizza, but it's been years since we've made one.
It's fun getting the family involved in the pizza making process, and I don't know why, but weekends are a great time for pizza. If we're really ambitious, we will make our own homemade BBQ sauce. You can try it here: Berry Barbecue Sauce Recipe.
Our friends dropped off flowers from their home in Portland, so we've been enjoying the large vase of roses on our outdoor table.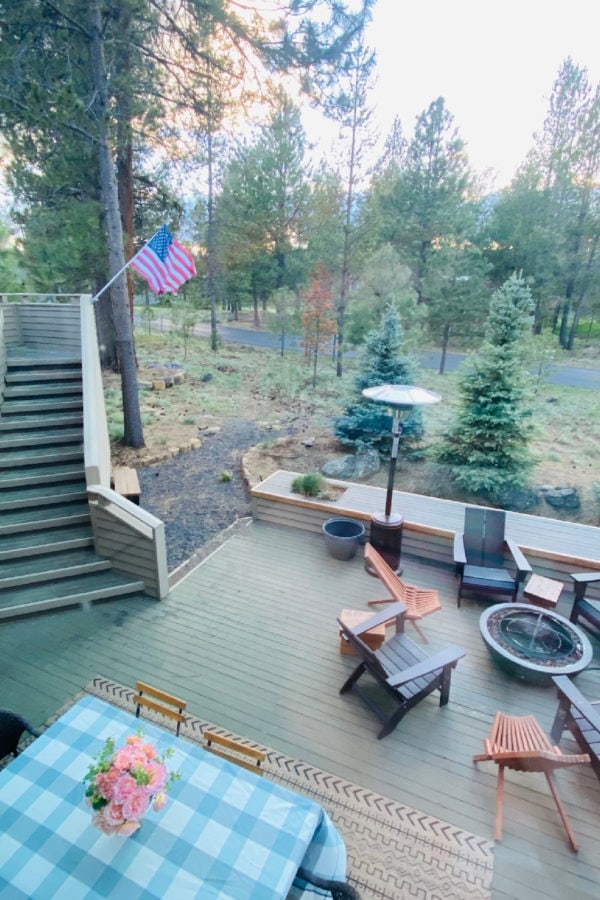 So beautiful.
Whether you're eating outside, or enjoying this pizza while watching a movie (you do that, too?)
ENJOY!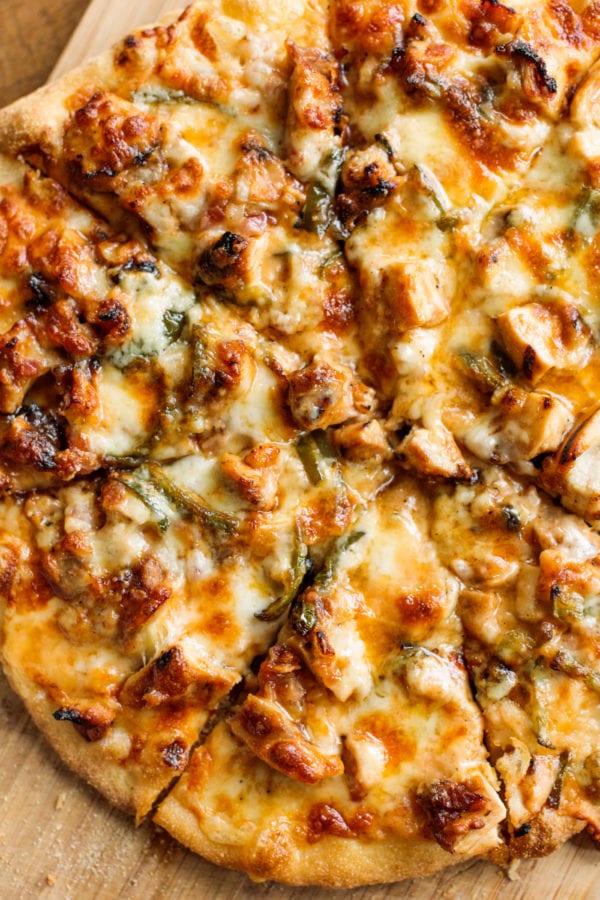 More barbecue chicken recipes:
One Pan Barbecue Sauce Chicken Thighs
Barbecue Chicken Layered Pasta Salad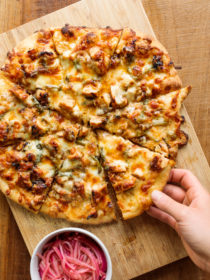 Get the Recipe: Homemade BBQ Chicken Pizza
This pizza is deliciously creamy and tangy! Use your favorite barbecue sauce, and don't skip on the jalapeño! It adds great, fresh flavor to this rich pizza.
Ingredients
1 c mozzarella, shredded
1 c white sharp cheddar, shredded
3-4 BBQ marinated chicken thighs, cooked and roughly chopped
¼ c BBQ sauce
6 oz panchetta
2 jalapeños, julienned
16 oz pizza dough, room temperature
Pickled red onion to serve
Semolina flour
Salt to taste
1 tbsp olive oil
BBQ Béchamel Sauce
1 Tbsp butter
1 Tbsp flour
1 c whole milk
Kosher salt
⅓ c barbecue sauce
Instructions
Preheat oven to 525 degrees F and place a pizza stone on the center rack to heat—you want this very hot, in order to get a good, crunchy bottom crust. Preheat the oven at least 30 minutes before you're ready to bake your pizza.

Add pancetta to a cold, small skillet. Heat over medium-low and allow the fat to render slowly, cook for 4-5 minutes or until slightly browned and crisp, then remove from pan using a slotted spoon. Add the jalapeño to the pan and cook over medium heat until softened—3-4 minutes. Using a slotted spoon, add to the drained pancetta and set aside.

In a small saucepan, make the BBQ Béchamel. Melt 1 Tbsp butter over medium-low heat, then add the flour. Cook for about 1 minute, then stream in the milk, stirring frequently until smooth. Add salt to taste, about 1/2 tsp, and continue stirring until the béchamel thickens—3-4 minutes. Remove from the heat and mix in the barbecue sauce. Cover with wax paper and set aside.

Roll out your pizza dough into a 10-12'' diameter circle. Sprinkle semolina flour onto a pizza peel? or onto the back of a large baking sheet—use a generous amount to ensure the pizza slides off easily.

Place dough onto the cookie sheet or peel? and begin assembling. Brush the outer 1-2'' of dough with olive oil, then spread the béchamel, leaving 1-2'' of crust exposed. Add the chopped chicken, pancetta, and jalapeño. Sprinkle with the mozzarella and sharp cheddar cheese.

Slide the pizza onto the hot baking stone and reduce the heat to 500 degrees. Bake for 10-12 minutes, until the cheese has lightly browned and the crust is bubbled and golden.

Remove from the oven and rest for a few minutes before slicing and serving hot.
Hello and welcome to my home and table!
I'm Sandy—lover of food, family, cooking, THE BIG BOARD, travel, and bringing people together. Through great recipes and connection around the table, we become better, stronger, and more courageous people. Feasting on Life is real, and every time we do it, we grow a little more. Read more...