Hosting a Dinner Party with MacKenzie-Child's Courtly Check Pieces
Oh, the joys of an outdoor dinner party! And what makes it even more unique and classy, whimsical and fun, is using MacKenzie-Child's beautiful accent pieces.
If you've seen my Instagram and Pinterest photos the last few months, you've probably guessed that I've partnered with MacKenzie-Childs. And if you saw Ree's Food Network show on television this past week, you may have noticed her green floral cake carrier! The piece was so popular that she's giving away 3 of them, here! Hurry! The giveaway ends soon. I'm thinking that The Pioneer Woman and I should team up together now with our collector's pieces and host a gigantic dinner party for all of YOU!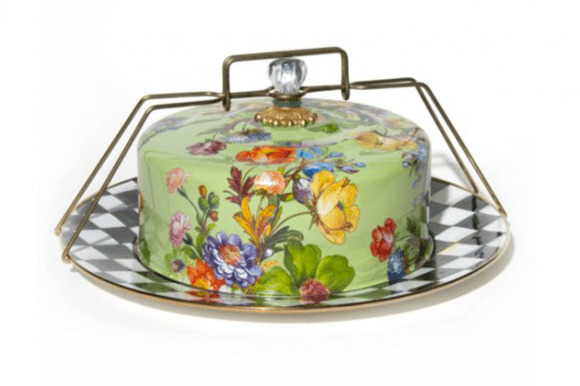 Mackenzie-Childs is a classic in the world of entertaining. People flock to to their stores to see their studios because they are breathtaking, regardless of your taste in accessories, entertaining pieces, pottery, and even furniture. It's an adventure! (Hi, Haggis McStitch!)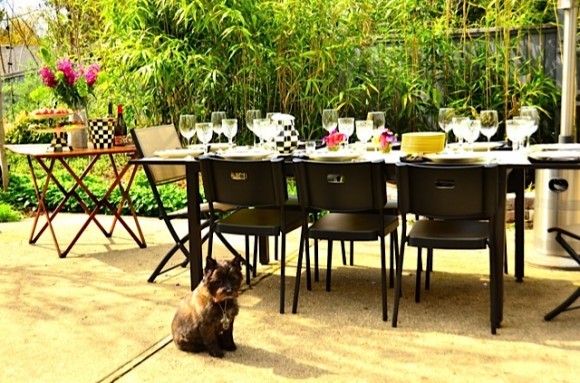 Different friends have walked in to my home and have commented on my Courtly Check pattern pieces, knowing all about their favorite MacKenzie-Childs stores when visiting New York. And by the way, their three showcase stores are in Aurora and Manhattan, and Palm Beach, Florida. It's true, most people can't buy everything on their "wish list" at first, so you get one of their timeless pieces at a time, and then they become collector's items. That works for me, because I'm so in LOVE with my Courtly Check pieces.
Another cool fact. Each piece is handcrafted by a team of artisans, made with such detail, I can almost feel the stroke of the paint brush, as no two pieces are exactly alike!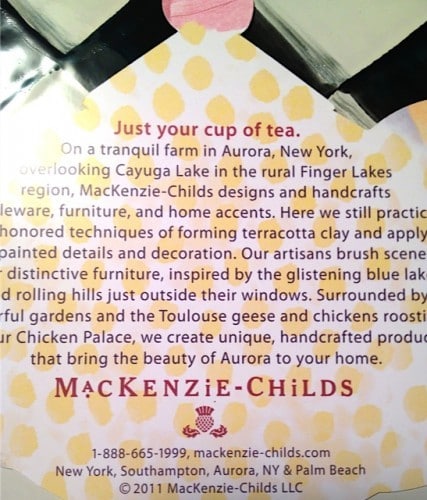 And very important for me with all the entertaining that we do: These pieces are dishwasher safe!
Perfect for a quick clean up and spending more time with your guests!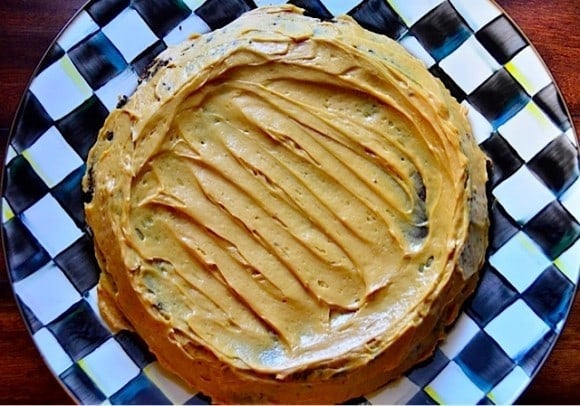 Courtly Check Collection blends black, white, gold, and a touch of aqua and bright yellow, making it the perfect collection for any time of the year. (Remember seeing Courtly Check in this post, Planning a Surprise 50th Birthday Party ?)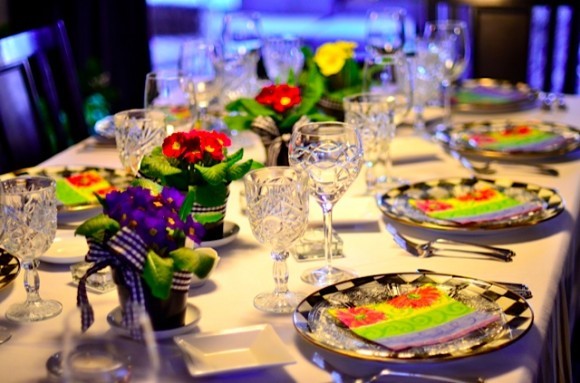 Their pieces can be used in the dining room (above) or as I'm showing you today, outdoors.
Why not host a MacKenzie-Childs dinner party in the great outdoors?
Here's how I did it …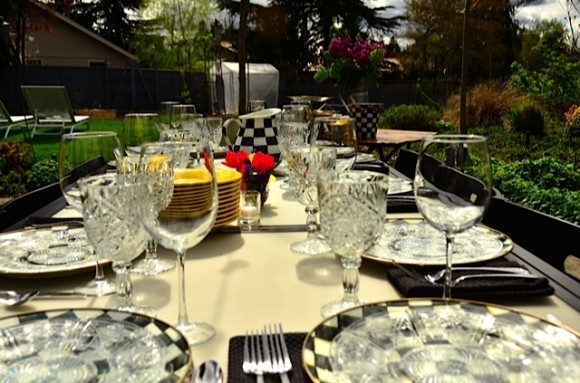 Guests were coming. I decided to host outside. So to make it quick, I used my new PARTY TRAY to transfer my stemware to the table.
I placed the CHARGERS, silverware, black cloth napkins, and yellow accent salad plates around our outdoor IKEA table.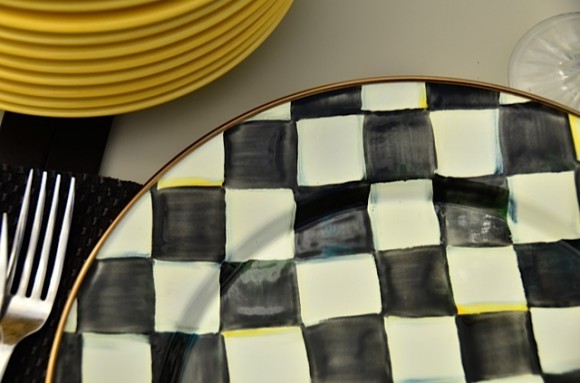 Remember how I said there's a stroke of yellow and blue in the COURTLY CHECK pattern? SWOON!
The table was set, with my yard sale glass dishes and Dollar Tree goblets, with a beautiful water pitcher off to the side. Perfect size, easy to pour with. And why not mix and match your signature pieces with bargain finds? That is my kind of style!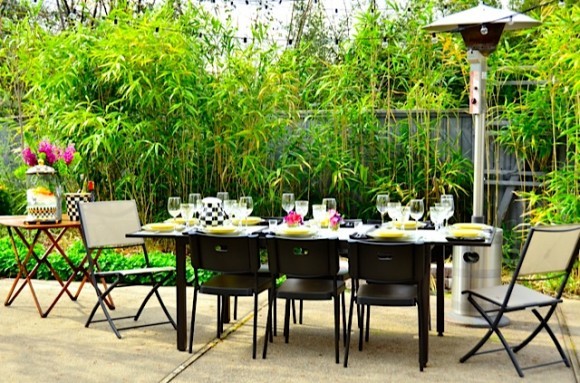 I put our campaign table off to the side for appetizers and wine.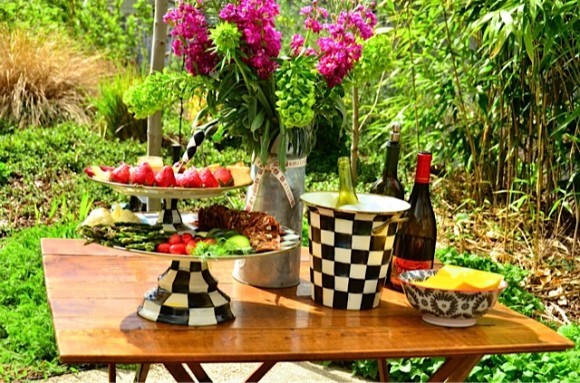 Here I stacked two sizes of enamel PEDESTAL PLATTERS for the appetizers.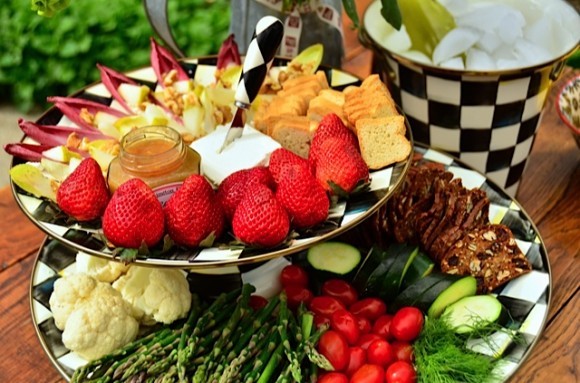 Wine in the WINE COOLER. I also use this inside as a utensil holder because of the wide mouth – it works perfectly!
When it was time to transform the appetizer table to make space for the drinks, I moved the appetizers over to this area.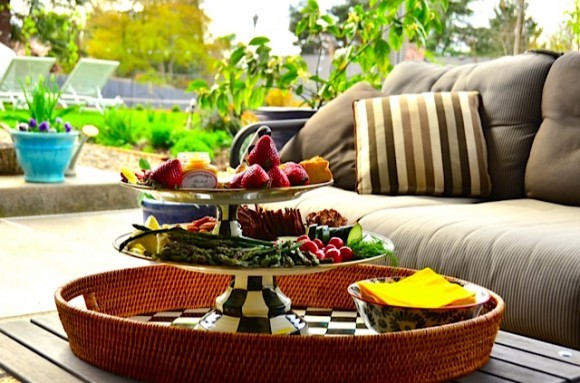 The tray may look heavy, but it's not. I love the classy rattan!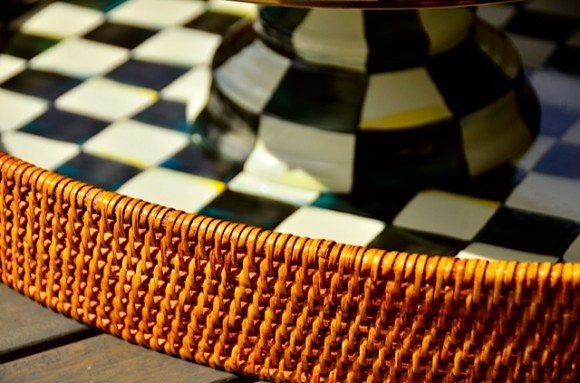 I then transformed the appetizer table into the beverage table by bringing out citrus and mint water in the BEVERAGE HOSTESS, which I would say is my signature piece!
I'll be able to use the base as a pedestal and even the jar for a large bouquet of flowers! Just look at that touch of gold!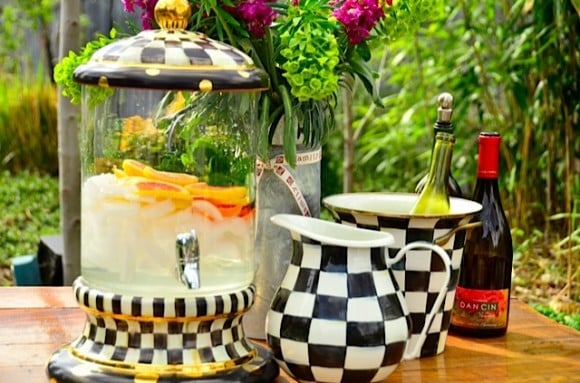 I just love the springy look – it's so fresh and FUN and inviting! Don't you think?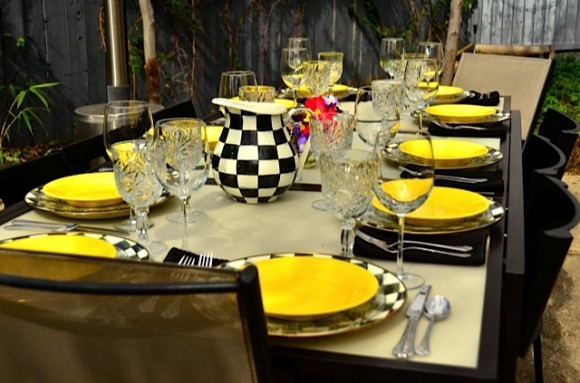 But wait, there's a few more pieces inside … see if you notice them here?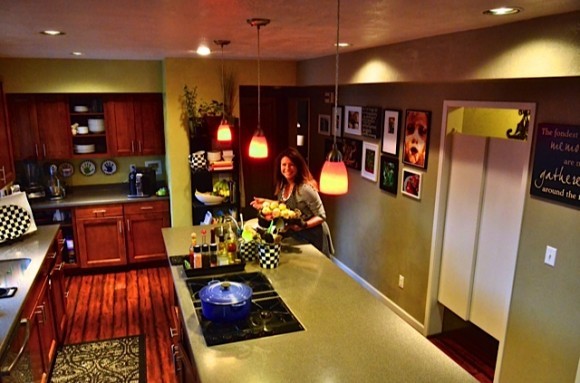 My favorite is the oval platter (to the left), which I use almost daily!
A new clock is on it's way, too, to tie in the black/white theme that goes so well with my colors and my black/white picture wall! (**Update: The clock just arrived and is hanging in our kitchen. Love it!)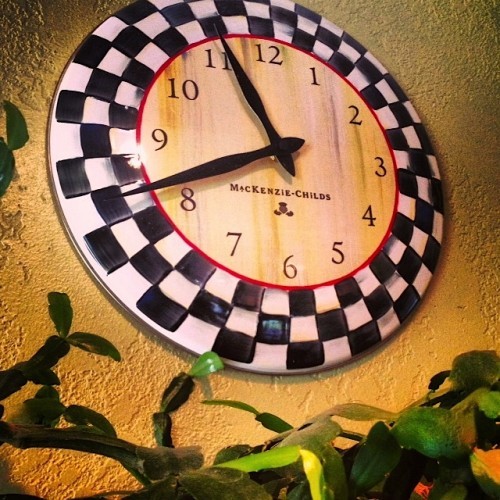 So here's the GOOD NEWS today: Come back tomorrow to enter to WIN a MacKenzie-Childs gift certificate!
Two people will each win a $250 gift card! Yes, that's right! What an awesome opportunity to choose your own signature pieces!
For sure they make entertaining WAY MORE FUN!
Do you have a MacKenzie-Childs story, any of their pieces, or have you heard of their stores or online shopping?
This post is sponsored by MacKenzie-Childs. They provided the items reviewed in this post and will sponsor the giveaway on RE tomorrow; however, as always, all opinions are my own.
Hello and welcome to my home and table!
I'm Sandy—lover of food, family, cooking, THE BIG BOARD, travel, and bringing people together. Through great recipes and connection around the table, we become better, stronger, and more courageous people. Feasting on Life is real, and every time we do it, we grow a little more. Read more...