How to Make an Easter Tabletop with Tulips and Grape Hyacinth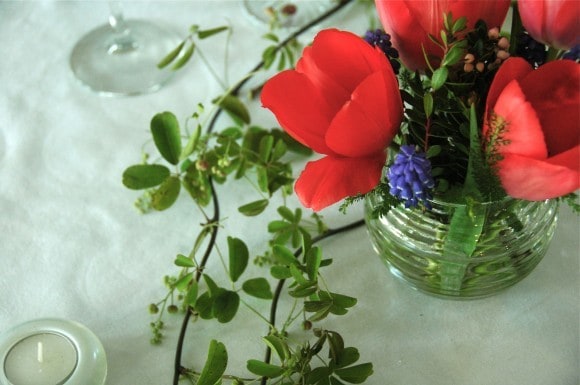 As we learn to walk in love with our lives–actions, words, thoughts, deeds–it's beautiful to see how the investment in relationships brings rich rewards.
Easter and Spring are the best place to start, if you are a reluctant entertainer.
If you can keep the "back to the basics" sort of mentality, I've found that it makes entertaining much more enjoyable.
I wrote about it over at Simple Mom's, if you're planning an Easter gathering this year, but today I'm specifically sharing about a simple tulip tabletop that you can make yourself, that will make your table gorgeous!
One thing I've learned: The simpler the table, the happier I am.
What is it about simplicity that brings so much joy?
Simplicity like walking into your own yard for tulips, grape hyacinth, and greenery. Or using what you have …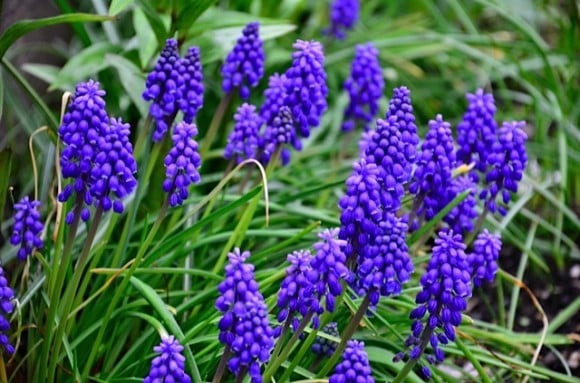 Creating a Tabletop with Tulips, Grape Hyacinth and Fresh Greenery
-Look at the table and count out how many low-level mini centerpieces you'll need.
-Gather your vases. If you need to borrow vases, don't be afraid to ask family, friends, or even your neighbors.
-Cut fresh greenery and any blooming flowers from your yard and make mini arrangements. If you don't have flowers or greenery, ask a neighbor or a friend if you could snip a flower or two from their property.
-Create mini arrangements and place down the center of your table.
-Cascade the greenery around the vases down the center of your table.
Low-line mini arrangements really creates a nice tabletop for large groups.
You want to be able to look across the table and see who you are talking to!
I'm just being real here. I see so many Easter tabletops all over cyber-land that are, in my mind, over the top. Too much. Distracting. Trying to be impressive, when realistically what matters most are our attitudes and the time shared over the meal.
It's not about impressing. It's about investing! And the conversation that takes place around the table …
Have you thought ahead to your tabletop for Easter? What flowers or greenery are in your plans?
Need some more Easter tabletop inspiration? Visit my Pinterest Board where some of my lovely friends and myself are pinning away … HERE.
Hello and welcome to my home and table!
I'm Sandy—lover of food, family, cooking, THE BIG BOARD, travel, and bringing people together. Through great recipes and connection around the table, we become better, stronger, and more courageous people. Feasting on Life is real, and every time we do it, we grow a little more. Read more...