Jaquar Creek, Belize – a Rainforest Eco-Resort Experience
Looking for a Rain Forest Eco-Resort Experience? Then look no further than Jaguar Creek, Belize, a peaceful place to land–to enjoy beauty and serenity.
Belize has become one of the top travel destinations in the world, with spectacular attractions, such as their white sandy beaches, the Great Barrier Reef, consistently sunny weather, numerous cayes and islands, rain forests and jungles, and abundant wildlife.
But in the heart of the Maya Mountain Rainforest, with a river running through it, one hour from the Caribbean Sea, 30-minutes from the English-speaking capital of Belmopan, Belize, sits Jaguar Creek, a rainforest eco-resort.
Jaquar Creek, Belize – a Rainforest Eco-Resort Experience
Jaguar Creek is full of so much personality and charm, where falling asleep in the rustic cabanas at night to rain forest sights and sounds, becomes both therapeutic and unforgettable.
Let's just say the howler monkeys at night were an added bonus to our stay!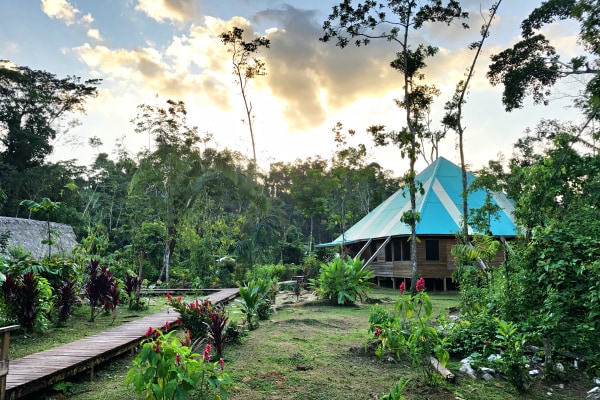 My husband and I just returned from a retreat at this resort with 20 people who soon became friends for five glorious days, where we spent quality time together talking, thinking, dreaming, planning, reflecting, and sharing, and building new freindships. *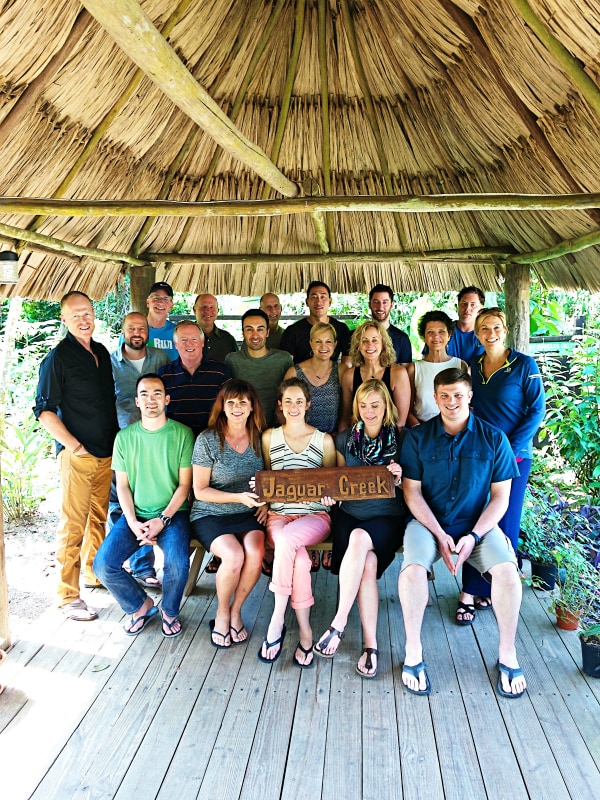 We immediately fell in love with the beautiful grounds of this serene lodge nestled in the jungle, alongside a spectacular creek that's so esy to wade into, or just gaze upon.
If you love birds and bugs, and beauty– bring a magnifying glass and binoculars. Belize is a birdwatching paradise, and one of Jaguar's local Belizean guides, Israel Manzanero, lead a group along Jaguar Creek trail in search of keel-billed toucans, green parrots, and scarlet macaws. The Malay apple trees (mountain apples), common in mid-elevation rain forest areas, were abundant outside our cabana.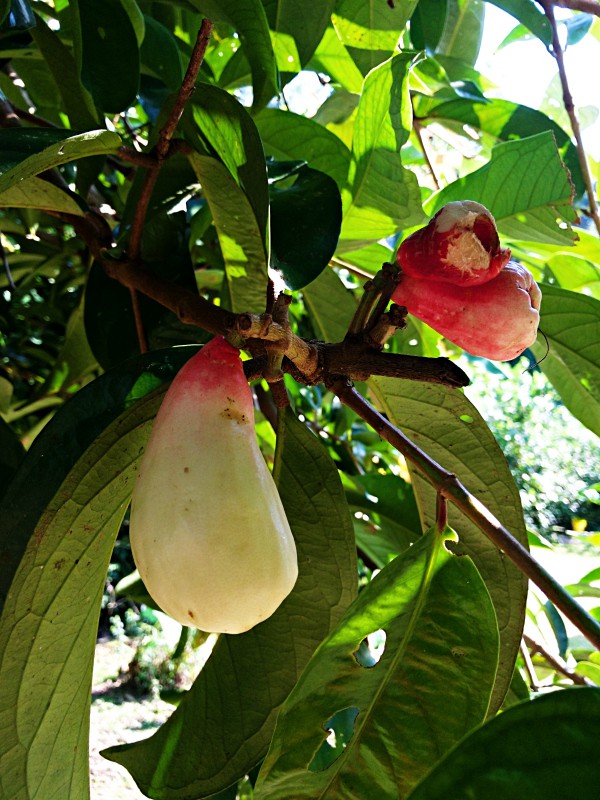 And at night, two things happen in the rain forest—it comes alive in a way like no where else. And it gets dark, not so much scary dark, but adventure dark!
Every night we heard the howler monkeys call to each other, a sound that you'll never forget. In fact, you can listen to them, here.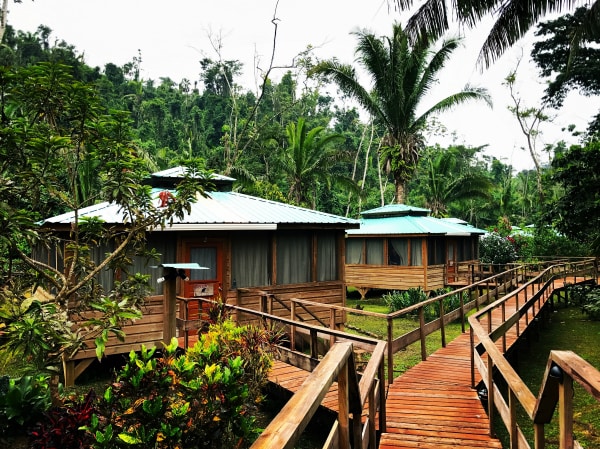 Cabanas
There are 8 cabanas, each designed to give you a comfortable jungle experience well above the canopy ground. They are rustic yet still charming and hospitable. Hot water comes on right away and the screened windows keep everything out, and at the same time let you experience the magic.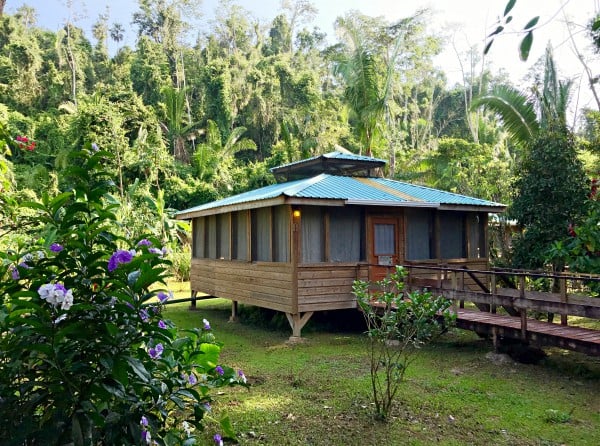 They also have family and group cabanas (bunkbeds that sleep up to 8 guests).
My hubby and I stayed in Cabin #1 – Jaguar.
Each cabana, with beautiful "jungle views" of an incredible assortment of vines, trees, birds and even the occasional vine snake, can fit up to 4 guests, and features comfortable beds (with netting), private bathrooms (with soap, towels a shower and hot water), a hammock, and a great welcome snack with water bottles.
Let's just say, we took advantage of the hammock, nap time, and the warm, afternoon breeze coming through the mosquito-screened windows.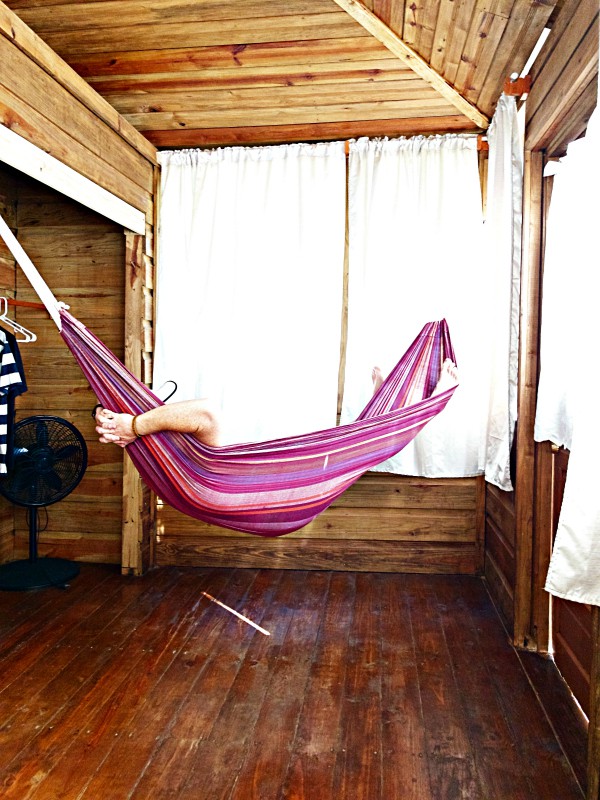 The rooms are free of radios, clocks and TVs, but mobile phone reception is available with wifi access at the office (when weather and data allotment allows)–a true respite from social media and the clammoring world.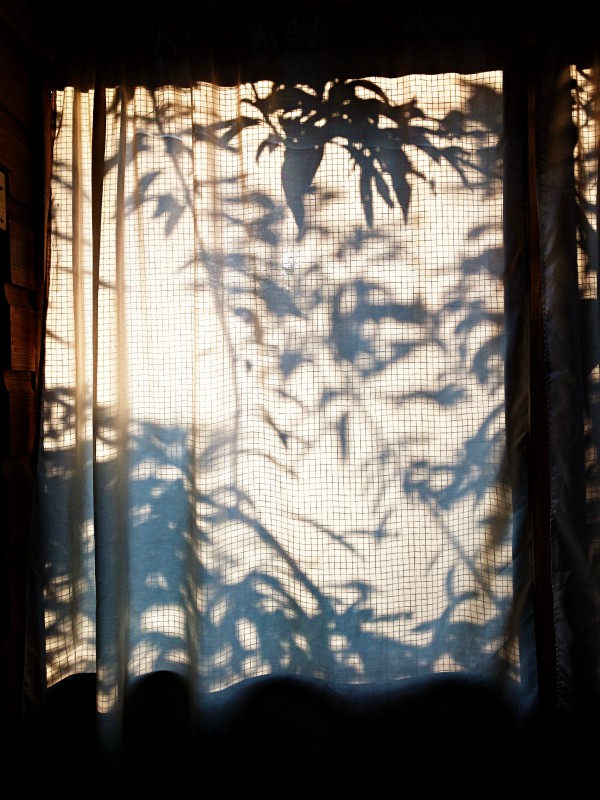 Fans are used for cooling, instead of air conditioning, which you don't need here given the warm but temperate weather.
All cabins are connected by boardwalks, welcoming in gentle, fresh breezes and the delightful music of singing birds trilling, chirping, and whirring from tree to tree, crickets and rain forest wildlife.
Truly, to wake up to these sound was heavenly. Paul and I laid in bed, just listening …
Jaguar Creek
You can swim in Jaguar Creek, or go cave tubing less than a 10 minute walk from the resort. Bring your Tevas or water sandals, because there are sharp rocks. There's lots to explore!
And oh, it's so clear and refreshing!
The amazing staff
The staff could not have been more accommodating, and went out of their way to show a beautiful Belizean hospitality.
When we arrived, we were greeted by Franklin, one of the staff members. Marcelino proved to be an extremely attentive host at every meal, who provided us with constant high-quality service. Carlos managed the day-to-day details so our needs would be met.
Clearly, if you get a chance to listen to their stories, and more about their lives, you'll come to understand how they came to work at Jaguar Creek.
The kitchen staff–WOW! The food was incredible.
They were so sweet to let me sneak in for a quick photo :) And I spy Watermelon Juice on the counter. Pure watermelon juice … the most refreshing drink, ever!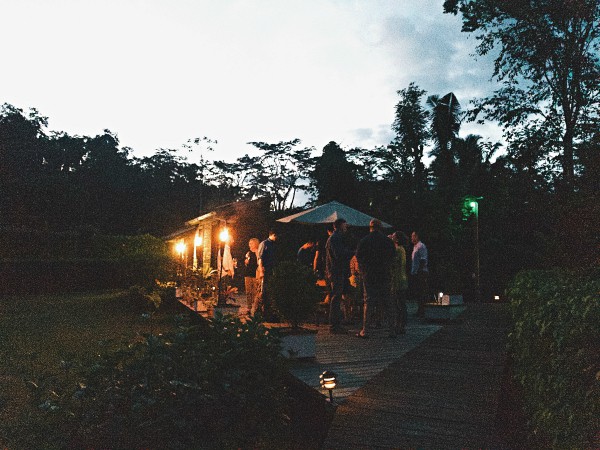 Eco-Resort & Grounds
The outside deck is a comfortable and relaxing area for mingling, as our group enjoyed drinks, chips and salsa, and hanging together before the dinner bell went off each night.
Jaguar Creek is set on 4 acres (out of 712 acres).
The raised wooden boardwalks not only make it safe to walk through the resort, but also prevents compaction of the soil, and cause less disruption to animals and insects that migrate on the ground.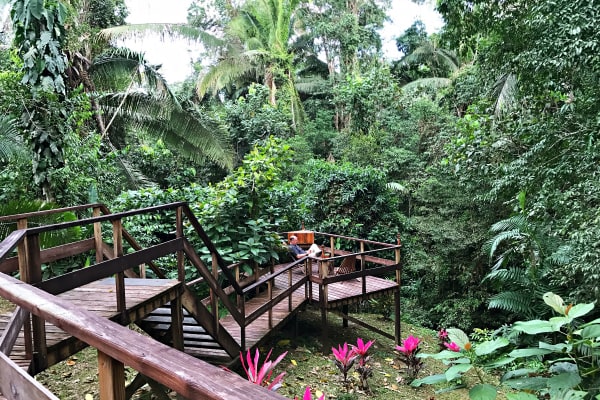 Water is drawn from their private river, Jaguar Creek, and little is wasted. For hot water, they use inline, propane water heaters. It's pretty much instant and lovely!
Not only is this resort eco-friendly, but their profits go to support a great non-profit, PathLight International, an innovative non-profit organization that is working with Belizean leadership to help change the lives of children, teachers and local communities. The staff are all testimonies to how this lodge, over time, has given back to the community in various ways, empowering the local community.
Food – The Dining Room & Lodge
Belize cuisine is a mix of Caribbean, Mexican, African, Spanish, Mayan, and Guatemalan influences, so every meal was quite the surprise (with savory and sweet fresh fruit and vegetables grown onsite!)
The dining room has a thatched roof, constructed with bay palm leaves, similar to many Belizean homes.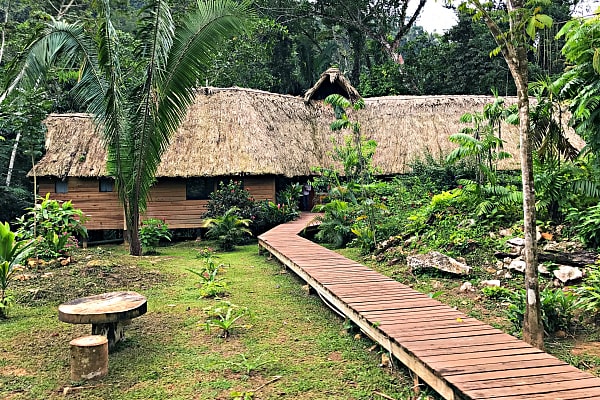 This is where we ate our meals together every night, served family style. We mixed it up every night, and sat by someone new. Most of us came as strangers, with only a connection to maybe one or two others in the group, so besides the fabulous food that nourished our bodies, these tables are where lifetime friendships were born.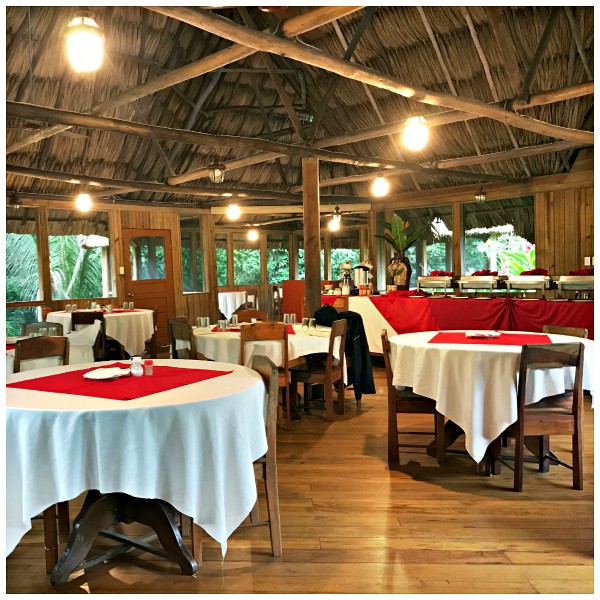 A traditional Belizean breakfast consists of Johnny Cakes, hot coffee, and tropical fruits, fry jacks, eggs, and much more. Oh, and coffee. Always coffee. Over the years, there's been a resurgence in Belizean coffee production!
As mentioned above, the kitchen team were amazing, service was exceptional, and the food could not have been better.
One day we ate our meals (lunch box style), on the way to the Mayan Ruin of Xunantunich. The staff brought lunch to us in the vans as we headed out, so very sweet.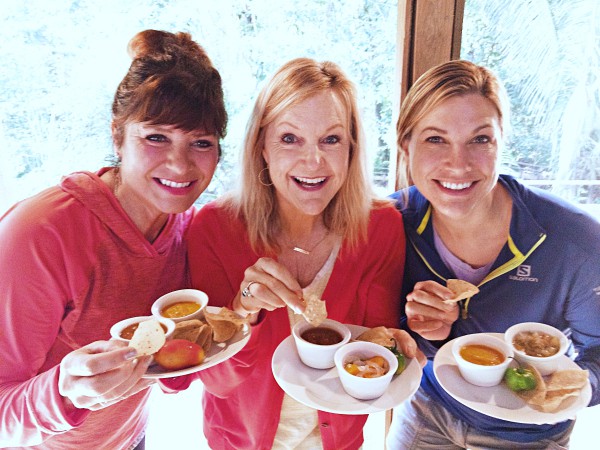 We got to sample some of the famous Belizean hot sauces, which Jaguar Creek plans to sell soon, to support PathLight.
One of my favorite meals: Rice and beans cooked in coconut milk (a mainstay of Belizean dining), along with chicken and shrimp. With tortillas, of course. YUM!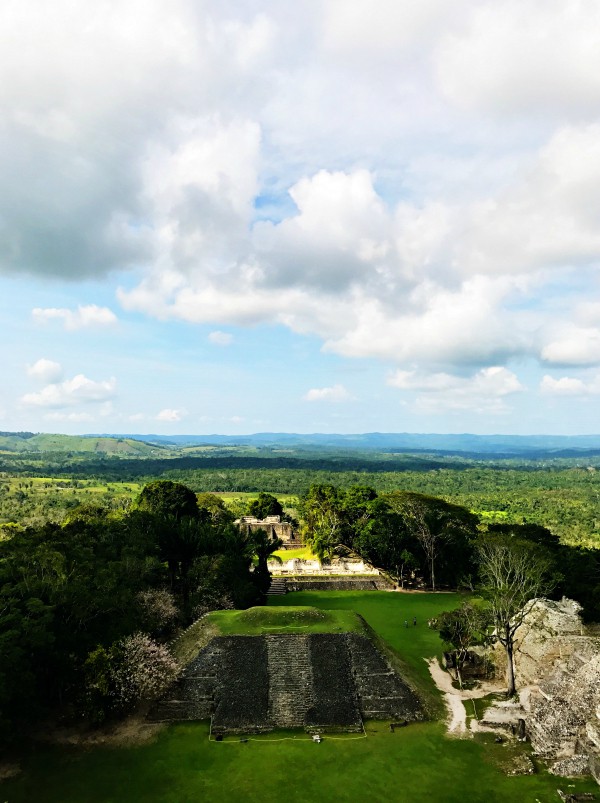 Mayan Sights
Another bucket list outing was our one-hour drive from Jaguar Creek to the most amazing Mayan sights in all of Central America, where we visited Xunantunich, a major ceremonial center and home to 25 temples and palaces.
Between 300 AD to 900 AD, over one million Mayan people lived in present day Belize, because of the country's varied flora and fauna and abundance of marine life.
We wandered around these once sacred caves, beautiful palaces and ball courts … where Xunantunich was a major ceremonial center and home to 25 temples and palaces.
Our guide took us to the very top, overlooking the border of Guatemala.
And how about this Tourist Tree (Gumbo Limbo Tree)? I overheard our guide saying that these trees grow so tall, with open limbs reaching to the skies; but its bark does something very interesting – it peels. Which is why they call it "sunburned." The bark looks like peeling skin from a sunburn, ahem … tourists. :)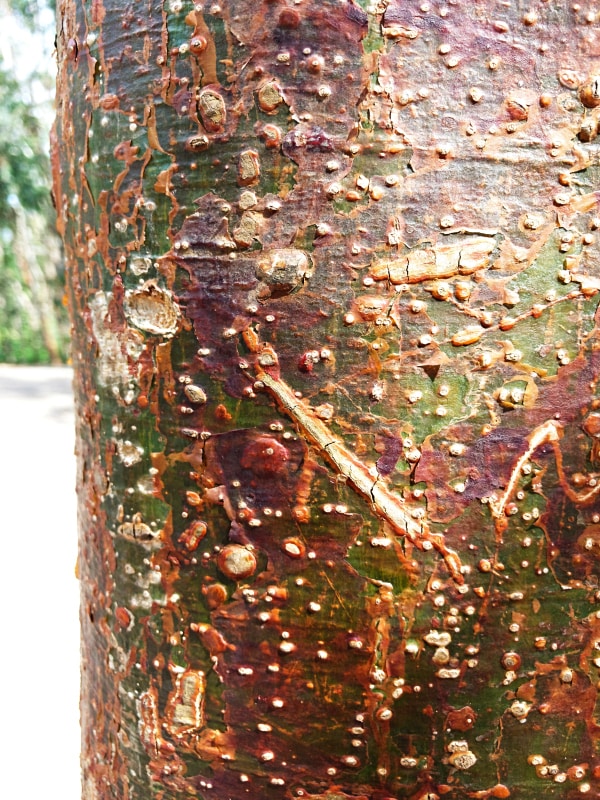 Interestingly enough, the tree is also used to treat sunburns, with anti-inflammatory properties that are excellent for skin and rash poisons.
Armenia Village
Another day we drove a short distance to an impoverished village, Armenia, where two amazing young women leaders, Meisi and Merit, gave us a very special tour. Meisi is studying business, a PathLight International student.
We ate tortillas hot off the grill in a backyard kitchen (yes, we jumped right in to help make and eat them), and we learned about the corn-making process.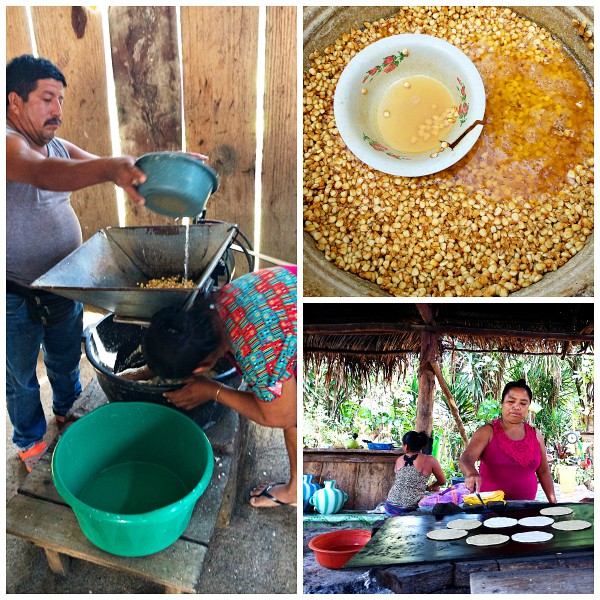 Unfortunately for the local landowner, they often settled as squatters across his 100,000-acre property. Armenia Village, named after the refugee crisis in Armenia in the late 80's, was created as a self-governing community for all those displaced people.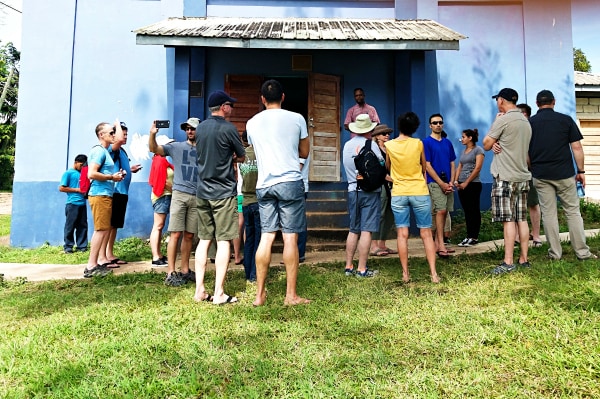 Today it is poor, under-resourced, and a growing village of around 1500 people. Jaguar Creek has had a presence in Armenia for decades, and many of the Jaguar Creek employees live there.
Another stop, we helped a Mayan woman make chocolate in the traditional way! From the cocoa beans, to a rich, creamy chocolate that rolled bananas in – absolutely satiating!
*Each day, our friend Roy Goble's excellent book Junkyard Wisdom was weaved into our conversation as a starting off point to some of the most amazing conversations we've ever experienced. Along with Ken Wytsma's teachings on theology and culture (check out Ken's book, Pursuing Justice), there was so much to take in; forever our hearts were changed.
Roy believes that we have a great responsibility in life to share what we've been given, using our friendships to expand our circles of influence for others, where we learn to grow, give, and love in deeper ways. We can also make our faith tangible in a hurting world in need of help.
Lastly, this room (below) was where we gathered several times a day to think, reflect, and share, remember and help the poor, as well as the poor in spirit, which includes acts of tangible justice.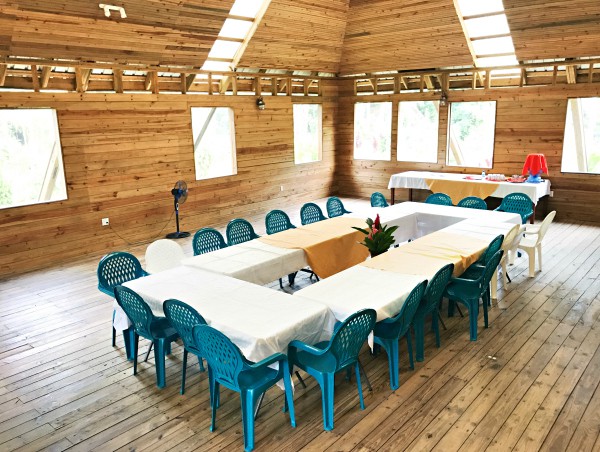 These are only a few of our rich experiences during our 5-day stay at Jaguar Creek. Saying good-bye to new friends, and the staff and Roy and D'Aun, wasn't easy …
But until next time , or until we meet again …
Later this week I'll be sharing a chocolate chip cookie recipe made with some of the Belizean Cocoa we brought back!
Thank you for being interested in my travels, and experiences, and organizations that are making a difference in our world!
My lodging was paid for by Jaguar Creek, but all other expenses were my own. As always, all opinions are my own.
Hello and welcome to my home and table!
I'm Sandy—lover of food, family, cooking, THE BIG BOARD, travel, and bringing people together. Through great recipes and connection around the table, we become better, stronger, and more courageous people. Feasting on Life is real, and every time we do it, we grow a little more. Read more...