Downton Abbey with Mashed Sweet Potatoes Cauliflower Recipe
This simple Mashed Sweet Potatoes Cauliflower recipe, is a delicious, cozy side dish, perfect to serve for dinner while watching a Downton Abbey episode.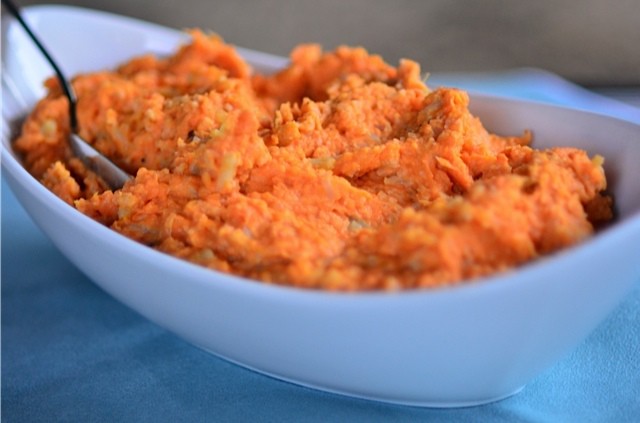 Have you ever combined cauliflower and sweet potatoes? It's a cozy winter side dish that goes perfectly with the PBS show, Downton Abbey, airing on Sunday nights. Today I'm sharing this fabulous recipe!
Let's talk Downton Abbey. I mean, it's all the rage right now, so my husband and I finally added it in to our instant queue on Netflix, and now we're officially "one of them." (And by the way, it's not "down-town" like everyone thinks … it's pronounced "down-ton") :) If you haven't heard of it, Downton Abbey is a Masterpiece production, in its 3rd season now.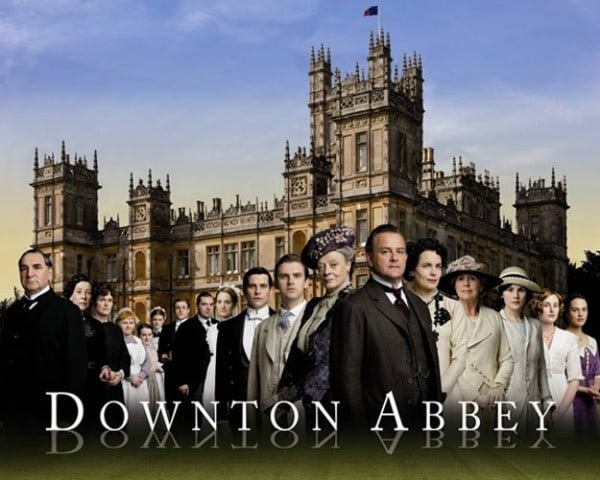 We're sucked in. We love it. Such noble characters, standing up to bullies, a captivating storyline and brilliant dialogue … we're into season 2 now and it's become one of our favorite "cozy winter activities."
When I think of cozy winter, I also think of good, hearty wintery meals.
Meals like this, served with this healthy side dish today.
So what about the combination of cauliflower and sweet potatoes? It was my friend, Steph, who lives in Portland, who introduced me to such a lovely combo this past summer.
What a great way to get your kids to eat veggies, too. (I saw her kids under 6 dive in, as if they were real "mashed potatoes.")
You might want to try some of these wintery combinations, too:
Garlic Mashed Cauliflower from Closet Cooking
Mashed Cauliflower with a Butternut Squash Swirl from Dashing Dish
Caramelized Onion and Roasted Mashed Cauliflower from Peas & Crayons
Mashed Cauliflower and Cheese Gratin from The Cooking Bride
Creamy Cauliflower Purée from Skinny Taste
Have you ever mashed cauliflower and combined with other ingredients?
Are you a DTA follower, too? I'd love to hear if you're "one of them." :)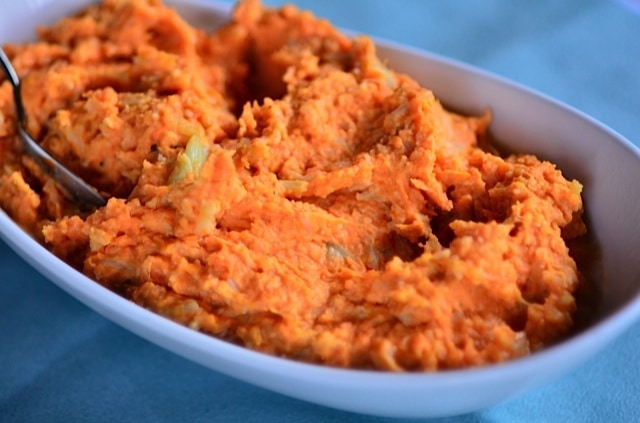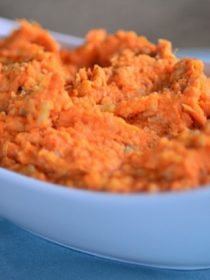 Get the Recipe: Mashed Sweet Potatoes Cauliflower Recipe
Ingredients
1 medium/large head of cauliflower
2 medium-sized sweet potatoes
2 cloves garlic, pressed
2 Tbs. butter, melted
1/2 cup heavy cream or stock
Salt and pepper to taste
Instructions
Bake the sweet potatoes at 375 degrees, until tender (or microwave); set aside.

While the potatoes are cooking, wash and cut the cauliflower into florets. Press the two cloves of garlic. Add the florets and garlic to a pot (small amount of water) and steam until the florets are tender.

Peel the sweet potatoes and add to a food processor or blender. (Or for a chunkier texture, use a hand mixer.)

Once the cauliflower is tender, add it to the food processor.

Add the butter to the veggies in the food processor. Process until everything is blended and begins to come together.

Slowly add the cream or stock a little at a time, until the mixture takes on a mashed potato consistency. If you want it smoother, add more liquid.

Season with salt and pepper to taste. Reheat if necessary. Serve!
Hello and welcome to my home and table!
I'm Sandy—lover of food, family, cooking, THE BIG BOARD, travel, and bringing people together. Through great recipes and connection around the table, we become better, stronger, and more courageous people. Feasting on Life is real, and every time we do it, we grow a little more. Read more...