Andie Mitchell's PJ's Meatballs & Sauce
Enjoy this PJ's Meatballs & Sauce recipe for dinner, from Andie Mitchell's new cookbook, Eating in the Middle!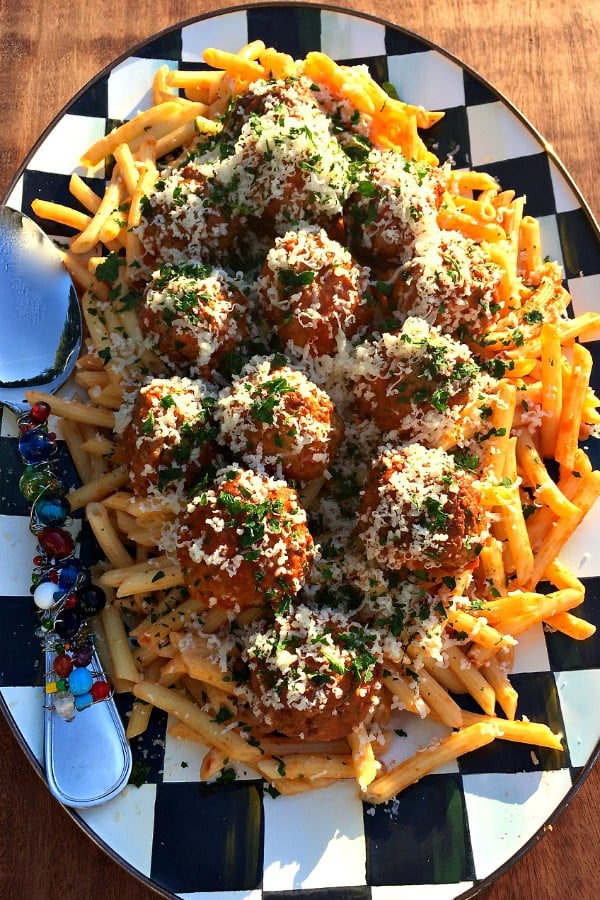 Friends, I'm headed to Italy in a few weeks with my friend, Lori (RecipeGirl), (I can't wait to share more with you soon!), and on our way, we're spending time in NYC with our friends, Gina (Skinnytaste), and Andie!
Have you heard of Andie Mitchell? She has a brand new cookbook out, Eating in the Middle, and you may have already read her best seller, It was Me All Along, a book about her story of incredible weight loss–a journey from nearly 300 pounds to losing more than half her size–and how she established a healthy and confident relationship with food. Her story is so inspiring.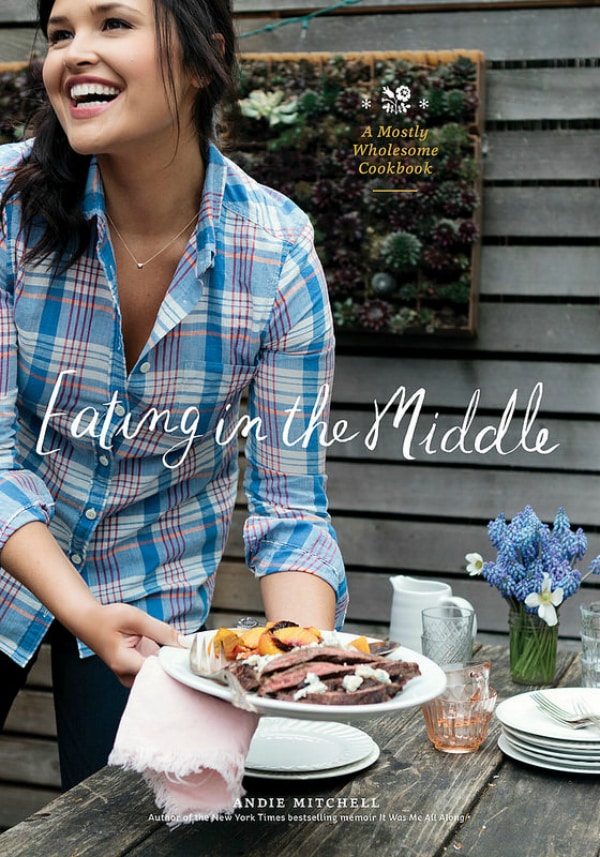 I'm so proud of my friend, and how she has shared her life-journey with all of us! Our lives can be so much richer when we share them with others–being vulnerable, and relating our struggles and victories to one another. It's truly how we can become inspired to make changes in our lives.
Her new cookbook has fabulous recipes, and it's OUT THIS WEEK! Go buy it!
Eating in the Middle
My favorite quote in her books is "Eating in the Middle can't heal your relationship (with food), but it can read as a love story of balance."
I so agree … it's all about balancing practicality with health with moderation.
My favorite chapter is "Sharing," which she has created some beautiful recipes, perfect for a dinner party.
Recipes like Meatloaf Burgers with Bacon, Pepper Jack, and Frizzled Onions (Hello, Summer Cookout!), Beef Stew (cozy meal), and PJ's Meatballs & Sauce (recipe below), really do make entertaining doable.
"Sometimes" foods
Andie strikes the right balance, ending the book with a little bit of indulgence – her fabulous desserts! Which, by the way, she calls these desserts the "sometimes" foods, the indulgences that can happen once in a while. Recipes like, Peanut Butter Mousse Pie with Marshmallow Whipped Cream, or Gooey Chocolate Chip Cookie Pie, or Lime Coconut Cream Puffs.
I'm all about balance, and enjoying life.
Now I'm going to have to really balance out the fantastic meals I'll be enjoying in Italy!
Meatballs & Sauce
Here's a delicious recipe, PJ's Meatballs & Sauce, I just made in my kitchen from Andie's book. It's on the sweeter side, and the story she tells about PJ … well, I'll leave that for you to read when you get your own copy of this book.
We LOVED these meatballs, so tender, soft and seasoned with oregano and…mint! I am always so happy when I can go to my garden and use fresh herbs!
By the way, this is Andie's most requested meal that she makes for her large family, for parties, holidays, and most importantly, weekends, when she goes home to visit Massachusetts.
So yummy!
Enjoy, my Friends!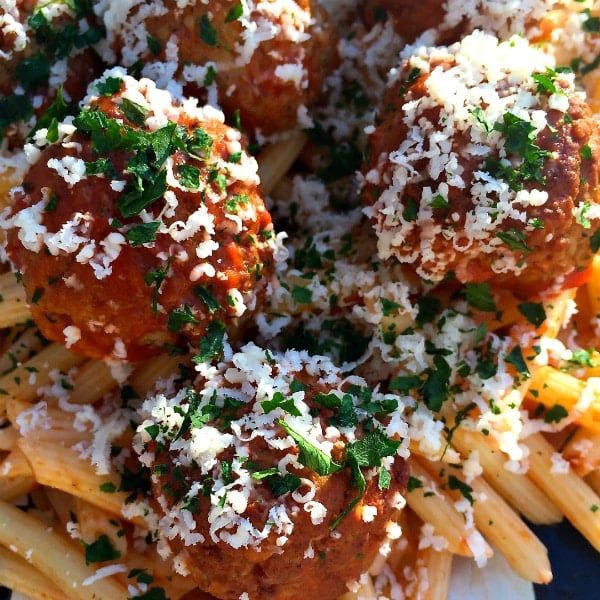 Get the Recipe: PJ's Meatballs & Sauce
PJ's sauce is rich, sweet, and garlicky. Andie cooks the meatballs right in that sauce, allowing them to retain their moisture, and giving the sauce even more flavor. From Eating in the Middle Cookbook, by Andie Mitchell.
Ingredients
For the sauce:
3 Tbsp. olive oil
1 small onion, finely chopped onion (about 1/2 cup)
4 cloves garlic, minced
1 28 oz can crushed or pureed tomatoes
1 6 oz can tomato paste
2 Tbsp. sugar
1 Tbsp. dried oregano
¼ tsp. salt
1 tsp. pepper
For the meatballs:
1 lb. ground beef, 85% lean
1 large egg, beaten
⅓ cup seasoned breadcrumbs
1 ½ tsp. dried mint
2 tsp. dried oregano
½ tsp. salt
½ tsp. pepper
12 ounces dry penne or ziti, I use DeLallo brand
½ cup grated Parmesan cheese, for serving
Instructions
For the sauce, in a large stock pot, heat the oil over medium heat. Add the onion and cook, stirring occasionally, until it begins to brown, about 12 minutes. Lower the heat to medium-low, and if the onion starts to burn, add a tablespoon of water.

Add the garlic and cook, stirring constantly, until golden and fragrant, about 1 minute. The more color that develops on the onion and garlic, the more flavor they'll addd to the finished sauce.

Add the crushed tomatoes and the tomato paste and stir well. Add the sugar, oregano, salt, and pepper. Bring the mixture to a simmer, reduce the heat to low, cover, and cook stirring occasionally so that the bottom does not burn, for at least 30 minutes.

Meanwhile, for the meatballs, break apart the beef in a large mixing bowl. Add the egg, bread crumbs, oregano, mint, salt, and pepper, and use your hands to mix. Do not overwork the beef, or the meatballs will be rough.

Shape the meat mixture into about twelve 1-½ inch balls. Drop them into the sauce and stir gently to cover the meatballs in sauce. Cover the pan and cook, stirring occasionally to prevent burning, until the meatballs are cooked through, about 1 hour.

Boil the pasta according to the package directions. Drain.

To serve, divide the pasta among 4 plates or bowls. Or serve the meatballs on top of the pasta on a large platter. Sprinkle with Parmesan cheese; serve!

Hello and welcome to my home and table!
I'm Sandy—lover of food, family, cooking, THE BIG BOARD, travel, and bringing people together. Through great recipes and connection around the table, we become better, stronger, and more courageous people. Feasting on Life is real, and every time we do it, we grow a little more. Read more...