Middle-Eastern Baked Salmon Fillets
Delicious Middle-Eastern Baked Salmon Fillets, served with a side of sauted sweet potatoes, fluffy couscous, and a creamy Greek yogurt sauce!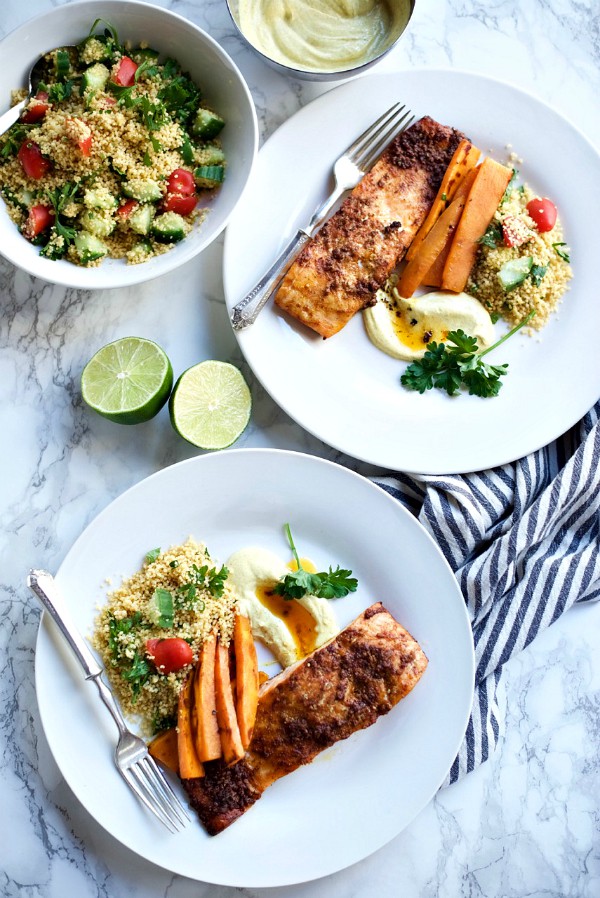 Friends, my husband and I have been taking long walks, slow walks, purposeful walks together. Part of slowing down for us has been saying no to some things, and yes to others.
Walks are on the yes list.
Our friends were in town this past weekend, so we walked and hiked (the beautiful Metolius River) and ate a lot of good food!
Middle-Eastern Baked Salmon Fillets
Today I'm sharing my daughter's salmon recipe, Middle-Eastern Baked Salmon Fillets, served with a side of couscous and sweet potatoes, and a creamy Greek yogurt sauce.
One large sweet potato, peeled and sliced thinly, with salt and pepper, sauted in olive oil. YUM!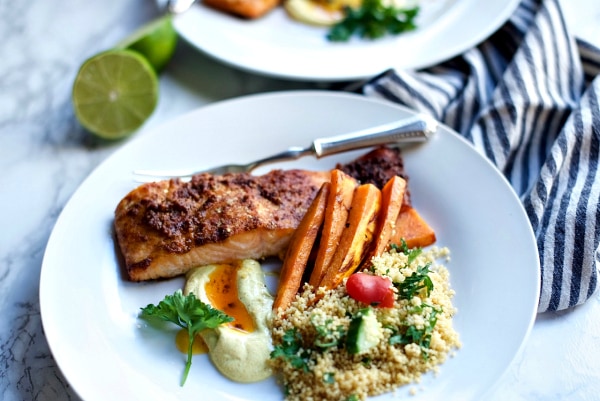 And couscous made with fresh tomatoes, cucumbers, and parsley!
Hiking the Melotius River at Camp Sherman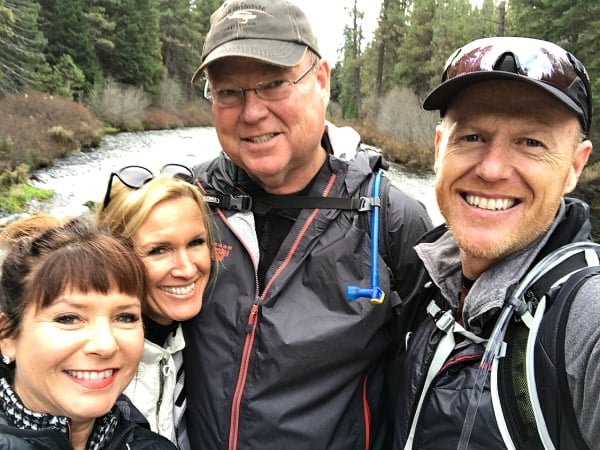 An 8-mile hike along the Metolius River, oh, so much beauty! We started at Camp Sherman, OR.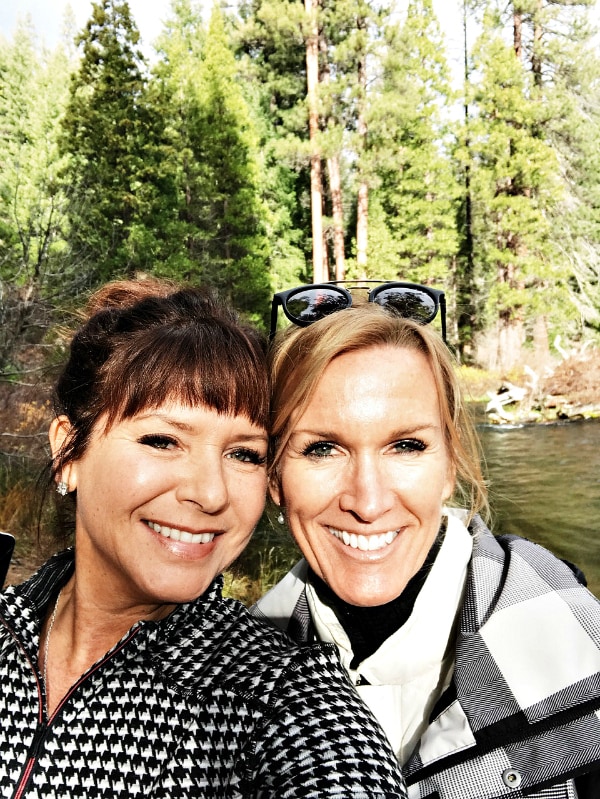 Just to be in the great outdoors, when the world is oh, so noisy. (Laurel and I did not plan our black and white houndstooth and checks!)
The serenity and peacefulness of the meadows brought a much-needed calm.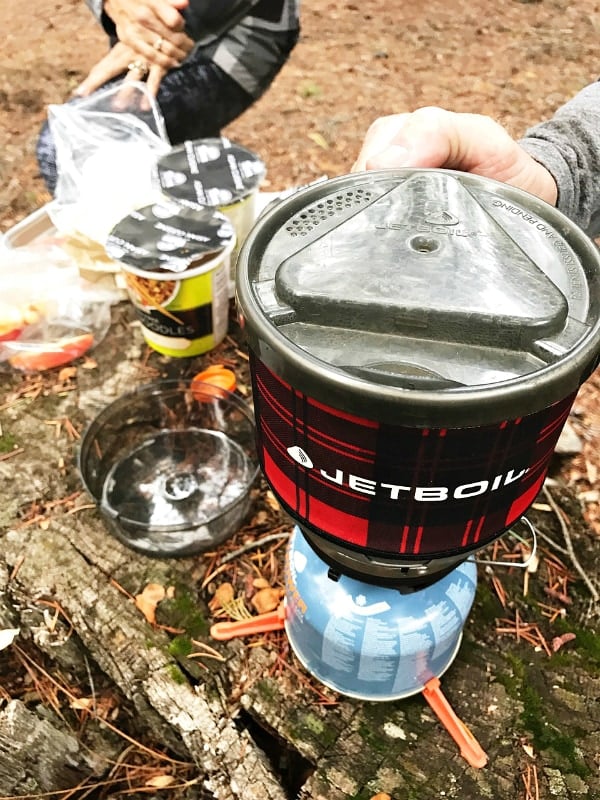 Almost 4 miles in, we stopped for a Jetboil cup-of-soup.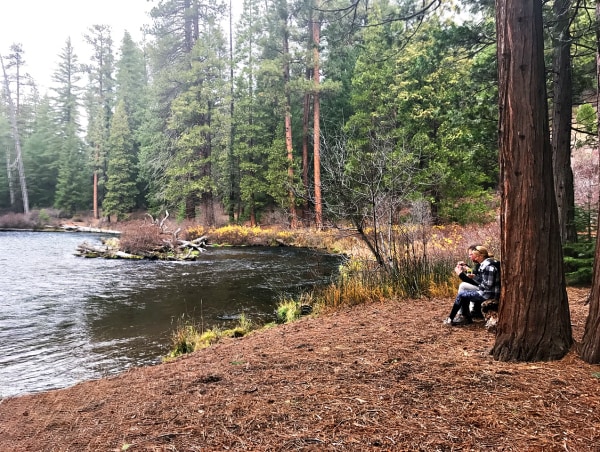 Food tastes so good in the outdoors. We made our friends this Camping Chicken Noodle Soup–a little gourmet is fun!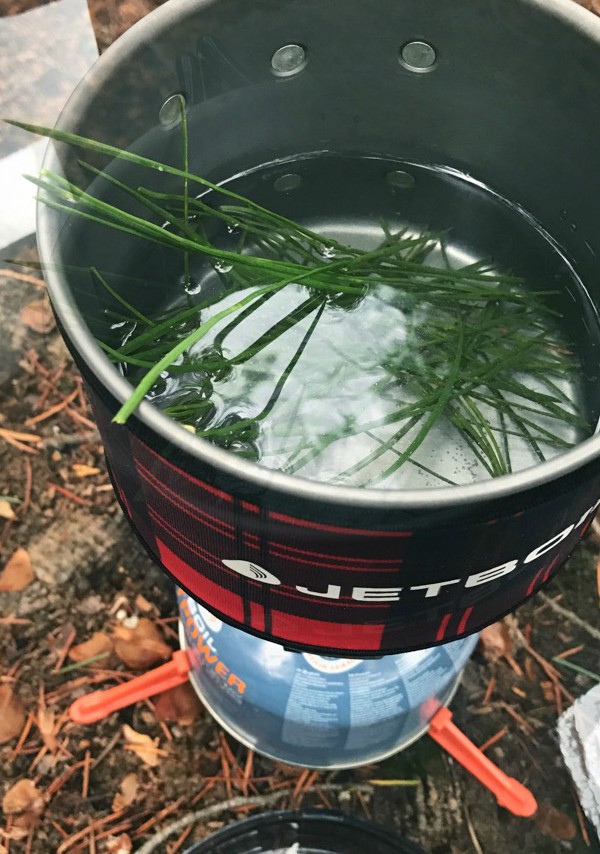 And pine needle tea (have you tried it? so good!)
For the Beauty of Meadows
I came across this hymn last week, which reminded me of our hike. By the way, did you know that the word "hymn" means "a song of praise?"
For the Beauty of Meadows

For the beauty of meadows, for grandeur of trees,
For flowers of woodlands, for creatures of seas,
For all You created and gave us to share,
We praise You, Creator, extolling Your care.

As stewards of beauty received at Your hand,
As creatures who hear Your most urgent command,
We turn from our wasteful destruction of life,
Confessing our failures, confessing our strife.

Teach us once again to be gardeners in peace;
All nature around us is ours but on lease;
Your name we would hallow in all that we do,
Fulfilling our calling, creating with You.
It's mid week, Friends. Time to start planning the weekend ahead …
Time to get out to nature, and breathe in the fresh air.
Will you be enjoying the great outdoors?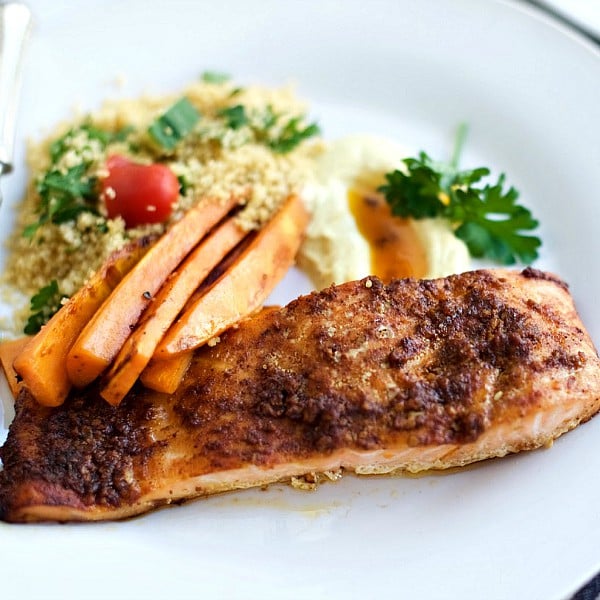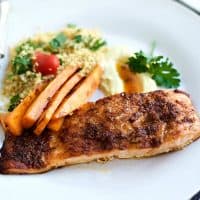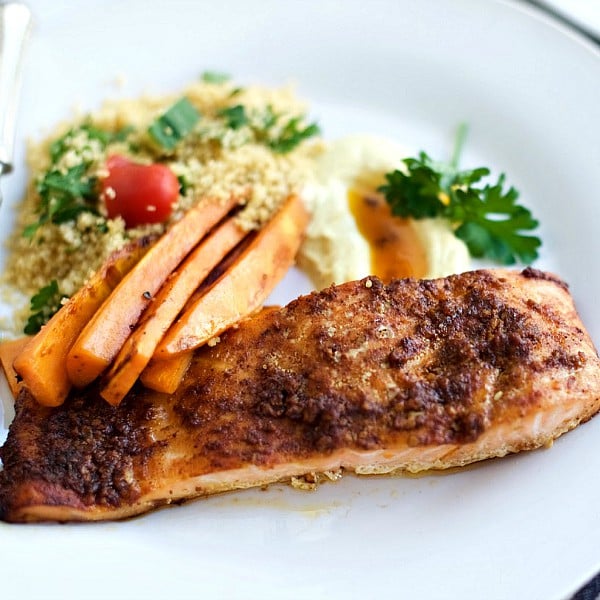 Print Recipe
Middle-Eastern Baked Salmon Fillets
Ingredients
5

salmon fillets

3

Tbsp.

crushed garlic

3

Tbsp.

olive oil

2

tsp.

paprika

1

tsp.

ginger

1

tsp.

salt

1/2

tsp.

ground cloves

1

tsp.

cinnamon

2

tsp.

graham masala

2

tsp.

chili paste

2

Tbsp.

butter

Sauce: 1 c. plain Greek yogurt

1/2

large squeezed lime

1

tsp.

graham masala

Salt & pepper
Instructions
Combine oil, garlic, paprika, ginger, salt, ground cloves, cinnamon, 2 tsp. graham masala, and chili paste in bowl; stir until mixed. Lay the salmon pieces in a baking pan. Pour the sauce over salmon fillets and allow to marinate for 1-24 hours.

Preheat oven to 450 degrees. On a foil-lined baking sheet, drizzle the butter. Lay the salmon fillets on top. Bake for 15-20 minutes.

In small bowl, stir together Greek yogurt, graham masala, lime juice, salt, and freshly cracked pepper.

Serve the salmon with Greek yogurt mixture, and a side of couscous and sauted sweet potato!